Kenyon Martin: Power Ranking the Teams Who Need K-Mart the Most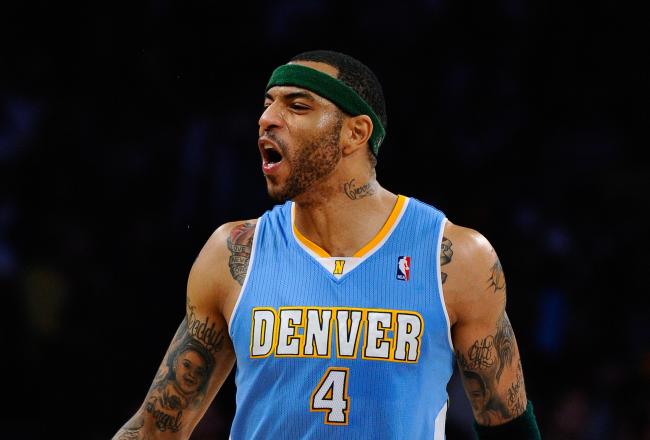 Kevork Djansezian/Getty Images
Kenyon Martin is finally free and able to sign with any NBA team. There are plenty of teams interested but not all have an equal fit or appeal. If you're looking at K-Mart, obviously you want defense, rebounding and toughness and you should be contending.
Who needs him the most? I'll break it down.
These are K-Mart's rumored suitors and how they rank in order of need for the rugged veteran forward:
The Knicks have expressed interest, but don't they always? If Spike Lee worked out with the team, they would place a feeler call to investigate his availability. Lets humor them, since that is what they've done to the basketball world so far this season.
What would have the biggest impact on the Knicks?
They do have a need for a strong rebounder, as they are ranked 17th in the league in that category. Amar'e Stoudemire has never been a dominant rebounder despite his stature and physical gifts. He's averaging eight boards per night now; Martin has bested that total per 36 minutes played in his career.
Martin would instantly be the team's second-best rebounder behind Tyson Chandler. His interior defense would also be a help to Chandler, as it would give the team another willing post defender.
The Knicks are 16th in the league in points allowed—another area in need of improvement.
The Knicks toughness is not a major concern. They are mentally solid; they need point guard leadership most of all. That is something K-Mart obviously can't offer.
Lastly, the Knicks are terrible. Martin isn't coming back to the NBA to miss the playoffs. That alone makes him going to the Knicks ridiculous. The Knicks don't need a player that doesn't fix their issues of ball distribution.
The Lakers are the third-best rebounding team in the NBA and a top-five defensive team, so why do they need Martin?
Depth.
Who Should the Lakers be most interested in?
After Pau Gasol and Andrew Bynum, the Lakers bring henchmen Josh McRoberts and Troy Murphy off the pine. McRoberts isn't as solid defensively as he is dangerous to the well-being of opposing players.
The aggressiveness of his fouls certainly show he played with Jeff Foster too long in Indiana.
Martin could add some much-needed depth to their front line.
The Lakers don't have a lack of toughness. For as soft as Gasol can be, Metta World Peace and Kobe Bryant more than make up for it.
Bryant, Fisher and World Peace supply the leadership as well, so Martin's veteran status won't be called upon as much with the Lakeshow as it would be with other suitors.
Finally, the Lakers are probably not going to go to the NBA Finals with or without Martin, and that is supposed to be the point here.
4. Miami Heat
Does Miami Need Martin to be the Best in the East?
Believe it or not, the Heat are only 15th in rebounding and 19th in defense. The defensive statistic is a far cry from their defense that ranked fifth last season.
Martin would certainly help there, and his presence on the floor gives the Heat another stud defender for the second unit, along with Udonis Haslem.
The Heat front line also needs more able bodies. Eddy Curry is still working himself into shape, Juwan Howard is 475 years old and Dexter Pittman is...well, Dexter Pittman. Martin's presence would be an upgrade.
Miami certainly has its share of leadership; many would say there are too many chiefs. It's possible to say Martin could add one too many strong personalities to this group of characters.
Miami is still my pick to win it all, with or without K-Mart. I guess that's my point.
What would be bigger for the Spurs?
The Spurs are already undersized on the front line. Tim Duncan is still going fairly strong at PF, but DeJuan Blair is playing center at 6'7". The Spurs are getting it handed to them on the boards on a nightly basis. They are 22nd in the NBA in that category, but rank a respectable 13th on defense.
Martin would give the Spurs a backup to Duncan and Blair. They could play Martin over Matt Bonner when head coach Greg Popovich wants to go defense and swap in the Red Baron when he needs to stretch the floor.
The Spurs don't lack leadership; it's the only thing that has kept them afloat amidst injuries this season. They need Manu Ginobili back most of all.
The Spurs youth have filled in well for Manu at home (11-1), but as is the case with most young role players, they have struggled on the road (3-8).
It is uncertain whether Ginobili's return can get the team to the Finals, though adding Martin to that mix could be interesting.
Still, I see the Spurs a little short in the contending department.
Would Martin make the Hawks the best team in the East?
The Hawks are one of the most talented teams in the NBA. The loss of Al Horford is a big one, and it leaves the Hawks without their best low-post defender. The Hawks are a decent rebounding team, ranked 14th in the NBA, but their defense has been stellar, allowing only 90.6 points per game, which is fourth in the league.
Versatility on the front line is the key need for the Hawks.
Ivan Johnson has been a nice surprise, but the Hawks could use a veteran like Martin who can play both the PF and C positions.
Martin also provides some much-needed toughness to the Hawks roster. That trait is one of the best things Johnson was able to bring. Martin could have a similar effect, along with getting a little more respect from officials on the defensive end.
Martin's leadership would also be key, as the Hawks depend too much on the nonchalant, disconnected mannerisms of their best player, Joe Johnson. Martin could be some much-needed energy.
The only issue with the Hawks and Martin is that they simply don't have a championship-caliber mentally, and I'm not sure Martin gives them that.
In fact, I know he doesn't.
The Hawks certainly need him, but all logic tells me it won't matter.
1. Los Angeles Clippers
The Clippers need Martin most, as I wrote in a previous piece when Martin's freedom from his contract first broke. The Clippers only have one quality defensive big and that is DeAndre Jordan. Even Jordan's defensive prowess is a bit deceiving.
Who Will Win the Western Conference?
He second in the NBA in blocks, but he isn't a great body-to-body post defender. That is Martin's specialty, and his presence would make Jordan an even more lethal help defender.
The Clippers need a low-post player with playoff experience—someone Blake Griffin and DeAndre Jordan respect and can learn from from a defensive standpoint.
The Clippers are ranked 24th in rebounding and defense—that is something they must improve on if they plan to go deep in to the playoffs. Martin helps with both of those issues.
The Clippers are so close to being on the same level as Oklahoma City, and Martin is the type of presence they need to seriously challenge.
This is why the Clippers are the team that must sign K-Mart.
This article is
What is the duplicate article?
Why is this article offensive?
Where is this article plagiarized from?
Why is this article poorly edited?