Baylor Football Recruiting: Analyzing 2012 Season After National Signing Day
February 2, 2012

Sarah Glenn/Getty Images
Baylor may not be the biggest program in the Big 12, but it is certainly the fastest rising.
After capping off a historic 10-win season, an Alamo Bowl victory and winning multiple national honors, including the Heisman Trophy, the Baylor Bears have already been snubbed for the 2012 season due to the departure of superstar athlete Robert Griffin III and big-time receiver Kendall Wright.
Those exits coupled with a poor 2011 defense will certainly create some growing pains for the Bears, but head coach Art Briles and his staff have to put together one of the best classes of not only his coaching career, but in Baylor history.
In the 2011 season, the Bears had no trouble on offense. With Griffin under center and Terrance Ganaway, the Big 12's top rusher, leading the way, the Bears posted the second-most total yards in the country.
Recruiting for the offense was focused mainly around replacing Griffin and finding another explosive receiver like Wright.
To fill Wright's shoes, look no further than Corey Coleman.
Baylor began pursuing Coleman early on because of his resemblance to the now Baylor-legend of a receiver. He matches up against Wright very well, even being roughly the same height (5'10", which some claim is too short to play the position), and having a 0.01 edge on his 40-yard dash time.
Pursued by other schools such as Oklahoma and Oklahoma State, Coleman also brings a fantastic set of hands to this Baylor squad. He played multiple positions in high school, giving him a unique perspective to play the receiver position. In addition, he already has a college-level style of play when it comes to running specific routes and finding weaknesses in coverage.
As for the quarterback position, coach Briles hailed 3-star recruit Seth Russell at the position "because of what he brings to the table." He described Russell as "a big, athletic guy that can run and throw the ball well" and said he's "probably as excited about Seth as about anyone else in the class."
With this show of confidence from his new head coach, Russell has the potential to fit very nicely into Baylor's offense. He played most of his high school career out of the shotgun formation, matching nicely with the Bears' offensive scheme, and has breakaway speed and can easily put his 4.51 40-yard dash speed on the field.
It is going to be hard for Russell to match up to what Griffin did for Baylor, but there is one thing that Baylor Nation knows: When Coach Briles is excited about a player, especially at the quarterback position, there is obviously something special about him.
With Coleman providing another serious threat at the wide receiver position and Russell having huge potential under center, Baylor's offense in 2012 should not falter too much.
Where Baylor needs to improve most is on the defensive side of the ball, and the Bears did not disappoint with this signing class.
Ranking 97 in rush defense, 110 in pass and 112 overall, the 2011 defensive unit for the Bears was by far the weakest side of the ball for Baylor.
Phil Bennett, now second-year defensive coordinator, and coach Briles devoted 13 of the teams 23 recruits to the defense.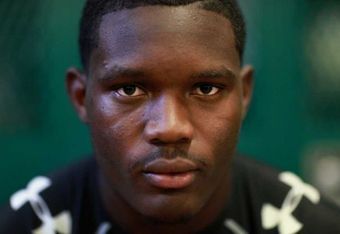 In order to stop the run, Baylor picked up one of the top defensive tackles in the country, Javonte Magee. He is going to become the anchor of this defensive line and use his speed and length to plug holes in the run game.
Magee is arguably the biggest (and most surprising) defensive recruit that Baylor has ever signed.
To pair with that, Baylor has brought together a strong linebacker class. The Bears will be losing Elliot Coffey, their leading tackler and defensive leader. His absence is going to leave a huge hole in this struggling unit, but with the additions of Eddie Lackey, one of the best junior college linebackers last season, and Brian Nance, ranked in the top 35 of outside linebackers nationally, this hole will fill nicely.
Moving to the backfield, Coach Briles and his staff secured a very nice defensive back class. Most of the potential cornerbacks and safety prospects picked up have a history of creating turnovers, something that Baylor can benefit greatly from next season. The Bears were ranked 30th in the nation for turnover margin at 0.38 a game.
In the end, Baylor is going to have to work tirelessly this offseason to make up for the loss of some of the best players in school history. Yet, head coach Art Briles and his team have set the Bears up nicely for success next season, continuing to bring in big offensive players and drastically improving the defense.