Philadelphia Flyers: 5 Players Who Must Step Up Right Now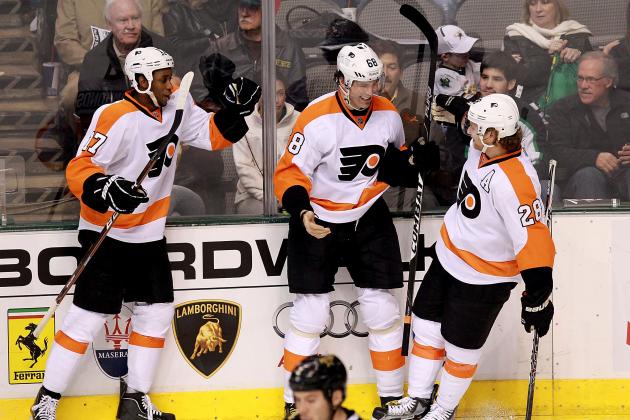 Ronald Martinez/Getty Images

The stretch drive is here and the Flyers are in position to make their push for the playoffs.
Despite being on pace to top last season's 106 point total, the Flyers find themselves in second place in the Atlantic Division and fourth overall in the Eastern Conference, and seem to be showing signs of 2011's late season lag that ultimately lead to their postseason demise.
In order to avoid another collapse, the Flyguys must get back to playing the type of tone-setting, high-intensity hockey they displayed prior to the Winter Classic.
To pull that off, certain players must perform at a higher level than they have to this point.
With that in mind I am calling out the 5 players who must step up their performances right now.
Begin Slideshow

»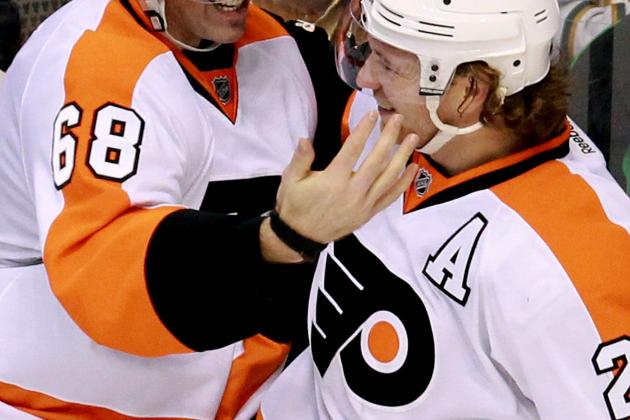 Ronald Martinez/Getty Images

Let's get the most obvious players out of the way now.
Giroux and Jagr were as lethal a duo as there was in the National Hockey League at the beginning of the season.
Jagr, who turns 40 this month, has been slowed by lingering groin and leg injuries throughout the year, and it has weighed on his production.
In Jagr's last nine games he has tallied no goals, four assists and a -5 rating.
The future Hall of Famer has stated it is his goal to come back strong from his most recent lineup absence and help Giroux win the Art Ross Trophy as the league's leading scorer.
Giroux could use the help, as the first-half MVP has struggled of late as well, scoring only 10 points (one goal—in the Winter Classic—and nine assists) in 13 January games. Giroux's 55 points are second overall in the NHL behind Evgeni Malkin.
Philly's front office made the summer's blockbuster transactions based on the thinking that Giroux would be the superstar to carry the offense. To validate the organization's confidence, Giroux must fire out of his slump and lead the team in points and energy the way he did through December.
After spending the first two periods of Tuesday's shootout loss to the Jets on different lines, Laviolette teamed Jagr back up with G and Hartsy and the trio played with a lot of energy and, despite not scoring a point, appear to be back at full strength and poised for a breakout performance.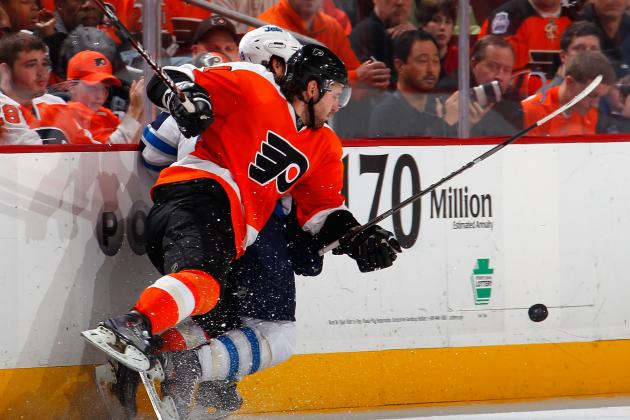 Paul Bereswill/Getty Images

The 2011 recipient of the Barry Ashbee Trophy as the Flyers best defenseman, Andrej Meszaros has not lived up to expectations thus far.
After scoring 32 points (8G, 24A) and a +30 rating last season, Meszaros has not been as productive offensively, as NHL.com has No. 41 on pace for 30 points and a +6 rating.
But defensively, Meszaros has not been as strong, either.
His +/- is well below last season's pace, and, based on the eye test, Mez just simply is not affecting games the way he has in the past.
At 6'2", 223 lbs., Meszaros' 112 hits lead the Flyers, but his hits per shift are down from last season's totals, as well.
No doubt, the defense as a whole has struggled in front of sub-par goaltending so far this year, but only allowing 24 shots through 65 minutes against Winnipeg on Tuesday (Jets averaged 32.5 shots in previous two games against the Flyers) was a solid statement for the orange and black's blueliners.
Kimmo Timonen is, well, Kimmo Timonen. Braydon Coburn may be the most inconsistent player in the NHL. Matt Carle is an undersized puck mover. The young guys have played admirably, filling in wherever necessary.
Meszaros is the guy who can make the biggest difference when he is playing his game. He has the size, skating and puck ability, shot and instincts to be a first-unit defender and must step up, especially if a top-level D-man is not acquired before the trade deadline on February 27.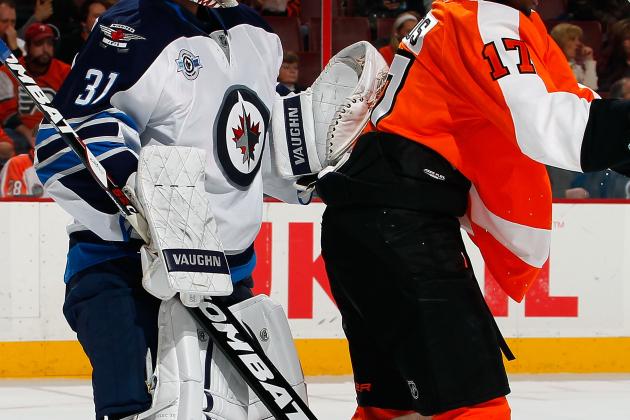 Paul Bereswill/Getty Images

Wayne Simmonds has been one of the streakiest Flyers in recent memory this season.
No. 17 has had points of both prosperity and poverty so far, putting together several multi-game point streaks, which are then broken up with Sahara-like scoring droughts.
Much like Meszaros, Simmonds is one of the few true physical presences in this highly skilled Flyers lineup, and needs to assert himself more aggressively in order to impact the game on a nightly basis.
Simmonds has found success causing traffic and confusion in front of opposing goaltenders this season, which needs to continue for him to remain effective.
But before he can set up shop in front of the net, the Flyers need to gain possession in the offensive zone, an area of the game Simmonds can control with physical play on the fore-check and battling for offensive zone faceoffs.
Working the fore-check, setting up the cycle and banging away down low is how a third-line player makes the most of his ice time, and Simmonds needs to do more of that.
Simmonds was rewarded for his recent strong play with ice-time alongside Scott Hartnell and Claude Giroux, while Jaromir Jagr worked his way back into the lineup.
Now, as the team makes its drive to the "second season," Simmonds needs to reach his top-six forward potential and physically impose his will on opponents every shift, which will wear opposing defenses down and lead to more power play time for the league's fourth ranked unit (20.7 percent).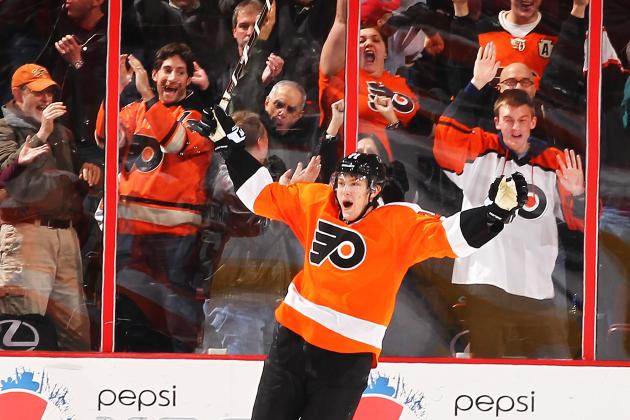 Al Bello/Getty Images

JvR's health status has put the Flyers in quite a bind.
I have been an advocate of trading 2007's second-overall draft pick for an elite level D-man since Pronger's eye injury turned into a long-term debacle.
van Riemsdyk's 6-year, $25.5 million contract extension (with a modified no-trade clause) kicks in next season, and unloading his $4.25 million cap hit seems like the most logical way to go, given his league-wide value and the Flyers' plethora of young, talented forwards.
But JvR's "concussion" (I'm calling it "I-Don't-want-to-play-in-Nashville fever") makes him nearly impossible to deal.
I do not expect JvR back before the Feb. 27 trade deadline, but upon his return he truly needs to impress if he does not want to go the way of Jeff Carter.
The Middletown, New Jersey native's few supporters point to his "strong playoff performances" as reason to keep No. 21 around, comparing his value to that of Danny Briere.
Danny B is a proven playoff commodity and has come through in countless clutch situations.
JvR had seven goals and no assists (-3) in 11 playoff games in 2011, and only put up six points and a -4 rating in 21 playoff games in 2010. Statistics hardly worthy of the number sewn on his sweater.
van Riemsdyk has done very little to impress this season, scoring only 22 points in 37 games, losing his spot on the first line to Scott Hartnell and now, whether it is a fair assessment or not, taking his sweet time getting back from a concussion.
Forgive me if I sound biased or overly critical, but to justify his cap hit and overall place in the lineup, JvR needs to step it up, ASAP, and can start to do so by getting himself back on the ice.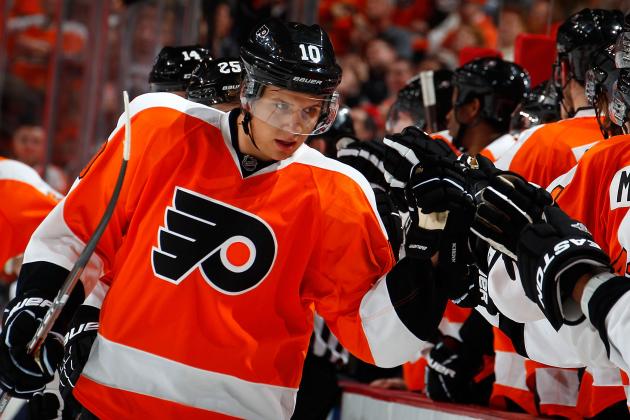 Paul Bereswill/Getty Images

Schenn is a player who has stepped his game up since straightening out a few injury and conditioning problems plaguing him earlier in the season.
All six of Schenn's points were scored in January, starting with his first career goal at the Winter Classic.
His physical play has bolstered an under-sized offense, and his determination to get to the net has resulted in all four of his goals. Additionally, his 55 hits are good enough for eighth on the Flyers, despite playing in only 21 of 49 games so far this season.
As No. 10's responsibilities increase with his experience, the Flyers can only improve along with him.
The Flyers have struggled in the faceoff circle all season, but Schenn is rapidly improving in that department. He has his season faceoff average at around 50 percent—not a bad total for a rookie with less than 30 NHL games under his belt.
Really, for Schenn to step up, his role must be increased.
Seeing power play ice-time with all the recent injuries, Schenn cashed in on the opportunity, scoring on the man advantage for the Flyguys' only goal against Winnipeg.
The home penalty kill, ranked at 25th in the league and operating at 78.8 percent (overall PK: 11th place, 85.3 percent) can only benefit from Schenn's skill set, as his faceoff prowess and defensive awareness will be key components moving down the stretch, and his physical play will keep power plays off balance while also energizing a recently-quiet Wells Fargo Center crowd.
Sean Couturier, Matt Read and a crew of rookies have been key contributors to this point, and it is now Schenn's turn to prove his place in the lineup.
Oh, and on a side note, would anybody else like to hear "THAT'S WHAT YOU'RE PAID FOR BRA(Y)DEN!" played throughout the Big Joint every time Schenn scores? Personally, I feel there can never be enough Slap Shot references, you know?