Yoenis Cespedes: MLB Execs Compare Him to Current MLB Stars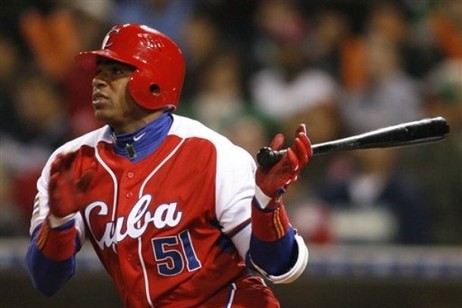 Yoenis Cespedes is a big unknown. He is supposed to have a lot of talent, but fans do not know what to expect from him.
In an article for ESPN Insider, Kevin Goldstein spoke to eight major league executives to see how they compared Cespedes to five of the best young outfielders in the game.
Additionally, I have added two more players who could be comparable to Cespedes after the players that Goldstein discussed.
A player with five-tool potential is rare, and that is one of the reasons why Cespedes is drawing a lot of attention on the free-agent market. He has the potential to become a star.
Photo Credit: Rumors and Rants
Begin Slideshow

»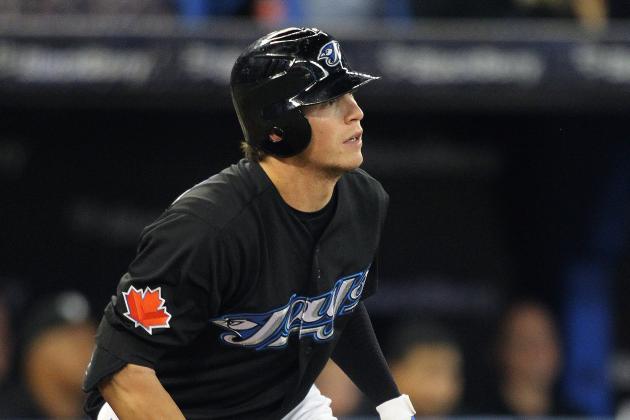 Claus Andersen/Getty Images

Colby Rasmus was a top-10 prospect prior to the 2008 and 2009 seasons.
He reached the majors at the age of 22 and has shown flashes of what has made him so special.
Rasmus was supposed to be a five-tool player, but not all of those tools have developed at the major league level.
He is a good young outfielder, but he has not lived up to all of the hype.
The executives that Kevin Goldstein spoke to preferred Yoenis Cespedes to Rasmus by a margin of six to two.
Cespedes has the potential to be a much better player than Rasmus. It is possible that the two executives chose Rasmus because he is a known quantity.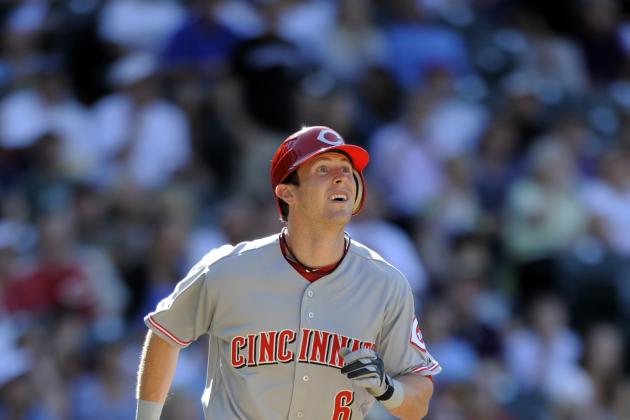 Jack Dempsey/Getty Images

Drew Stubbs has developed into an outstanding defensive center fielder.
He is also pretty good at the plate.
While Stubbs does struggle with strikeouts, he is a legitimate power and speed threat. He has 37 home runs and 70 stolen bases over the past two years.
Kevin Goldstein asked MLB executives their thoughts on Stubbs versus Yoenis Cespedes. Six of the executives choose Cespedes, while two chose Stubbs.
It is a bit surprising that two executives chose Stubbs, but he is an elite defender who has 20/20 potential, so their decisions can be justified.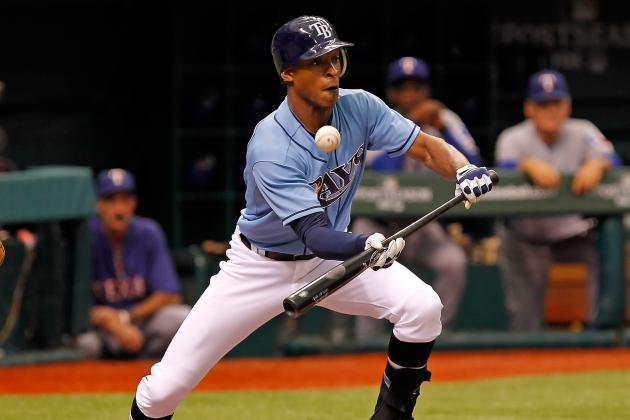 J. Meric/Getty Images

It seems that every time BJ Upton's name is brought up, one of the first things that people want to discuss is his potential.
There are moments when Upton has lived up to it and looked like he could develop into an elite player.
Upton is only 26 years old, and he has already had two 20/20 seasons.
One of his few problems is his inability to hit for a high average.
The executives that were polled by Kevin Goldstein said that they would rather have Yoenis Cespedes then BJ Upton by a margin of five to three.
It makes sense that the votes would be a bit closer with Upton, since he has proven that he can be an outstanding player.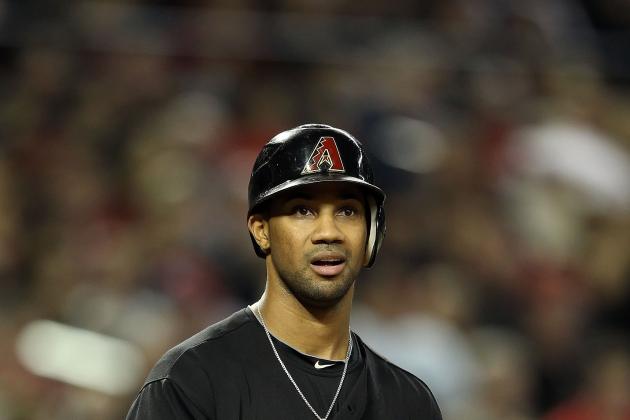 Christian Petersen/Getty Images

Chris Young is another youthful outfielder who has shown the ability to put up 20/20 seasons on a fairly consistent basis.
He has done it three times in five seasons.
Young has also proven himself to be a pretty good defensive outfielder.
One flaw with Young's game can be seen through his .240 career batting average.
The executives questioned by Kevin Goldstein were split on if they would rather have Yoenis Cespedes or Young. They each received four votes.
Cespedes' potential is greater than Young's potential. He should develop into a better offensive player than Young, but it makes sense that this voting was close.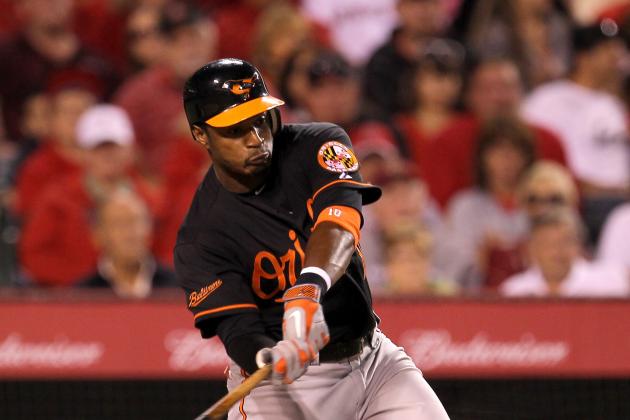 Stephen Dunn/Getty Images

Adam Jones has shown signs that he is ready for a break out over the past few seasons.
He has been in the majors for a while, so many people forget that he is still only 26 years old.
The Baltimore Orioles believe that Jones is an outstanding run producer, and he has developed a solid power stroke.
Jones does not steal as many bases as some of the other players on this list, but he is a career .275 hitter.
Of the five players that Kevin Goldstein asked MLB executives about, Jones is the only one that they preferred to Yoenis Cespedes. He received six votes while Cespedes received two.
The voting probably should have been closer than it was. For his career, Jones has only a 101 OPS+, which is slightly above average. He is also not as good of a defender as some of the other players on this list.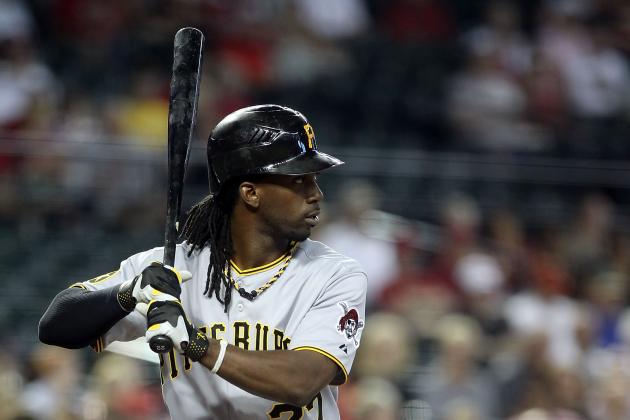 Christian Petersen/Getty Images

Andrew McCutchen is another player that could serve as a good comp for Yoenis Cespedes.
McCutchen has shown that he is a very solid defender, and he has impressed at the plate.
McCutchen finished fourth in the Rookie of the Year voting in 2009, and he has gotten better since then.
He has a .276 career average and had his first 20/20 season last year.
Major league executives would likely prefer McCutchen to Cespedes, but the voting might be close.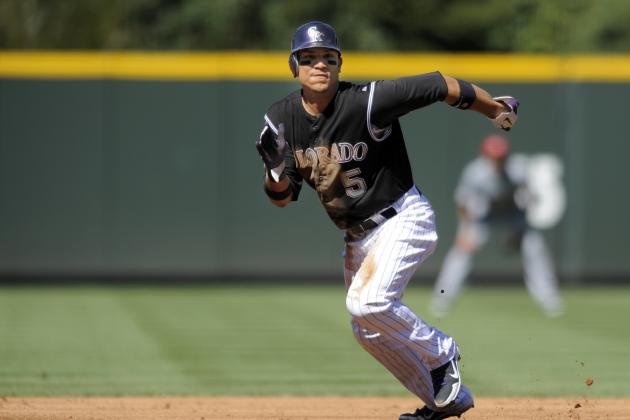 Jack Dempsey/Getty Images

Carlos Gonzalez likely represents the best-case scenario for Yoenis Cespedes.
He has all the potential and tools to put up similar numbers to Gonzalez in a few years, but it will be a matter of if Cespedes can execute.
Over four seasons in the majors, Gonzalez has a .298 career batting average.
Gonzalez has put together back-to-back 20/20 seasons and has the potential to have a 30/30 year. This is likely Cespedes' ceiling.
There probably are not any executives in the MLB that would prefer Cespedes to Gonzalez, but that could change in a few years.