Duke Blue Devils: Can These Running Rooks Really Fight for an ACC Title?
February 2, 2012

Streeter Lecka/Getty Images
In the NCAA, there are several key titles that teams fight to win on a yearly basis. The Duke Blue Devils, a perennial title contender, not only want to win, they are expected to win. The ACC regular season championship, ACC Tournament and the NCAA title are huge accomplishments, but Duke may miss out on all three this year.
Ups and downs are typical of every season, but this roller-coaster year is something very different for the Crazies and the Dukies.
Suiting up one senior, this team of Rooks are as talented as they come. Seth Curry and Austin Rivers have the family roots many dream about, Ryan Kelly is a poor man's Dirk Nowitzki and the Plumlees provide a fantasy trio of boys that can dominate the paint at times.
Unfortunately, this Duke team is both scary good and scary bad. This team has a core of shooters that would make any team in the country better. Curry and Andre Dawkins are just as good as any other pure shooter in the D1 game. Unfortunately when these shots come and go, and when they go...THEY GO! 
The offensive side of the floor is where this team is at their best. On the other end of the court, they struggle. This is where we get into the big problems of this team and the key weaknesses K needs to address for Duke to fight for one of those three banners.
1. Defense Wins Championships
Throughout this entire week prior to the Super Bowl, you will hear that stated a million times. Coincidentally, you will hear the word defense from K and his staff time and time again throughout each game. This is not your typical Duke crew. They simply have trouble matching up. Not having a true lock-down defender, combined with the typical mantra of Duke not being able to stop athletic guards, and this team can have astronomical problems with a lot of teams.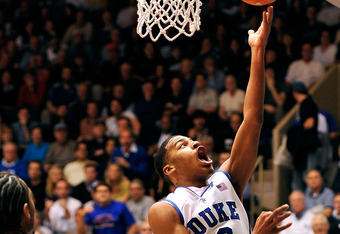 Grant Halverson/Getty Images
This may be the team's Achilles heel. They just aren't talented enough on the defensive end to stop the other team's best scorer night in and night out. Additionally, they will have trouble not only against any true athletic one guard in the nation. This is a huge matchup problem, and a slasher can kill them in March.
2. Rookie Race
Austin Rivers very well may be the best freshman in the Nation. He leads Duke with an average of 296 points on the season and an average of 14.1 per contest. Rivers may have been the most touted rook to step into a Duke any since...Kyrie Irving. But he certainly is playing into the role that was expected. Leading Duke is no short task, but this team needs more.  
Austin hit a game-tying shot at home against FSU, and many thought it was the beginning of his time to really shine. Unfortunately, Austin is not Carmelo Anthony, and he is not the nation's best player.
Kyrie Irving matched up with Austin would have been an impressive and one of the best back courts in Duke history, but it never happened. Instead, Austin is here and can only do so much. Mixed with another pure scorer, he would flourish, but that is just not this team.
Austin, at times, tries to do too much. If he decides to take the ball to the hole, he will put his head down and go. Bigfoot eating a burrito couldn't stop him at that point! Austin is a great freshman and will win ACC Freshman of The Year, but is not the player to carry this team to a title.
The other freshman that stands out for Duke is Quinn Cook. He is no Bobby Hurley, Jay Williams, Chris Duhon, Steve Wojciechowski or even Patrick Ewing.  He is simply an average first-year point guard. More on him next.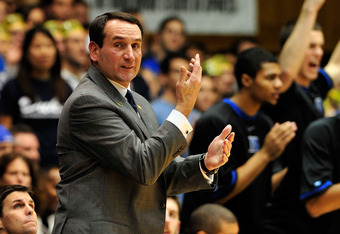 Grant Halverson/Getty Images
3. Point Problems
Championship teams typically have a field general, someone that is an extension of the coach on the court that can lead the team in between the time outs. The Duke Blue Devils have had a ton of these, and with each championship, the point guard position has been a good one.
91, 92: Bobby Hurley
01: Jay Williams
10: Nolan Smith/John Scheyer
That is four banners and four extremely good guards. I understand that those were exceptional players, but not a single player on this team has the capability of any of them. If—and you'd have better odds of Team USA getting shutout next summer—Austin Rivers played for four years at Duke, maybe, but not during his freshman year.
Quinn Cook, Tyler Thornton and anyone else they find on the pine is simply not good enough to carry this team from the one position. Maybe in time they will grow into a traditional Duke powerhouse point, but not at this time.
That means this position is a huge hole for the Devils.
Those three weaknesses aren't hard to see. The team is just that...a team! Coach K is the best, possibly ever, at getting the most out of his players and this team is talented. They can play with anyone in the country on any given night, but their problem is putting it together in three or four straight games away from Cameron.
This team could win the ACC regular season championship with three key wins (assuming they take care of the others). A win or two over UNC and at FSU all but guarantees them another ACC title.
When it comes to the Duke Invitational (ACC tourmey), Duke simply dominates winning almost annually. Duke has won 10 of the last 13 years and always comes to play. This year will be no different, and in a tourney capable of upsets, Duke can always win this one. The ACC tourney just might be the best chance for Duke to win a banner this year.
March Madness will be a bit crazy outside of Durham. Duke is putting together a resume to be a solid two seed and should play in either the South or East brackets, giving them a bit of home-court advantage. However, the scary part is this team could be Final Four-bound or bound for a first-round bounce. It will be about the matchup.
Tonight, they face a Virginia Tech team that they should beat handily. Time will tell, but this is not your typical dominant Duke team. Instead, they are a bunch of shooters that K is trying to mold into a team. If Duke wins a banner this year, consider it one of K's biggest and best accomplishments!