Maryland Basketball: 5 Terrapins Who Need to Step Up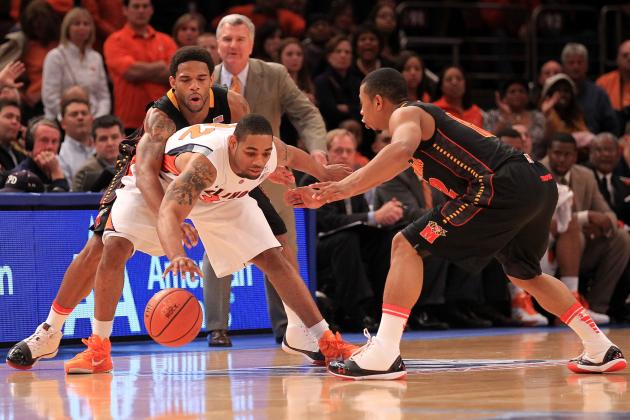 Chris McGrath/Getty Images

The struggling Maryland Terrapins enter February with a dismal 13-8 record. With a 3-4 conference record, they are lost in a heavily-competitive ACC. Although they still have an overall winning record, they will be hard-pressed to keep it with difficult ACC matchups for the rest of the season.
What has really hurt the Terps is their current stretch where they've lost four out of five games. This includes last night's heartbreaking 90-86 loss to Miami in double overtime. It was a game where the Miami Hurricanes blew a 16-point, second-half lead and had three players disqualified yet still found a way to win.
First-year coach Mark Turgeon has had a difficult task this season replacing the legendary Gary Williams. But now he's got to find a way to motivate some players into playing better games so the team can finish strong. Here are five Terps who need to step up for the final 10 games of the season.
Begin Slideshow

»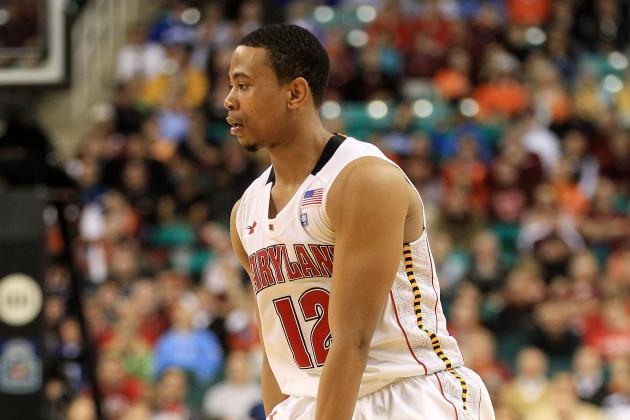 Streeter Lecka/Getty Images

Sophomore guard Terrell Stoglin's field-goal numbers have been nothing short of abysmal the last few games. During the Terps last four losses, Stoglin has had one decent shooting game when he went .500 against Duke. On Wednesday night, Stoglin finished 9-of-26 for field goals and 6-of-20 for three pointers.
Stoglin saw a major increase in playing time against Miami as he got 44 minutes instead of his usual 30 minutes. He didn't completely disappoint as he managed to lead the team in scoring with 33 points. He also made all nine of his attempted free throws.
Clearly Stoglin has an enormous amount of potential as he currently leads the ACC in scoring. For the Terps to get back to winning games, Stoglin needs to become a key part of the gameplan. Although he can't be blamed for taking the shots, he needs to find a way to make more of them go in.
Senior guard Sean Mosley's numbers have corresponded well with the Terps' recent losing ways. He was 1-of-7 for field goals and 0-of-3 for three pointers. Lately he has been attempting less shots but unfortunately not making a lot.
With three-point shots, Mosley has been very hit or miss, either shooting .500 or not making a single shot. While more consistent, his field goals numbers have been awful. Over the last few games he has averaged about one point a game.
It's disappointing numbers for one of the most decorated players on the Terps' current rooster. As a team captain, Mosley doesn't necessarily need to lead the team in scoring every night. He mostly needs to find a way to motivate those around him to play better.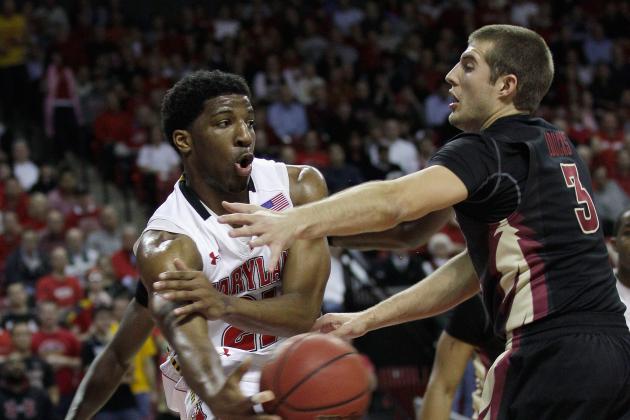 Rob Carr/Getty Images

Sophomore guard Pe'shon Howard has had very little playing time this season. However, he got more playing time Wednesday night with 43 minutes. He didn't do much with that, though, finishing 2-of-6 from the field and 0-of-4 from the three-point line.
Howard is mostly a bench player, but he still needs to find a way to play well when he does get in. One encouraging number was his eight assists against Miami. With 50 assists on the season, he leads the team in that category.
Freshman center Ashton Pankey has had a lot of responsibility thrust on him as he already starts for the Terps. He's struggled a bit with that responsibility as he averages only 5.5 PPG and has only 116 points on the season.
Against Miami, Pankey was only 1-of-5 shooting field goals. He did not attempt a three-point shot and missed his only free throw. Although he only played 22 minutes, it's disturbing when a team's starting center is making that little of an impact.
It has been a bad stretch of games for Pankey as well. His only real consistent numbers have been rebounds where he has pulled down seven or more the last three games. It is clear that for the Terps to succeed Pankey will have to be one of those players who improves and makes a big contribution.
The above video shows some highlights from earlier in the Terps' season. It includes a sick dunk and a well-executed three pointer by freshman guard Nick Faust. If only he were still making shots like that in recent games.
He was only 3-of-7 shooting field goals against Miami while also missing a three-point shot. It was his fourth consecutive game where his shooting percentage dropped below .500. Although he finished the evening with nine points, his performance still has to be viewed as a disappointment.
Like Ashton Pankey, Faust has been thrust into a starting role young. However, he does have enormous potential that still has yet to be realized. For the Terps to win, he'll have to step up and play better on a day-to-day basis.