Tennessee Volunteers Football: Complete Projection of the 2012 Starting Lineup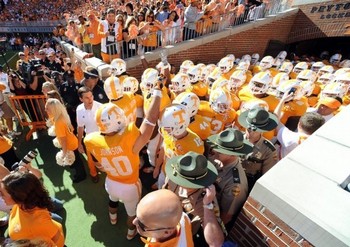 National Signing has come and gone for the Tennessee Volunteers, which can mean only one thing: It's time to start looking towards the 2012 season! The first step is to take a look at the projected starting lineup for the Vols.
You'll (finally) see a lot of returning faces, especially on offense. The defense, which was decimated with graduation and injury during the 2011 season, needs to replace but two positions.
Here are my projections for the starting lineup against NC State on September 1st.
QB: Tyler Bray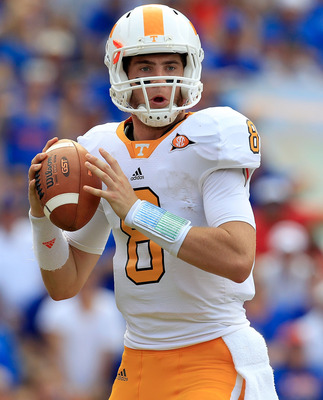 Sam Greenwood/Getty Images
No surprises here.
Tyler Bray has the ability to be a top-five pick in the NFL Draft one day, but he'll have to do much more than just sling the ball around the yard to get there.
Bray needs to take the next step as a quarterback and leader entering his junior season this fall.
RB: Marlin Lane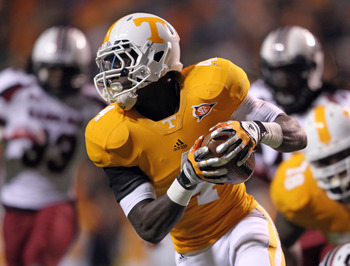 Andy Lyons/Getty Images
By default, rising sophomore Marlin Lane will be the starting running back for the Tennessee Volunteers.
His 3.7 yards-per-carry in 2011 left a lot to be desired, and his injuries have to be something that offensive coordinator Jim Chaney keeps in the back of his mind.
Lane has shown flashes of his ability, but if he falters, you could see a 50/50 time share with incoming freshman Davante Bourque.
FB: Ben Bartholomew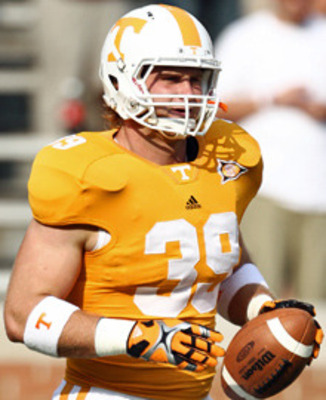 Following in big brother Will's footsteps, Ben Bartholomew slowly became the fullback of choice for the Tennessee Volunteers last season.
He is hard-nosed, strong and smart: exactly what you want from a lead blocker.
Channing Fugate could see some time at fullback, too, but only because he's a more explosive runner. I'm not sure if the Vols will lack offensive firepower, though.
WR: Justin Hunter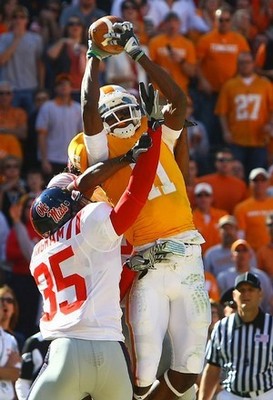 What began as an undeniably great start to the 2011 season quickly ended with an odd-looking knee injury against Florida in the Swamp.
Finally, the best wide receiver on the team, in the SEC and maybe even the country, is back and ready to go for the 2012 campaign.
I'm predicting 1,300 yards, 15 touchdowns and an early exit to the NFL for the junior from Virginia.
RT: Ju'Wuan James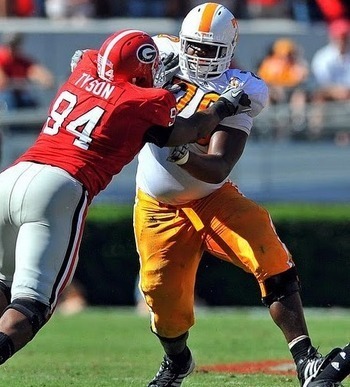 One of the few positives from the Lane Kiffin Era is Ju'Wuan James, who has started in each of his 25-game career with the Tennessee Volunteers.
There are whispers of an early exit to the NFL for James, too, though he'd have to have a standout year playing on the right side of the line.
I'm all for it! If James and Justin Hunter are leaving early, it means they had spectacular seasons and hopefully a bowl win for the Vols.
RG: Alex Bullard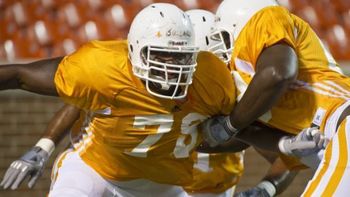 Alex Bullard transferred from Notre Dame before the 2011 season and was allowed to play right away because of a family medical hardship.
He promptly took over a starting guard position from JerQuari Schofield, a member of the (nearly) all-freshmen line of 2010.
Bullard later showed his versatility when he took over center duties from former Freshman All-American James Stone.
C: James Stone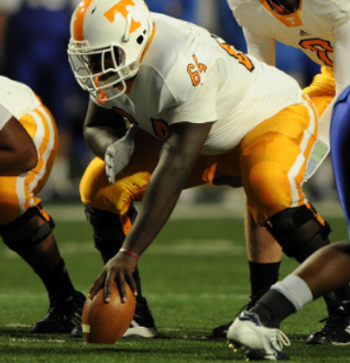 Maybe you sensed a hint of frustration from the last sentence on the previous page, but I really disliked the idea of benching James Stone last year.
He is a quality young man, only coming to play for the Tennessee Volunteers because Lane Kiffin left, and he's a former Freshman All-American.
His awkward snapping technique was altered, and he was forced to switch hands (Stone is left-handed). The result was numerous snapping issues and a spot on the bench for Stone.
Let Stone snap it left-handed! He had no problems as a freshman, and the Vols are a significantly better run team when he's in.
LG: Zach Fulton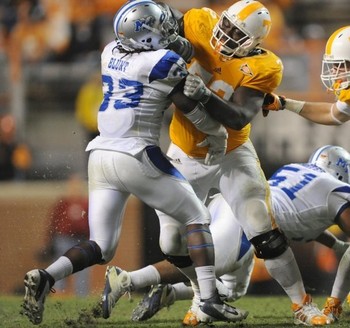 Nothing exciting, nothing boring. Zach Fulton is just a big ole' offensive lineman.
At 330 pounds, he was the heaviest guy on the team in 2011, but Daniel McCullers will change that in 2012 (more on him later).
Do it to it, Zach.
LT: Dallas Thomas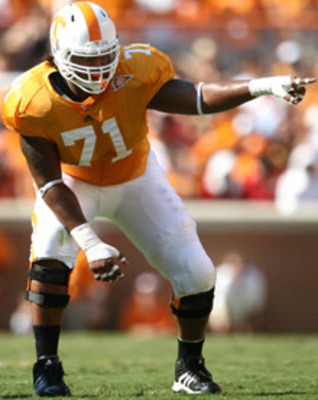 Dallas Thomas has been the starting left tackle for the Tennessee Volunteers since 2009, when he was just a sophomore.
He's not an overpowering, dominating lineman, but he's polished, experienced and knows his job.
He'll get a chance to play in the NFL after his 2012 senior season and will surely be missed in 2013.
TE: Mychal Rivera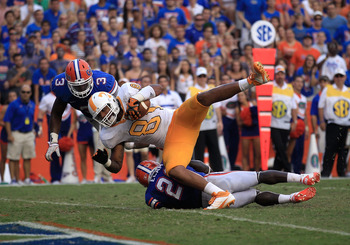 Sam Greenwood/Getty Images
Mychal Rivera was supposed to have a breakout season in 2011, but it only became partially true.
Sure, he bumped his receptions from 11 to 29 and his 112 to 344, but he caught only one touchdown.
Let's see what happens when he has a healthy offense to support him this fall.
WR: Da'Rick Rogers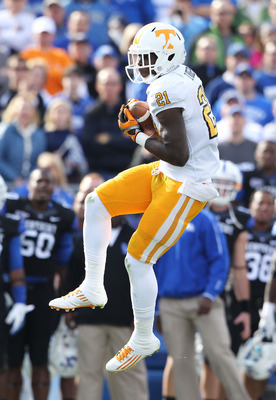 Andy Lyons/Getty Images
After the crushing loss to Kentucky, rumors flew around Rocky Top that Da'Rick Rogers was one of the players leading the "we don't wanna go to no crappy bowl game" charge.
You'll have to excuse me if I don't always take this kind of garbage seriously. Then he was kicked off the team. What's next?
All I know is that Rogers made two beautiful catches against Vanderbilt and has never had any coach or player say anything bad about him.
And Rogers is extremely humble and self-aware, but don't take my word for it. Take his.
DE: Jacques Smith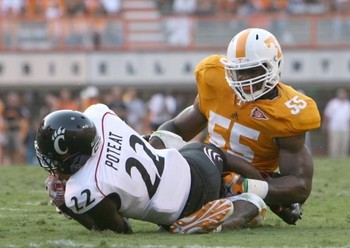 Jacques Smith showed his incredible burst of speed in the first few games of last year against easy opponents.
He'll need to continue that performance into the tougher games this year to keep hold of a starting spot in a defensive line that is slowly growing depth.
I could see Smith getting some playing time as a standing, outside linebacker rusher in Sal Sunseri's 3-4 defense, too.
NT: Daniel McCullers (JUCO Transfer)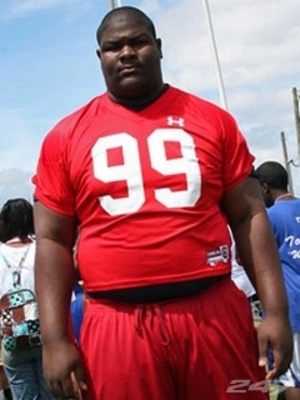 My first big gamble for the 2012 season is projecting Daniel McCullers, first-year JUCO transfer, to start at nose tackle in the new 3-4 defense.
McCullers signed at 6'6", 380 pounds, which is the same height and 30 pounds heavier than Albert Haynesworth.
He said he wants to get down to 360 before the season, but I'd rather him get to 400 myself.
DE: Willie Bohannon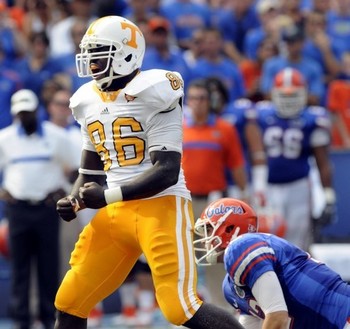 This is a really shaky projection here, but with the departure of Ben Martin, Bohannon is likely the first man up to take the second defensive-end spot.
He only started three games last year and failed to impress many.
Like Jacques Smith, Bohannon must perform to stay ahead of other linemen like Marlon Walls, JUCO-transfer Derrington Sentimore and numerous other newcomers.
OLB: Curt Maggitt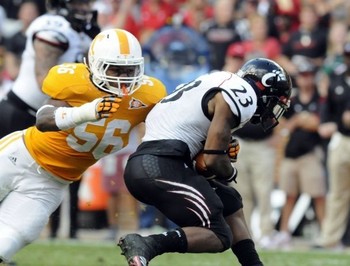 You have to be excited to see Curt Maggitt speed-rush next fall a la Clay Matthews of the Green Bay Packers for the Tennessee Volunteers next year.
A member of the All-SEC Freshman Team, Maggitt exceeded his lofty expectations from former defensive line coach Lance Thompson who called him the best pass rusher he'd ever seen.
Keep your eye on Maggitt. If he continues improving, he could be special.
ILB: A.J. Johnson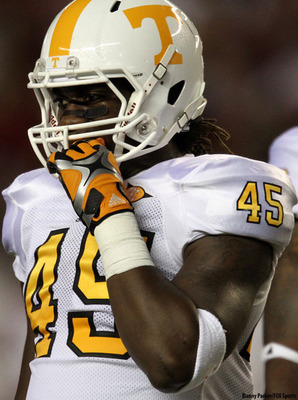 Curt Maggitt's partner in crime last year was fellow freshman A.J. Johnson, who will be perfect as an inside linebacker in 2012.
Like Maggitt, Johnson made the All-SEC Freshman Team, which has to make you feel great about the future of the Tennessee Volunteers' linebacking corp.
Austin Johnson did a great job getting A.J. Johnson ready to man the middle.
ILB: Herman Lathers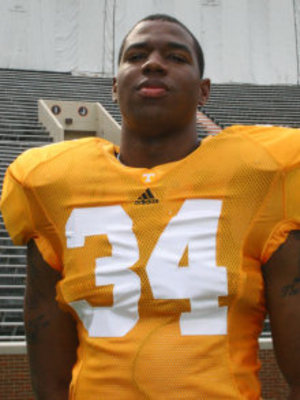 Sidelined all of the 2011 season, Herman Lathers will be ready to go for the 2012 season.
His return comes not a moment too soon, as the Tennessee Volunteers switch to a linebacker-heavy 3-4 defense.
The question with Lathers is, can he stay healthy?
OLB: LaTroy Lewis (Freshman)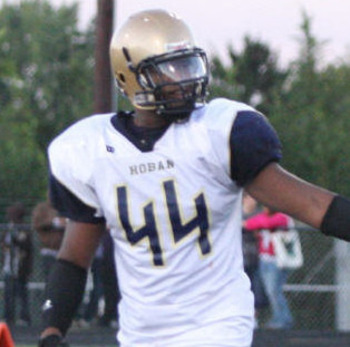 The last of the four linebacker positions is probably the most open position on the team.
I'm giving it to defensive end/linebacker recruit LaTroy Lewis.
I really don't know a lot about him, but people are excited about his size and speed.
CB: Izauea Lanier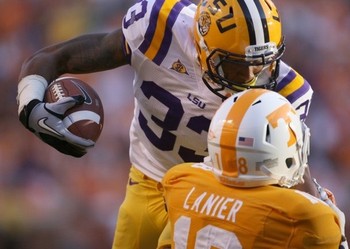 Izauea Lanier was a dependable cornerback in 2011, but he didn't make any big plays.
Of course, none of the defensive backs did, so Lanier fit right in.
If another member of the secondary can provide the big play potential that every secondary needs, Lanier can keep with his steady approach.
S: Prentiss Waggner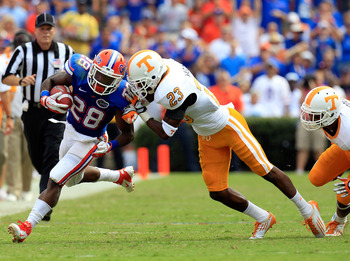 Sam Greenwood/Getty Images
If Willie Bohannon loses his starting spot at defensive end, Prentiss Waggner will become the only starting senior on the defense and one of only two on the whole team (Dallas Thomas).
Waggner made a name for himself as an interceptor back in 2010 but lost that magic.
He is best suited to help the Tennessee Volunteers regain some ball-hawking prowess.
S: Brian Randolph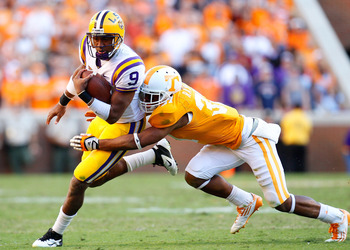 Kevin C. Cox/Getty Images
The third Tennessee Volunteer freshman to make the All-SEC Freshman Team was safety Brian Randolph.
No one got more grief from an armchair quarterback than Randolph did from me. He just didn't strike me as anything special.
But in a defensive backfield that had but one returning player in 2011, Randolph's quick assumption of the starting safety role was admirable.
CB: Marsalis Teague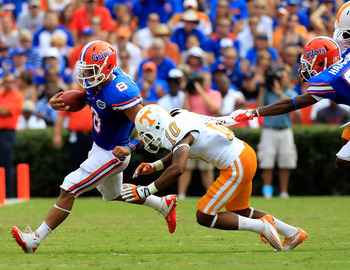 Sam Greenwood/Getty Images
The cornerback opposite Izauea Lanier needs to be a big-play guy.
Justin Coleman wasn't able to provide that boost last season, so behind the second outside linebacker spot, I call the second cornerback spot the most open position on the defense.
While I honestly don't think that Marsalis Teague is that kind of player, his experience will earn him the starting spot for the Tennessee Volunteers.
If he can't get it done, you could see the Vols' top 2012 recruit LaDarrell McNeil or bona fide interception machine Deion Bonner get a chance.
P: Matt Darr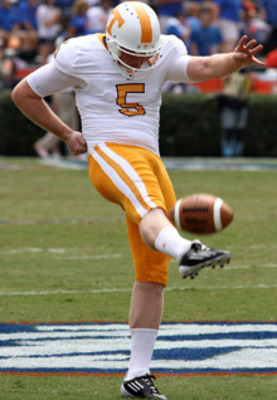 Again? Crap...
Let's hope Matt Darr can find those skills that made him the fourth-ranked punter in the 2010 recruiting class.
K: Michael Palardy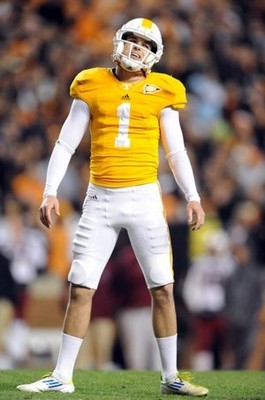 Again? Crap...
Let's hope Michael Palardy can find those skills that made him the second-ranked kicker in the 2010 recruiting class.
Freshman George Bullock waits in the wings.
P/KR: Devrin Young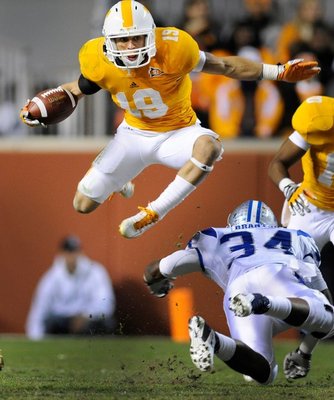 One positive thing about the 2011 return game for the Tennessee Volunteers was the sudden elimination of costly fumbles.
One negative thing about the 2011 return game for the Tennessee Volunteers was the continued dearth of game-changing plays.
Devrin Young needs to incorporate his speed into his punt and kick returns this year.
As General Neyland's Sixth Maxim states, "Press the kicking game. Here is where the breaks are made."
Keep Reading

Tennessee Volunteers Football: Like this team?