Chicago White Sox: What's the Right Mix Behind the Plate?
February 2, 2012

Leon Halip/Getty Images
The Chicago White Sox are facing a changing of the guard behind the dish. It's going to happen soon. Just when that occurs is open for debate.
It is far from certainty that the White Sox are going to re-sign longtime backstop A.J. Pierzynski, who is heading into his eighth season catching on the South Side. With the team looking a bit to the future, the popular backstop is probably facing the end of his White Sox tenure.
What is unknown at this point is how Chicago plans to transition from the cantankerous veteran to a younger option.
Here are the facts of the case:
Pierzynski is set to collect $6 million in 2012, including $2 million in deferred salary from last year.
At age 35, he is a still a candidate to hit .280 and knock in 50 runs.
He is not a fan of the platoon system, preferring to work five or six days a week.
Pierzynski has been the model of consistency behind the plate for Chicago. His arm is far from a deterrent to base stealers, but that's never really been his calling card. In Pierzynski, the White Sox have a pretty solid defensive catcher who has gap power and intangibles galore.
He is also 35.
At some point, Pierzynski is going to have to give way to a younger player. Currently waiting in the wings is Tyler Flowers, long heralded as the heir apparent. Flowers got a chance at the big league level last summer when Ramon Castro broke his hand. He then got the chance to start when Pierzynski was hit by a pitch and suffered a similar injury.
In 32 games after taking over the primary catching duties, Flowers hit .216. He did drive in 16 runs and showed some pop in his bat, hitting five homers in that span, and looked better than advertised defensively.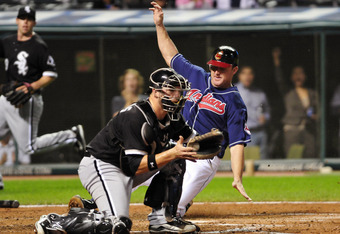 Jason Miller/Getty Images
Flowers hasn't proved that he's ready to take over full-time behind the plate, but he probably should get another extended look back there. The problem comes if Pierzynski is healthy and effective in 2012.
Flowers probably needs to split time at catcher for a season to get a feel for how he handles himself in the majors. I doubt Pierzynski is ready to be a part-time catcher in his mind.
This saga ends with Pierzynski out of town and Flowers or another player assuming his role. Is that going to happen this year, or two years down the line?
At his current level of production, the incumbent gives Chicago the best chance to win. However, the scales of time are beginning to swing in the direction of youth. How long before Pierzynski hands down the mask?