Michigan Football: Top 10 Recruits That Will Be Impact Freshman in 2012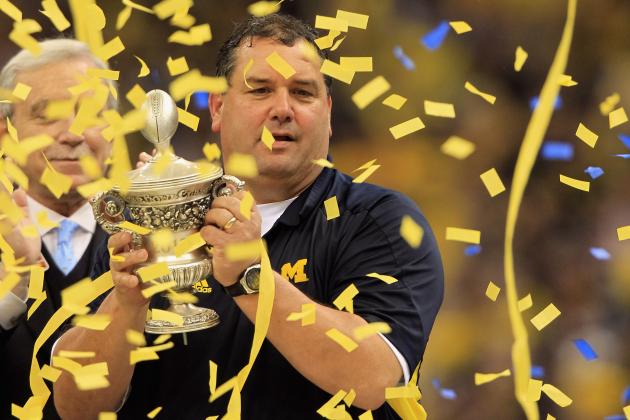 Matthew Stockman/Getty Images

In his first season as Michigan head coach, Brady Hoke led the Wolverines to a 10-win season and a BCS bowl victory. Since he arrived in Ann Arbor, Hoke has made it clear that returning the Michigan football program to national relevance and glory is of the highest importance to him.
He coined the term 'This is Michigan,' changed the culture of the program and has now restored what was lost in the Rich Rod era: showing the players what a tremendous privilege it is to be a Michigan Wolverine.
Hoke's influence was not limited to on-field success, though, as he was equally successful recruiting. In his first complete year of recruiting, Brady Hoke has led Michigan to arguably one of the top five classes in the country. With National Signing Day behind us, the 2012 Michigan recruiting class is all but set in stone and it is time to see what high school studs accept the privilege of becoming a Wolverine.
Here are the top 10 Michigan recruits that will make an impact next fall for the Maize and Blue.
Begin Slideshow

»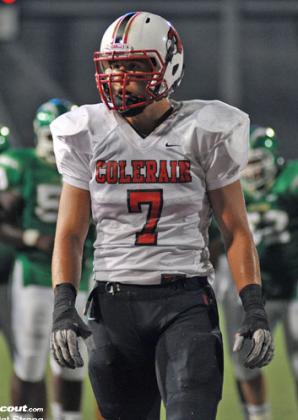 Joe Bolden is a four-star 6' 2" 225 lb. line backer from Colerain High School in Cincinnati, Ohio.
Bolden covers the field well from sideline to sideline and shows good ball skills against the pass. He is a tough kid and a heavy hitter who should fit right into rugged competition of the Big Ten.
The number one reason why Bolden can make an impact next season is because he is a great tackler.
Bolden is expected to be a SAM outside line backer at Michigan, a position currently held by Jake Ryan. Ryan was one of Michigan's most consistent performers defensively last season as a freshman and it will be difficult to to take snaps away from him.
Bolden will provide talented depth to this position and his tremendous tackling ability will give him a chance to contribute.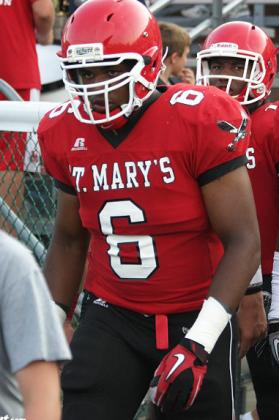 James Ross is a four-star 6' 1" 215 lb. line backer from St. Mary's Preparatory School in Orchard Lake, Michigan.
Ross is an instinctive attacker who sheds blocks well and finishes at the ball. He is not extremely athletic yet is very productive, smart and fundamentally sound. His strength is stopping the run, but he still knows how to play physically in coverage against tight ends.
Suiting up for Michigan next season, look for James Ross to be competing at either the WILL insider line backer position or the MIKE insider line backer spot. Sophomore Desmond Morgan and senior Kenny Demens are returning starters at these two positions respectfully, so playing time will be well earned for Ross.
He will battle returning line backers Cam Gordon and Brandin Hawthorne as well as fellow 2012 recruit Royce Jenkins-Stone (No. 6 on the list) for playing time as a backup.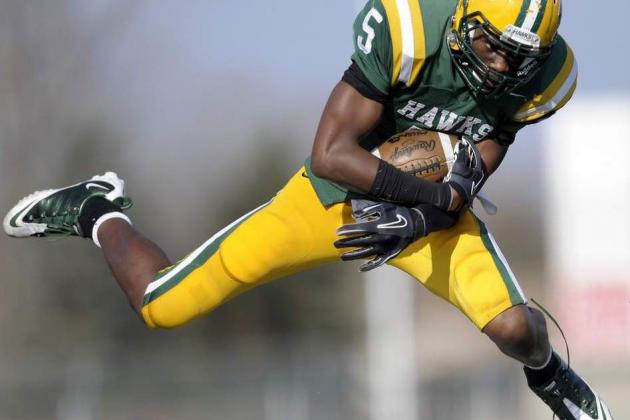 Devin Funchess is a four-star 6'5" 205 lb. tight end from Harrison High School in Farmington Hills, Michigan.
Funchess is a "receiver first" type of tight end who is extremely athletic and has outstanding body control, coordination and route-running skills. He has above-average speed for a tight end that allows him separate well and rack up the YACs.
According to many, Brandon Moore is penciled in as the projected starter for Michigan at tight end, but the senior has never started a game in his career. Behind Moore on the depth chart are walk-on Mike Kwiatkowski and an incoming three- star recruit A.J. Williams.
Funchess is going to have to add muscle and develop more physicality to be a great Big Ten tight end, but his play-making ability should earn the freshman playing time.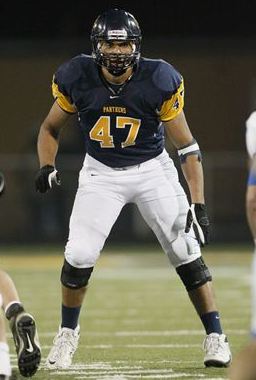 Chris Wormley is a three-star 6' 6'' 270 lb. defensive end from Whitmer High School in Toledo, Ohio.
Wormley has tremendous size, strength and skills as a strong side end. He moves well for his size and has an never-ending motor and intensity to his game.
The strong side defensive end position remains an area of question for the Wolverines. Sophomore walk-ons Nate Brink and Chris Eddins return but will be in competition for the starting spot with Wormley and fellow 2012 recruit Tom Strobel (#4 on the list).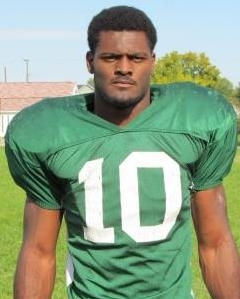 Royce Jenkins-Stone is a four-star 6'2'' 215 lb. line backer from Cass Tech High School in Detroit, Michigan.
Jenkins-Stone is an extremely aggressive player who shoots gaps well and attacks the ball. A tough player who is college-ready, Jenkins-Stone uses his athleticism to attack the ball.
His aggressive nature causes him to over run some plays, but he can beat blocks and get back into the play using that same aggressiveness.
Royce Jenkins-Stone has a strong chance to earn his way into the linebacker rotation, but fellow recruit James Ross (No. 10 on the list) will not make it easy for him. Expect to see Jenkins-Stone backing up Desmond Morgan at the WILL line backer position to start the season.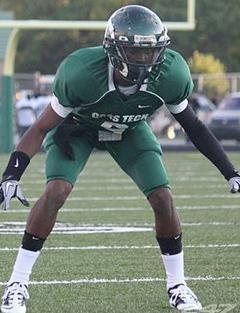 Terry Richardson is a four-star 5'9" 160 lb. corner back and a teammate of Royce Jenkins-Stone at Cass Tech High School in Detroit.
What Richardson lacks in size, he makes up for in quickness and ball skills. Thanks to his superior leaping ability, he high points the ball well and is excellent at playing the ball in the air and can snatch an interception away at any moment with his strong hands.
Richardson is willing to tackle in run support, but must get stronger to improve his drag-down tackling technique. Senior J.T. Floyd and sophomore Blake Countess will be the starters at corner back in 2012, but Richardson should join junior Courtney Avery in the backup rotation.
Look fro Richardson to play a significant role in Michigan's nickel defensive packages.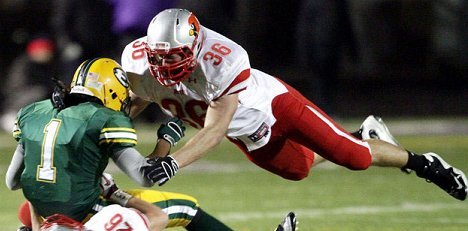 Tom Strobel is a four-star 6'6'' 245 lb. defensive end from Mentor High School in Mentor, Ohio.
Strobel has a nice frame and room to add weight and strength that should let him become an athletic inside-outside guy. For how tall he is, he changes directions well and has great balance. Sometimes he plays standing up, but overall looks ready to play at the college level.
Strobel will most likely battle for playing time at the aforementioned strong side defensive end position, a spot that remains up in the air for Michigan.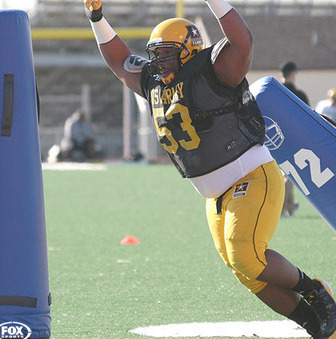 Ondre Pipkins is a five-star 6'3" 325 lb. defensive tackle from Park Hill High School in Kansas City, Missouri.
In high school, Pipkins was double, sometimes triple-teamed and has the potential to receive similar treatment from Big Ten offensive lineman.
He is strong, explosive off the ball and can be extremely disruptive in the backfield. Pipkins is surprisingly mobile for his size and has proven to be a polished tackler.
Pipkins could arguable be the most complete player in Michigan's 2012 recruiting class and will have the opportunity to play right away.
Michigan lost both defensive tackle starters from last year's squad so both spots should be a highly competitive position battles this offseason.
Pipkin will compete for snaps against a proven senior in Will Campbell as well as junior Quinten Washington, sophomore Richard Ash and an incoming three-star recruit, Matt Godin.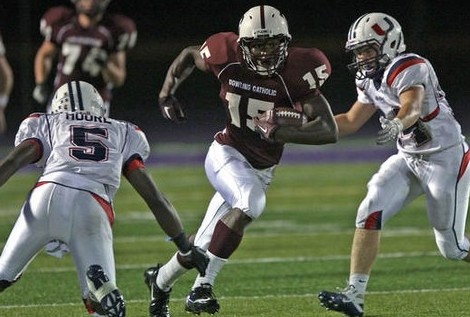 Amara Darboh is a four-star 6'2'' 190 lb. wide receiver from Dowling High School in Des Moines, Iowa.
Darboh is not a burner but has solid deep speed, especially considering his above average size. He is outstanding at going up and getting the ball in traffic thanks to his excellent hands, ball skills and body control. His YAC ability is average, yet he is a strong and elusive wide out capable of breaking tackles.
Michigan's wide receiver core lost Kelvin Grady, Martavious Odoms and Junior Hemingway to graduation this season. The depth chart took an even bigger hit when Darryl Stonum, a talented redshirt senior was dismissed from the team after recently completing his mandatory redshirt season due to past violations of team rules.
Senior Roy Roundtree and junior Jeremy Gallon are slated to start the season, but Darboh should be able to grab some playing time away from backups Drew Dileo, Jerome Jackson and Terrance Robinson.
Draboh's skills and style of play resembles that of Sugar Bowl MVP Junior Hemingway, so look for Draboh to emerge as one of Denard Robinson's favorite down field threats.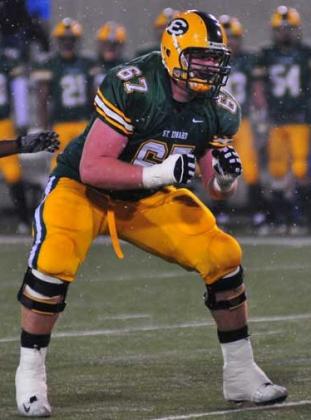 Kyle Kalis is a five-star 6'5'' 302 lb. offensive lineman from St. Edward High School in Lakewood, Ohio.
Kalis is nasty fleet-footed big man who relies on power, strength and leverage to finish his blocks all the way through. He is not particularly long, but his outstanding athletic ability makes up for that weakness.
Brady Hoke's run-first mentality coupled with the running ability of Denard Robinson and Fitzgerald Toussaint might mean that Kalis, a better run blocking lineman than pass blocking, could start at right tackle week one in Cowboys Stadium against Alabama.
His primary competition will be junior Mike Schofield, but since Schofield is capable of playing left guard, Kalis can lock up the right tackle position with a productive offseason.
Like my article? You can follow all my sports opinions @NolanGauvreau01. Tweet me for a follow back!