Ben Roethlisberger Will Benefit from a Pittsburgh Steelers Coaching Change
February 2, 2012

Gregory Shamus/Getty Images
The Arians/Roethlisberger era in Pittsburgh is over.  It had a good run, going to two Super Bowls and winning one, but it was time to move on.  When it was working, Arians and Roethlisberger's unique coach-player dynamic seemed fine, but when the Steelers are heading out of the playoffs in the Wild Card Round boasting the best receiving corps in the league, things need to be adjusted.  Looking back from this year, Bruce Arians' tenure as offensive coordinator saw the Steelers finishing the regular season 12th, 14th, seventh, 22nd and 17th in his 2007 inaugural season in the position.
Pro Bowl Quarterback Ben Roethlisberger was described as being "miffed" by the timing of the Steelers' move with Arians.  Roethlisberger said he'll seek insight from and give his opinions to Steelers president Art Rooney II about the direction of the offense upon his return from the Hawaii. 
The deposed offensive coordinator's time in Pittsburgh wasn't without issue.  In addition to a solid block of fans calling for his removal on what seemed like a yearly basis, the team itself looked to move in another direction in 2009, but Roethlisberger stepped in and lobbied for his retention. Big Ben was known to have a good relationship with his coordinator both on and off the field, which went as far as  inviting Arians to join him as a guest in Hawaii.  Arians demurred once he was no longer a part of the franchise. 
"We feel like we are really close to being an elite offense," said Roethlisberger to the Pittsburgh Tribune Review. "For your leader to be gone is kind of a shocker, but you've got to be ready for whatever the Rooneys and coach (Mike) Tomlin decide it our next step."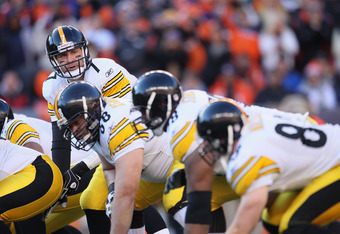 Jeff Gross/Getty Images
The talent is indeed there.  Among Hines Ward, Emmanuel Sanders, explosive Antonio Brown, speedster Mike Wallace, Jerricho Cotchery and Heath Miller, Roethlisberger had all the weapons he could ask for, but the team finished 10th in passing yards with 253.4 yards per game average. Roethlisberger finished the season with 4077 yards and a mangled leg, but the offense was inconsistent struggling against teams like the Cleveland Browns and Kansas City Chiefs. 
Big Ben might have a few more Super Bowl wins in his future, but he didn't seem to be able to get there in the mindset he was in.  The right new hire will nudge him out of his comfort zone and force him to be a better quarterback.  According to NFL Network's Jason La Canfora, Roethlisberger is reportedly lobbying hard for quarterbacks coach Randy Fichtner for the position, but there's been no movement reported on that front which suggests that the team is looking elsewhere. Though Fichtner is a very good coach the Steelers should continue looking outside the organization, as they have with the interviewing of the likes of Todd Haley, to shift the paradigm and revive a run first offense and more disciplined passer.
Big Ben's toughness can never be questioned, but his decision filter both on and off the field doesn't appear to be fully matured and a new coach could be a boon to that growth.  After all his issues in bars and clubs, the Tuesday before the Super Bowl, he was spotted in a Dallas Bar with a couple teammates.  Though he reportedly ran up an $800 tab and left a 20 percent tip, his decision to step within 500 feet of a night club raised eyebrows, and to do it the week of the biggest game of the season seemed a poor choice.  Had the Steelers won the Super Bowl, the stories of Ben's night out would have set an interesting ambiance around his growing mythology, but when he throws two interceptions and finishes with a 77.4 passer rating everything should be questioned.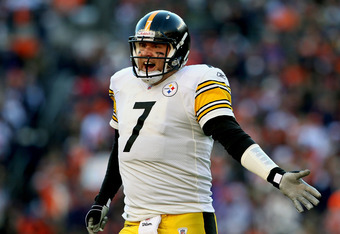 Jeff Gross/Getty Images
Much has been made about the incipient meeting between owner and star quarterback, but whatever the outcome of the particular meeting, a healthy dynamic of quarterback and ownership has been reaffirmed.  Rooney's move asserts that no one piece is more important than the team, and that the big decisions for the team happen at the very top and nowhere else.  Arians' time was now and he should be applauded for his good hard work toward the cause of winning.  Just because it didn't last forever doesn't mean his time in Pittsburgh wasn't a success.  It was the right time to move on.
@mattsimondotcom
Tell me what you think. Leave your comment.