Chicago Bulls: 5 Observations After Their Loss to the Philadelphia 76ers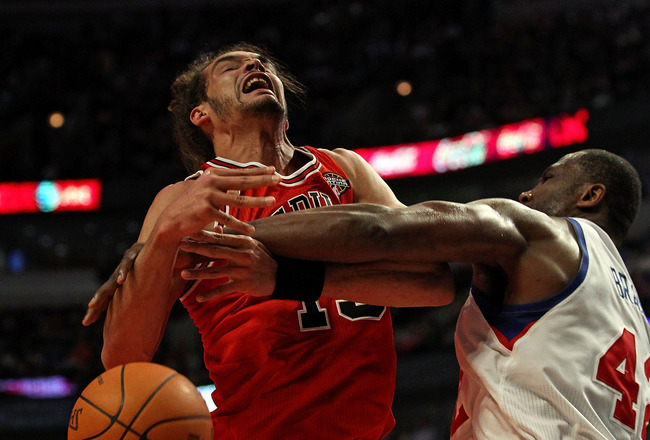 Jonathan Daniel/Getty Images
It wasn't a great night for the Chicago Bulls. It wasn't even a good night. They lost, 98-82, to the Philadelphia 76ers.

The 76ers dominated just about every aspect of the game. The Bulls had none of their usual energy and defensive intensity.

The Bulls haven't matched up well with the 76ers in their current incarnation. In fact, the Bulls are now 1-3 against the 76ers between this season and last.
Here are my five observations from the game.
The Bulls Haven't Beaten the Good Teams Yet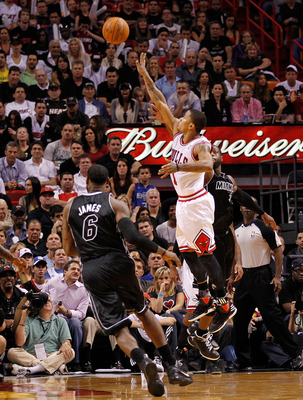 Mike Ehrmann/Getty Images
The Bulls are off to a strong 18-6 record, despite losing to the 76ers tonight, but the thought occurred to me that this team hasn't beaten anyone decent yet.

They do have wins against the Los Angeles Lakers, Los Angeles Clippers, Orlando Magic and Boston Celtics, and they've gone 1-1 against the Atlanta Hawks this season. The Lakers, Magic and Celtics are all struggling right now.

The Clippers game came at the start of the season, and Derrick Rose had that monster game with 29 points and 16 assists. Then, they split a pair of games against the Atlanta Hawks, with the one win coming down to the wire. However, they were blown out in the next.

The Bulls have since run into the Indiana Pacers, Miami Heat and 76ers, who are all playing very well this season. And they've lost all of them.

This is a new season. Last season is already in the books. The Bulls have to go out and prove themselves every single night, and they need wins against quality opponents to do that.
Substituting in Jimmy Butler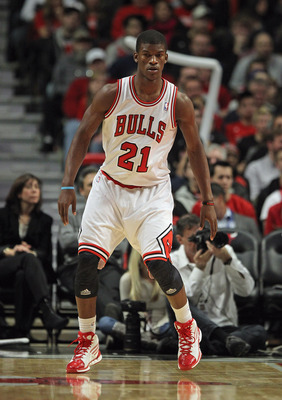 Jonathan Daniel/Getty Images
Jimmy Butler hasn't gotten many minutes so far this season. Up until Monday's game against the Washington Wizards, Butler had only seen 52 minutes of action.

That's changed in the last couple of games; with both Luol Deng and Rip Hamilton being out, he's gotten a few more minutes on the court—a total of 32 minutes in the last two games.

Butler played pretty good defense on Evan Turner and Andre Iguodala. He got to the foul line and even made a three. Butler had five points, four rebounds and two assists in 19 minutes of play.
Noah's Streak Ends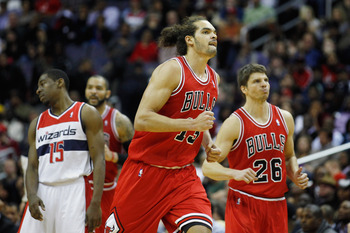 Rob Carr/Getty Images
Joakim Noah's streak of five double-doubles came to an end tonight. I know, five double-doubles in a row can hardly be called a streak. Those double-doubles were extremely encouraging, considering how poorly Noah played to start the season. According to the Chicago Tribune, the pressures of Noah's big contract were partly to blame.

I don't think Noah's performance tonight was a backslide. He only played 27 minutes and was quite active with his help defense. But, his jumper wasn't falling, and the rebounding—although he had seven boards—just wasn't where it needed to be for Noah to get those easy put-backs.

Noah ended the night going 0-of-3 from the field. He had seven rebounds, a couple of assists and a steal.
Iggy Is 10 Feet Tall with 6 Hands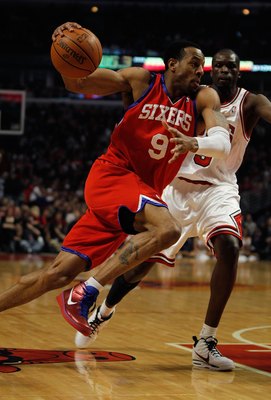 Jonathan Daniel/Getty Images
I've always been a big fan of Andre Iguodala's play. He did it all again tonight. He was involved in virtually every play, had a few rim-rattling dunks and shot a high percentage.

Iguodala almost had a double-double with nine rebounds, continuing his impressive rebounding as of late; he's averaging better than 10 a game over the past three games.

Iguodala has been a constant on the 76ers' roster since being drafted ninth overall by them in 2004. He's a stat stuffer, but beyond that, Iguodala does all the little things that help you win a ball game.
Rip and Deng Watch from the Bench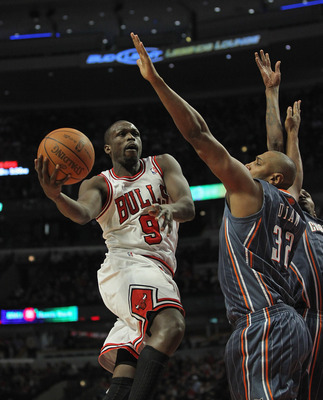 Jonathan Daniel/Getty Images
The Bulls were playing shorthanded tonight without Deng or Hamilton, but they don't need either one right now. The time they need them is in the playoffs. Both Hamilton and Deng have to be as healthy as possible.

The Bulls aren't going to win as many games with Ronnie Brewer and Kyle Korver starting in their absence. Deng is averaging 15.9 points, and Hamilton is averaging 14.2 points a game this season. It's a lot more than just points, though.

If you don't think Deng is a major pillar to the Bulls' defensive system, just consider that since he has been out, the Bulls have allowed 95.3 points a game. That's staggeringly high for one of the best defenses in the NBA. Get well soon, guys.
Keep Reading

Chicago Bulls: Like this team?