WWE: Why The Ultimate Warrior Should Return After a 16-Year Absence
February 2, 2012

The Ultimate Warrior is arguably the most inscrutable character to ever grace a wrestling ring. His neon tassels, Batman-inspired face paint, granite physique, unparalleled dynamism, rock 'n' roll theme music and energetic entrance are still remembered to this day.
While some try to detract from his impact by citing his below-average wrestling ability, there is no doubt that he is one of the most memorable characters in history.
And isn't that what wrestling is largely about? For a man who was billed from "Parts Unknown," The Ultimate Warrior could captivate viewers by merely running, moving his arms toward the heavens and speaking in an otherworldly tongue that was intense as it was incomprehensible.
He was the epitome of not just wrestling, but "sports-entertainment"—a term dubbed by WWE CEO Vince McMahon. Yet, the Warrior, who is erroneously categorized as a one-dimensional "sports-entertainer," was involved in two matches—versus Hogan at WrestleMania VI and versus Savage at WrestleMania VII—that are regarded as all-time classics.
One could cogently argue that he is as underrated as he is overrated. For instance, if it weren't for a dearth of heel challengers during his 1990-91 title reign, the subsequent steroid scandal in 1992 and his falling out with Vince McMahon, the Warrior may very well be perceived in a near-unanimously positive light today.
Of the aforementioned negative points, the dissolution of his relationship with McMahon has been considered to be the biggest obstacle holding the Warrior back from a WWE return.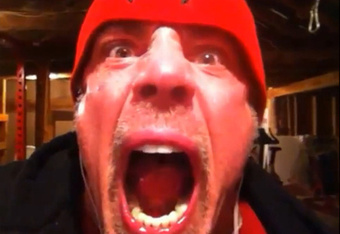 The troubles between the two initially came to light on the 2005 DVD release of The Self-Destruction of the Ultimate Warrior. In the documentary, Vince McMahon alleged that the Warrior held him up for more money right before the main event of SummerSlam 1991.
That and several other comments by his peers in that vein insinuated that the former WWF champion is/was a business-incompetent prima donna.
Taking exception to the blatant jabs undermining his legacy, the Warrior filed a lawsuit against the company for defaming him. It went back and forth a few years before finally concluding in the fall of 2009.
Presently, whereas the Warrior still harbors animosity against the WWE for the way he was portrayed in the DVD, McMahon has reputedly changed his stance by extending a Hall of Fame invitation. However, the Warrior, believing the gesture to be disingenuous, rejected it.
If that news is true, the ball would be in the Warrior's court for a potential return. Undoubtedly, despite what he may say publicly, McMahon recognizes the Warrior's contribution to the business, as evidenced by his inclusion in the pre-show montage.
Ultimately, in spite of everything, it's up to the Warrior to realize that he would make a strong impact if he were to return. Ideally, his comeback would not call for him to become an active wrestler again. He would not appear as The Ultimate Warrior character, but as himself—a real-life motivator who compels others to improve their standing in the world.
Specifically, he would function in the capacity of a mentor who takes on a floundering group of wrestlers in order to help them realize their potential (similar to the premise of his upcoming web show). Hypothetically, certain segments could be filmed in a training facility where the Warrior would push his proteges beyond their limits, shouting words of encouragement in their faces.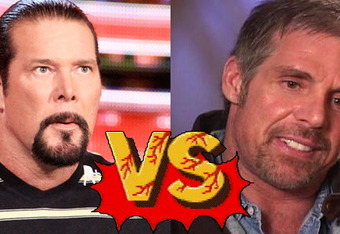 After weeks of this, those under his tutelage would see a character overhaul and be booked to look much more competent in and out of the ring compared to the way they were depicted in the past.
Suffice it to say the Warrior's association with current talents like Mason Ryan, Tyler Reks and Ezekiel Jackson, Drew McIntyre and Tyson Kidd, for instance, would be enough to get fans to reconsider their value.
Such a storyline on WWE TV would fit right in with the Warrior's surprisingly wise and down-to-earth philosophy about wanting to see the young stars shine and make names for themselves. It's not just the Warrior spouting off, either; he's so adamant about the next generation of pro wrestlers that he got into a Twitter/YouTube war with Kevin Nash over it.
On the flip side, The Ultimate Warrior's newfound perspective has won over many current WWE superstars, including CM Punk. The two ostensible polar opposites have doled out support to one another on Twitter.
All in all, by returning to the WWE 16 years after his 1996 exit, the Warrior would not only play a pivotal part in developing new talent for the future, he would finally be able to make amends with his past a la Bret Hart.