NFL Free Agency 2011: 15 Sleeper Free Agents Who Offer the Most Value
February 1, 2012

Rob Carr/Getty Images
There are three ways to build a team (and I don't mean "blindly," "wisely" or "stupidly," though those sure can apply).
You can build through solely through the draft.
You can spend heavily in Free Agency.
You can do a combination of both.
Any of them can be successful.
The New York Giants headed to Indianapolis with a team largely built through the NFL Draft. They have been able to fill their roster with homegrown talent and depth, and it has served them well for the most part.
Meanwhile, the New England Patriots have done a little of both. They have constantly traded picks for other picks and added value through the draft but have, on occasion, made a move for a player they thought could bring them over the top, be it Corey Dillon or Shaun Ellis—they are pieces to a larger puzzle.
Different strokes for different folks, but done right—equally effective.
When mining through the Free Agency pool, some teams will get caught up in the big splash—the guy who will fill seats and make a statement that yes this ownership is serious.
The better teams may make a run at a big name, but that's never everything they focus on. The better teams are always looking in their files and at their tape for those players who might not make a big splash on ESPN, but will make a big impact on the field.
While not destroying the cap figures.
Here are 15 players that the smart teams will be keeping an eye on when Free Agency hits at 4:00 pm EST on Tuesday, March 13.
(Note: For current status on free agents, I went to the Sideline View run by John Harris, Lance Zierlein and Adam Caplan. It is good stuff—I recommend it. Also, next time I cut and paste I will cut Lance's first name AND paste it in front of his last name.)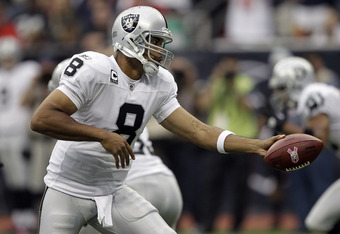 Bob Levey/Getty Images
Jason Campbell—UFA—2011 Team: Raiders
Is it possible that Campbell is back with the Raiders this year? I suppose—after all, bumble bees defy gravity and fly, so anything is possible.
However, this is a new Raiders and right now it looks as if Carson Palmer is the guy in Oakland.
That said, Jason Campbell will want to compete for a starting job. While he might ultimately fail in that endeavour, Campbell is the perfect candidate for a back-up who can step in and play well if needed.
How many teams had quarterback issues this year? How many need some sort of veteran presence behind their number one to push that guy? There are even some starting jobs up for grabs which Campbell might win outright.
Campbell has something left in the tank and can be an effective quarterback. He's a more proven commodity than a guy like Matt Flynn and while his apparent ceiling isn't as high, his price is going to be much more manageable.
Dennis Dixon—UFA—2011 Team: Steelers
Dixon has been a bit of a disappointment so far in his career. Some of that is him—while incredibly athletic, his accuracy tends to get very inconsistent. I believe that some of it is also playing in a league which isn't geared to use his skill-set to its fullest.
He's an option quarterback in a pocket passer world. That is, until Tim Tebow and Cam Newton showed up.
While many believe the option to be a gimmick, I think it's more than that. Teams may look to emulate some of the successful aspects of what the Broncos and Panthers did. The Panthers in particular were not a pure option or spread option team, but allowed Newton freedom of movement while also having him throw very effectively.
Dixon may have some accuracy issues, but he's already less raw than Tebow. Some team will look past his flaws and give him a shot, a team who is looking to get ahead of the curve rather than jump in later.
Dixon is a guy you can bring in whose many tools could fit him in several different offenses, but whose athleticism makes him very attractive for a team who wants to run something closer to the option.
At the very worst, Dixon is a very good choice for any team running either the spread or a version of the option. He can sit behind the number one and if the guy gets hurt, step in without the offense losing a beat.
Kyle Orton—UFA—2011 Team: Broncos/Chiefs
Speaking of relatively cheap backups....
Orton isn't going to win anyone any championships, but in the right offense he can put up some solid numbers. He's a perfect choice for a team who wants to 1) push their number one and 2) make sure they have a good backup, just in case.
Orton may want a shot at a starter gig and if that's the case, he still holds plenty of value. For a team who might be just starting to rebuild or already begun, Orton is a fine placeholder while the franchise either looks for their true long-term starter or develops one.
He's a guy who can hold onto the wheel while the rest of the team takes shape around him, and he won't cost you too much money.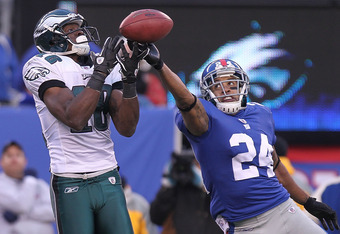 Nick Laham/Getty Images
Terrell Thomas—UFA—2011 Team: New York Giants
Thomas was just hitting his stride when he tore his ACL back in August of 2011—the second ACL tear of his career. The Giants, as well as some other teams, will likely be a bit wary about signing him for the upcoming season.
Which says to me that someone is going to get a tremendous price on a very, very good cornerback.
In 2009 and 2010, Thomas had 70 and 81 tackles and five interceptions each year. In 2010, he also added four forced fumbles, one of which he recovered.
Now, of course an ACL injury will hurt his overall numbers and might make him a bit slower in coverage than the best of the best. However, Thomas will continue to be a willing tackler and a solid pass defender as well.
Someone will give him a shot. After a slow start, Thomas will repay that chance with a very good season.
Peyton Hillis—UFA—2011 Team: Browns
Once upon a time (pre-lockout), Hillis was poised to make some serious money. He was coming off a tremendous 2010 and even if the Browns wouldn't pay him, he was going to get signed to a lucrative contract by somebody looking for a bruising, hard running ball carrier.
Fast forward a year and after injuries, attitude and sub-par play, Hillis' prospects have dimmed. His future in Cleveland is uncertain and his attitude was not been well received. There's a good chance that people will look at 2010 as an aberration and be unwilling to take a chance on a guy who might be perceived as just running for the money.
Hillis may not quite be the back he looked like in 2010, but he's far better than what he did in 2011. A team will overlook the clashes with the Browns over money and the bad 2011 and see a back who runs hard on every down and will likely be very hungry to prove himself after under-performing last season.
Hillis is going to be hungry again. He's going to have a chip on his shoulder. Some team is going to get him far cheaper than they would have last summer, had he been available, and he is going to go off for them.
Eddie Royal—UFA—2011 Team: Broncos
Royal is coming off another mediocre season, one in which it was very clear that he and new quarterback Tim Tebow just didn't click. That's not a knock on either guy—it's just that Royal's skills don't quite translate to a Tebow/John Fox offense.
Royal can still be a very dangerous kick returner and fit in the slot for a team with a different quarterback very well. He's unlikely to cost all that much and while he has not recaptured the flow of his rookie season, a new home and a new team will be just what the doctor ordered for a little career resurgence.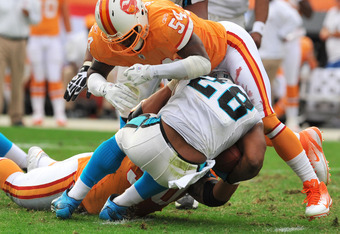 Al Messerschmidt/Getty Images
Geno Hayes—UFA—2011 Team: Buccaneers
Hayes had a rough season last year, marred by inconsistency and losing his starting job. The Bucs were a mess and are busy making a regime change, so it's a bit hard to see how much they might value Hayes.
If he hits the market, Hayes will make some team very happy. The weak-side linebacker hasn't dominated, but has shown an ability to get at the quarterback and make a mess of things in the backfield.
If you placed him with the right people around him and in the right scheme, he would rise back towards what he had been and regain his form.
Another guy who could make a big impact on defense for not too much money.
Josh Johnson—UFA—2011 Team: Buccaneers
As long as we're down in Tampa, let's talk about another guy who might slip out the door during the changeover.
Johnson has been generally solid in back-up duties and he's not getting a shot at the starting job anytime soon. Like I said earlier with Dixon, though, his athleticism and speed will make him attractive for teams looking to try out the option.
Also like Dixon, Johnson has some accuracy issues. However, with proper coaching, he can develop into a very good passer and his ability to be a weapon with his feet as well as his arm will catch some attention.
Again, it's a different league now than it was when training camps kicked off in August. Teams will be looking at mobile quarterbacks in a way they haven't before.
Whether it lasts or not, Johnson will get some looks as both a back-up to a current option or pure spread quarterback or even a starter.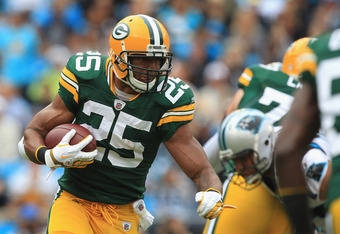 Streeter Lecka/Getty Images
Ryan Grant—UFA—2011 Team: Packers
Despite Packers running back James Starks not blowing up the way we expected him to, I am reasonably sure the Packers will not retain the services of Grant unless he takes a nice big hometown discount.
I don't expect him to.
Grant isn't a stud by any stretch, but he has been a reliable workhorse for Green Bay in the time he has been there. There are plenty of teams who will be in the market for a reasonably priced (cheap?) back who still has some speed and some moves and can carry the ball plenty.
Grant is unlikely to be averse to sharing the load either, and will be a perfect complimentary back.
Ronnie Brown—UFA—2011 Team: Eagles
The Eagles are going to take a long, hard look at their allocation of cap space and make some changes. While they might need a back-up for LeSean McCoy, they won't pay high dollar for one and as good as McCoy is, they won't be even looking to have someone to spell him all that often.
Brown has had an up and down career marred by injury and high expectations, but when healthy he can run the ball well. The key, of course, is the phrase "when healthy."
It's what will keep him from making too much money in free agency, and therefore make him a reasonably-priced guy who can split carries effectively for a team looking to have two effective backs.
Brown will be highly motivated as well to prove he can still play well. High motivation at a reasonable cost.
Steve Smith—UFA—2011 Team: Eagles
Staying in Philly, it struck me as an odd—and somewhat unnecessary—when the team signed Steve Smith as he was coming off a pretty bad leg injury. Even if they knew something we didn't (they had to, right?), did they really need another possession receiver?
Whatever the reason, the fit never really was there and Smith was slower to heal than the team hoped. Meanwhile, when DeSean Jackson's attitude exploded, it was Jeremy Maclin and Riley Cooper who stepped up, not Smith.
All that said, Smith will be over a year removed from his injury and hungry to prove himself. He has tremendous hands and is fearless going up for the ball. I don't expect the Eagles to extend another contract to him and even if they do, I believe it will not be for much.
However, there are teams all over the league who could use a fearless, hard-nosed receiver, and with Smith looking to regain his mojo, probably won't have to outbid the Eagles by much.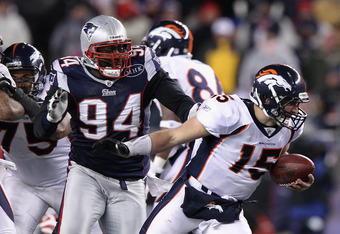 Elsa/Getty Images
Shaun Ellis—UFA—2011 Team: Patriots
Heck, maybe the Pats win on Sunday and Ellis calls it a career. Maybe they lose and he retires anyway. However, I believe that win or lose, Ellis will stick with it for another year or two.
He just loves to play that much.
Sure, Ellis had a far more limited role this past season than he previously had with the Jets. He's still a good presence to have in the defense though and for Ellis, I am going to say the value isn't so much what he does in terms of stats.
It's his leadership which will be the value for teams who might be looking for some veteran help in the defense. Ellis can come in and help mold the younger players on the team, teach them how to play better than they have been and push themselves for heights they hadn't thought of before.
Ellis could help settle down some of the youngsters in the Detroit defensive line. Or maybe help the Bucs come together more quickly.
There are lots of teams who might be able to use a guy like Ellis, and it won't even cost them all that much.
Mike Tolbert—UFA—2011 Team: Chargers
If Tolbert leaves the Chargers, it won't be with the expectation that he is the new Micheal Turner. What will be expected of Tolbert is that he continues to run and play hard for his new team.
Tolbert is a bowling ball and can pound on defenses, wearing them down for a smaller, quicker back.
He's the perfect addition to a team which is looking for a tandem, but lacks the "thunder" to go with their "lightning."
He won't fetch the attention or high price of a marquee name, but that will suit some team just fine. They'll take his production, add it to what they already have, and smile all the way to the end zone.
Andre Caldwell—UFA—2011 Team: Bengals
Caldwell likely ended his Bengals career on injured reserve, but even when he was healthy he struggled to reach his full potential. He has the physical tools you want in a wide receiver—the height, the speed, the reach—but never used them as well as the Bengals had hoped he would when they took him in the third round of the 2008 NFL Draft.
Despite this, Caldwell's athleticism makes him an intriguing sleeper free agent for a team looking for someone to add some speed to their offense. He has some risk—he's already underperformed—but the upside on Caldwell could be very big and his price tag is likely to be dirt cheap.
With a lot of money likely to be spent on guys like Robert Meachem, Dwayne Bowe and Marques Colston, Caldwell could be a cheaper alternative who can still develop into a potent weapon.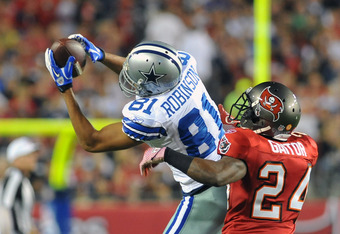 Al Messerschmidt/Getty Images
Laurent Robinson—UFA—2011 Team: Cowboys
So this is what it looks like when Robinson is healthy? I think many people are going to be tempted to say Robinson stays with Dallas—certainly Jerry Jones can pay him.
However, with two high-profile (and not cheap) wide receivers, several free agents to re-sign and other needs to fill, I believe Jones will spend his money in other places.
Which allows Robinson to continue he career resurgence elsewhere.
Robinson is not going to fetch a ton of cash on the open market based on his injury history and lack of production in previous years.
A lucky team with an open spot will be able to swoop in and grab Robinson for a reasonable price—enough to make him happy but not too much to risk taking a bath if he reverts to his old injury-prone ways.
If he stays healthy, we'll see more of the ability on display in 2011. Robinson has always had talent, just rarely health as well.
He could make a huge difference for a team looking for an inexpensive, but very good, wide receiver.