Notre Dame Football: 5 Guys Who Will Get Serious Playing Time in 2012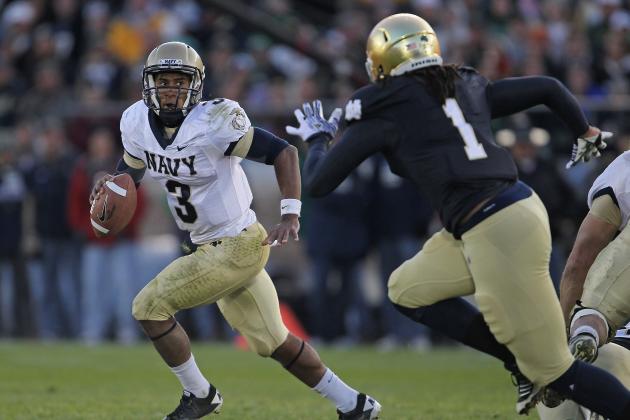 Jonathan Daniel/Getty Images

Deontay Greenberry snubbing Notre Dame may have stolen the show on National Signing Day, but the Fighting Irish still have a lot to look forward in 2012.
The majority of this year's recruiting class won't get to see the field next season, but those who were in their first year with the Irish this past season will have the opportunity to make an impact.
So, most of the newbies will sit on the sidelines for at least one season while learning the ins and outs of their respective positions, and it will be the players who saw limited action or were redshirted last year that will need to step up.
While each of these guys rarely saw playing time in 2011-2012 (if any at all), fans can expect them to have a breakout season in 2012-2013.
Begin Slideshow

»
With the departure of Michael Floyd, the wide receiver position has become a source of uncertainty for the Fighting Irish.
T.J. Jones, Robby Toma and Theo Riddick will most likely be the primary contributors (even though Riddick ended the season at running back and could remain there), but there will be some new faces on the field as well.
DaVaris Daniels didn't play for Notre Dame in 2011. He wasn't used even once, but don't count the 6'1.5", 185-pound wideout from Illinois out in 2012.
The coaching staff was impressed with Matthias Farley's pedigree, and Daniel Smith's size could become an asset (as well as others who have promise at wide receiver). However, Daniels bring a unique skill set that only the incoming freshman can match.
He combines a large frame with underrated speed (ran a 4.5 40-yard dash according to Rivals.com), stellar hands and great field vision.
After sitting for a season and learning Brian Kelly's spread system, Daniels will be ready to see some action in 2012.
Ishaq Williams came to Notre Dame with soaring expectations placed upon his shoulders.
As part of a trio of highly-touted defensive recruits (Aaron Lynch and Stephon Tuitt the other two), many Irish fans thought Williams would start immediately. He didn't.
In fact, it took the youngster some time to learn Bob Diaco's system and be less prone to making major mistakes (mainly missing assignments).
Williams did start to catch on towards the end of the year, but he never managed to play more than a handful of snaps. He ended 2011 with two assisted and four solo tackles, a tackle for loss and one quarterback hurry.
Now, with a year of experience under his belt, Williams will be battling a number of players including Prince Shembo (who started most of last season), Troy Niklas (who started a number of games), Danny Spond and Ben Councell for one of two outside linebacker positions.
With edge-rushing specialist Darius Fleming heading to the NFL, there will be room for each player aforementioned to get on the field, but don't be surprised if you see Williams atop the two-deep before the Irish's first game in Dublin.
Cam McDaniel isn't the fastest running back in the world with his 4.53 40-yard dash time (Rivals.com), but it isn't his speed that makes the Texan so special.
McDaniel plants his feet to make killer cuts before breaking into his signature gallop for a long touchdown run.
He also has incredible balance. McDaniel can absorb a giant hit and stay upright. His ability to catch passes out of the backfield makes him a huge threat to opposing defenses as well.
Cierre Wood has locked down the No. 1 running back spot. Theo Riddick and George Atkinson could be ahead of McDaniel on the depth chart too (although both players could be playing wideout next season), but McDaniel will get much more playing time than he did in 2011. He finished the 2011 season with three carries and two kickoff returns.
And McDaniel won't just get thrown in to provide depth or give the others a rest; he will make a name for himself in 2012.
George Atkinson III was one of a few freshmen who made his presence felt in 2011 (he returned two kickoffs for touchdowns), but it is going to be his twin brother's time to shine in 2012.
Both Notre Dame's starting cornerbacks are going to try their luck in the NFL (and they had used up their eligibility), and that leaves the Irish with nothing but inexperience at the position.
Josh Atkinson may be what the Irish need, and he will be one of the many candidates vying for a starting role.
At 5'11.5", 185 pounds, Atkinson has good size for a cornerback. He is strong enough to be effective in press coverage and fast enough to stay with wideouts on deep or crossing routes.
Plus, Atkinson has great reaction time, which will help him break up passes when guarding quick slant routes.
He isn't a sure bet to get the starting job. Atkinson may need a little more experience at the college level first, but at the very least, he will be playing nickel back quite often for the Irish in 2012.
What isn't there to like about Everett Golson?
The young quarterback can put some mustard on the ball and easily throw a 40-yard rope. He can use fantastic touch to perfectly place an out or fade route, and best of all, when nothing is open, he can tuck the ball and run for a big gain.
Brian Kelly will have a huge decision on his hands for opening day.
Does he play the most experienced of the four quarterbacks in Tommy Rees? Will he try to develop the potential that everyone saw in Andrew Hendrix? Will Gunner Kiel be named the starter as a true freshman? Or will Golson take over the position and never look back.
As much as I'd like to be able to, I can't predict the future.
No one knows how the quarterback competition will go. Your guess as to what will happen is as good as mine, but if I had to place a bet, I would put my money on Golson getting major playing time next season.
Golson is too promising to pass up on. I see him either sharing time with someone else, or getting a shot to lead the team by himself.
And when he sees the field next season, fans should be ready for fireworks.