NHL Trade Rumors: Tim Thomas Deserves to Retire a Boston Bruin
February 2, 2012

What has Tim Thomas done for you lately?  Apparently not enough for some people.
Fresh off his "controversial" White House snub, as well as a solid month of shaky net-minding, Tim Thomas has found himself dangling, like a worm, at the end of the Boston Bruin's fishing line.  The subject of trade rumors.  Bait.
We're talking about the same Tim Thomas here, right?
The Tim Thomas I'm thinking of just delivered to the city of Boston the first Stanley Cup since the days of Bobby Orr.  He captured the Conn Smythe Trophy as the MVP of the 2011 Playoffs. 
He set the all-time single season save percentage record of .938 percent and won his second Vezina Trophy as a Bruins goalie.  And he did this all LAST YEAR.
Have Bruins fans become that spoiled already?  Are there really people out there that think it would be worth trading Tim Thomas away for a shot at repeating? 
Tim Thomas deserves to retire as a Boston Bruin.  He has to. 
I love Tuukka Rask just as much as the next guy. The 24-year-old Finn is the goalie of the future for the Black and Gold, and has already begun his transition into the crease, splitting time with Thomas this season, allowing him to rest up for the playoffs. 
He is poised, cool, collected, and has the skill to lead this team from between the pipes for years to come. But not right now.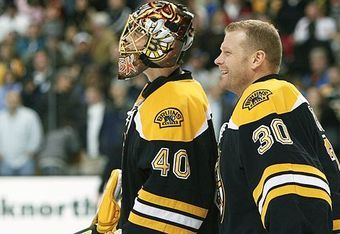 Tim Thomas' contract expires at the end of next season.  In 2012-2013, Rask will take over the starting goaltender job, with Tim Thomas as a veteran back-up, ready to carry his weight and help out if necessary.  At the end of that season, Tim Thomas will part ways with the Boston Bruins the right way.
Is that not good enough?  As trade proposals and rumours continue to crop up, it appears as if many fans would be willing to ship Thomas off if the price were right.  Here's a hint: you aren't getting Sidney Crosby in return.  Nothing that would possibly come back would be worth severing the tie to a goalie that not only showed up in the biggest game in Boston Bruins history, but posted the first game-seven road shutout in doing so.
The Boston Bruins currently sit in second place, one point behind the New York Rangers for the top spot in the Eastern Conference.  They have ripped off seven and ten game winning streaks already this season, and won eight of their 13 games in January. 
The last thing they need is to ship off one of the biggest reasons why they wear strawberry-sized championship rings on their fingers.
What Tim Thomas and the Boston Bruins did last summer was special.  It doesn't happen often.  There will come a time when Bruins fans will find their team in the basement again, and will look back fondly at the 2010-2011 Stanley Cup Champions.  What is happening with this team right now does not last.  Why would you want to end it sooner?
Tim Thomas is right where he belongs.  He earned his spot.