San Antonio Spurs: How They Need to Saddle Up for the Annual Rodeo Road Trip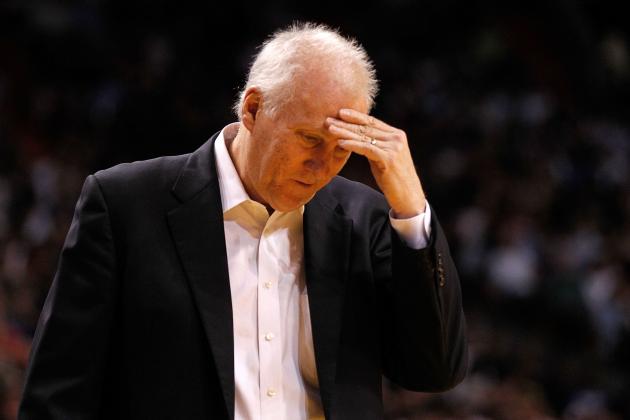 Mike Ehrmann/Getty Images

One.
That's the number of losses the San Antonio Spurs have at home this season.
The Spurs boast the league's best record at home and continue to have success, including last night's big 107-96 win against the current first-place team in the NBA, the Oklahoma City Thunder.
But when you look at the overall record of the Spurs at 16-9...well...you can do the math and figure out where the Spurs have problems.
That would be on the road.
On Feb 6th, the Spurs will start their first of several road games for their annual "rodeo road trip," which will last until they play in Denver against the Nuggets on Feb 23rd.
While previously the Spurs have been known to excel during their rodeo trip, this year could be quite different given this team's struggle on the road this season.
I hope you are listening, Coach Pop, because I am about to give you three ways the Spurs need to saddle up and take this rodeo trip by the horns.
Begin Slideshow

»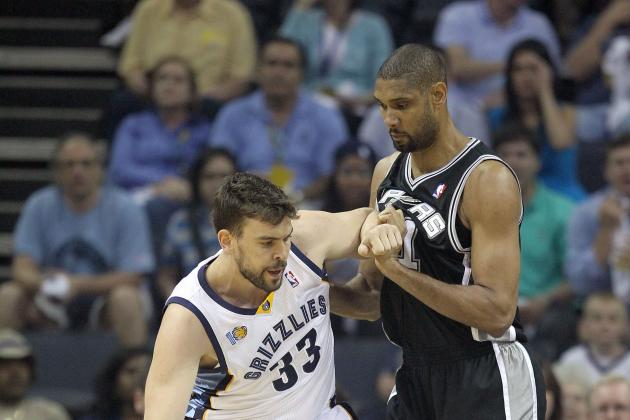 Andy Lyons/Getty Images

What are the four championship Spurs teams known for?
Defense.
What quality does Coach Pop look for in all of his rookies?
Defense.
Why is Bruce Bowen getting his jersey retired next month?
Yes, defense.
The Spurs are giving up an abysmal 10.2 more points on the road than at home this season. Not only that, opponents are shooting over 48 percent against them on the road, while the Spurs hold opponents to 43 percent at home.
They are also allowing opponents to make at least two more three-pointers on the road than at home and of course being out-rebounded as well. Steals and blocks are also down for the Spurs on the road; they average almost an entire steal and block less on the road per game.
The Spurs are actually 13th out of the 30 teams in the league in opponents' points per game at 93.9; but if it were not for the road, they could be much better.
Bottom line is that there needs to be a change to defense on the road.
My solution: I believe we need to make a change in the minutes played between players that play more defense and players that don't.
For example, although I am one of DeJuan Blair's biggest fans (and have his jersey), I believe he should not be getting as many minutes on the road games. My reason for this is that he is an energy player, a player who thrives off the home crowd.
I believe Pop should consider giving Tiago Splitter more time since he has the size and ability to gather more rebounds/blocks and be a bigger defensive presence inside with Duncan.
Splitter has made drastic improvements thus far in his second season. Per 36 minutes, Tiago is averaging 15.3 points, 9.3 rebounds and 1.4 blocks a game. All of these numbers are higher than Blair's, but Blair continues to be the starting center and has played more minutes this season.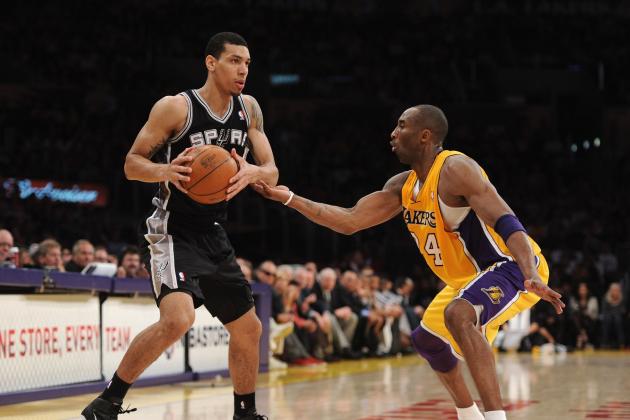 Harry How/Getty Images

During the offseason, it can be argued that the Spurs lost their most effective guard behind Manu Ginobili and Tony Parker in George Hill, who was traded to the the Indiana Pacers for Kawhi Leonard.
Luckily, the Spurs, as usual, have been able to find diamonds in the rough, making the absence of Hill almost inconsequential.
Along with former Big 12 player of the year James Anderson, and first-round pick Kawhi Leonard to help fill the void, the Spurs have been fortunate enough to get high-quality play from a few other lesser-known players as well.
While the league has known about "never gun shy" Gary Neal, he has stepped it up again this season and continued to be a consistent scorer for the Spurs when needed.
However, the biggest surprise this season off the bench would be the spark created by former North Carolina Tar Heel Danny Green.
Green, who was drafted 46th overall by the Cleveland Cavaliers, had only played in eight total games with the Spurs last season.
During the offseason, Green impressed Coach Pop, just as George Hill did in the past, with his defense and basketball IQ.
With increased playing time this year, Green has been able to be one of the Spurs' biggest strengths off the bench, truly makes the team a very deep one and is quickly becoming Coach Popovich's favorite player.
Coach Pop has vowed to not play Tim Duncan in situations where the team has to play four games in five days, thus the bench has to be ready to step up and play. Popovich is known to pull his starters out early in games, or even not play them at all.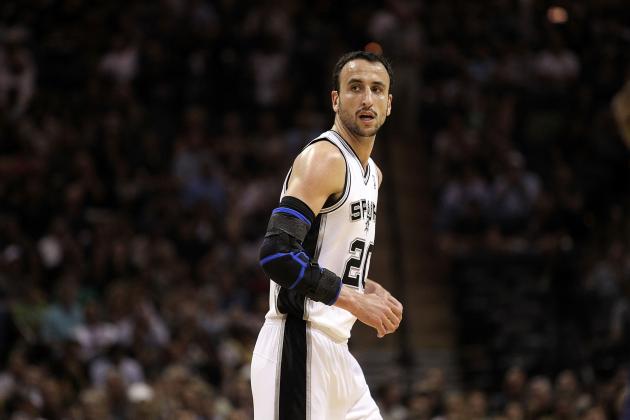 Ronald Martinez/Getty Images

What good is a team without their second-leading scorer (he was first until yesterday when Tony Parker got 42 points)?
Currently first in the NBA Southwest Division is not bad, but not good enough for the Spurs, who have been there and done that.
Being in first place is great during the regular season, and will really help the Spurs during the playoffs with home-court advantage if they continue to play well.
However, this team needs to take it to the next level, and that means everyone needs to be healthy. Manu Ginobili is not only the second-leading scorer this year for the team with 17.4 points a game, but he is also the glue to this team.
Yes, we can look at the numbers...Manu contributes more than points; he is shooting field goals at 59.2 percent, 51.9 percent from three-point land, and is averaging almost four rebounds, three assists and 1.2 steals a game.
While these numbers are great, what Manu brings most to the Spurs is his experience and leadership.
He is the offense when Tim and Tony can't buy a basket.
He is the defense when the opponent's team best player is scoring at will.
He is the go-to guy in the fourth quarter, and is the most dependable player at the free-throw line, which the Spurs are notoriously horrific at.
When will he be back? He was injured on Jan. 3rd and had hand surgery, which has given him an expected "six to eight weeks" time off the court.
But he is already making progress.
On Jan. 31st, Manu tweeted "Nice to start using my lefty again. I missed it! I started shooting and dribbling carefully. Can't wait."
Expect him to be back during this road trip!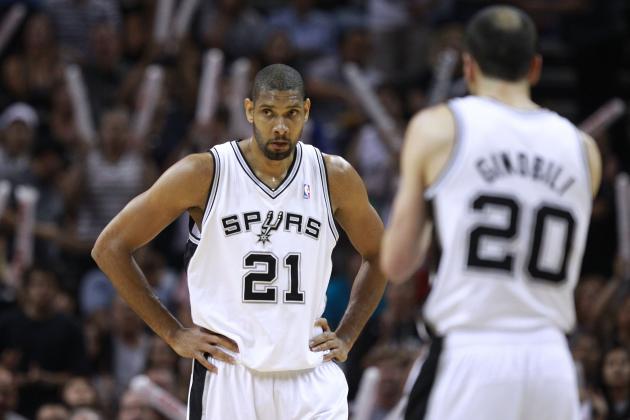 Jed Jacobsohn/Getty Images

If the Spurs improve their defense, get continued support from the bench and have Manu Ginobili join during the rodeo road trip, there should be no worries.
Big ifs?
I don't think so; in fact I predict the Spurs should have their own goals to obtain by the end of the trip.
1. Stay healthy
No more injuries, please. Pop needs to continue to develop the bench players by giving them more minutes, but most importantly he needs to ration the minutes of the three All-Stars throughout the trip.
2. Finish at least .500
Being .500 on the road is not bad, and with the Spurs' success at home, I think this is a more realistic goal that can definitely be accomplished.
3. Beat the Clippers on Feb 18th in L.A.
I don't know about you, but I am tired of this Clipper hype throughout the league. The Spurs are not one to admit that certain games are more important than others, but this game would be just that.
It is a statement game that will show the rest of the league that the Spurs are for real and the Clippers have a way to go.
Kind of like the Thunder game last night!
Regardless of what happens this road trip, there is no question that the Spurs continue to be a threat to any team in the league, and this season is no different.
Maybe Tony Parker can rethink what he said this offseason about not being on a "championship contending" team?