Defensemen and Goalies Having Big Impact on Fantasy Scoresheets
February 1, 2012
Chris Trotman/Getty Images
Each week, we will look at the top five fantasy defensemen and top five fantasy goalies.  The lists will be based on fantasy impact over the past few weeks.  Most elite stars consistently produce, but there are several players who tend to be very streaky, so keep an eye on their stats and try to take advantage of a hot streak when you can.
No. 5 – Marc Staal (New York Rangers) finally returned from a concussion but has yet to score a point in the 12 games he has played.  Staal is coming off a career year of 29 points.  Don't count on big production from Staal, but he should be getting some points soon.  If your keeper pool uses the NHL playoffs for your fantasy playoffs, then Staal is worth the gamble, as the Rangers seem poised to make a long run.
No. 4 – Jake Gardiner (Toronto Maple Leafs) was a point a game player in his final year with Wisconsin (NCAA).  Gardiner is currently riding a three-game point streak with four points and a plus three rating.  He has also played over 26 minutes in each of the last two games.  Gardiner may bounce between the NHL and AHL a little longer, but he is the Leafs power play quarterback of the future.
No. 3 – Tomas Kaberle (Montreal Canadiens) is scoring points at twice the rate he was with the Carolina Hurricanes, who he started the season with. His points-per-game has jumped from .31 to .62.  Over the last five games, Kaberle is averaging over 17 minutes a game and posted four assists, two of which were on the power play.
No. 2 – Dan Boyle (San Jose Sharks) is on pace for under 50 points this season, which would be a first since joining the Sharks in 2008.  Boyle has recorded a point in eight of the last 11 games, amassing 12 points over that span.  He has just 10 power play points this season, so his production is coming mostly at even-strength.  If Boyle can get his power play production back up, he could add another 10 points to his projected season total.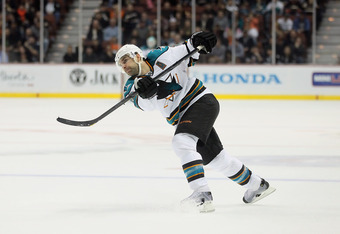 Jeff Gross/Getty Images
No.1 – Erik Karlsson (Ottawa Senators) has already beaten his sophomore point totals in just 52 games this season.  Karlsson is producing 0.92 points-per-game and is on pace for 74 points this season.  He is destroying his competition in the defensive scoring race, he has 12 more points than second-place Alex Edler, and his 22 points in the last 20 games have only helped to widen that gap.
The goaltending position is the streakiest of all hockey positions, so be sure to keep a hot goalie in your line-up and the cold one on the bench!
No.5 – Niklas Backstrom (Minnesota Wild) is on pace for his lowest win total since joining the NHL.  Backstrom has gone from one of the hottest fantasy commodities to a non-factor.  Over his last eight starts, Backstrom is 2-6-0 with a goals-against average (GAA) of 3.40 and a 0.892 save percentage.  Minnesota's struggles as of late, along with the return of Josh Harding, haven't helped Backstrom's numbers.
No.4 – Jaroslav Halak (St. Louis Blues) was the losing goalie in a game against the Detroit Red Wings on January 23. It was his first loss in regulation since November 22.  Halak is playing in a platoon system with all-star Brian Elliott, but coach Ken Hitchcock seems to be sticking with the hotter goalie, as Halak started five straight before finally playing back-up after his loss to Detroit. Over his last 15 starts, Halak has 11 wins, one loss and three shoot-out losses.
No.3 – Marc-Andre Fleury (Pittsburgh Penguins) was listed as the cold goalie in our last column, as he'd lost five straight starts around New Years.  Fleury has since won eight straight and is on pace for a career high 44 wins.  Fleury is stealing games for the Penguins and is a huge reason why Pittsburgh is where they are in the standings after losing Sidney Crosby indefinitely.  Fleury has started 27 of the last 30 games, putting him on pace for 70 starts, which should make this goalie decision easy for fantasy owners.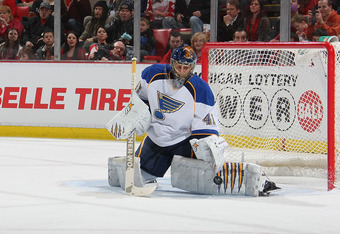 Dave Sandford/Getty Images
No.2 – Antti Niemi (San Jose Sharks) has won back-to-back shutouts. He is an inconsistent goaltender playing on a strong team. Niemi is on pace for a career high 37 wins and career-best 2.24 GAA.  He'll be the go to goalie for the Sharks come playoff time, when San Jose looks to build off a Conference Finals appearance last season.
No.1 – Pekka Rinne (Nashville Predators) was named the third star of the month of January by the NHL, and his numbers of late have been nothing short of incredible.  Over his last nine games, Rinne is a perfect 9-0-0, with a superb 1.56 GAA and a spectacular save percentage of .949.  Rinne is on pace to start a career-high 74 games, and win a career-high 46. Rinne could see his starts slow down once the Preds secure a playoff spot, but only in order to rest him for a Cup run.
----------------------------------------------------------------------------------------------------
Aaron Brouwer is the co-creator of www.fantasyhockeycoach.com.  FHC is a free fantasy hockey service that developed a ranking system combining post-lockout statistics, current factors and our own hockey knowledge.  Brouwer writes about fantasy hockey on Bleacher Report. You can contact Coach Brouwer at brouwer@fantasyhockeycoach.com.