Sacramento Kings Fall to Golden State Warriors in Northern California Battle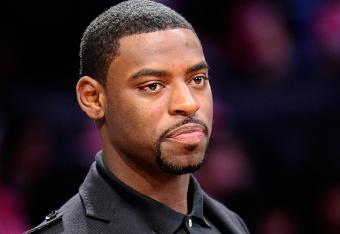 Kevork Djansezian/Getty Images
Has this season been a disappointment so far for the Sacramento Kings?
Entering the game against Golden State, the Kings were 30th in the league in assists and 30th in points allowed. Both of these are dooming numbers for any team.
The Kings remain a team that gets stuck in stretches of stopping the ball and the ball movement. The team has no player with an assist to turnover ratio even above two per game.
Meanwhile, Tyreke Evans leads the team in assists at just 4.8 per game. Guys like Evans, Marcus Thornton, John Salmons and DeMarcus Cousins too often find themselves playing one-on-one basketball.
Many times they don't even mean to, but guys stop cutting and start standing around and that is what you end up with. This is simply a team that struggles to move the ball.
Furthermore, if you are going to play a lot of one-on-one basketball, it becomes even more imperative that you dominate on the boards and get second chances when that goes bad, but the Kings have not. They are only around the middle of the pack in the league in rebounds (12th).
As has been the case, there is still no established playmaker at point guard. Rookie Isaiah Thomas has shown flashes of excellent play and Jimmer Fredette has shown signs of shooting well in blowout games, but neither is yet the force the team needs to run the show.
Another key factor for the Kings is offseason acquisition J.J Hickson, who is posting 6.1 PPG and RPG, with limited impact on games. The Kings were hoping for much more from the big man when they acquired him from Cleveland.
He has started a few games, but mostly has come off the bench. At times, he has gotten some minutes and made some exciting plays.
Despite his inconsistency, he is a much better player than Omri Casspi, for whom he was traded. Off in Cleveland, Casspi is posting an 8.0 PPG and 2.8 RPG in starters' minutes there. The Cavs have yet to learn the sad reality that Kings fans already know about Casspi: He is not an NBA-caliber player.
Coming back to this game, on paper, it looked like a fair fight.
A 6-14 record vs a 6-12 record. That seems like it should be a fair fight, right? Like it should be a decent measure of where each team stands? This Tuesday night game against the Warriors could reveal a lot about both teams.
While the game was fairly close down the stretch, in watching the game I never felt like the Kings were the better team. The final score of 93-90 even seems misleading to me. It indicates a game that was played by two evenly matched teams, but throughout the game it felt like the Warriors were a much better team.
There was no point where I thought the Kings were better than the score said they were. If a couple of plays went differently, this would have been a blowout.
The Kings did succeed in two key areas that kept them in the game. They controlled the Warriors' starting backcourt and they dominated in the paint.
Holding Monta Ellis and Stephen Curry to sub-par games was huge. The Warriors' explosive starting backcourt combined for just 15 points, compared to the 22 scored by the Kings' Tyreke Evans alone.
Evans, as always, just missed a triple-double with an impressive stat line, (22 PTS, 10 REB, 9 AST, 3STL) although he needed 22 shots to get those 22 points.
The Kings also thrived in the frontcourt, getting 21 points and 14 rebounds from DMC and 13 points and 11 rebounds from Jason Thompson. By comparison, the Warriors combination of Andris Biedrins/Dorell Wright/David Lee combined for only 35 points and 10 rebounds. The Kings' ability to control the paint is what kept them in the game.
Unfortunately for the Kings, the Warriors had a secret weapon of their own on this night.
Brandon Rush came off the bench for them and scored 20 points, 15 in the decisive fourth quarter, along with six rebounds. A couple of his misses looked like they were headed in as well. Also off the bench came Nate Robinson (11 PTS, 5 AST, 3 REB), helping make up for the off-nights of Curry and Ellis.
Rush proved to be the difference in the game for the Warriors.
In a final Kings note, Chuck Hayes continued his comeback from a separated shoulder, but had no impact on the game, tallying just two points and one rebound in 13 minutes.
This article is
What is the duplicate article?
Why is this article offensive?
Where is this article plagiarized from?
Why is this article poorly edited?

Sacramento Kings: Like this team?