Arsenal: Why Francis Coquelin is the Most Versatile Player for the Gunners
February 4, 2012

Julian Finney/Getty Images
I'd thought long and hard about giving this designation to central defender-turned-midfielder Alex Song, who still deputizes as a central back when needed (he's done so earlier this season). But I am becoming convinced that the youngster Francis Coquelin, at just 20 years of age (he turns 21 in May), has made a more convincing argument.
Simply put, for a young man just out of his teens and playing his first season of regular EPL first-team football, Coquelin has been a revelation.
Despite being most comfortable in, of all places, the position of central holding midfielder spot currently occupied by Song in the starting XI, Coquelin has shown an impressive ability to slot in at the fullback position as well.
With the alarming attrition Arsenal have seen in defense this season, with defenders dropping like flies onto the treatment table, Coquelin has been a reserve of calm when utilized at right-back, where he has played most recently against Fulham, Leeds United and Aston Villa.
The hamstring injury he picked up against Leeds in early January was worrisome, but the Frenchman needed only two weeks of convalescence before making his return. When he did, he performed quite well last weekend in Arsenal's FA Cup fourth-round match against Aston Villa.
Coquelin has showed his worth as a box-to-box midfielder—his desire in getting back in defense is positively inspirational at times—but he also possesses an underrated capacity to help out on attacks.
He will never have the searing pace and one-on-one inclinations of an Alex Oxlade-Chamberlain, but he doesn't need them to be an effective presence on the pitch. Wherever he finds himself, and whatever he finds himself doing, he does it with a sense of calm that belies his age.
Whether that involves him spreading play from central midfield or linking up with a winger on the right or left flanks in attack merely supports his status as the Swiss-army emeritus within this Gunners side. He has been a godsend amidst the plethora of injuries this term, and not once has he complained about having to play where he might not feel most comfortable.
His most immediate competitor for the right to play center mid after Song is Emmanuel Frimpong, currently on loan with Wolverhampton Wanderers until the end of the season.
While the Ghanaian is regarded as a more accomplished tackler (or more "energetic," if you will), Coquelin has a certain indescribable quality to his game that Frimpong does not—at least at this stage.
There is a polish to the Frenchman's play that is very rare among players his age, especially ones who line up as holding central midfielders.
Coquelin looks just as comfortable engaging in Arsenal's vintage fluid passing game as he is launching into a hearty challenge. He does both with aplomb, and it is a capacity that will serve him well down the line.
After all, it was Song's versatility that ultimately provided him with his breakthrough as a regular member of the first team in 2008-09.
Despite playing mostly in central defense before that season, Song quickly made the position of defensive midfielder his own after Mathieu Flamini's departure for AC Milan over the summer. The Cameroonian has always been a stout tackler, but his biggest improvement has come on offense.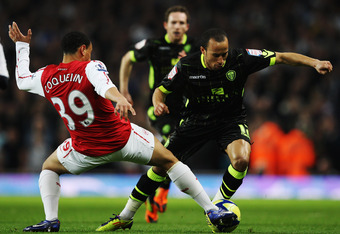 Clive Mason/Getty Images
His assist for Robin van Persie's goal against Everton in December was simply sublime, as was his slide-rule pass for Thierry Henry's goal against Leeds in the FA Cup. Both were passes we might have once seen from a Fabregas or Nasri, a great compliment to Song's improvement.
Coquelin has caught my eye since his second start this season, which came against Shrewsbury Town (he infamously debuted against Manchester United in August—the game that must not be named).
If you haven't caught the YouTube video of his match highlights from Shrewsbury, it's a must-see (the author of the video does a fantastic job culling highlights from various Arsenal reserve players, whether they're with the club or out on loan).
And when Coquelin was presented with the far sterner task of starting against Tottenham away at White Hart Lane on Oct. 2, he didn't flinch. I felt Coquelin was one of the best performers that day, regardless of team—right up there with the excellent Scott Parker.
Last season's loan to FC Lorient of Ligue 1 looks to have done him a world of good. First-team action always helps, no matter where it is experienced, and Coquelin drew raves from Merlus manager Christian Gourcuff, who said he was most impressed with the younger's progress and evolution during his time with the Brittany club.
"He has improved a lot already in his use of the ball and in how he controls the game," Gourcuff said in early 2011. "When he arrived, he was making the wrong choices with the ball at times. Now, he is more accurate and pertinent."
This season hasn't been teeming with appearances, but it could prove the decisive stepping stone for what looks certain to become a very productive career in an Arsenal shirt. If so, Coquelin will undoubtedly put those attributes highlighted by Gourcuff on display on a consistent basis.
There are other players who could rival Coquelin in terms of the number of positions they can play—Andrei Arshavin can double as a winger (minus the tracking back) and attacking midfielder, Robin van Persie came to the club as a winger and has since morphed into a striker, Kieran Gibbs can double as a winger as well as left back, Oxlade-Chamberlain often shifts into a central role from the wing.
But I don't feel that any of those players can combine the natural capacity to balance defense with attack that Coquelin appears to do with such consummate ease. He will never be one to be counted upon for goals, but he can contribute to their build up.
And for the Gunners—both in games and entire seasons to come—that can only be seen as a promising light.