San Antonio Spurs: 5 Areas the Team Must Immediately Improve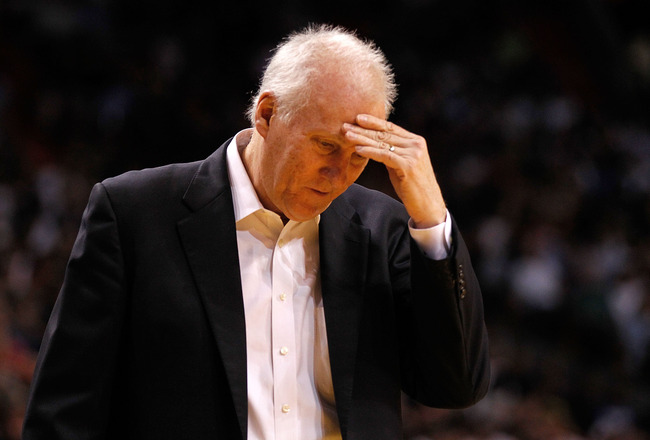 Mike Ehrmann/Getty Images
After another heartbreaking loss to the Dallas Mavericks that has defined how the team has lost games so far this year, the San Antonio Spurs are still searching for answers. The team currently sits with a very modest 14-9 record. Losing Manu Ginobili to a freak injury never helps, and as a result the team has had to scramble to find answers in an already hectic lockout shortened season.
Add in T.J. Ford getting hurt for four to six weeks, after he had comfortably found his niche of running the offense and setting up his teammates for easy baskets, the Spurs are definitely asking a lot of their remaining healthy players.

With that said, these injuries have opened up opportunities for other little-known players to shine. Danny Green has become an instant fan favorite due to his hustle and athleticism on both sides of the court that have allowed him to take on a gigantic role off of the team's bench. Tiago Splitter has been extremely impressive early on, getting a chance to show off his improved all-around defensive game, as well as some sly post moves that compare to the best in the league.
Despite the bright spots however, as well as the injuries the team has been saddled with, they still need to focus on improving five areas drastically if they hope to go past the first round this year in the playoffs.
Road Mettle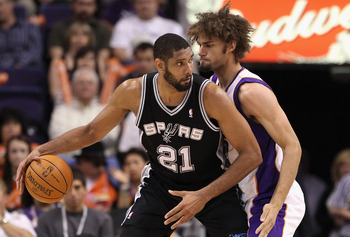 Christian Petersen/Getty Images
3-8 is their record on the road thus far. That stat speaks volumes. The Spurs have always been known as a solid home team, as proven so far once again by their 11-1 record at the AT&T Center. They have never been known to be an easy road opponent in their past, but so far their ability to close games out in other teams' arenas has them feeling homesick.
Perhaps its the youth of the team, who have been asked to take on a larger role than one would anticipate right off the bat, and growing pains hurt any team, especially with a bench as young as the Spurs. Maybe it falls on Gregg Popovich, who is known for emptying that very young bench early on if he does not like the way his starters have been performing.
You can not fault this strategy because in a lockout shortened season, remaining healthy is crucial to a team's long-term success, especially for an injury-prone squad such as the Spurs. Perhaps it is that starting lineup, with a number of them becoming bored by the same regular season "song and dance" and just hoping to coast until the playoffs get under way.
It might just be as simple as that some key cogs for the Spurs are beat up, and the subtraction of one Manu Ginobili especially has left a scarring mark on a team's usually sound and dependable offensive weaponry.
Whatever the reason is, the Spurs must start winning road games. At the rate they are going their regular season record will barely crack the .500 mark, and we all know that will not cut it in a usually loaded and very competitive Western conference.
Rebounding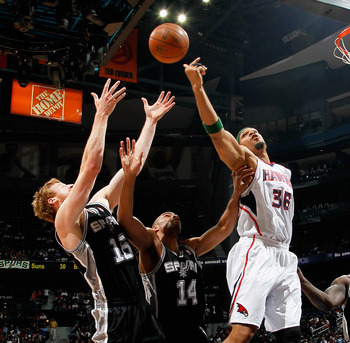 Kevin C. Cox/Getty Images
As evidenced on a national stage this past Sunday against the Dallas Mavericks, the Spurs are a horrendous rebounding team thus far. They currently average 41.2 rebounds per game, which is good enough for 21st (tied) out of 30 teams in the league.
It is obvious that Pop has long since abandoned trying to transform the team into the lockdown defensive squad they were five-six years ago, electing to push the pace and increase the amount of three-point shots taken. As a result of this more offensive oriented game plan, aspects of the game like rebounding go down, especially when one considers the Spurs starting center is the undersized 6'7" DeJuan Blair.

If the Spurs struggles continue, they should definitely consider placing the 6'11" Tiago Splitter beside Duncan. Splitter has gone from awkward and out-of-place rookie bench warmer to shrewd and confident sophomore, averaging 9.0 ppg and 5.5 rpg off the bench for the team while showing off an array of dazzling post moves. If the Spurs were to give him more than the 21.2 mpg he is currently averaging, odds are not only their defense would improve due to more height in the post, but also their rebounding.

Nothing against Blair, as he has shown to be an already established talent in the league, but his skills might be more set for an energizer bunny type of role off the bench. Think a slightly better version of Glen "Big Baby" Davis.
Working Richard Jefferson into a Mid-Range Scheme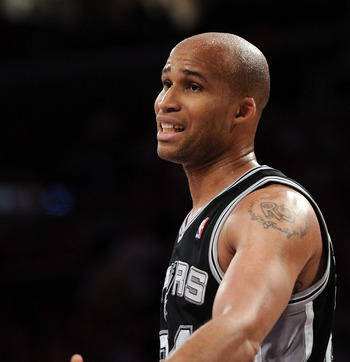 Harry How/Getty Images
After all the rumors about Jefferson being a goner in the offseason (many sources claimed the Spurs were poised to use the Amnesty Clause on RJ, a move that would have taken him off the team's payroll and made him a free agent), the awkward "Oh, you're still here?..." period has passed and the Spurs have pushed forward with RJ being a three-point threat.
As John Schuhmann posted on NBA.com this past week, the Spurs have mastered the art of using the corner pocket, specifically for RJ to cash in. As a result, he is shooting 44 percent from the three-point strike, stretching defenses for the post players on the team.

However, one could argue that's all RJ does. It is either him hitting wide open threes or finishing athletic dunks in transition. Why not develop a surprising set of players revolving around hitting mid-range shots? It is no secret that the mid-range game is a lost art, with players more often than not abandoning a wide open 18-footer for a "Well, I'm halfway here, might as well drive it and try to draw a foul" state of mind.

Jefferson is definitely capable of hitting some mid-range shots, and this will further strengthen the Spurs offense where defenses not only have to stay honest on them from outside, but also from mid-range. This would allow post players like Blair, Splitter, and Duncan to get easy inside shots as a result of a more versatile offense.
Interior Defense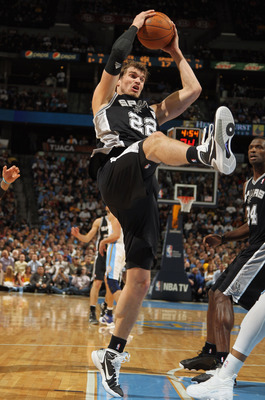 Doug Pensinger/Getty Images
Whether it is lack of size in the post, the absence of a legit shot-blocker on the team outside of Tim Duncan, or poor team defense, the Spurs are not the team they used to be defensively inside. This problem also falls in the "rebounding" problem, where the team is prone to give up offensive rebounds that lead to easy put-backs.
Personally, as much as I like Blair as a player, he is not a center. He is continually matched up against bigger players that sometimes have their way with him. His defense has gotten better since last year, but he still has a tendency to try to reach in for steals more than he should, which results in dumb fouls that get him in foul trouble quickly.

Splitter's size and re-worked defensive game could prove the be the difference maker for a lot of the Spurs defensive problems. He plays defense with his arms straight up when the opposing player is going for a shot, he rarely goes for steals that are not there, and he averages nearly a block a game for only playing under half of the 48 minutes in a game.
Pop may be holding off starting Splitter due to his efficiency off the bench so far, but many Spurs fans are beginning to clamor to see Tiago in games more.
Consistency from the Starters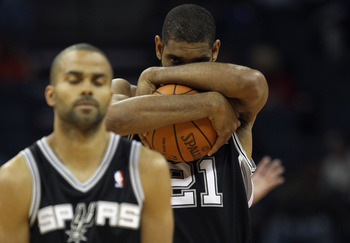 Streeter Lecka/Getty Images
This is the biggest problem thus far. It is hard to place blame on rookie forward Kawhi Leonard, who is in the starting lineup clearly for defensive purposes. It is also not fair to blame DeJuan Blair for putting up huge games only to not do much the next game, since his minutes go all over the place and that's the coach decision.
Duncan is available for the occasional post-up and running hook shot, but as said previously, the Spurs offensive game plan runs primarily through their perimeter tenacity.

One could demand Tony Parker to handle more of the load on offense, seeing Ginobili is still out with a hand injury and "The Big Three" has become the "The Good Two". Parker is currently shooting the second-worst mark from the field of his career at 44 percent, which is shocking considering his adept ways of getting into the lane and finishing with style. We have not seen the same confidence from the mid-range region from Tony so far this year, as he has often settled for trying to get into the lane under pressure and put up difficult shots.

If both Parker and Jefferson could get more consistent looks from the mid-range, their shots will start falling. The Spurs will not have many games like they did Sunday in Dallas, where their bench brought them back into the game and nearly pulled off a stunning heist.
Jefferson can afford to have an off game once in a while, but the Spurs absolutely need Parker to deliver his offensive load, especially without Ginobili aboard at the moment.
Keep Reading

San Antonio Spurs: Like this team?