Alabama Fax Girl 2012: Tide Rolls Again with Shapely Signing Day Assistant
February 1, 2012

National signing day: The one time a year the fax machine, that antiquated, dusty, old warhorse of office equipment, gets its revival, swapping NLI's and 17-year-old's signatures across the country as college superfans celebrate landing the newest 5-star. Email? Please. 
It's the same from Gainesville to Phoenix; South Bend to Southern Cal. Faxes get sent, faxes get received. Not in Tuscaloosa, though, not in the houndstoothed land of tradition and BCS titles and smoking hot Southern Belles. 
Nope, they've got the infamous "Fax Girl." And an iteration of that set-the-Internet-on-fire trend is back for 2012. 
Thank you. Roll Tide. 
While this year's version looks as shapely as expected, it's not quite as official as 2011, when the actual university itself had a gorgeous COED assisting on a live stream that got them in some hot water. Apparently, a rival (read: jealous) school didn't like the idea of being upstaged. 
So, while the school itself may have gone the boring route, BAMS radio picked up on the idea and have been rolling with it all day, broadcasting a live stream of their own, complete with houndstooth-mini skirts. (Bear Bryant would be so proud.) From ibtimes.com: 
For the past two years the University of Alabama had employed an attractive young female to collect the faxed-in Letters of Intent and post them on the big board. But last year a fellow SEC school complained to SEC commissioner Mike Slive about the fax cam girl and Alabama was told that it couldn't continue the tradition.

That's where BAMS Radio comes in.

The twice-weekly, Internet radio station decided that someone had to fill the void of the fax cam girl and employed two female students to work National Signing Day coverage.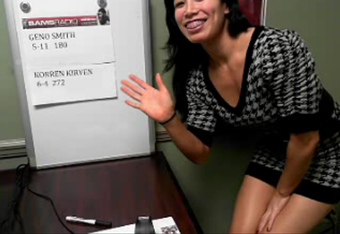 Oh, aside from all the attention, the girls got a free lunch out of the deal. Not a bad business move by the station, which expects to garner 300,000 hits by the time the day is done. Considering the "All Bama All the Time" station started the day a relative unknown with only a handful of Twitter followers, you have to tip your cap – even if it has an Auburn or Florida or Georgia logo on it – to the superfans who run this ambitious station.
Really, everybody wins here. Dudes who like hot girls are placated. College football fans get their NLI fix. And Bama faithful get the entire package complete with one heck of a class coming in for 2012.