Philadelphia Flyers Will Overcome Injuries to Go on a Stanley Cup Run
February 1, 2012

Paul Bereswill/Getty Images
Grind. That's right, just one word—grind. The Philadelphia Flyers will grind, scratch and claw their way, through the crucible which is the Stanley Cup playoffs.
In a previous article, I discussed how the Flyers need to sit right in fourth place.
Let the Rangers run out of gas fighting to be King of the mountain. Let the Boston Bruins compete in a playoff atmosphere all season as teams take a shot at the title game in and game out.
Don't think that is to say these are the only two teams the Flyers need to worry about either—they're not.
As we all learned in 2010, you just need to get in the dance. Seeding is irrelevant.
What does this have to do with injuries, you ask? Simple.
The Flyers have it on cruise control right now.
They are dressing, at any given time, half a dozen rookies. Their all-so-important third pairing is comprised of two rookies. Expect Paul Holmgren to address this at the trade deadline.
No, I am not promising Shea Weber, either.
Danny Briere is an assassin in the playoffs. Yes, he's out with a concussion, but I expect him to be 100 percent come playoff time.
Jaromir Jagr will nurse injuries here and there the rest of the season—fine, let him. I'd rather him miss games here and there now so he's healthy for the playoffs. He sure looked fine last night.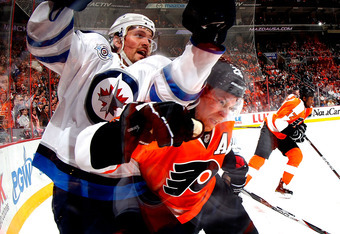 Paul Bereswill/Getty Images
The top four defenseman just have to be smart with the puck.
Brayden Coburn especially needs to be consistent with his decision-making. Sometimes he looks like a Hall of Famer, other times he looks like a lost rookie.
He just needs to remember—keep it away from the other team. Don't turn it over.
Claude Giroux needs to simplify his game. He's coming off a bad January, but he had one last year, too. No big deal.
Once he gets it together, Claude Giroux will be a Hart Trophy finalist—book it.
When he plays like that, he's capable of putting this team on his back.
Brayden Schenn and Sean Couturier will be two cogs in the wheel that turns this machine, too. They are young, hungry, talented and willing to take advice from future Hall of Fame players on the team.
Scotty Hartnell will be the force he was in 2010, too. Why not? He's been a rock all year and leads the team in plus/minus, further illustrating the force he is on both ends.
Finally, Ilya Bryzgalov...will be...what we all expect him to be come playoff time.
He's not Henrik Lundqvist nor is he Tim Thomas—but he will be solid enough in net to get the Flyers to the ultimate goal.
Some might scoff at that and think I'm full of it, but in watching him the past month, I've seen a different Bryzgalov than I did in December.
Perhaps the pressures of the media did get to him. Maybe he just was due for a low point in his career.
In case you haven't noticed, he's only allowed more than one goal in one of his last three starts. There is something to be said for that.
All this will come together for one heckuva run, Flyers fans. If you don't believe me and want to rip me a new one, go for it.
If they do like I say they will, I won't rub it in, but don't say I didn't tell you so.
What am I telling you? Right here on February 1, 2012, I am telling anyone who reads this the Philadelphia Flyers will make a Stanley Cup Finals appearance.
I am not guaranteeing an actual cup, because anything can happen in a series, but I am going to say this team goes the distance.