Rafael Natal Talks UFC 143, Chael Sonnen's Words Towards Brazil and More
February 2, 2012

When the lights go out in the Mandalay Bay Events Center in Las Vegas, Nev. on February 4th, Rafael Natal (13-3-1) will enter the Octagon for the opening bout of the evening.
UFC 143 will air live on pay-per-view television and can be seen at 7 p.m. PT and 10 p.m. ET.
Natal will be taking on UFC newcomer Michael Kuiper (11-0) who hasn't lost since joining the sport of mixed martial arts just three years ago.
However, Kuiper will be making his Octagon debut meaning it's unclear how he will react to the premier stage of MMA.
In a recent interview with Bleacher Report's Garrett Derr, Natal discussed his upcoming bout with Kuiper and what it means to represent his home country of Brazil.
"I really became a fan of the sports years ago when I first started fighting in my home country of Brazil. I spent a lot of time fighting in São Paulo and Rio de Janeiro," said Natal. "I started to learn fast and started training regularly."
"I first learned the arm-bar and then become more and more familiar with jiu-jitsu. Now I'm a black belt. Mixed martial arts is my life now. It's everything to me. The sport also provides me with a good amount of income so that I can live well," stated Natal.
After receiving the call from the UFC more than a year ago, Natal struggled in his first two bouts as he failed to come out on top in either.
Finally, after losing a decision to Rich Attonito and drawing with Jesse Bongfeldt, Natal was able to capture the first win of his Octagon career when he defeated Paul Bradley at UFC 133.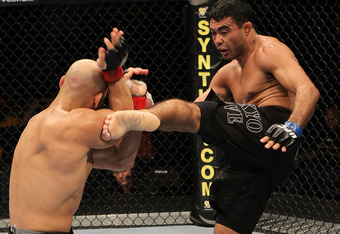 "It was one of the greatest feelings of my life. I was in a must win situation since I lost my first fight and then had a draw in my next one," shared Natal. "I was sitting with the record of 0-1-1 and really needed a win."
"Paul was a great wrestler and even an All-American. A lot of people didn't give me a chance heading into our fight. A lot of people thought I would lose because of all Paul's hype," stated Natal. "But, I proved them all wrong and it felt good."
Natal will look to keep his recent success rolling when he stands across the Octagon from Kuiper as their middleweight clash gets underway.
Despite making his UFC debut, Natal is well aware that Kuiper is a dangerous fighter and has the tendency of finishing his opponents.
"Michael is a very good fighter and he's never lost before. He has great exchanges and is very good on his feet," said Natal. "He has only gone to a decision once in his career so I am excited for the opportunity to fight him."
"UFC 143 will be a very big weekend for me as it is one of the biggest weekends of the year. I will fight Michael and then the Super Bowl will take place on Sunday," shared Natal.
While Natal is certain he'll be able to find a way to win, he's not entirely sure in what manner that will be.
"You just never know when you fight. I believe I am a great submission artist and he is a great striker. He is also a great kick boxer," said Natal. "I will do my very best to take him to the ground and submit him."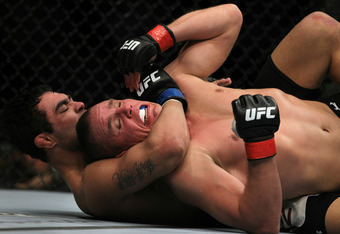 After fighting in Brazil for two-and-a-half years, Natal made the move to the United States as he currently trains with Gracie Fusion in New York City.
Despite his deep love for his home country, Natal believes his move to the U.S. is permanent as it has provided him with many opportunities.
"I love the country of Brazil, but I believe my training will stay here in the United States," expressed Natal. "The U.S. has been great to me and has provided me with great support."
"I think the best training is here in the U.S. I have a dream of one day opening my own academy but you never know how things will play out," stated Natal.
Natal joins the current UFC middleweight champion Anderson Silva as a native of Brazil as his main goal is to represent his country well.
Silva is now set to take on the No. 1 contender Chael Sonnen in a rematch for the 185-pound title when the UFC travels to Brazil at some point in 2012.
Natal shared his thoughts on the outspoken Sonnen and the disrespect he's shown towards his home country.
"Chael is a really great fighter and I think he means well sometimes. But, he talks bad about the country of Brazil," said Natal.
"I like Chael as a fighter but I don't like some of the things he says," stated Natal. "I can't wait to see him and Anderson fight again."
To learn more about Rafael Natal, follow him on Twitter.
For additional information, follow Garrett Derr on Twitter.