FYI WIRZ: Rolex 24 at Daytona, a Gold Win but No Shift to NASCAR or IndyCar
February 1, 2012

The Grand-Am Rolex 24 at Daytona in late January was a golden moment for the 50th anniversary, with almost golden Florida weather, cool nights and warm days, too. Over 200 race car drivers from around the world swapped seat time so their car could finish the grueling race.
The 1440-minute, 761-lap (or 2709.16 miles) race was a dog fight during the last hour and an intense chase the last few minutes.
It appeared for many late-hour laps that Scott Pruett in the No. 01 BMW Riley machine was the car to beat, but the loss of first and second gears sent him to pit road. Pruett faded upon his return to the track.
Then A.J. Allmendinger bumped the No. 8 Starworks Motorsports Ford Riley, and once his No. 60 got around the No. 8, the margin of separation grew to 11 seconds as the laps and time wound down.
Allmendinger took the checkered flag with a 5.198-second margin of victory.
The Rolex 24 win is always a golden moment, but this year it celebrated that treasured 50th year as well.
The 2012 Rolex 24 at Daytona Podium
First place: Oswaldo Negri, John Pew, AJ Allmendinger and Justin Wilson in the No. 60 Michael Shank Racing with Curb-Agajanian Ford Riley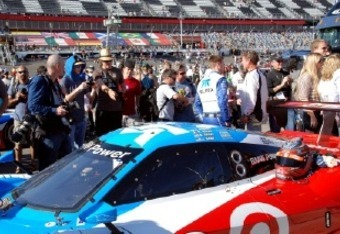 Second place: Pole-winning No. 8 Starworks Motorsport Ford Riley and Ryan Dalziel, Alex Popow, Lucas Luhr, Allan McNish and Enzo Potolicchio
Third place: The No. 6 Michael Shank Racing Ford Riley with Michael McDowell, Jorge Goncalvez, Gustavo Yacaman and Sunoco Rolex 24 At Daytona Driver Challenge winner Felipe Nasr.
Seeking answers for fans is always a noble cause. When this question about transference surfaced during the testing and running of the prestigious 24-hour race, this reporter sought answers.
A suspected byproduct of racing Grand-Am sports cars—seat time experience helping drivers of other series—does not appear to be valid.
NASCAR drivers echo the notion that not much transfers from Rolex to Sprint Cup.
Juan Montoya
"I don't think it does," Montoya said. "It's a fun race to start the year. All the drivers. Good friends. Good memories. It's just a fun race. It's exciting because we want to come here just to win."
Montoya's NSCS teammate seemed to agree about passing on of any technique.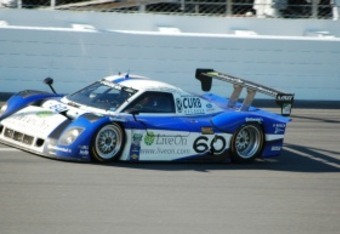 Jamie McMurray
"This doesn't have to do anything with NASCAR Cup racing other than it's fun," McMurray said. "It's one of the biggest races that you can win. I'm excited to be here and nowhere else other than to be the winner of the Rolex 24."
Even though a Daytona Prototype may seem sleek and low profile like an IndyCar, the 2011 IndyCar champion agreed with NASCAR drivers about transfer.
Dario Franchitti
"No not really, Franchitti. "But we have fun doing it. It's a bloody difficult challenge if you want to win it, but we have fun. You have to take it seriously, but we have fun."
If one believes in momentum, a win in the Rolex 24 at Daytona might signify more winning to come. NASCAR's A.J. Allmendinger may not take technique from sports car racing to stock car racing, but winning the Rolex 24—especially the 50th anniversary race—is special.
A.J. Allmendinger
"There's no similarities when it comes to...being in a Cup car," Allmendinger said. "Back when I ran Champ Car it was more similar.
"You ask anybody up here, it's not what I learned or technique, it's just confidence. You win a race, especially as big as the 50th anniversary of the Rolex, it's just confidence, and that'll take a race car driver or anybody for that matter in any career further than he can expect."
Allmendinger's teammate in Grand-Am will return to IndyCar, where the cars are very different.
Justin Wilson
"It's all about confidence," Wilson said.
"Hopefully that will snowball for the rest of the season. But as far as what did we learn, what can we transfer over, there's a lot of techniques that you pick up driving these cars that's very, very different to an open-wheel car, just the way you treat the brake pedal, the way you treat the spotter pedal, you've got a lot more weight, no downforce and less grip. So you've got to be very patient."
So, although not much seems to transfer from driving in a Grand-Am sports car race to other types of racing, fun seems to be a constant factor.
And winning always soothes the competitive spirit within any race car driver.
FYI WIRZ is the select presentation of motorsports topics by Dwight Drum at Racetake.com. Unless otherwise noted, all quotes were obtained from personal interviews or official release materials provided by sanctions, teams or track representatives. Photo credit: Dwight Drum @ Racetake.com