Scott Hartnell: At the Hart of 2012 NHL All-Star Weekend
February 1, 2012

Gregory Shamus/Getty Images
Scott Hartnell might have been in a rush to pack and head to Ottawa for Sunday's All-Star Game, but he had all the time in the world to talk about his selection to the lineup.
When he answered the phone, it was obvious Hartnell, recently chosen to participate in the 59th edition of the All-Star Game, was in a bit of rush.
"Things are a little crazy," he told NHLPA.com. "Could I give you a ring back in a few minutes?"
While a few minutes turned out to be an hour, there was absolutely no mistaking Hartnell, in the midst of his finest NHL season, was thrilled to head to Ottawa.
"It's pretty crazy trying to get things organized, making sure my mom's travel arrangements to get to the game are in order and trying to get tickets for friends and family sorted out," laughed Hartnell, who was named to the team on January 24. "Lots of running around, for sure, but that's okay."
His offensive output in 2011-12 has produced downright gaudy numbers, including 25 goals, putting him well within striking distance of his career-best of 30, in 2008-09.
It doesn't end there for the forward, who will be making his second career trip to NHL All-Star Weekend and participating in the All-Star Game for the first time (he played in the NHL YoungStars Game during the 2002 NHL All-Star Weekend in Los Angeles).
Hartnell leads all NHLPA members in power-play goals with 13. The native of Regina, Saskatchewan, leads the Flyers in plus-minus ranking (+18) and is second on the club in points (25 goals, 19 assists and 44 points).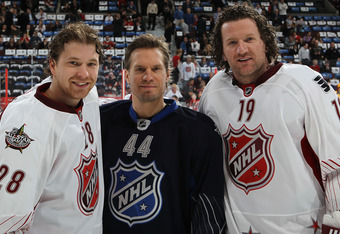 Bruce Bennett/Getty Images
It all adds up to a spot in the annual All-Star Game. Hartnell spent two seasons playing for the Prince Albert Raiders of the Western Hockey League (WHL) and in 1999-00, as captain, led the team with 82 points and was named team MVP. "It really is a great feeling, something really cool. But it's a little hard to put in perspective right now."
He is, however, able to clearly assess the reasons as to why he finds himself enjoying his most prosperous NHL season to date.
"Looking back, I think I've evolved into a more complete player," said the sixth overall selection of the Nashville Predators in the 2000 NHL Entry Draft. "I always wanted to be a well-rounded player. Early on, my name and number would be on the stat sheet for hits and penalty minutes. In junior, I was able to produce offensively. I think I've learned to adapt better and it's worked out well."
So well, in fact, he'll find himself competing with and against some of the league's very best.
"It's unbelievable, really," said Hartnell, who holds the Predators' franchise record for fastest two goals scored by an individual (23 seconds). "It's great to be involved in this game."
Hartnell, who scored his 200th career goal against the Washington Capitals on December 13, 2011, is also eager to take part in one aspect of the event he used to watch with great interest before his NHL days.
"I always recall watching the All-Star skills competition," he remembered. "The fastest skater, the breakaway event, I loved watching the whole thing. When you're a kid, you think to yourself what it would be like to take part in something like that."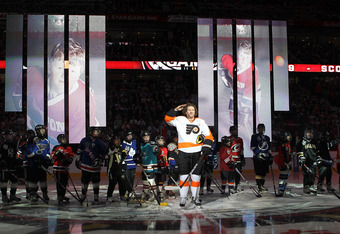 Bruce Bennett/Getty Images
Now, Hartnell, who won the Norwegian hockey championship with Vålerenga in 2004-05 during the NHL lockout, also taking playoff MVP honours, cherished his first opportunity in the All-Star Game.
Unless otherwise noted, all quotes were obtained firsthand.
Related Content
Video: Players Playbook - Sneak Peek

Video: Scott Hartnell - 2012 NHL All-Star Game

Video: Scott Hartnell - 2012 NHL All-Star Fantasy Draft
The Winter Classic an Unbelievable Atmosphere in Philadelphia