NHL Trade Rumors: 3 Blockbuster Deals the Maple Leafs Could Make in February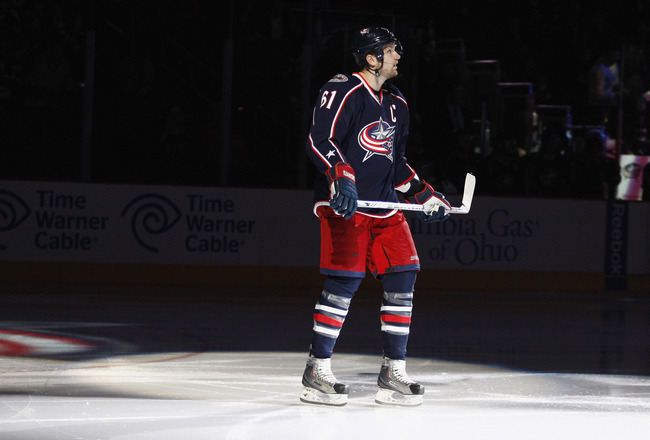 John Grieshop/Getty Images
Brian Burke has a reputation for making trades in late January and early February, so don't be surprised if the Toronto Maple Leafs are wheeling and dealing in the next week.
The Leafs currently find themselves in eighth place in the Eastern Conference, so it's assumed they will be buyers between now and the trade deadline. The Maple Leafs have several players who could be considered expendable, including forwards Nikolai Kulemin, Tim Connolly, Tyler Bozak and Matthew Lombardi, along with defencemen Keith Aulie, Mike Komisarek, and Cody Franson. There has also been speculation that the Leafs would consider moving other pieces such as Mikhail Grabovski, Clarke MacArthur, Nazem Kadri, and Luke Schenn.
The Maple Leafs don't want to do too much to disrupt their core, especially considering they're playing their best hockey since before the lockout. But if an upgrade is available and it comes at a reasonable price, Brian Burke would have no problem pulling the trigger.
Evidently, the Leafs' biggest need is a veritable first-line center, but they also lack grit up front, despite the presence of Colby Armstrong, Mike Brown and David Steckel. Colton Orr, who may have been a source of some grit, no longer plays for the big club. It also appears that Colby Armstrong will be out long term.
The team also has players like Darryl Boyce and Joey Crabb, who have been playing more minutes than coach Ron Wilson would prefer. A top-six winger or two wouldn't go to waste.
Here's a look at three star-caliber NHL players who the Maple Leafs could feasibly add via trade in the next month. That's not to say that any of these trades will indeed happen, but rather that they could, without it looking like a bust of a move for either team.
Rick Nash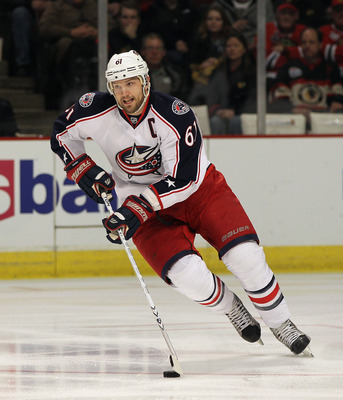 Jonathan Daniel/Getty Images
I maintain my assertion that the captain of the Columbus Blue Jackets will stick with the team through their inevitable rebuild this summer, but if Nash is shipped out of town, Toronto would be a prime candidate to pick up the star power forward.
Nash fits the bill as the kind of forward that could provide the big-body presence the Leafs need up front. Though the price would be hefty, he could be just the guy to fill in on the Leafs' second line alongside Mikhail Grabovski, assuming Joffrey Lupul and Phil Kessel have the first-line wings secured.
Obviously, it would take a lot for Brian Burke to pry Nash away from the Blue Jackets, and any package sent Columbus' way would have to work its way into their rebuilding plan.
Here's a look at a potential trade that works out well for both sides:
To Toronto: LW/RW Rick Nash, C Boone Jenner
To Columbus: C Nazem Kadri, LW Nikolai Kulemin, C Tyler Bozak, D Luke Schenn, 2nd round draft pick
Kadri, Kulemin, Bozak, and Schenn would go a long way towards redefining the Blue Jackets' core, and a rebuilding team can never go wrong with an extra draft pick in the early rounds.
From Toronto's point of view, although Nikolai Kulemin has been strong defensively, he has struggled offensively, scoring just five times this season. Both players are in need of a change of scenery and Columbus has to be willing to try nearly anything to get into winning form. While the benefits of adding Rick Nash are obvious, Boone Jenner is a hard-nosed center who loves to hit, and could be a solid player for the leafs two or three years down the road.
Ryan Getzlaf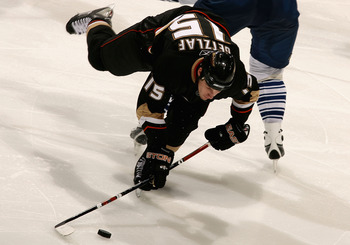 Christian Petersen/Getty Images
Perhaps the biggest reason why it's not unreasonable to speculate that the Maple Leafs could acquire Ryan Getzlaf is Brian Burke's history with the Anaheim Ducks. Since signing as general manager of the Toronto Maple Leafs in 2008, Burke has completed several deals with his former assistant GM and current Ducks GM Bob Murray. Last season, he traded Francois Beauchemin to Anaheim for Joffrey Lupul and Jake Gardiner. Two seasons ago, he sent Jason Blake and Vesa Toskala to Murray's team for J.S. Giguere. This year, he's already traded Luca Caputi in exchange for Nicolas Deschamps.
The Ducks insist they are not amidst a complete rebuild, so any deal made would see a package of equal value head to Anaheim for Getzlaf.
Getzlaf would be the ideal pickup for the Maple Leafs in the sense that he is everything the Leafs are looking for. A big, gritty center with elite playmaking capabilities. Getzlaf is already familiar with Joffrey Lupul, and along with Lupul and Phil Kessel, could make up the best line in all of hockey. Getzlaf would bring a physical presence to Toronto's top line, something that Tim Connolly or Tyler Bozak just doesn't bring to the table.
Here's what a Getzlaf to Toronto trade could look like:
To Toronto: C Ryan Getzlaf, LW Matt Beleskey
To Anaheim: C Tyler Bozak, C Nazem Kadri, LW Nikolai Kulemin, D Luke Schenn, 4th round draft pick
In Bozak, the Ducks receive a versatile center who can fill in on any line, which is important given the Ducks lack of depth at center (especially with Getzlaf gone). In Kulemin, the Ducks get a capable two-way forward who has a history of scoring goals and would play the left side, where the Ducks also have a deficiency. Luke Schenn is a solid shut-down defender who could compliment the game of sophomore Cam Fowler greatly. Both are young with high expectations of them, and, they could grow together to become one of the top defensive pairings in the league, especially if the Ducks deem Lubomir Visnovsky expendable.
Other than Ryan Getzlaf, the Leafs would receive Matt Beleskey. Beleskey is a gritty, young forward who could easily fill a fourth-line role, giving the leafs added depth up front.
Evgeni Nabokov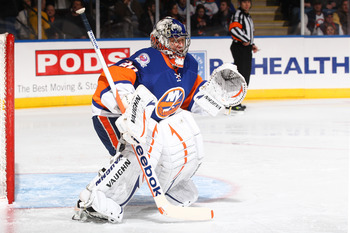 Al Bello/Getty Images
Evgeni Nabokov's tenure with the New York Islanders sure has been a curious one. After failing to report to the Islanders when the team claimed him off waivers from Detroit, Nabokov commenced play for the Isles this season. However, his contract expires at season's end, and it's almost a certainty he will not play on Long Island next season, so trading the veteran netminder may be the only option GM Garth Snow has left.
James Reimer's play has dropped off significantly since returning from symptoms of whiplash early in the season, and although Jonas Gustavsson has been hot as of late, the Leafs may be looking to upgrade their goaltending.
Despite the lacklustre defence of the New York Islanders, Nabokov has an excellent .919 save percentage and 2.38 GAA in 24 appearances this season. By comparison, Reimer has an .899 SV percentage and Gustavsson has a SVP of .909.
The return on Nabokov is likely to be relatively low. The Islanders should be interested in getting anything in return for the longtime San Jose Sharks goalie, rather than letting him walk for nothing on July 1. A trade for Nabokov could look something like this:

To Toronto: G Evgeni Nabokov
To NY Islanders: D Matt Lashoff, 3rd round draft pick
The Toronto Maple Leafs get the veteran goaltender that could put them over the top and likely help them attain a higher place in the standings than their current spot.
In Lashoff, the Islanders get a defenceman who could help to address their lack of depth on defence in the future. A third rounder could also come in handy in helping the Isles in the future.
Keep Reading

Toronto Maple Leafs: Like this team?