Red Sox Could Still Make out If Oswalt Goes to the Rangers
February 1, 2012

Ezra Shaw/Getty Images
Roy Oswalt has told the Red Sox that he does not want to play in Boston.  Not literally of course, but by not accepting their lowball $5 million offer and showing increasing interest in teams like the St. Louis Cardinals and Texas Rangers, it doesn't take a lot of deep thought to read the writing on the wall.
Fear not Red Sox fans, this still could be good news for the local nine if General Manager Ben Cherington feels so inclined.
First and foremost, Sox fans should be hopeful that Oswalt signs with the Rangers over the Cardinals.  Sure, it will bolster their rotation and helping a team you'll likely be competing with down the stretch may seem like a silly suggestion.
However, by adding Oswalt to their rotation, the Rangers would likely have to move a player out.  That player could be in the form of their current fifth starter, Matt Harrison.
Sure, Harrison only got his first real taste of being a full-time starter for the Rangers in 2011, but he managed to put up some pretty impressive numbers:  14-9, 3.39 ERA, 1.276 WHIP with 126 strikeouts in 185.2 innings of work.
There is more upside to him as well.
First, Harrison won't turn 26 until September.  Second, he only costs $2.95 million in 2012.  Third, he's another lefty. For the right package, I assume that Harrison could be had for a decent trade package.
The addition of Matt Harrison would immediately bolster this rotation and quell the concerns of much of Red Sox Nation.  The starting five would look like: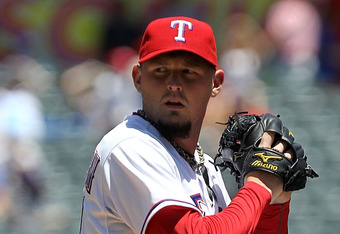 Ronald Martinez/Getty Images
Jon Lester
Josh Beckett
Clay Buchholz
Matt Harrison
Daniel Bard
With other options available in Carlos Silva, Aaron Cook, Vicente Padilla or even a Felix Doubront waiting in the wings should Bard not be able to make it as a starter.
Suddenly the pitching staff wouldn't look so scary to fans, now would it?
Swallow hard Red Sox fans, the team is likely not going to get Roy Oswalt.  However, we could get the next best thing.