Chelsea FC vs Manchester United: Predicting the Probable Starting XI
February 2, 2012

Chelsea's latest Premier League outing against Swansea saw the Blues end up with a tame draw, which ended what "little" chances they had of making a fight for the EPL title. The draw saw them fall seven points adrift of third-place Tottenham and 12 points behind the two Manchester clubs.
Chelsea can now only hope for a fourth-place finish and third place at the best. While it may be a shame seeing the West Londoners fall to such lows, there is also the fact of the squad undergoing a revolution.
Manchester United, on the other hand, saw themselves at equal points with their derby rivals City after Roberto Mancini's men conceded defeat at the hands of Everton. The Red Devils are suffering from a severe injury crisis, with a majority of their first-team regulars sidelined by injury.
Hence, when Andre Villas-Boas's subpar performing squad takes on Sir Alex Ferguson's Red Devils, it is surely going to be one hell of a match with both teams having much at stake to lose. For Chelsea, it will be their fourth position, and for United the title chance.
In the following article we shall try and predict the starting 11 that Villas-Boas might field when his squad welcome the league leaders this weekend.
Given the manner in which Chelsea played against United last time, it is likely that Villas-Boas will stick to the 4-2-1-3 formation. It not only helped him solidify the defense but also allowed greater attacking options.

Petr Cech 

There is no doubt as to who shall stand guard under the post for the Blues given the importance of the match, and given the Czech's impressive performances so far there is no reason to believe he might be dropped.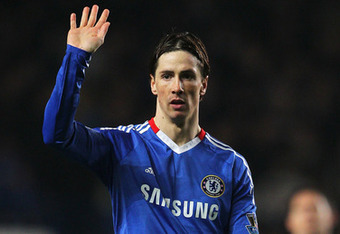 Jose Bosingwa

The Portuguese had an impressive outing against Swansea. It was from his cross that the equaliser happened. Though his defensive abilities has been questioned this season, Villas-Boas is likely to keep him in the right-back position.

John Terry 

Chelsea have never looked convincing at the back with their Captain Fantastic missing, and against Swansea it seemed all the more evident. With Terry sidelined by a minor injury, the Blues struggled to keep Swansea at bay. Terry is expected to be fit for the faceoff against Manchester United, and Villas-Boas is undoubtedly going to throw back his captain in the thick of the action.

David Luiz 

The Brazilian has become a regular feature in Villas-Boas's plans, and he might as well keep his place in the Chelsea defense when they welcome United at Stamford Bridge. With Ashley Cole missing the season-defining fixture serving a suspension, Villas-Boas could use his attack-minded left-footed defender in the wing-back role. Luiz is not uncomfortable playing in that role, and hence he is likely to land the left-back position.

Gary Cahill 

While many might not agree with this decision, my belief is that Villas-Boas was saving his new signing for possibly their most important fixture this season. Questions have been raised over AVB's decision to not hand a debut to his new signing, something he has defended meekly. So with a quality opposition of United's capability, it seems very likely that Villas-Boas will test his new man's ability at the centre of the Chelsea defense alongside his national teammate Terry.

Oriol Romeu

The youngster, who has been impressive so far, did not have a very nice outing against Swansea. He was seemingly hassled by the Swansea midfield and failed to make those creative passes. But with Mikel seemingly out of favor and Essien yet to get back his previous shine, it is likely that the Spanish midfielder shall keep his place in the holding midfield role.

Raul Meireles 

With Villas-Boas likely to play the effective 4-2-1-3 formation when they face United next weekend, AVB would play Meireles in the holding role alongside youngster Oriol Romeu to give the Blues' defensive strength as well as more attacking options. Meireles is comfortable in the deep midfield role as he proved in Chelsea's previous fixture with the Red Devils.

Juan Mata 

The Spanish winger has turned out to be the best signing for the Blues earlier this season. He has created more goal-scoring chances than the rest of Chelsea's entire midfield. With Villas-Boas likely to stick to his 4-2-1-3 style, Mata could fit in just well in the trequartista role, a position that shall allow the Spaniard more creative freedom. Playing just behind Torres would also allow Mata to create more chances for his fellow countryman as well as trouble the injury-hit United defense.

Florent Malouda

The Frenchman has seen his playing time reduced to few sub-in roles and some starting roles occasionally this season. He was handed a starting role against Swansea but failed to leave his mark in the match. But with Frank Lampard recovering from injury and Ramires out for quite a long time, Malouda is likely to get some playing time in the coming weeks. He is expected to assist Torres in the left wing of Chelsea's attack.

Daniel Sturrdige 

To date the youngster has been Chelsea's best player, along with Mata. He has proved his quality week after week and his on-field exploits have resulted in Villas-Boas handing him a regular spot in first-team action. Although he still lacks experience and that sharpness in front the goal, when Chelsea face a visiting Manchester United next weekend Sturridge is sure to keep it his spot at the right wing.

Fernando Torres

Chelsea's misfiring Spaniard has looked promising in the last few weeks, though he is now more than a 1,000 minutes without scoring a goal. Villas-Boas has publicly defended his ₤50 million striker and asked for patience. But one year is a lot of time in football, and if Torres cannot start scoring goals then he as well as his manager might see the door come the end of the season.

He had scored one of his three goals in a Chelsea jersey against United last year. The match against United could prove to be his return to glory or further humiliation.

Substitutes

Michael Essien ( likely needs some time to get back to full fitness), Branislav Ivanovic, Frank Lampard (he might make an early appearance if Malouda fails to impress), Ryan Bertrand and Romelu Lukaku.