NHL Trade Rumors: Zach Parise and Stars That Aren't Going Anywhere
February 1, 2012

Bruce Bennett/Getty Images
The NHL trade rumor has been churning away over the last few months, but there are stars whose names are in the mix that aren't going anywhere.
Whether it is the financial constraints of a small market or the fact that certain teams are naïve enough to think that players will re-sign after the season, the following players will not be traded at the deadline.
Every one of these players deserves better than what they have been dealing with, and it will all be over soon enough when they all are locked into long term deals by the end of 2012.
Zach Parise
As much as this will hurt the loyal New Jersey Devils fan base, the team will not move Parise at the trade deadline and they do not have the money to re-sign him in the offseason.
With no trade at the deadline, that means at the conclusion of this season the Devils will let their captain, and most talented player, walk away from their franchise with no compensation.
Good plan Lou Lamoriello.
If it's true that New Jersey is not trading him because they think they can sign the star long term, how can they justify that when they are facing a debt crunch that may not allow them to pay Parise anyway. It's a bad situation all around for Devils fans.
Ryan Suter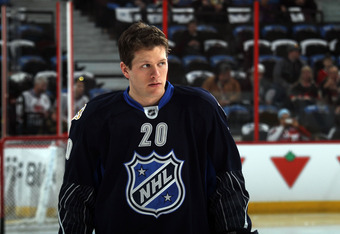 Bruce Bennett/Getty Images
The talk around the league was that Nashville would be looking to trade one of their top defensemen (Shea Weber or Ryan Suter) that are slated to become an unrestricted free agent at season's end. Suter doesn't think he is going anywhere.
With a lower cap number than many teams because of the smaller budget in Nashville, there is no way that they can afford to sign both defenders to the long-term deals they desire. So, that means the Predators have to trade one of them, right?
The general consensus is that the Predators will pay captain Weber whatever he wants and try to bid on Suter. With the need for defenders in the NHL, they will be outbid and look ridiculous for holding on to Suter and not trading him when they could.
Jeff Carter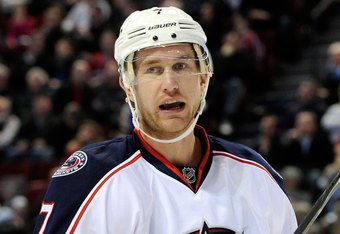 Richard Wolowicz/Getty Images
Oh how the mighty have fallen. The once proud sniper was regarded as one of the best pure shooters in the NHL, but a move from Philadelphia has not only hurt his numbers, it has ruined his attitude.
While there were questions about Carter's attitude when he was with the Flyers, the team had a strong enough core that could keep him in check. Columbus does not.
As if Carter's lack of production this season or bad attitude didn't scare teams away, the $5,272,727 cap hit through 2022 along with a no-trade clause that hits this upcoming season makes any kind of deal for Carter as hard as it could possibly be.
Check back for more on the National Hockey League as it comes, and check out Bleacher Report's NHL Page to get your fill of all things hockey.