It's Now or Never for Harry Redknapp's Tottenham to Win a Premier League Title
February 1, 2012
Alex Livesey/Getty Images
Tottenham manager Harry Redknapp really doesn't care for his reputation as a "wheeler dealer," but another frantic run down the aisles on transfer deadline day made for another faithful portrayal of the stereotype.
The 11 p.m. deadline arrived with Spurs at the center of a complex venn diagram of potential ins and outs. Sky Sports and their myriad of sources were desperate to claim them, but for disciples of hard news, they remained in the ether as we headed for midnight.
Time for some late-night deadline-day dominoes. Wolves used their official Twitter account to announce the loan signing of Sebastian Bassong, which prompted Spurs to go and get veteran Blackburn defender Ryan Nelsen on a short-term deal to replace him.
Next up, confirmation that Steven Pienaar was headed back to Everton on loan, smoothing the way for Louis Saha to move in the opposite direction on a provisional deal until the end of the season.
Every action has an equal and opposite reaction, so the laws of transfers sometimes decree, and in this case it was the £8 million sale of Roman Pavlyuchenko to Lokomotiv Moscow that seemingly prompted Spurs' late run on Saha.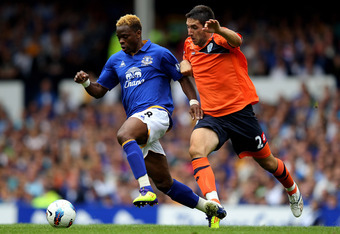 Alex Livesey/Getty Images
There was also an "enormous" bid for Marseille striker Loic Remy turned down, believed to be in the region of £18 million. Had that happened, Saha would surely still be at Everton.
But we're not done yet.
Earlier in the day, Redknapp allowed Vedran Corluka to escape his role as Kyle Walker's understudy with a loan move to Bayer Leverkusen.
Redknapp pushed hard to get Milos Krasic on loan from Juventus to replace him, but that one hit the rocks when the Czech international couldn't agree on personal terms.
"I was going to take Krasic on loan," he said. "I was interested in buying him a year ago too but he was expensive—£15 million.

"I wanted him on loan this time but he didn't want to come and wanted a permanent deal but we didn't have the money."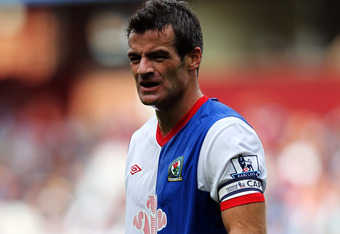 Dean Mouhtaropoulos/Getty Images
And so we emerge, bleary-eyed, into a post-deadline-day world with Spurs' squad altered thus: In the pluses column, Nelsen and Saha; in the minuses, Pavlyuchenko, Corluka, Pienaar and Bassong, and you could also argue Krasic and Remy.
A lot of shuffling of contracts and a hefty phone bill later, and with Spurs having provided their fans with more excitement than any team bar Queens Park Rangers on deadline day, one question remains: Is Redknapp's team better or worse prepared for a shot at the Premier League title?
From the standpoint of team unity and mental preparedness, you could make a case for better.
Saha won two titles at Manchester United and brings a wealth of Premier League know-how. Nelsen is equally well-versed in what it takes to prosper in England's top flight—albeit with most of his experience achieved in the pursuit of survival, rather than silverware.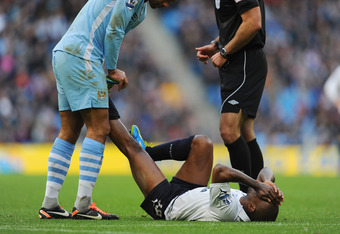 Michael Regan/Getty Images
Meanwhile, the four men leaving White Hart Lane take their dissatisfaction with them. Pavlyuchenko, Corluka, Pienaar and Bassong were clearly not happy playing peripheral roles, and Redknapp may well find his squad a more harmonious place for their departures.
But when talk turns to the talent at his disposal, not to mention the depth of his squad, Redknapp is surely worse off today than he was yesterday.
Without Corluka, there is no natural cover for Walker—who duly limped off with a groin injury during Spurs' win against Wigan. Without Pienaar, Spurs are down a midfielder who would at least strengthen their bench—cue Rafael van der Vaart's calf injury in the same game to reinforce the point.
Nelsen at full fitness might be a better option than Bassong, but the 34-year-old arrives with a health warning. The New Zealander hasn't played since August, and there's no guarantee he won't break down again.
Saha is another player prone to injuries, and with Emmanuel Adebayor and Jermain Defoe both on the treatment table, Redknapp has taken another sizable gamble with the 33-year-old Frenchman.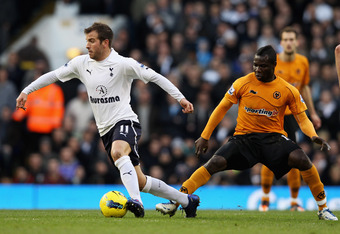 Ian Walton/Getty Images
Had Redknapp managed to land either Remy or Krasic, we might have deemed deadline day a success for Spurs. But if anything, their title challenge has been weakened by punts on two aging players with suspect knees (remember the tale of Saha and his leeches?).
It was already far-fetched to begin with in some eyes—a romantic quest that even the most blinkered of Spurs fan were struggling to believe in.
Redknapp's team are an ode to free-flowing, attractive football alright, but do they really have the steely constitution you need to bring it home? Much as the neutral would love to see it, it's just not going to happen.
At least with the capture of Saha, Spurs have added another man with a Premier League winners' medal to their squad (William Gallas being the other). Manchester City boast three (four if you include Wayne Bridge). Manchester United have no fewer than 21.
Perhaps the most worrying thing for Spurs fans is not what happens this season at all, but the season that follows. One way or another, it seems unlikely Redknapp will be there with them.
The 64-year-old is juggling his coaching duties with a high-profile trial at the moment—charged with cheating the public revenue. If he's found guilty, Redknapp could go to prison. If he's cleared, he will likely be the man to replace Fabio Capello as England manager after Euro 2012.
Either way, Spurs would lose their manager. And if Redknapp goes, I'd put good money on Gareth Bale and Luka Modric following him out the door at White Hart Lane. What money Kyle Walker would go, too?
From a position of threatening for the title, Spurs could find themselves needing to embark on a massive rebuilding project with both a new manager and new set of players to bed in. They'd have Champions League football, but who'd be left to play in it?
It's a daunting thought for Spurs fans, and one that may lead them to think this season could be as good as it gets.
It could be now or never for Redknapp and his team, but will the master wheeler dealer ultimately look back on January deadline day 2012 as the day it went away?
I suspect he will, but if Saha's goals and the barnstorming heroics of Nelsen prove me wrong, 'Arry will have achieved the most remarkable title success in Premier League history.
And I'll be happy to pay £20 into his bank account as a reward.