Los Angeles Angels: 10 Games That Every Fan Should Attend in 2012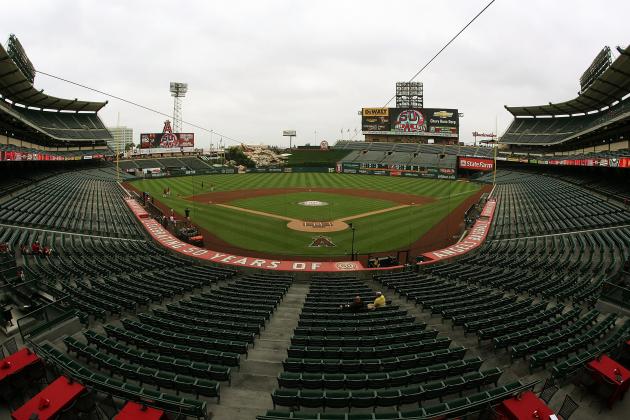 Jeff Golden/Getty Images

With the Angels' offseason spending spree in acquiring Albert Pujols, C.J. Wilson and with teammate Peter Bourjos describing Kendrys Morales' recovery efforts as "impressive," 2012 is shaping up to be a franchise year for the Anaheim-based club.
Not surprisingly, all this excitement has created incredible buzz and an increased demand for 2012 season tickets to see the new-look Angels team, both at home and on the road.
For Angels fans looking to attend games at the Big A in 2012, or even make the trip to Tempe, Arizona to watch the club during March's spring training schedule, here are 10 games—in chronological order—that will be a bang for your buck by virtue of the opponent, promotional giveaway or special event.
The Angels have not yet commenced single game sales, though the club does presently offer 10- and 20-game mini-plans, known as the 20-Game Flex Plan and the Big A Voucher Plan, which offers 10 vouchers redeemable for tickets to a select group of non-premium games during the 2012 season.
As not all of the following games are included in the various mini-plans, I have indicated which games correspond to which plan.
Begin Slideshow

»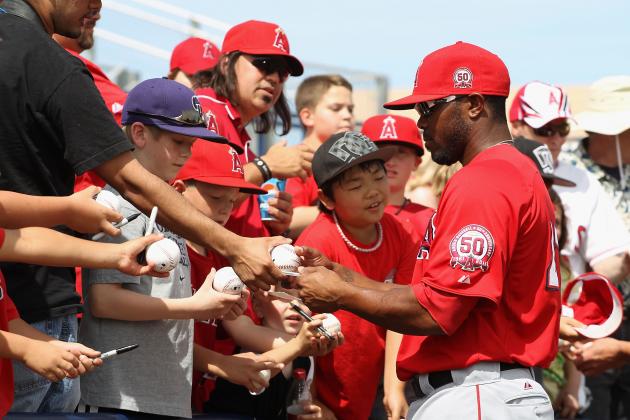 Christian Petersen/Getty Images

The beauty of MLB's spring training tradition is that all games are played in a fairly confined region of Arizona (or Florida) and that AL and NL teams constantly intermingle.
Spring training has a certain lovely feel of college baseball, of a small community or campus, where autographs are easy to come by just as tickets to these predominantly mid-afternoon games always seem to run in excess.
If you are willing to make the trip out to Arizona's Tempe Diablo Stadium, the Angels' first game is a split squad affair against the Oakland Athletics at Phoenix Municipal Stadium on March 5.
The Angels return to their ballpark for a full week of games starting March 6 against the Chicago White Sox and Seattle Mariners. On March 9, the Angels take on the San Diego Padres, followed by a rematch of the 2002 World Series against the San Francisco Giants on Saturday, March 10.
The Cleveland Indians drop by on March 11, followed by a visit by the Los Angeles Dodgers on March 12.
Alternatively, you may decide to visit later in the month, when the Angels host the Texas Rangers on Sunday, March 25 followed by the Colorado Rockies on Monday the 26.
Lawn seating at Tempe—which is a great way to go during spring training when all games start at 1:05 pm—costs just $10 per game.
These preseason games are accordingly not included on either Angels mini-plan.
20-Game Flex: No
Big A Voucher: No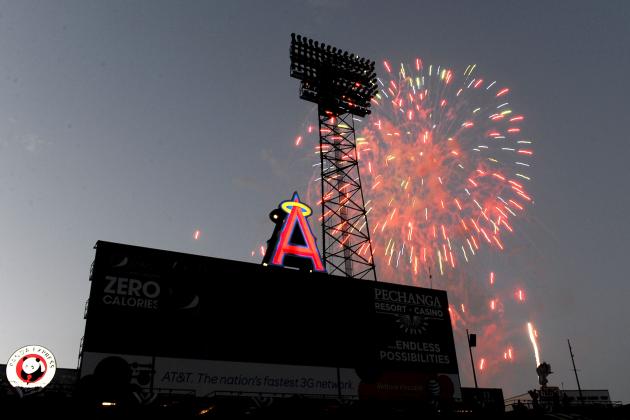 Michael Buckner/Getty Images

After hosting the Los Angeles Dodgers at the Big A on Monday, April 2, the Angels kick off the 2012 MLB season at home against the Kansas City Royals on Friday, April 6.
With Albert Pujols set to make his official Angels debut with Jered Weaver most likely the Halos' Opening Day starter, the atmosphere around Angel Stadium should be incredible.
Opening Night is also a Big Bang Friday and fans will receive free magnet schedules with their purchase of Angels Magazine.
If you prefer traditional baseball, wait until Opening Day on Saturday, April 7 and Game No. 2 of the Angels' 2012 season, when first pitch is at 1:05 pm and all fans in attendance will receive "Light up the Halo" fleece blankets.
Even better, this game is available with the 20-game flex plan, though you will have to wait until Sunday April 8 if you want to use a Big A voucher.
20-Game Flex: Yes (Both Dates)
Big A Voucher: No (Alternative Date: April 8 vs. Kansas City)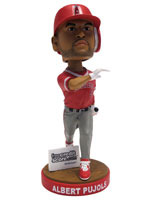 Albert Pujols now plays for the Angels and the club is wasting no time to capitalize on his arrival with their Albert Pujols bobblehead giveaway on April 17 vs. the Oakland Athletics.
If for no other reason than simply showing up to claim your collectible in order to sell it later on eBay, this is a projected sell-out game worth attending.
20-Game Flex: Yes
Big A Voucher: No (Alternative Dates: April 16 or 18 vs. Oakland, No Giveaway)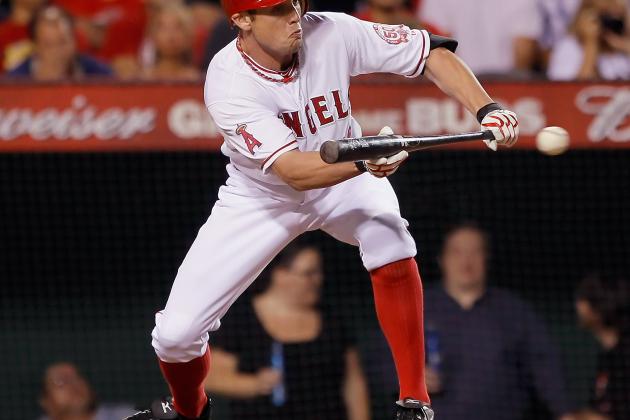 Jeff Gross/Getty Images

The second bobblehead giveaway of the Angels' 2012 season comes on May 16 during MLB's annual "squeeze week," wherein every team plays every day from the previous Friday through the following Sunday.
The Angels host the Chicago White Sox for a two-game series on May 16 and 17, giving away Peter Bourjos bobbleheads on the first day of the short series.
The 2012 White Sox will not be the same after losing starter Mark Buehrle and manager Ozzie Guillen, so hopefully that will mean Angels fans will be treated to a Halos victory that evening.
Bourjos is one of several promising youngsters in the Angels organization and his first MLB bobblehead could become quite a collector's item if he continues to develop after a terrific first two years of big league experience.
His .271 batting average last year was a .067-point improvement over his .204 mark in 2010, while his .765 OPS in 2011 was an improvement of .147 over his 2010 OPS.
20-Game Flex: Yes
Big A Voucher: Yes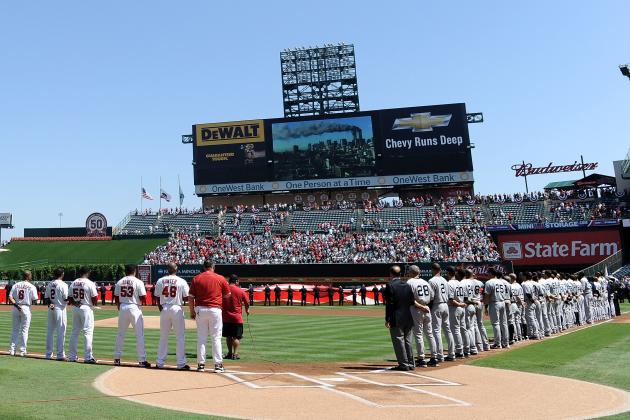 Harry How/Getty Images

The New York Yankees and Mets were instrumental parts of getting baseball back following the terrorist attacks of Sept. 11, 2001—Mets catcher Mike Piazza with his dramatic home run and the Yankees club with their dramatic seven-game World Series loss to the Arizona Diamondbacks, perhaps punctuated by President George W. Bush's iconic strike of a ceremonial first pitch prior to Game 3 of the series.
The Yankees were in Anaheim on Sept. 11, 2011 and return to Angel Stadium on Memorial Day, May 28, 2012 for an evening showdown with the new-look Angels.
The Yankees are always a popular ticket and all three Yankees games in May are once again considered premium games in 2012 as they were in 2011.
Though aroma-conscious grease monkeys may appreciate the Angels car air freshener giveaway, all Angels fans will appreciate an opportunity to be at the ballpark, enjoying American's pastime versus what very well may be considered America's baseball team on a very American day.
20-Game Flex: Yes
Big A Voucher: No (Alternative Dates: None)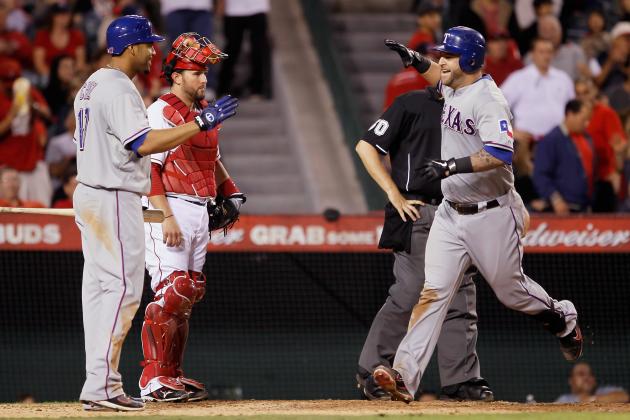 Jeff Gross/Getty Images

Having already played the Rangers in May, Angels fans should visit Angel Stadium at some point during the series with Texas at the start of June 2012.
Exactly which of the three days fans should attend depends on one's taste for giveaways and gimmicks, day or night games and the best laid plans of figuring out when Yu Darvish will take the mound.
Though a huge benefit of purchasing mini-plans early is that popular games will not yet be sold out and otherwise unavailable, a huge downside is the fact that pitching probables have not been released. Imagine purchasing tickets for June 1's game just to learn that Darvish will face C.J. Wilson on June 2.
Instead, consider that Friday, June 1 is a weekly fireworks night, while the Angels will give away cowboy hats on Saturday the 2nd.
If you're more in the mood for a matinee or want to turn the game into a true family experience, note that June 3 is one of the Angels' Family Sundays, which includes all sorts of fun activities for the little ones.
20-Game Flex: Yes (All Dates)
Big A Voucher: Yes (June 1 or 3 only)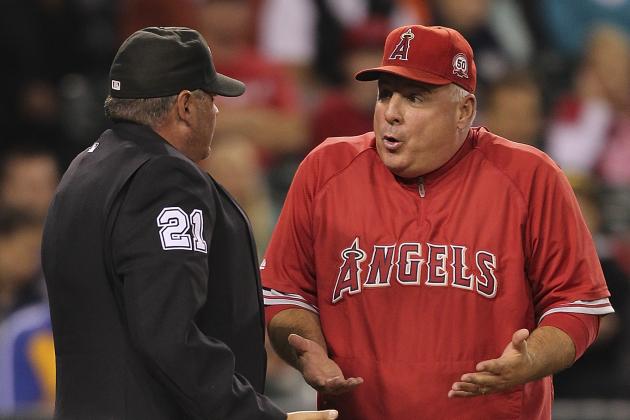 Otto Greule Jr/Getty Images

The benefits of making the trip up to Chavez Ravine to watch the intraleague matchup between the Los Angeles Dodgers and Angels are threefold: First, this will be the first meeting of both teams during the 2012 season, second, there is a Mike Scioscia bobblehead at stake and third, this game will give fans a chance to experience a game on the road, outside the friendly confines of the Big A.
Who knows, we might even get to see pitcher Jered Weaver or C.J. Wilson grab a bat.
Years before Scioscia became a World Series-winning manager with the Anaheim Angels, he was an integral part of the Los Angeles Dodgers franchise, helping that club win—among many other things—the 1988 World Series.
As a result, the Dodgers will honor Scioscia for his contributions when the Angels visit on June 12.
20-Game Flex: No
Big A Voucher: No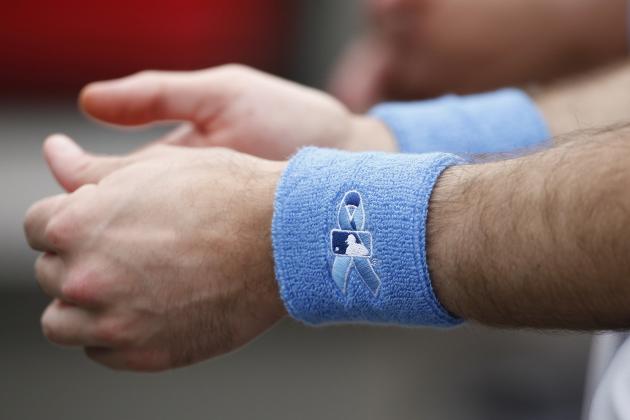 Joe Robbins/Getty Images

Father's Day games generally come to each stadium once every two years and 2012 is Anaheim's turn to play host.
Adding to the intrigue, the Angels will host the reigning NL West champion-Arizona Diamondbacks, led by skipper Kirk Gibson and NL MVP candidate Justin Upton.
The Diamondbacks are an underrated force in the National League, having completed a worst-to-first campaign in 2011 that saw pitcher Ian Kennedy tie for the NL league lead in wins and finish fourth in NL Cy Young balloting to triple crown winner Clayton Kershaw.
Just as the D-Backs are underrated in the NL, the Diamondbacks-Angels series could prove to be quite a surprise in its competitiveness, where Mike Scioscia's small ball meets Gibson's similar style.
For those wondering, Scioscia and Gibson were teammates on the Los Angeles Dodgers, winning the 1988 World Series together.
As an added incentive to get to the ballpark early, the Angels will give away 25,000 Father's Day oven mitts/pot holders
20-Game Flex: Yes
Big A Voucher: Yes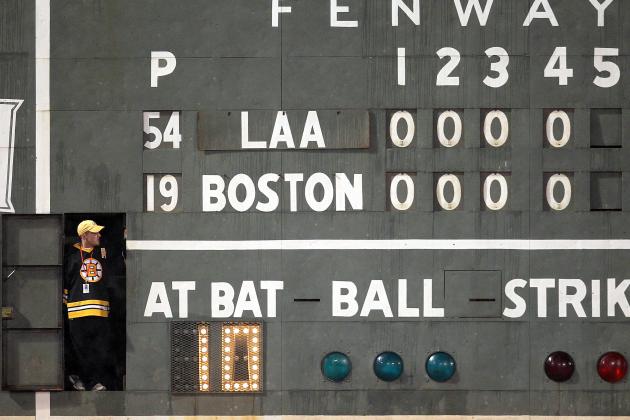 Jim Rogash/Getty Images

Now several years removed from the mid-2000s cycle of one team sweeping the other out of the MLB postseason, the Angels and Boston Red Sox rivalry seems just as strong as it has ever been, and 2012 should be no different when Boston comes to town in late August.
All three games are evening affairs with no giveaways—and there don't need to be any.
Boston is struggling to get back to the postseason just as the Angels are trying to climb their way back to October ball.
While the Angels acquired Albert Pujols and C.J. Wilson under new GM Jerry Dipoto this offseason, Boston similarly canned GM Theo Epstein, also removing manager Terry Francona and replacing the duo with GM Ben Cherington and field skipper Bobby Valentine.
After Jonathan Papelbon's disappointing, yet highly entertaining meltdown on the final day of the 2011 regular season, the Red Sox may have done very well for themselves by not bringing him back, though the value of newcomers Vicente Padilla, Aaron Cook and Carlos Silva remains to be seen.
Though the cast might have changed, the charged emotions will not go away. The Angels-Red Sox rivalry is alive and well, and is coming back to Anaheim starting Aug. 28, 2012.
20-Game Flex: Yes
Big A Voucher: No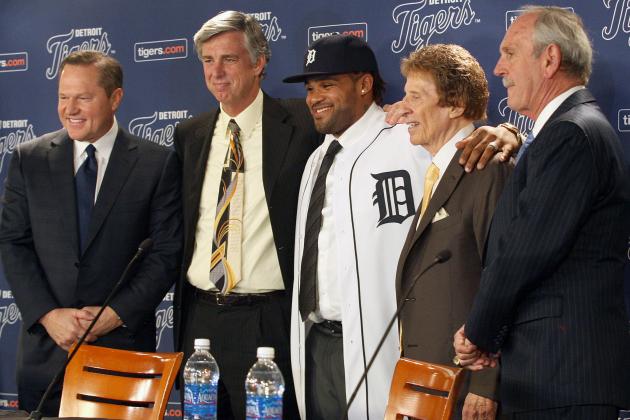 Jorge Lemus/Getty Images

Well, MLB schedulers have inadvertently saved the best for last.
When the Detroit Tigers make their only appearance in Southern California come September, they will bring with them first baseman Prince Fielder.
It is a new team, new look and a potential preview of 2012's ALCS matchup, if the Angels and Tigers are both fortunate enough to make it to that point.
Sept. 7 is a Big Bang Friday while Sunday, Sept. 9 is Salute to Kids Day, which gives fans great flexibility in choosing which game is best to attend.
Because ESPN will not have been to Angel Stadium in 2012, and because Sunday, Aug. 26's Angels-Tigers contest is already penciled in for an afternoon start time, there is a good chance ESPN's Sunday Night Baseball will visit the Big A on Sept. 9, meaning that game very well could see a twilight start time.
Sept. 7 and 8 are already scheduled as evening games.
Albert Pujols vs. Prince Fielder, Mike Scioscia vs. Jim Leyland, Angels vs. Tigers.
Be there.
20-Game Flex: Yes (All three dates)
Big A Voucher: Yes (Sept. 9 only)