Thomas Eisfeld Signed by Arsenal: Picking a 2012-13 Team to Include New Signing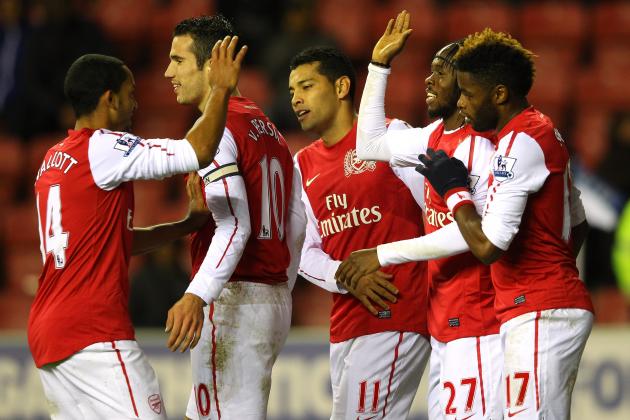 Alex Livesey/Getty Images

With Arsenal's winter transfer dealings seemingly completed, it will be interesting to see where, if at all, Arsene Wenger's newest starlet Thomas Eisfeld will fit into the squad.
At 19 years of age, little is known of the German attacking midfielder from Borussia Dortmund, other than the fact that he was acquired for just £0.4 million, and that he scored six goals in 12 appearances for the U-19 team.
Whether he'll be involved at all this season is yet to be known. However, once the players out injured return, namely Jack Wilshere, it's worth questioning where Eisfeld would fit in Wenger's current formation.
So, without further ado, I present to you a squad for the 2012-2013 season that includes Eisfeld.
Enjoy!
Begin Slideshow

»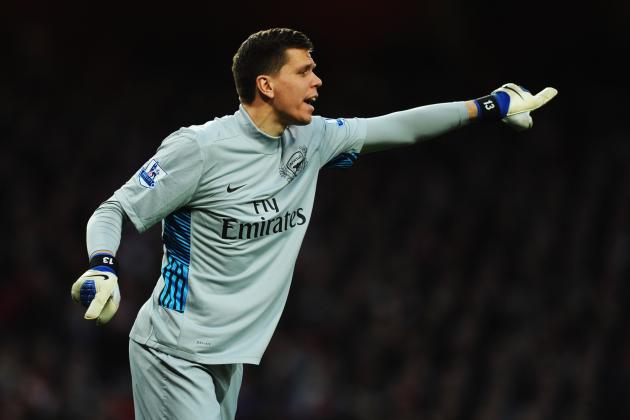 Mike Hewitt/Getty Images

Wojciech Szczesny may not be having the most stellar of infallible seasons thus far.
However, at just 21 years of age, it's safe to assume that with each passing season as the team's bona fide No. 1, he'll only get better and improve.
Wojciech's lack of positioning sense at times may have been exposed on a couple of occasions so far, but it's still hard to fathom a change of personnel between the sticks come the start of next season. That is, of course, unless something horrid were to suddenly happen to the Pole's fitness.
In Szczesny, however, it can be comfortably said that Arsenal have finally found a keeper worth keeping for the long haul. Expect to see him marshalling the goal line at the start of the 2012-2013 season.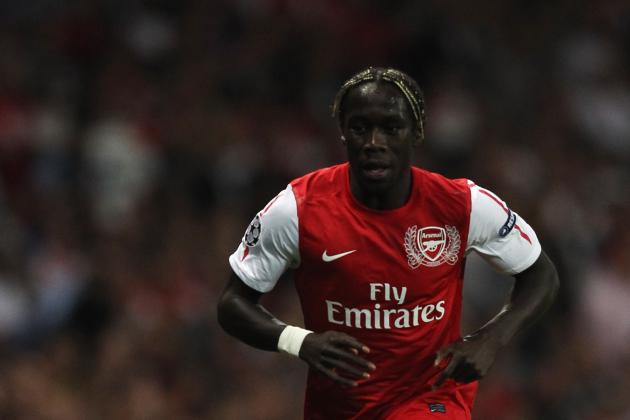 Clive Rose/Getty Images

Bacary Sagna's inclusion in this list requires little explanation really.
The marauding French full-back has continually impressed since making his big move to Arsenal in the summer of 2007. And though he's only recently recovered from a severe injury that saw him sidelined for three months, with plenty of time left to recuperate and re-energize this season, Sagna is expected to be one of the first names on the team sheet every season.
Though he too is prone to that rare slip once in a while, it's safe to say "Bac"—as the fans like to call him—has a guaranteed starting spot come 2012-13.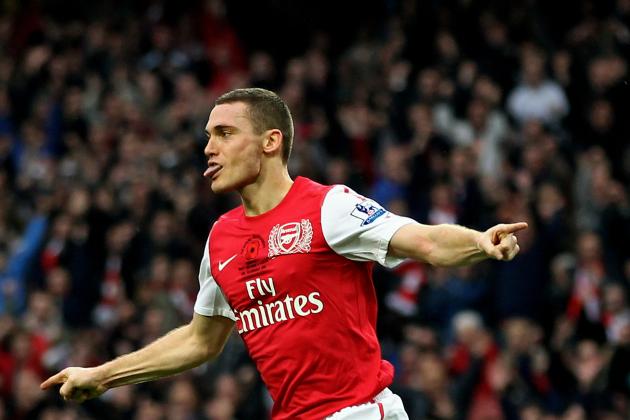 Julian Finney/Getty Images

Since making the switch to Arsenal in the summer of 2009, Thomas Vermaelen has been an ever-present on both the defense and the team sheet at the Emirates.
The Belgian, who was only recently promoted to the role of vice-captain following the summer departure of Cesc Fabregas, has wooed fans with his no-nonsense style of play. Known for being uncompromising when it comes to his defensive duties, Vermaelen's overall demeanour and style of play has earned him fan's adoration with the nickname "The Verminator."
Provided he's fit, it's practically a money-back guarantee that Vermaelen will start at the heart of Arsenal's defense.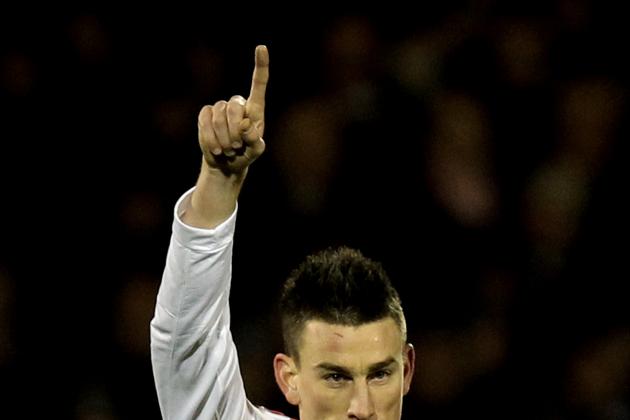 Clive Rose/Getty Images

Though to many non-observers of Arsenal, Laurent Koscielny seems anything but "solid," to most of the Emirates faithful the French defender has become the object of acclaim and praise over the course of the last and this season.
Whether it's due to the arrival of an established counterpart in the form of Per Mertesacker that's caused this sudden burst in ability and effectiveness, or just generally the aftereffects of a successful adaptation to the English game, it's hardly a contested fact that Koscielny has developed into one of the most reliable defenders in the entire league.
If his form continues till the end of this season, he'll virtually be un-droppable. Expect his name next to Vermaelen's on the team sheet in 2012-2013.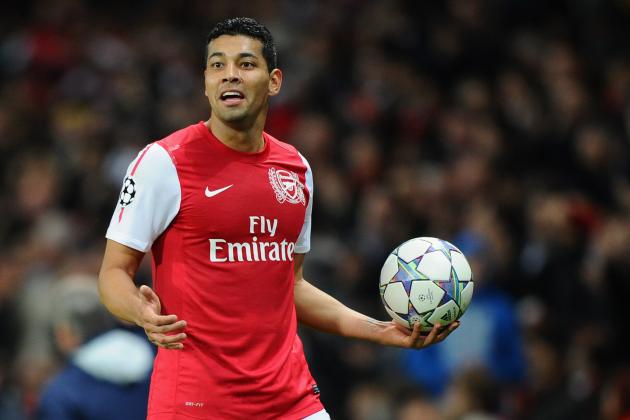 Mike Hewitt/Getty Images

Andre Santos may be, figuratively speaking, "down" but he's certainly not "out," especially after his performances pre-injury at Arsenal.
The attack-minded full-back possesses speed in abundance, and seems to have curved his natural marauding style to fit the defensive demands of the English game. He's a player that went from strength to strength during his first few months at the club, eventually reaching the point where he usurped the player he was meant to deputize for (Keiran Gibbs).
Though out injured at the moment, a summer's worth of rest and relaxation will probably be the right antidote to get him back into the team's starting lineup.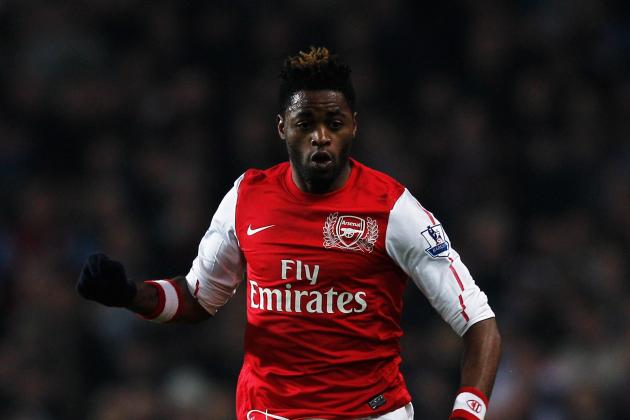 Paul Gilham/Getty Images

Alex Song, one of the few ever-presents in the Arsenal team over the course of the last few seasons, has gone on to establish himself as one of the most complete defensive midfielders in all of Europe.
While possessing all the natural traits a defensive midfielder is expected to have—namely strength, good ability to read play and of course break up opposition movements—the Cameroonian is a slick passer and dribbler of the ball, as demonstrated over the course of this campaign. And though he does possess a reputation of going missing on occasion, for the most part, Song is a definite starter for Arsene Wenger's teams nowadays.
There's little indication to suggest that either Francis Coquelin or Emmanuel Frimpong, though impressing whenever given the opportunity, are likely to move up the pecking order into that starter position come 2012-13.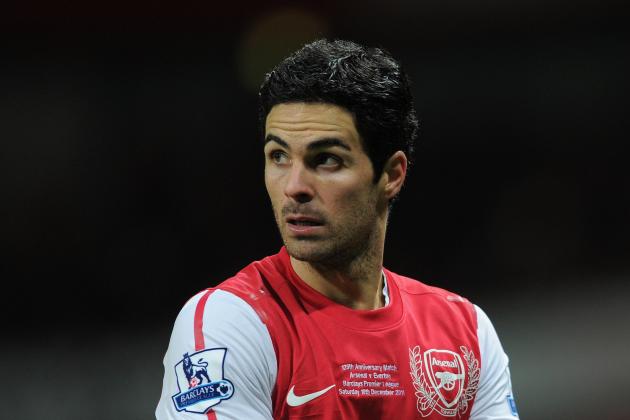 Michael Regan/Getty Images

Given the effect the Spaniard has had on the team so far this season, this is an inclusion that requires minimal explanation.
Mikel Arteta is arguably one of the reasons, if not the sole reason, the transition between an Arsenal "with Cesc Fabregas" to "without Cesc Fabregas" has seemed even remotely bearable. While not possessing quite the same amount of attacking flair and creativity as his Spanish counterpart, Arteta has shown over the course of his short tenure at the Emirates so far that he's become an integral part in the team.
Any doubters of Arteta's contribution—and there are some—need only look at how dire their midfield play versus Swansea and Manchester United was. In truth, the Spaniard keeps "the ball rolling" in the middle of the park, while also effectively deputizing for Alex Song when he's off on another forward run.
Unless something major were to happen, it's hard to envisage Arteta not being too involved with first-team affairs next season. He's an automatic starter, and expect it to be no different in 2012-13.
Admittedly, seeing Thomas Eisfeld in Arsenal's starting lineup in 2012-13 would require changes or unforeseen occurrences of epic proportions. Yet when it comes to Arsenal, it's hard to rule out the impossible.
Though he may be behind (in this order) Jack Wilshere, Aaron Ramsey and possibly even Tomas Rosicky (if he decides to stay on) in the pecking order for the said position, when considering the likelihood of all three aforementioned players to be absent come season starter next campaign, it seems more and more possible.
Wilshere will only be returning from injury, and will be expected to feel some recurrence or recoil once he returns to the fray. Ramsey is far too inconsistent, and Rosicky may not even be at the club next season, let alone remain fit.
And yet, little is known about Arsenal's new 19-year-old signing.
Described as "having good ingredients" to adapt to the English game, according to Arsene Wenger, many are touting Eisfeld as being another potential hidden gem unearthed by the French tactician. And given Wenger's track record of "pulling rabbits out of hats," it would seem hard to argue, or even deny giving Eisfeld a chance in the first team.
And giving the timeliness of the signing—the news of Wilshere's season-ending injury—it's fair to assume Eisfeld will be deployed in the "Cesc role," which originally Wilshere and/or Ramsey are expected to fill in some capacity.
Though he may not be an automatic starter in most games, he'd present himself as a good squad player capable of playing in the pivotal role at the top of Arsenal's famous "midfield triangle." Additionally, considering the fact that he was signed at 19—an age where at a club like Arsenal players are expected to start contributing to the first team—coupled with the fact that he's already training with the first team, means Arsenal fans can expect to see almost immediate participation in games from the German starlet.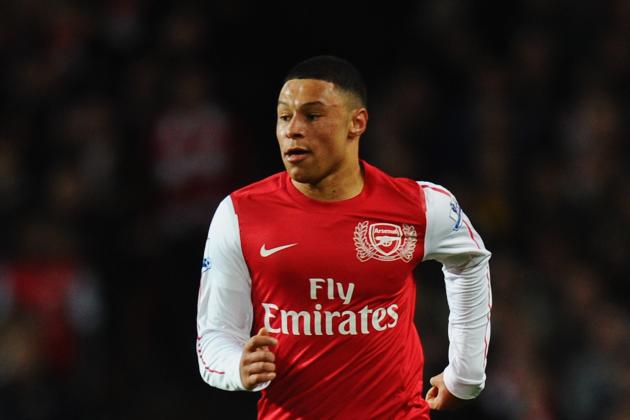 Mike Hewitt/Getty Images

It's a remarkable testament to Alex Oxlade-Chamberlain's footballing ability and skill when pundits and fans alike are calling him one of the most exciting talents in world football after only just playing a handful of games so far.
And yet, to those that have watched "the Ox," as fans have adoringly nicknamed him, this now hardly comes as a surprise. At just 18 years of age, Oxlade-Chamberlain already seems a more complete winger in many ways than his predecessor-in-style Theo Walcott.
With so much of this season to go, expect Oxlade-Chamberlain to go from strength to strength and eventually usurp Walcott on the right side of Arsenal's flank. It's hard to envisage a team sheet without the young starlet's name on it if he continues to develop at this rate.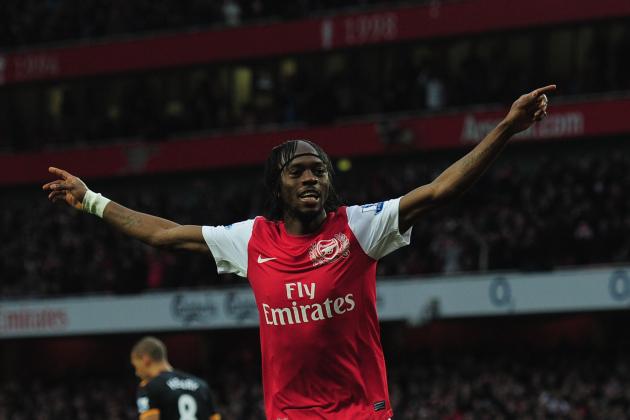 Shaun Botterill/Getty Images

Sure, he may be extremely wasteful in front of goal. But Gervinho adds an element to Arsenal's style missing since arguably the times of Freddie Ljungberg and Marc Overmars—directness.
Gervinho's ability to gain a step on his man and cause havoc amongst opposition defences has helped him become a fan favourite, as he's virtually always on the move. Gifted with impressive pace, as well as the ability to send defenders backtracking and ultimately push the defensive line back, he's become an integral player in the team.
And at 24, expect him to start ahead of some other players in the same position. If his directness continues, while his composure in front of goal increases, it's hard to see Arsene Wenger dropping the Ivorian.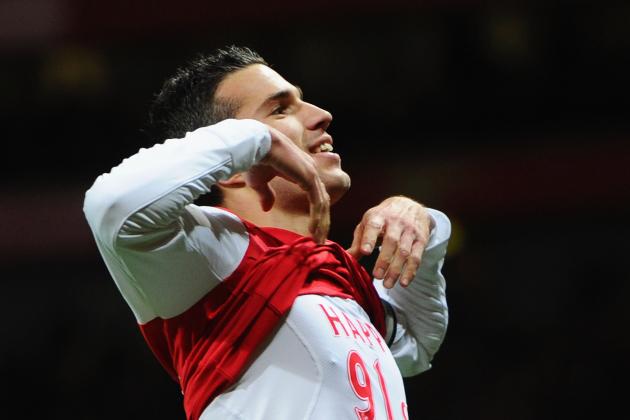 Mike Hewitt/Getty Images

Robin van Persie is Arsenal's crown jewel, and therefore requires no explanation at all.
The only thing that perhaps may see van Persie not start is a potential departure, as his contract is fast reaching it's expiry date.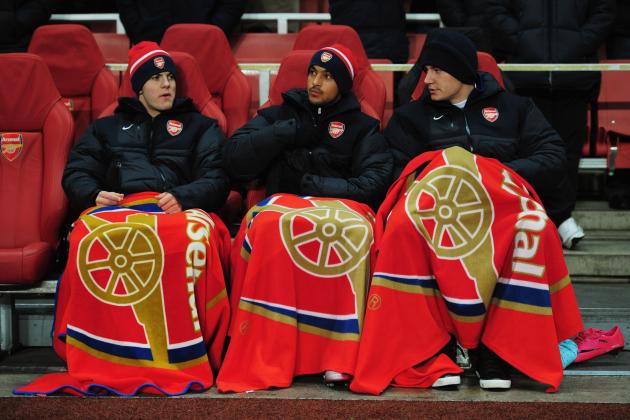 Shaun Botterill/Getty Images

Vito Mannone
Francis Coquelin
Per Mertesacker
Aaron Ramsey
Jack Wilshere
Theo Walcott
Marouane Chamakh
Follow me @saqibddb