Big Ten Football: The Way Too Early 2012 Leaders Division Predictions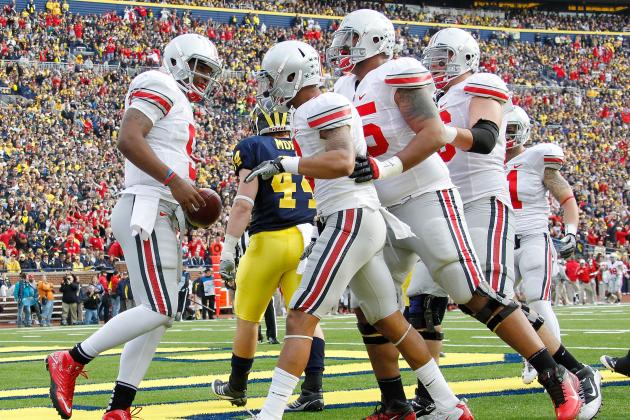 Gregory Shamus/Getty Images

I'm back again with another installment of the "Way too Early Predictions" for the 2012 Big Ten football season. (Legends division here).
Last time we met, we tried to answer a few simple questions: Will Brady Hoke's second year match his first? Will Jerry Kill see a significant second-year turnaround in Minneapolis? Can Iowa find another running back to rely on? Will Michigan State's defense continue to perform at such ridiculously high levels? Where does Pat Fitzgerald get all these crazy efficient spread offense athletes from anyway?
This time we will look at the Leaders division where the questions are just as interesting.
Will Urban Meyer live up to the hype? Can yet another coach succeed with the leftover recruits of Ron Zook? (Follow up question: Will this writer miss the opportunity to use pictures of Ron Zook water-skiing in columns? You bet he will.)
Will Wisconsin remember what it's like to break in a new quarterback after hitting the waiver wire last year? If Indiana doesn't play a snap of football, will anyone notice if the basketball team keeps winning? (Assuming the basketball team rights the ship before a complete collapse.) Does Purdue even exist? And finally: Penn State?*
*(Yes, "Penn State?" qualifies as a question in and of itself when the football team is forced to replace its head coach of nearly half a century with a mediocre NFL offensive coordinator that rode Brady/Belichick's coattails and has the fanbase breaking out in hives, all while the biggest sexual assault scandal in college athletic history swirls around the school.)
It is going to be an interesting ride this season, so let's start sorting through it all.
Note: All returning starter numbers come from Phil Steele's numbers. If you have a problem or think your team was unfairly represented in the numbers, take it up with the guy who spends more time thinking about college football in one off day than you do in a good week.
Begin Slideshow

»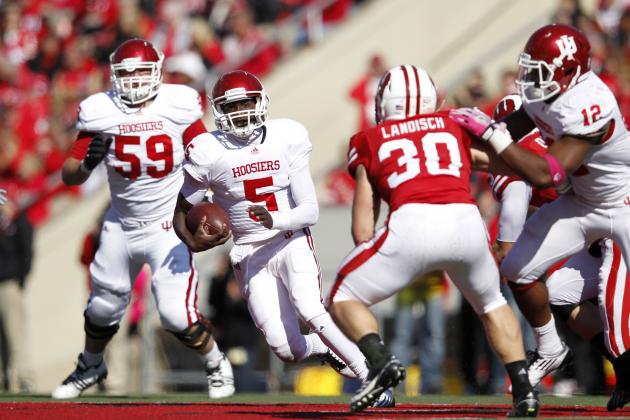 Joe Robbins/Getty Images

Returning starters: eight offense, nine defense, two special teams
Key losses: QB Edward Wright-Baker, QB Dusty Kiel, WR Demarlo Belcher, LB Jeff Thomas
Key returning players: QB Tre Roberson, RB Stephen Houston, WR Kofi Hughes, DT Adam Replogle, LB Mark Murphy, CB Greg Heban
Toughest conference games: vs. Wisconsin, vs. Ohio State, vs. Michigan State
Indiana is the other bottom-feeder school about to go into its second year under a new coach, and it faces the same questions as its doppelganger from the Legends division, Minnesota.
Offensively, Indiana looks poised to take a small step forward from what wasn't a bad year in 2011. Granted, Indiana wasn't a prolific offense, but considering the constant change in quarterbacks and inexperience at the skill positions, Indiana's average run game (161 ypg) and nearly 200 pass yards per game is a solid foundation to build on.
Coach Kevin Wilson is known for his offensive acumen, and an offseason to develop Tre Roberson should pay dividends in the pass game while still giving Indiana a dual threat in the backfield next to running back Stephen Houston.
Don't expect Roberson to turn into Russell Wilson, but he should be able to improve on his 110 passer rating.
However, Indiana still has to play defense, and that seems to be the tallest task of all for the Hoosiers. Last year's unit may have been the worst in any BCS conference, and was dead last in the Big Ten in the four major defensive categories.
Hope for the 2012 defense isn't exactly through the roof, but there is a solid foundation of experience returning; nine starters from 2011 back in the fold. That group was quite possibly the worst defense in the FBS: Of all four major defensive categories, Indiana's best rank was 109th.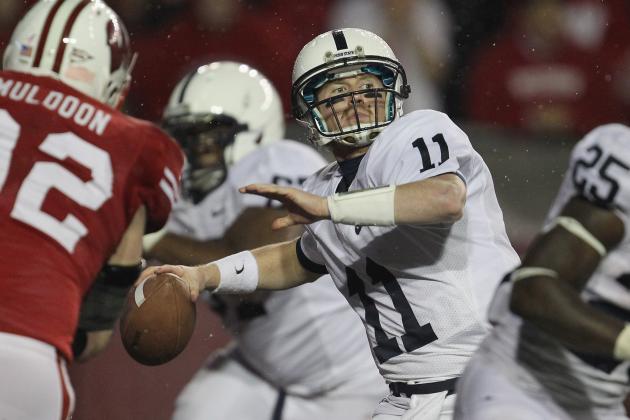 Jonathan Daniel/Getty Images

Returning starters: five offense, five defense, two special teams
Key losses: WR Derek Moye, TE Andrew Szczerba, S Drew Astorino, LB Nathan Stupar, DT Devon Still, DE Jack Crawford, S Nick Sukay
Key returning players: QB Matt McGloin, RB Silas Redd, WR Justin Brown, WR Devon Smith, LB Gerald Hodges, LB Glenn Carson, DE Sean Stanley
Toughest conference games: at Iowa, at Nebraska, vs. Ohio State, vs. Wisconsin
It is entirely possible that Penn State is too talented to finish fifth in the Leaders division. At the same time, there are simply too many variables to put any confidence behind Penn State when the rest of the teams are in much more stable condition.
Offensively, Penn State has a long way to go to be a dependable unit.
The Nittany Lions only scored 20 points three times during the 2011 season en route to a scoring offense of just 19 ppg (110th in the country and next to last in the Big Ten). The driving force behind Penn State's inability to mount a cohesive offensive attack lies in the downright bad play under center.
Matt McGloin was the better of the two options and he was 89th in the nation in pass efficiency. Whether it is McGloin starting for Penn State or the man who couldn't beat him out for the spot—Rob Bolden—what seems clear is that the Penn State passing game in a new system could suffer serious growing pains.
The return of Silas Redd should ease that pain; he averaged just shy of 100 yards per game and seems to be a reliable back to build around. However, it is hard to see Penn State improving significantly on the total offense (95th) and scoring offense (110th) that held the Nittany Lions back in 2011.
That Penn State was able to accomplish what it was is attributable to a defense that was outstanding for large stretches. The offense doesn't need to score north of 20 points too often when the defense holds teams to 14 points or less in over half of the games.
Penn State was neck and neck with Michigan State for the most impressive defense in the conference. Unlike Michigan State, the Nittany Lions will be losing a good deal of talent off that defense. Couple that with the first new defensive coordinator since the 90s and again, there is bound to be a learning curve.
Penn State is fortunate to play neither Michigan school. However, they will make trips to Iowa and Nebraska, play home games vs. Ohio State and Wisconsin and possibly see improvements by Indiana, Purdue and Illinois. Penn State won't be able to afford any regression on either side of the ball.
With the upheaval in Happy Valley, that is bad news.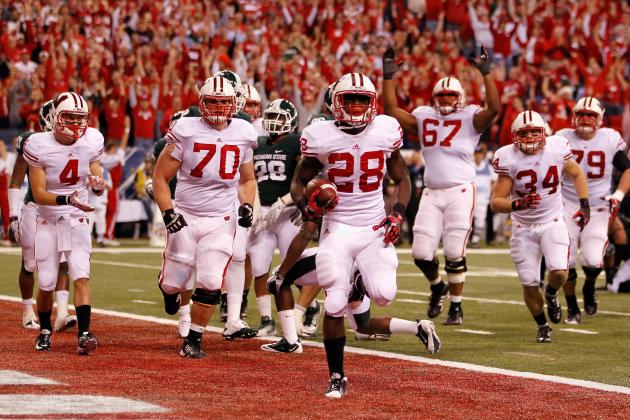 Gregory Shamus/Getty Images

1. Wisconsin
This isn't going to be the same blow-your-doors-off offense that the Badgers have rolled out the last two seasons. But, with Wisconsin's offensive line machine and two great running backs returning with two very good receiving options, it seems likely that this will be one of those very good pro-style attacks that everyone is used to from Wisconsin.
2. Ohio State
Ohio State may not be the best offense in the Big Ten—remember, this is going to be a very young group—but it could be the most exciting as Braxton Miller and the rest grow together.
3. Purdue
Purdue brings back a lot of experience from an offense that couldn't quite get over the hump against top flight competition. Things will be better this year, but there isn't enough talent for this offense to be a juggernaut.
4. Indiana
Kevin Wilson's second year should see a large uptick in offensive production as his eight returning starters settle into the system.
5. Illinois
It remains to be seen if Tim Beckman can recreate his offensive success when it isn't against a bunch of MAC defenses, but the options returning are intriguing. Look for a year of growing pains as Nathan Scheelhaase continues to try to get this whole "quarterback" thing down.
6. Penn State
Matt McGloin or Rob Bolden? If that is your question, you won't like the answer.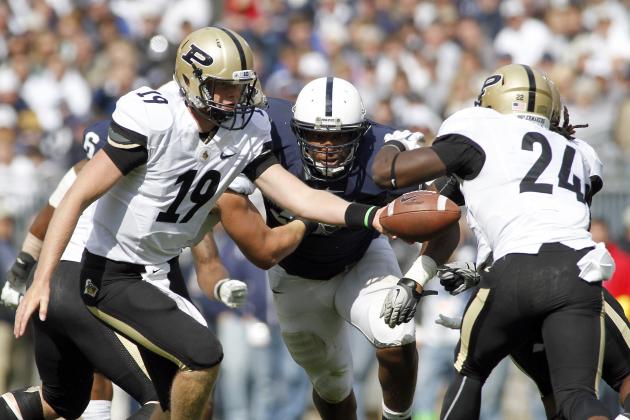 Justin K. Aller/Getty Images

Returning starters: eight offense, seven defense, two special teams
Key losses: RB Ralph Bolden, WR Justin Siller, LB Joe Holland, DB Albert Evans
Key returning players: QB Caleb TerBush, QB Rob Henry, QB Rob Marve, RB Akeem Shavers, RB Akeem Hunt, WR Antavian Edison, WR OJ Ross, LB Dwayne Beckford, DT Kawann Short, CB Ricardo Allen
Toughest conference games: vs. Michigan, vs. Wisconsin, at Ohio State
Barring another freak rash of ACL injuries—don't count that possibility out—Danny Hope has no excuse for another disappointing season. Purdue returns over half of its starters on both sides of the ball and both specialists.
The running game should be even more potent as Purdue brings back a great deal of talent while only losing the underperforming Ralph Bolden to yet another injury. The team ran for 181 yards per game in 2011, and with the talent available, that number could jump to around 200 ypg. Easing that jump in production on the ground will be a passing game that is more efficient.
Outside of receiver Justin Siller, Purdue is set to bring back nearly its entire passing offense, including its last three starting quarterbacks.
If the offense is able to make those improvements, even a lateral step by the defense would be enough to see Purdue get to seven or eight regular season wins, but with the return of Kawann Short in the middle and Ricardo Allen in the defensive backfield, the Boilermakers could make improvements across the board and move slightly into the top half of the Big Ten defensively.
With Wisconsin replacing important parts on both sides of the ball; Illinois, Ohio State and Penn State breaking in new coaches; and Indiana being Indiana for the time being, Purdue could have its open window to compete for the Big Ten title.
Let's cross that bridge when we come to it. It is still Purdue we are talking about.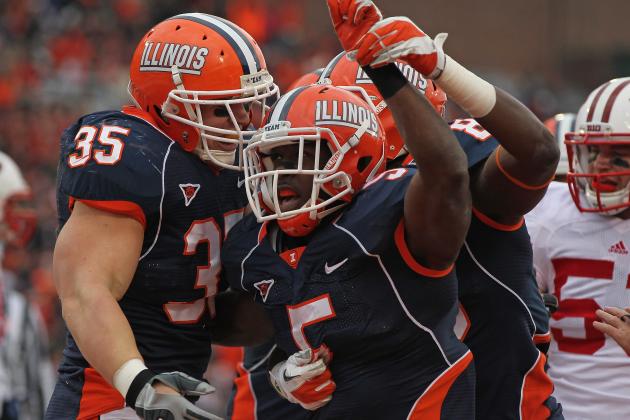 Jonathan Daniel/Getty Images

Returning starters: six offense, seven defense, one special teams
Key losses: RB Jason Ford, RB Troy Pollard, WR AJ Jenkins, DE Whitney Mercilus, DB Tavon Wilson, LB Ian Thomas
Key returning players: QB Nathan Scheelhaase, RB Donovonn Young, WR Darius Millines, WR Spencer Harris, DE Michael Buchanan, DT Akeem Spence, LB Jonathan Brown, DB Terry Hawthorne
Toughest conference games: at Ohio State, at Michigan, at Wisconsin
It would be hard for Illinois 2012 season to match either the lofty highs or the depressing lows of Ron Zook's swan song.
The Illini move into 2012 with Tim Beckman as the new head coach. He will lead a retooled staff looking to build on the solid foundation of talented players that Ron Zook brought to Champaign.
The most important of those players is quarterback Nathan Scheelhaase, the mercurial two-year starter that is just as likely to blow past you on a run as he is to make a boneheaded read that loses yards. Scheelhaase does well when allowed to run, but when forced to pass, he is mistake prone.
The Illini offense has enough talent returning that the unit as a whole should play more sound football, but it will be up to Beckman and the new staff to get the most out of a quarterback that has only shown flashes so far. Illinois will once again be a run-heavy team that can't put together enough through the air to beat top notch defenses.
Thankfully, Illinois has a stout defense of its own to rely on. While the Illini will be without breakout defensive end Whitney Mercilus, a great deal of talent returns from all over the defensive roster.
A year ago, this was one of the most disruptive defenses in the country. With Buchanan, Brown and Spence back, the front seven should be able to get constant pressure on the way to a top-25 rating in sacks and TFLs, which should be enough to keep Illinois' defense in the top four in all three defensive yardage stats (rush yards allowed, pass yards allowed and total yards allowed).
Without Mercilus, this group will have a hard time leading the Big Ten in both sacks and TFLs, but that shouldn't hold them back too far.
Illinois doesn't quite have the offense to make a run for the conference title, but with Ohio State sitting this one out, the Illini could be the team that benefits.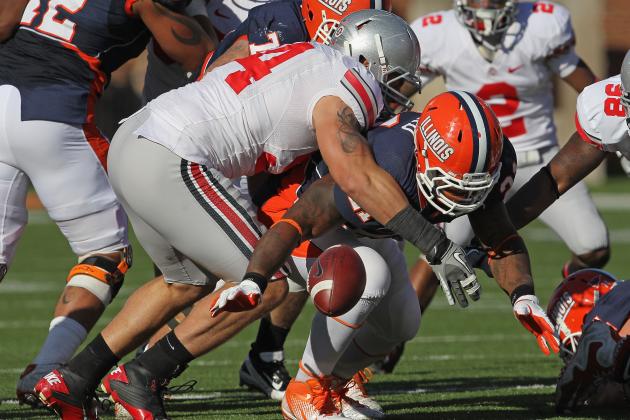 Jonathan Daniel/Getty Images

1. Ohio State
Ohio State brings back nearly its entire defense and is stacked with four and 5-star recruits while working with a coaching staff that was as smoothly transitioned as one can hope. The Leaders division isn't going to produce any all-timer defenses, but this unit is going to be very good nonetheless.
2. Illinois
Tim Beckman walks into a good situation on the defensive side of the ball. Seven defensive starters return including a few all-conference contenders. Add in Ron Zook's ability to bring in talent, and this unit should flirt with top-25 production.
3. Penn State
Penn State will have a great deal of raw defensive talent, but there are significant losses to deal with (cough, Devon Still) while the team will have to learn a new defensive scheme for the first time in a long time.
The Nittany Lions should still be good, but greatness might be too much to ask.
4. Purdue
Purdue has enough coming back to be a average-plus Big Ten defense. I'm just as shocked as you are.
5. Wisconsin
Wisconsin was the best defense that completely imploded whenever it was tested in 2011. Michigan State, Oregon and Ohio State all shelled this unit. Things won't be any easier now that the team is replacing over half its defensive starters.
6. Indiana
Indiana's defense is so bad year in and year out you can set your watch by it (turn it to the first Saturday in September the first time the Hoosiers give up 30-plus to a team they have no business losing to).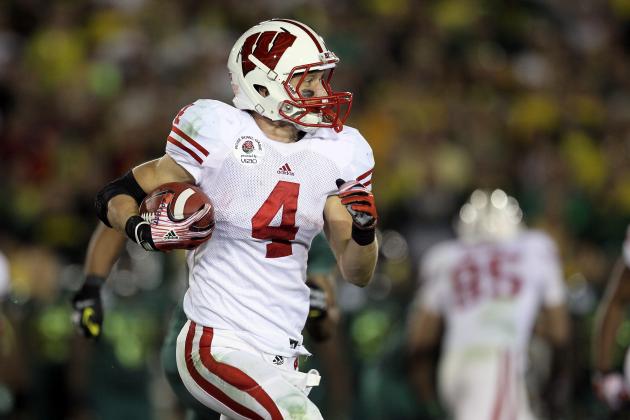 Stephen Dunn/Getty Images

Returning starters: four offense, six defense, zero special teams
Key losses: QB Russell Wilson, WR Nick Toon, OT Josh Oglesby, OC Peter Konz, DL Louis Nzegwu, LB Kevin Claxton DB Aaron Henry, DB Antonio Fenelus
Key returning players: RB Montee Ball, RB James White, WR Jared Abbrederis, TE Jacob Pedersen, DL Beau Allen, DL David Gilbert, LB Mike Taylor, LB Chris Borland, DB Shelton Johnson
Toughest conference games: at Nebraska, vs. Michigan State, vs. Ohio State
The Badgers have a long way to go to extend the streak of Rose Bowl appearances that Wisconsin currently holds over the rest of the Big Ten.
First, Wisconsin has to adjust to what life feels like when you have to develop your own quarterback instead of finding the perfect fit just waiting for you in the ACC. With the departure of Russell Wilson, the offense will turn to a depth chart long on youth and short on game experience. With the return of Montee Ball and another year of maturity for James White this shouldn't be a problem.
As long as Wisconsin can field another prototypical Wisconsin offensive line the ground game should continue to churn out yards while whoever starts at quarterback will be tasked simply with making a few easy, accurate throws to pick up third downs and take advantage of overreacting defenses.
Meanwhile, the defense should be another better than average unit that does its best to feed the offense and slow the other team's progress. The 2011 version of the Badger defense was good at forcing turnovers and was Top 15 in the nation at stopping yards and points. With the return of the heart of the Wisconsin defense, Chris Borland and Mike Taylor, the Badgers shouldn't worry about too much defensive regression (the rush defense was simply average at 60th nationally—not a good indicator for future success if one takes into account the possible regression to the mean).
Wisconsin won't be the caliber team it was the last two years, but the Badgers will be a very good team hell bent on controlling the clock, moving the ball on the ground, and capitalizing on the mistakes of the other team.
So, you know, just like every other Wisconsin team you have hated for the past decade-and-a-half.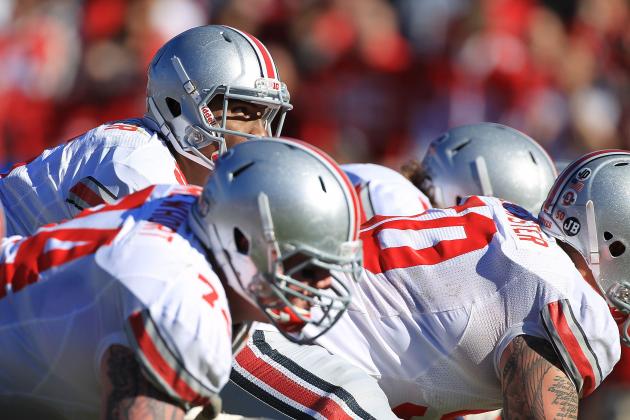 Scott Halleran/Getty Images

Returning starters: seven offense, nine defense, two special teams
Key losses: RB Dan Herron, WR DeVier Posey, TE Jake Stoneburner, OT Mike Adams, LB Andrew Sweat, DB Tyler Moeller
Key returning players: RB Carlos Hyde, RB Jordan Hall, WR Devin Smith, WR Corey Brown, DL John Simon, DL Johnathan Hankins, LB Ryan Shazier, LB Etienne Sabino, DB Christian Bryant,
Toughest conference games: at Michigan State, vs. Nebraska, at Wisconsin, vs. Michigan
Meet the new boss—the same as the old boss. Ohio State picks up 2012 right where it left off 2010: right at the top of expectations.
The Ohio State offense looks to be in good hands. Urban Meyer is bringing his version of the spread to Columbus just in time to hook up with second-year ,dual-threat quarterback Braxton Miller. Miller had a rough freshman year, but steadily improved until a great game against Michigan nearly helped the Buckeyes steal an eighth straight win in Ann Arbor.
Miller will still make mistakes, but his athleticism will open up the field for the rest of the young Buckeye offense, and as long as the offensive line can weather the replacing of three starters, Ohio State should make significant strides back to good after being somewhere between the "underwhelming" and "holy crap they suck" on offense in 2011.
Just as the Buckeye offense will return a large amount of starters, so too will the Ohio State defense, which is set to bring back nine players from a unit that was slightly better than average in the Big Ten a year ago. Look for the Buckeye defense to take another step forward and cement itself as a top-25 level defense thanks to strong defensive line play led by John Simon and Johnathan Hankins.
The back seven is full of talented athletes, and with the carryover of Luke Fickell from one regime to the next, it should help the defense maintain some consistency.
Not that any of this matters.
Ohio State could win all of its games and still sit home for the holidays because of the NCAA violations stemming from Jim Tressel's cover up of the tattoo scandal a year ago. However, a strong showing in 2012 would further excite recruiting for Ohio State while setting up what could prove to be a championship run in 2013.