MLB Power Rankings: February Predictions and Rankings for All 30 Teams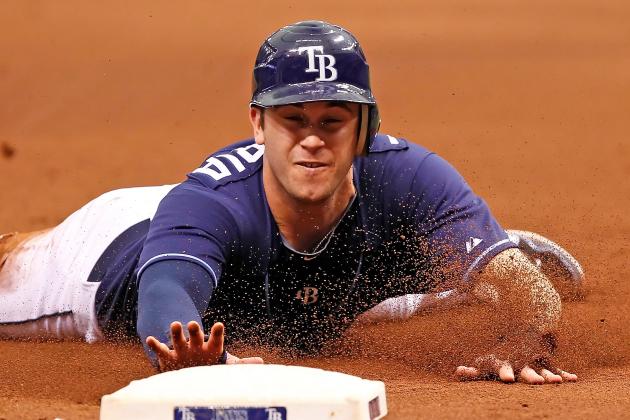 J. Meric/Getty Images

February is not the time to try to build a winner through MLB free agency or trades. Though Roy Oswalt, Edwin Jackson and Yoenis Cespedes remain on the open market, only the Boston Red Sox, Kansas City Royals and Miami Marlins are really positioned to reap huge benefits from one marginal addition.
With fewer than two weeks separating us from Spring Training, there remains time for teams to make last-second changes. For the moment, though, here is how all 30 MLB teams stand.
Begin Slideshow

»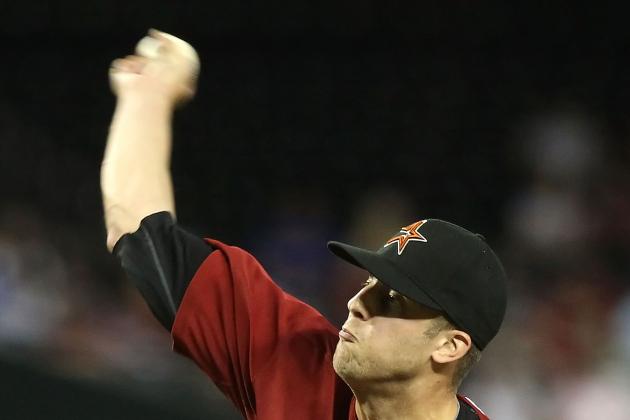 Christian Petersen/Getty Images

Strength: The starting rotation might actually be a non-calamity. Jordan Lyles is a year older, maybe even big-league ready. Her certainly was not that when the Astros called him up last May. Brett Myers and Wandy Rodriguez remain salient starting hurlers even as they age a bit.
Weakness: The offense is terrible. Jose Altuve is among their offensive stars, and realistically, he's a fringe starting second baseman. He has speed and makes contact, but has little power and draws no walks.
The Astros will also replace Clint Barmes with Jed Lowrie, and the upgrade folks imagine there is not real. Carlos Lee is a year older, and unlikely to repeat his semi-revival of 2011. For two-thirds of last season, they at least had Michael Bourn and Hunter Pence. Without those two, the Astros will struggle to score runs.
Spring Predictions: Strangely, it sounds like the team is keeping tabs on Roy Oswalt. That's not likely to happen. The thing to watch will be whether Brett Wallace can force the team's hand in camp, worm his way onto the roster as the first baseman and force Lee wither to be dealt or moved back to left field.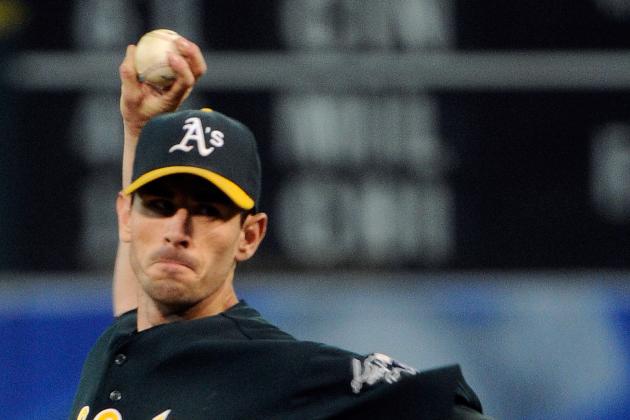 Thearon W. Henderson/Getty Images

Strength: As ever, the A's can pitch and catch the ball. Even after trading Gio Gonzalez, Trevor Cahill and closer Andrew Bailey, the team projects a rotation of Brandon McCarthy, Bartolo Colon, Dallas Braden, Brett Anderson and either Brad Peacock or Jarrod Parker. For depth, they also have Tom Milone and Graham Godfrey.
Weakness: Jemile Weeks remains the only impact-level position player of note in Oakland. This team could race the Mariners to the bottom of the AL in runs scored.
Spring Predictions: The A's sound interested in Manny Ramirez as a stopgap DH option, which would not be bad. If they don't end up with Ramirez, though, Hideki Matsui, Johnny Damon and their ilk might be good targets.
Thearon W. Henderson/Getty Images

Strength: Of the three worst teams in the league, the Cubs make three whose greatest strength is pitching. So it is in this run-scoring environment, which gets more pitching-friendly all the time and makes pitching less valuable by scarcity than it was a few years ago.
The Cubs have added a ton of depth to their rotation this winter, and it was badly needed. Matt Garza and Ryan Dempster were already in place, but trades allowed the team to move past Carlos Zambrano and add Travis Wood and Chris Volstad to that pair. Free agent Paul Maholm rounds out a good unit.
Weakness: The Cubs had three good hitters last season, of which the best two are gone. Starlin Castro might bloom into a superstar in 2012, but it seems unlikely he'll take more than a measured step forward. Carlos Pena and Aramis Ramirez are gone, replaced (in essence) by Bryan LaHair and Ian Stewart. They could have the league's worst middle of the order.
Spring Predictions: Whispers persist that Matt Garza and/or Geovany Soto might move before the season begins. It would register as a surprise if Theo Epstein and company didn't do something more. Reportedly, Chicago is the favorite to land Yoenis Cespedes.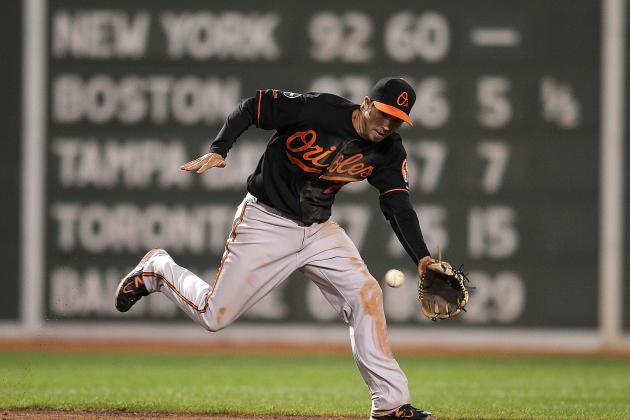 Jim Rogash/Getty Images

Strength: Baltimore's lineup is very good, though few know it. Adam Jones and Matt Wieters took halting steps forward last season, but took steps nonetheless, and still have star upside. In J.J. Hardy, Mark Reynolds, Nolan Reimold and Chris Davis, the O's have four players with a composite projected OBP barely better than .300, but the very real chance to hit 100 combined home runs.
Weakness: Thank goodness new people are in place in Baltimore, because for the past five years, the Orioles Way has been to run perfectly good pitching prospects off the tracks. Brian Matusz became the latest victim in 2011, but he is not alone. Chris Tillman might never establish himself in the league. Jake Arrieta once had the ceiling of a front-line starter, but he now looks like a fifth option.
Spring Predictions: It still feels like the Orioles will pursue a DH filler. They also have made a big push for Edwin Jackson, though it doesn't sound like Jackson shares their interest.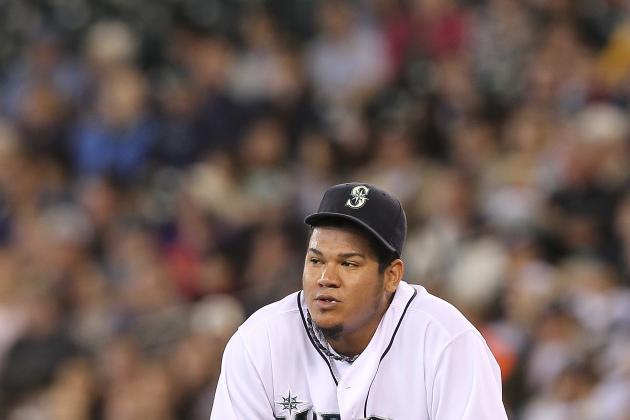 Otto Greule Jr/Getty Images

Strength: It could be pitching. The Mariners have Felix Hernandez, Jason Vargas, Hisashi Iwakuma, Hector Noesi and Blake Beavan in place, but their best rotation—even in April 2012—might be to mix top draft pick Danny Hultzen into their starting corps. Hultzen is a very polished prospect, sufficiently so that he is probably one of the team's top three or four starting hurlers even now.
Weakness: They still can't hit. Dustin Ackley's arrival last summer helped; so did a trade that netted Trayvon Robinson, and the more famous one that brought over Jesus Montero.
Under the radar, the M's also added a catcher with on-base skills in John Jaso. Even so, the Mariners offense is poor, and they are two or three more good pieces from respectability in that phase.
Spring Predictions: Montero, Robinson, Ackley, Hultzen and Justin Smoak all will get chances to win prominent jobs with the parent club this spring. The best-case scenario for Seattle involves each of them winning their battle.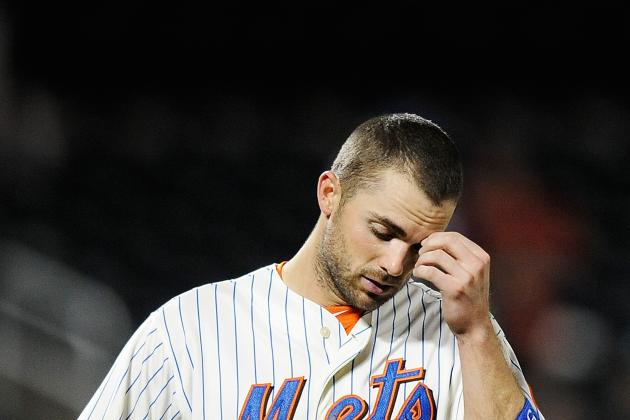 Patrick McDermott/Getty Images

Strength: The Mets hope they will be what they were last year on offense. Ike Davis' return gives them (hopefully) a bona fide first baseman and cleanup hitter. Jason Bay recovered a bit from his crater of a season in 2010, and might be able to take one last step forward next year.
Full seasons of Ruben Tejada and Lucas Duda will not make anyone forget Jose Reyes or Carlos Beltran, but should be very serviceable.
Weakness: The next four teams in this article are the four worst-run in baseball, from top to bottom. The product the team has cobbled together for 2012 reflects a clear lack of direction or long-term planning.
Their greatest weakness is the small chinks in their armor all over the place, from a rotation that runs only four deep to a bullpen headed by Frank Francisco, to a fourth outfielder who can't play center (Scott Hairston) and a fifth infielder who can't play shortstop (Justin Turner).
Spring Predictions: If possible, the Mets might find a way to dump even more salary before the season begins. David Wright, Bay and Jonathon Niese could be in play if the team is satisfied with the progress of younger guys like Turner and Dillon Gee.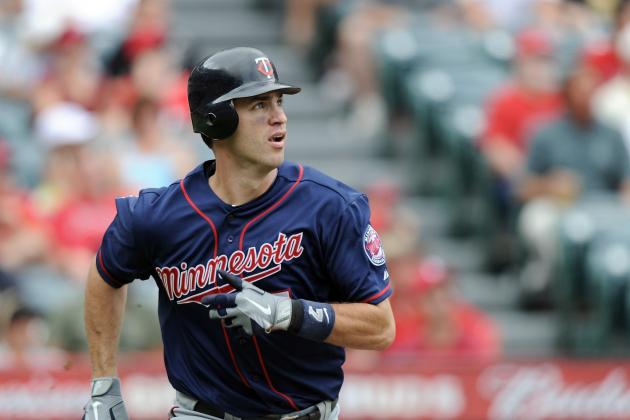 Harry How/Getty Images

Strength: Adding Josh Willingham gave the Twins a potentially sound trio at the heart of the order. Joe Mauer, Justin Morneau, Willingham, Ryan Doumit and table-setters Jamey Carroll and Denard Span should help the team bounce back from their woeful run output last season.
Weakness: Injuries lurk around every corner. Mauer, Morneau and Span have each struggled to stay healthy the past two years. Fragility also mitigates the value of Doumit, Carroll, Willingham, Joel Zumaya and Jason Marquis, whom the team invested heavily in this offseason.
Francisco Liriano, Scott Baker and Nick Blackburn make up the least durable top trio of any rotation in baseball.
Spring Predictions: Doumit will have to fend off Trevor Plouffe and Chris Parmelee for Opening Day DH duties during camp. Plouffe will participate in another battle, for right field, against prospect Joe Benson. The team should add one more arm to its bullpen at some point.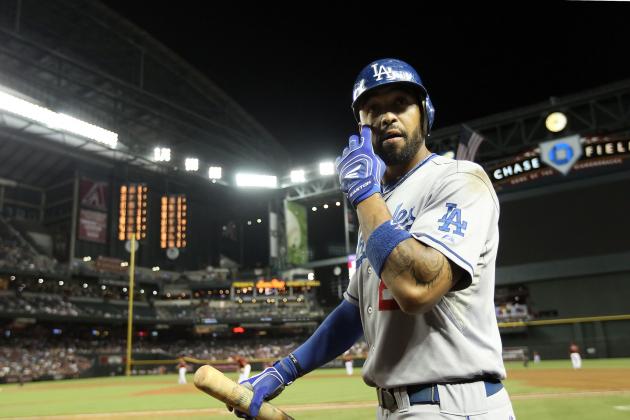 Christian Petersen/Getty Images

Strength: The starting rotation has the potential to be third-best in the division. In fact, it has almost no chance of being better or worse than that. Clayton Kershaw is going to regress a bit; that's the way it goes after huge years like his 2011.
Ted Lilly, though, remains useful, and though they were dull and uninspired, the additions of Aaron Harang and Chris Capuano grant the group depth.
Weakness: The lineup will be terrible. After Matt Kemp, who should also take a small step back just to come back into the stratosphere, the team will run out Andre Ethier and a host of thoroughly replacement-level free agents.
Spring Predictions: No major moves coming. The Dodgers should be on the prowl for an upgrade at catcher, though.
Tasos Katopodis/Getty Images

Strength: For the moment, the White Sox have John Danks, Gavin Floyd, Phil Humber, Chris Sale and Jake Peavy in their projected rotation. That should be a formidable group. If one or more gets hurt, Zach Stewart and Dylan Axelrod can step forward from the bullpen and into the breach. Gone are the days of the six-man rotation experiment, thankfully.
Weakness: Holes—true holes, zero-value gulches—in a team's lineup can be massive drains on scoring potential. Last season, the White Sox had two, in Adam Dunn and Alex Rios. Both should be better in 2012, but even if they are, the White Sox have to hope Gordon Beckham and A.J. Pierzynski do not turn into similar black holes.
Trading away Carlos Quentin was a big gamble, even in a rebuilding situation.
Spring Predictions: Before Opening Day, Gavin Floyd will be a member of some other organization.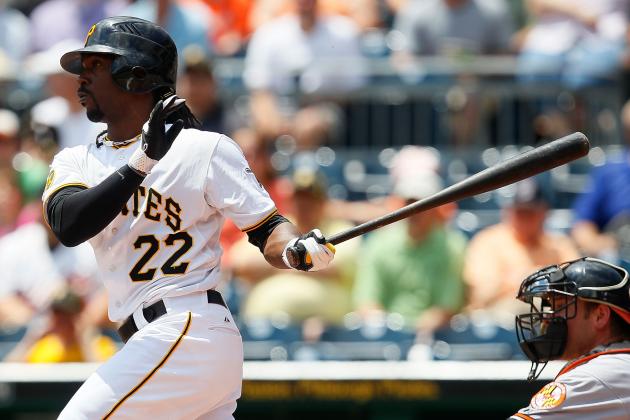 Jared Wickerham/Getty Images

Strength: Forced to let Paul Maholm walk despite a good year, the Pirates pulled a coup (shall we call it a mutiny?) by snapping up Erik Bedard at a discount. He joins Charlie Morton, James McDonald, Jeff Karstens and Kevin Correia in a rotation marked by the right kind of profile to out-pitch peripherals.
Weakness: Beyond Andrew McCutchen, the Pirates lack offensive punch. There is upside risk in offseason acquisitions Casey McGehee and Clint Barmes, as well as in-house project Pedro Alvarez, but none of the three is any sort of guaranteed commodity.
They could finish in the bottom two or three in the NL in scoring.
Spring Predictions: It will be interesting to watch Garrett Jones, McGehee, Alvarez and Chase d'Arnaud battle over the corner infield jobs. McGehee and Jones as a platoon at first make the most sense, with Alvarez getting another chance to grab third by the throat.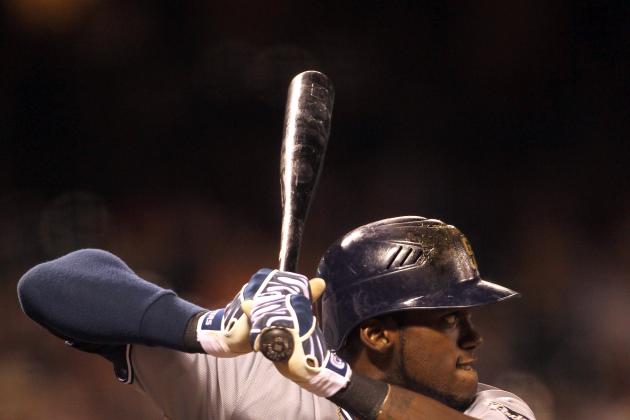 Ezra Shaw/Getty Images

Strength: Believe it or not, it might be the Padres lineup. With Yonder Alonso, Chase Headley, Nick Hundley, Carlos Quentin and Cameron Maybin now in place, there is decided upside. Kyle Blanks deserves at least a look in right field.
Weakness: Believe it or not, it might be their bullpen. At the very least, this group has a higher risk-to-reward ratio than any in recent memory for San Diego. Gone are Heath Bell and Mike Adams, replaced, essentially, by Huston Street and Andrew Cashner.
There is still no shortage of big arms out there, but that unit might not be what it has been for years.
Spring Predictions: Both middle infielders seem to be on the block, but because questions linger about the health of Orlando Hudson, look for the Padres to trade Jason Bartlett instead.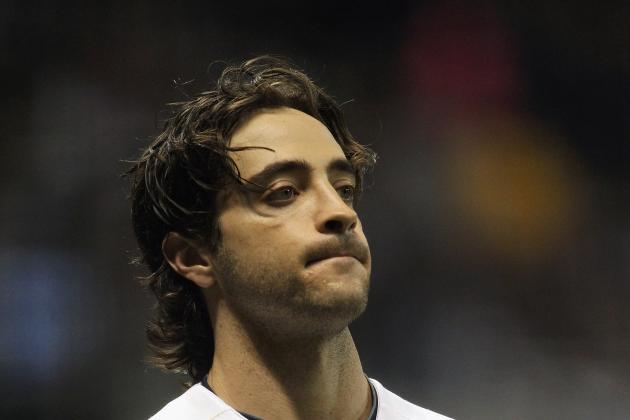 Jonathan Daniel/Getty Images

Strength: It was starting pitching in 2011, but in 2012, the good bet is that the Brewers will do what they usually do: Score runs and give up runs faster than all but a few other teams in the league.
Ryan Braun's absence, for even part of the season, slices this team, but by adding Alex Gonzalez and Aramis Ramirez, Milwaukee braced itself for that loss. Corey Hart and Rickie Weeks can contribute best simply by staying healthy.
Weakness: Last season, the Brewers won by forsaking defense and putting their best bats in the lineup. The 2012 campaign will be little different. Gonzalez is an upgrade with the glove at shortstop, but Ramirez is terrible at third base, so the infield remains porous.
Spring Predictions: Braun's pending suspension looms over the Brewers' Spring Training. The team is already over budget, though, so they're more likely to give Caleb Gindl a chance to earn a temporary starting gig than they are to pursue a free-agent replacement.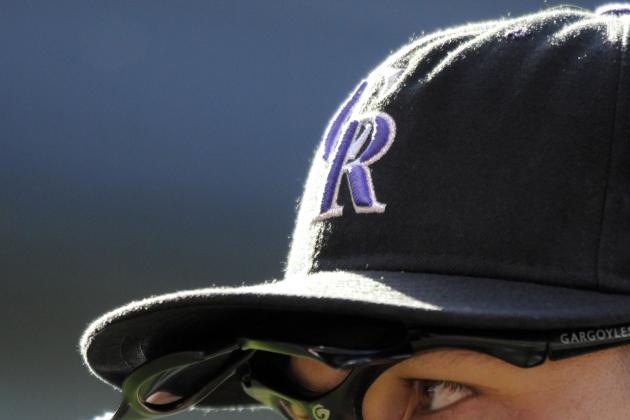 Jack Dempsey/Getty Images

Strength: Troy Tulowitzki, Carlos Gonzalez and Michael Cuddyer make up the heart of the Rockies' remade batting order, which looks awfully good. They actually got worse when they dealt away Chris Iannetta and signed Ramon Hernandez, but overall, their lineup looks deep and potent. Acquiring Marco Scutaro to play second base brought together a strange and sloppy winter for the Rockies.
Weakness: Drew Pomeranz and Alex White might be ready by Opening Day, but the starting rotation remains loaded with risk. Jhoulys Chacin is due for step back. Juan Nicasio is recovering from a neck injury. Summer will come to Coors Field before Jorge De La Rosa.
There is no shortage of warm bodies ready for starting roles, but most of them are fringe pitchers.
Spring Predictions: Jamie Moyer will somehow make this team. You heard it here first.
Ezra Shaw/Getty Images

Strength: Youth is on Kansas City's side. They have a core of young talent all over the diamond. The growth process can be painful, but it's going to be scary when Eric Hosmer, Mike Moustakas, Alcides Escobar and Salvador Perez reach their potential.
Weakness: Still one starter short, the Royals have been criminally negligent in not pursuing a trade or major free-agent target since they nabbed Jonathan Sanchez in trade in November. They have Felipe Paulino, Sanchez, Aaron Crow working toward starting this spring and a few less notable guys in-house, but should at least consider an upgrade.
Spring Predictions: Trade rumors will swirl a bit this spring, but the surprise addition to Kansas City's roster will come when Mike Montgomery wins a job on the starting staff.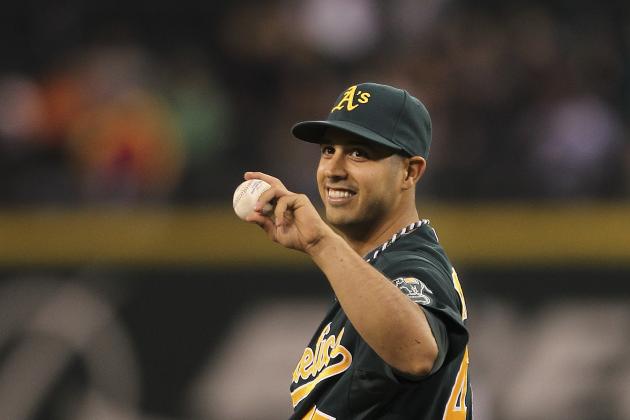 Otto Greule Jr/Getty Images

Strength: Gio Gonzalez is not the game-changing acquisition some imagine, but he doesn't need to be. His ability to miss bats pairs nicely with the stellar skill sets of Stephen Strasburg and Jordan Zimmermann, giving the Nationals a top trio to rival all their NL Wild Card competitors.
It's a top-heavy rotation, but Strasburg provides a ton of upside, even in what will be a shortened season.
Weakness: One reason the strikeout proclivity of those three pitchers is so critical is that the Nationals are not a good defensive team. Michael Morse is going to play left field for them; if Bryce Harper makes the team, he or Jayson Werth has to play center. Fly balls by Nats opponents are going to turn into a whole lot of hits in 2012.
Spring Predictions: Bryce Harper will make the roster as the everyday right fielder.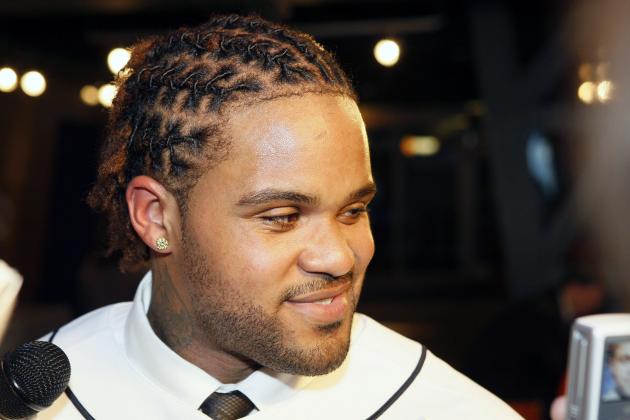 Jorge Lemus/Getty Images

Strength: The lineup just got scary. Even without elite table-setters, the Tigers will score a ton of runs. Prince Fielder and Miguel Cabrera will grab the headlines, but Alex Avila is a rising star and Brennan Boesch is better than you think. Beware, though: Jhonny Peralta is going to regress a bit.
Weakness: Defense will be a problem. Fielder will man first base, but Miguel Cabrera's stay at third needs to be brief, or things are going to get ugly. Delmon Young also has a projected spot on an everyday basis, playing in left field, but not playing the position, per se.
Spring Predictions: Detroit will chase an extra starting pitcher, as well they should. Also, I will get no end of abuse from Tigers fans and others who feel this team belongs in the top five or six on the list. You heard it here first.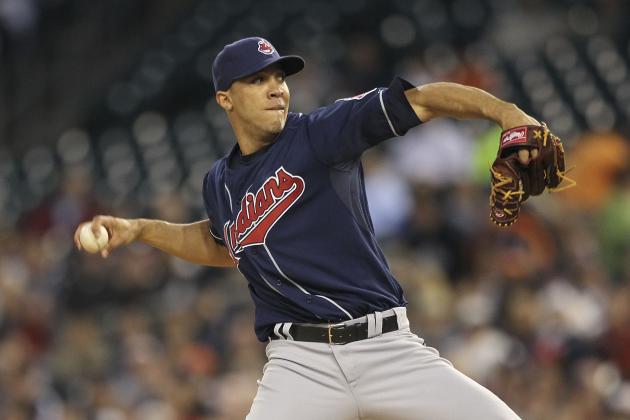 Leon Halip/Getty Images

Strength: Left-handed hitting and right-handed pitching are not in short supply beside Lake Erie. Carlos Santana, Jason Kipnis and Lonnie Chisenhall make up a really strong core of young positional talent, something the Indians have been missing for a long time.
Ubaldo Jimenez had a rocky finish to the season, as did the Indians generally, but should be a major asset this coming year.
Weakness: Chisenhall, Kipnis, Shin-Soo Choo, Grady Sizemore and Travis Hafner all bat left-handed. It was a good move for them to add Triple-A veteran slugger Russ Canzler as right-handed insurance and reinforcement, but the lineup is far from balanced.
Spring Predictions: Even after slotting Dan Wheeler into the bullpen, the Indians could use one more relief arm. They should find it before the calendar turns to March. They may also be in the starting pitching market if the pitcher formerly known as Fausto Carmona is unable to return promptly.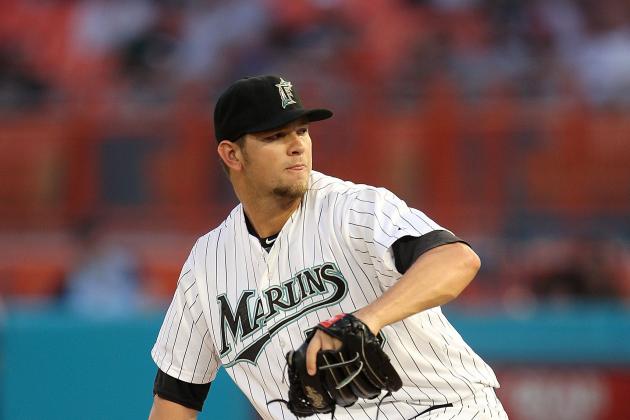 Mike Ehrmann/Getty Images

Strength: The top half of their roster. With Mike Stanton, Logan Morrison, Jose Reyes, Hanley Ramirez, Josh Johnson, Mark Buehrle, Gaby Sanchez, Anibal Sanchez and Heath Bell populating their highest-impact roster spots, the Marlins are as star-studded as any team in the league.
Those guys might be able to vault the team into contention by themselves, assuming Johnson stays healthy and Ramirez rediscovers his pre-2011 form.
Weakness: The bottom half of the roster. If any of those guys contributes less than they hope for, the team is in trouble. A banged-up Johnson, Reyes or Morrison could derail any playoff hopes for this squad.
Spring Predictions: The Marlins' largest remaining hole is in center field. They have serious interest in Yoenis Cespedes. Do the math.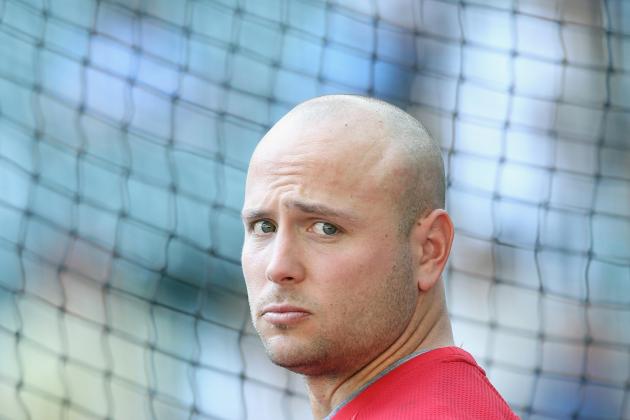 Christian Petersen/Getty Images

Strength: Despite a down final year from Albert Pujols, the Cardinals scored runs by the bushel in 2011. They return a strong core at the plate, featuring Matt Holliday, Lance Berkman and Carlos Beltran. David Freese has yet to put together a fully healthy season, but the playoffs gave fans a glimpse of his talent at the plate.
Weakness: Age might be the Cardinals' worst enemy. Berkman and Beltran are very old for offensive anchors, while Chris Carpenter (whom the team overworked en route to their World Series title last year) may be headed for an injury-checkered campaign.
Spring Predictions: The Roy Oswalt rumors will turn out to be just that, but expect St. Louis to give top prospect Shelby Miller a long look, so as to have him ready when injury strikes the rotation.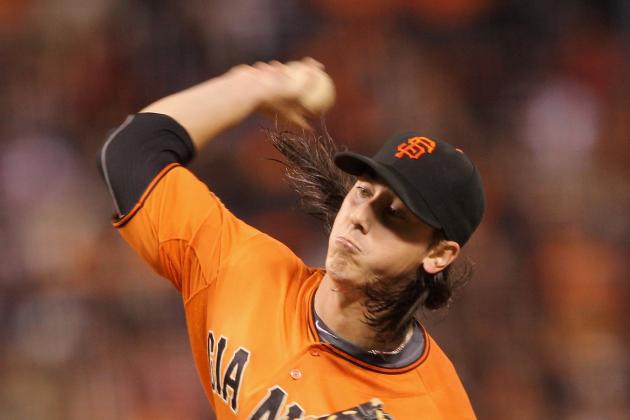 Ezra Shaw/Getty Images

Strength: The starting rotation should carry San Francisco yet again in 2012. Madison Bumgarner emerged last season as a third ace-caliber arm to front that group, and unless Tim Lincecum or Matt Cain slows down unexpectedly in 2012, San Francisco should have the best trio in the National League.
Weakness: Though the acquisitions of Angel Pagan and Melky Cabrera addressed the team's defensive problem, they still lack a first-division offense. If Buster Posey comes back as the same player who won the 2010 NL Rookie of the Year award, they're in fine shape. If not, they will struggle to fill the three and four spots at times.
Spring Predictions: Giants GM Brian Sabean loves to shop the scrap heap. Kosuke Fukudome or a similar extra bat may be on their way, even after the addition of Ryan Theriot.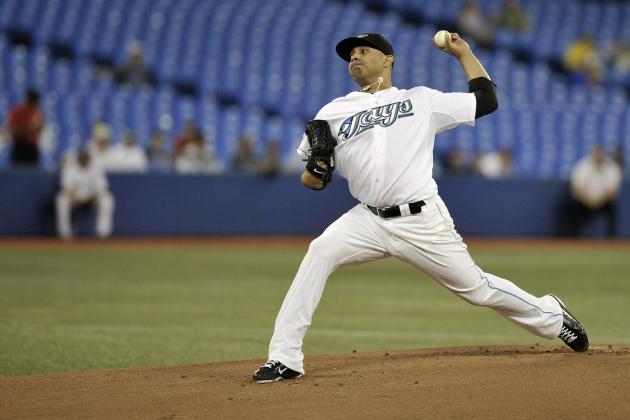 Brad White/Getty Images

Strength: Alex Anthopoulos has done a wonderful job of assembling under-appreciated talents, from Yunel Escobar to Colby Rasmus. In December 2010, he grabbed prospect Brett Lawrie from the Brewers after Lawrie's perceived attitude problems held him back for that team.
Lawrie shredded the league during his MLB debut this season, and now joins the other castoffs—plus Jose Bautista, Adam Lind and J.P. Arencibia—in a very potent, exciting young lineup.
Weakness: The starting rotation remains a bit murky. After Ricky Romero, who broke out in a big way in 2011, Brandon Morrow offers high strikeout totals but non-elite command. Henderson Alvarez should be very good again, but relying on command is not always an effective long-term approach in the vicious AL East.
Spring Predictions: With the depth in their farm system, the Jays should deal prospects for either Matt Garza or Gavin Floyd before the season. Whether they will do so remains to be seen.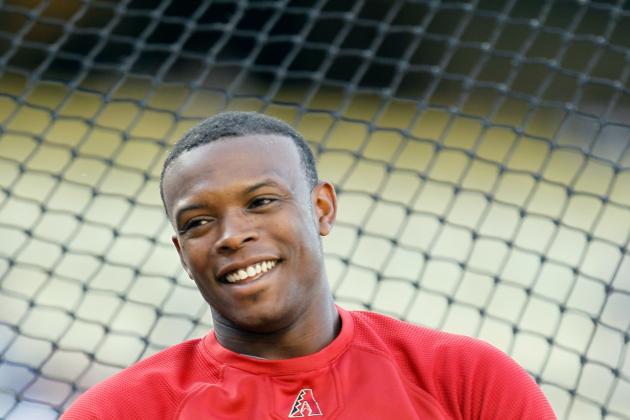 Jeff Gross/Getty Images

Strength: Like the Marlins, the Diamondbacks have great top-tier talent. Justin Upton, Stephen Drew, Miguel Montero, Chris Young, Trevor Cahill, Daniel Hudson and Ian Kennedy all rate among the best players at their positions on the senior circuit. The group has a well-rounded base of skills, and each is young yet.
Weakness: Joe Saunders, Josh Collmenter, Paul Goldschmidt and Ryan Roberts are second-division players. The infield depth, comprised of Willie Bloomquist and John McDonald, is lacking. The bullpen is fragile. It's simply not a deep roster.
Spring Predictions: Arizona will spend the spring getting Trevor Bauer and Tyler Skaggs as much experience in big-league camp as possible, in the hopes that they can be ready to contribute to the parent club by season's end.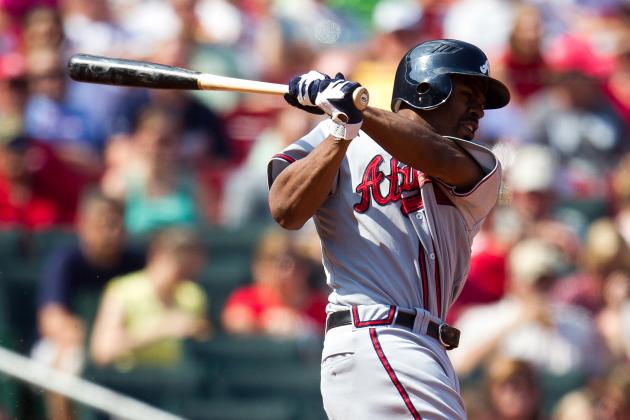 David Welker/Getty Images

Strength: Between veterans Tim Hudson and Jair Jurrjens and the slew of young arms that pepper Atlanta's roster, the pitching depth they have amassed is unassailable. Several of them will not even be on the 25-man roster at the start of the season, but that's the very definition of a good problem to have.
Weakness: Defense is going to be a major issue for this club. Those great pitching talents may go to waste if the team can't score more than they did last year, and if Dan Uggla, Tyler Pastornicky, Chipper Jones and Martin Prado struggle with the gloves the way one might expect them to.
Spring Predictions: Randall Delgado will surprise people by winning the fifth starter's role.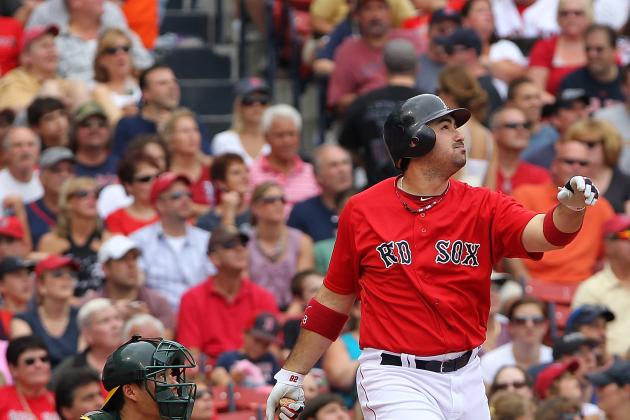 Jim Rogash/Getty Images

Strength: Dustin Pedroia, Adrian Gonzalez and Jacoby Ellsbury were three of the top six or seven regular players in the AL last season. David Ortiz and Kevin Youkilis are just one rung down the ladder, and Carl Crawford should bounce back from his nightmarish 2011. The lineup is dynamic, even explosive.
Weakness: Unless and until the Sox add a starting pitcher, they're simply not going to compete in the AL East. Daniel Bard should stay in the bullpen.
Spring Predictions: Edwin Jackson will sign with Boston, rounding out the roster nicely. Mike Aviles will win playing time at shortstop heading into the regular season.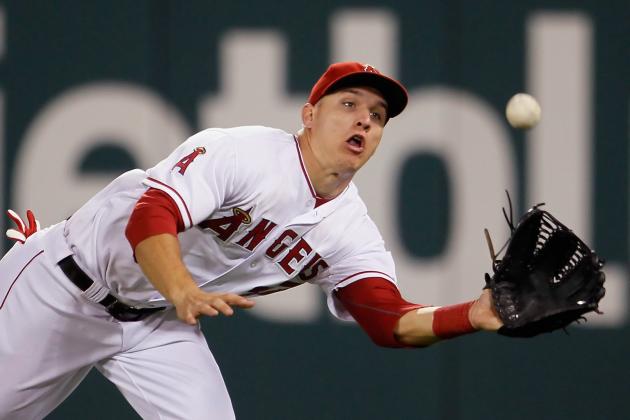 Jeff Gross/Getty Images

Strength: Dan Haren, Jered Weaver and C.J. Wilson lead a strong starting rotation. Albert Pujols' arrival makes the lineup much stronger. New catcher Chris Iannetta might be the most underrated addition of the winter. From one through six, this lineup should be dynamite.
Weakness: The holes at the bottom of the roster are gaping. Vernon Wells is an unconscionable drain on the offense. The fifth starting slot will fall to Jerome Williams, unless something changes. The bullpen is thin, too.
Spring Predictions: One of Bobby Abreu and Mark Trumbo will be on another team on Opening Day. Meanwhile, though, the Angels will continue to unnecessarily and foolishly block Mike Trout.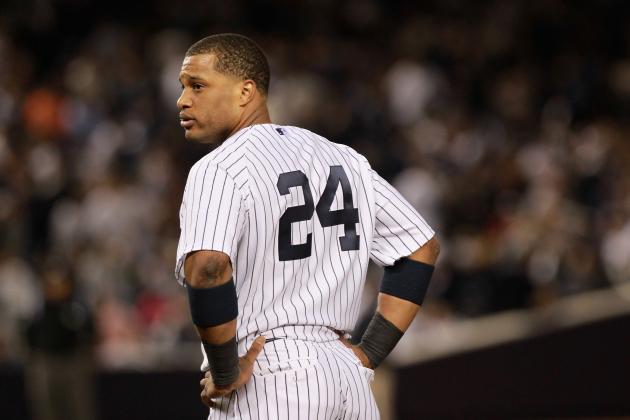 Nick Laham/Getty Images

Strength: Derek Jeter and Alex Rodriguez are long past their primes. Mark Teixeira's aging curve is starting to look ugly, too. Robinson Cano, Curtis Granderson and the rest of the lineup remain at the top of their respective games, though, so the Yankees should score a ton of runs again in 2012.
Weakness: The top of the rotation became a strength when the Yankees added Michael Pineda and Hiroki Kuroda to CC Sabathia. The bottom part of that corps, however, remains an ugly question mark. Neither A.J. Burnett nor Phil Hughes is an especially appealing fifth starting option.
Spring Predictions: Still needing to add a left-handed DH-type bat, the Yankees might call on familiar names like Johnny Damon or Eric Chavez. A trade would be remote, but isn't out of the question.
Patrick McDermott/Getty Images

Strength: With Joey Votto, Jay Bruce and an impressive supporting cast, the Reds scored with the best of the league for the second year in a row in 2011. They also solidified their starting rotation with the addition of Mat Latos this winter, and made the single biggest bullpen improvement of any team in the league when they added Sean Marshall and Ryan Madson.
Weakness: The left side of the field is not pretty for the Reds right now. Zack Cozart could be solid at shortstop, but it's a risk to rely on a rookie coming off an injury. Scott Rolen is a great player who might one day have a case for the Hall of Fame, but he's getting a bit old and has never been the picture of durability.
In left field, Chris Heisey and Ryan Ludwick will share playing time in a strange non-platoon.
Spring Predictions: Aroldis Chapman will win a job in the starting rotation, bumping Homer Bailey.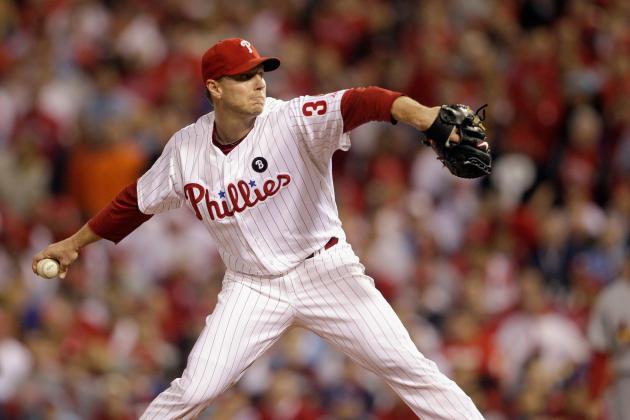 Rob Carr/Getty Images

Strength: The Phillies look a bit smarter now that Roy Oswalt's market value has cratered, though they still should have kept him.
Their remaining rotational depth cushions that blow. Roy Halladay, Cliff Lee and Cole Hamels are back, and Vance Worley will try to build on a strong rookie campaign in 2012. No team in the National League can expect better starting pitching.
Weakness: Ryan Howard's absence cuts a conspicuous swath in the Phillies lineup. It exposes the fact that Jimmy Rollins, Chase Utley and Placido Polanco are aging quickly, and GM Ruben Amaro has added only marginally helpful bench pieces thus far.
Spring Predictions: Domonic Brown will wow the organization during camp, and win a spot on the roster to start the year. He may even be the Opening Day left fielder.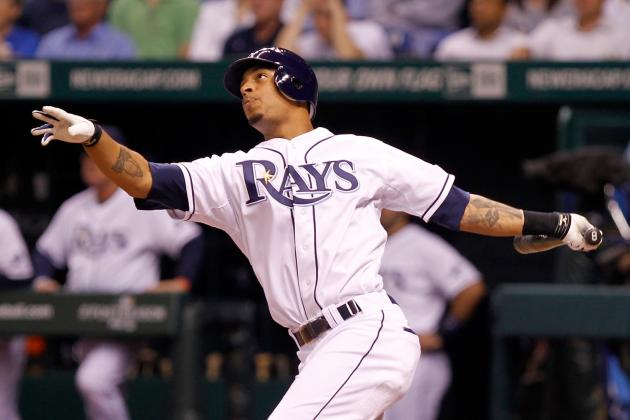 Mike Ehrmann/Getty Images

Strength: The Rays have unparalleled pitching depth among AL teams. James Shields, David Price, Matt Moore, Jeremy Hellickson and Wade Davis would all be top-three for all but one or two other teams on the junior circuit. Hellickson won last year's Rookie of the Year award; Moore is the early favorite for 2012.
Weakness: A team this good has no true weaknesses, but the Rays do have a few holes. Shortstop is a problem; so is catcher. Luke Scott was a clever replacement for Johnny Damon as the primary DH, but he might not pan out.
Ideally, the team would have kept Russ Canzler as a platoon partner for Carlos Pena at first base. Instead, they traded him to the Indians.
Spring Predictions: Rays GM Andrew Friedman will hold onto B.J. Upton, but will trade Jeff Niemann during camp to bolster the team's depth at a position of need. Catchers are the most viable options. The Cubs' Geovany Soto might fit.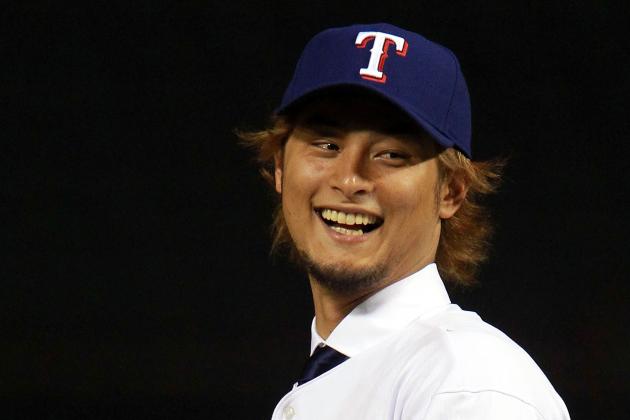 Ronald Martinez/Getty Images

Strength: Despite Mitch Moreland being one of the league's worst first basemen, the Rangers' offensive depth is sensational. Their lineup has no true holes. They have three or four superstar-caliber players, led by Ian Kinsler and Adrian Beltre. Michael Young and Mike Napoli can cover at first base when the team faces left-handed pitching.
Weakness: Uncertainty is the only mitigating factor in getting excited over this team. Yu Darvish is not a known quantity. Neftali Feliz has been closing for two full seasons, but now makes the move to the starting rotation. Josh Hamilton will be great when he's on the field, but is as likely to miss a month or more.
Spring Predictions: Alexi Ogando will win the closer's job, relegating Mike Adams to the eighth inning and Joe Nathan to the seventh. Texas will try hard to prepare third-base prospect Mike Olt to contribute if Beltre gets hurt or the team needs to replace Moreland at first base.