New Orleans Saints: Why Roman Harper Could Be a Liability in Spagnuolo's Defense
February 1, 2012

Hannah Foslien/Getty Images
After finding out that Gregg Williams was leaving, the New Orleans Saints quickly reeled in Steve Spagnuolo as their new defensive coordinator.
Spagnuolo was widely regarded as the best defensive coordinator on the market, and he should come in and immediately improve a Saints defense that hindered them from going farther than the NFC divisional round in the playoffs.
The Saints have some great talent on defense and even finished as the fourth-best unit in the 2010 NFL season. However, in 2011, the defense could not force turnovers and ultimately could not stop opposing offenses. The Saints need an improvement from the defense in order to challenge for a Super Bowl title.
Spagnuolo brings that excitement and hope to the Saints' organization.
However, there are a few players who may struggle in the new defensive scheme. One of them is the Saints' starting strong safety Roman Harper.
Harper is a Pro Bowl safety and was remarkable in the 2011 season. He finished the regular season with 95 tackles and 7.5 sacks. Those are definitely not typical numbers from a strong safety, but Harper has never been a typical safety in the New Orleans defense.
Harper is more of an old-school type of player. He hits hard when receivers come across the middle, is great in run support and often times gets burned in the pass coverage.
That last part of Harper's game has me worried. He gets burned more often than not against elite tight ends and running backs. Granted, it's difficult for any safety to cover tight ends that play like Tony Gonzalez, Jimmy Graham and Rob Gronkowski, but it has to be done.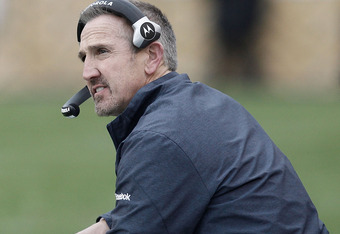 Jared Wickerham/Getty Images
Harper consistently gets burned in coverage and quite frankly is a liability whenever he's asked to guard against the big pass plays.
Do not get me wrong, I love Harper and I believe that he's a very valuable player to the Saints franchise. I am just not sure what role he will take on under Spagnuolo's new defensive scheme.
In the past, Spagnuolo has run a defense that requires a great pass rush from his four-down lineman and solid coverage from his defensive backs.
The Saints can fill some defensive line needs in free agency and the draft. They also have a solid secondary when it comes to pass coverage, with the exception of Harper.
I am not sure that Harper can succeed if he's required to cover a tight end, running back or slot receiver every down next year. There may be times that Harper blitzes, but those will come once in a blue moon with Spagnuolo taking over.
I wish that I could say we will see Harper become an effective pass-rushing outside linebacker, but that is just ridiculous. At 6'1" and 200 pounds, Harper is much too small to play that role effectively.
It's also not really an option for the Saints to cut or release Harper, not that they would anyway. He just re-signed with the Saints last offseason. We could, however, possibly see Harper on the trade block.
Harper is one of the Saints best defensive players, and I doubt that many people would like to see him go, but that has to be a possibility if he's unable to play in Spagnuolo's defense.
I believe that we are unlikely to see any action from the Saints before the start of the season because Harper may end up proving me and every other critic wrong in 2012. Who's to say that Harper doesn't show up next year and cover well against the passing game.
He could benefit largely from a defensive pass rush and have his good friend Malcolm Jenkins consistently covering over the top. Either way, Harper should be with the Saints for the start of the 2012 season.
I honestly do not see Harper leaving the Saints next year. I think that even if he struggles, he will be with the team through the end of the season. I hope that Harper can play well in Spagnuolo's new system, but it seems as if he may struggle adjusting to the new scheme.
Let's hope that Sapgnuolo is able to teach Harper how to play coverage so that he will not become a liability, and this whole debacle can be avoided before it even gets started.