Pac-12 Basketball Roundup: What's Wrong with Arizona, UCLA and Washington?
February 1, 2012

Jeff Gross/Getty Images
Why are the Arizona Wildcats, UCLA Bruins and Washington Huskies struggling in the watered down Pac-12?
Have you ever been on one of those rollercoaster's that goes up, down, side to side and then takes you upside down for a while—until you finally freak out and realize you're going in too many directions and that there's no clear cut way?
Yeah, that's what the Pac-12 basketball conference is like this year.
As a former player when the conference was the Pac-10, it was safe to say we were getting at least five teams in the NCAA tournament every year. We can certainly kiss that goodbye.
A conference that was once dubbed as a "super six conference", along with the likes of the Big East and the ACC—it is now more of a: "Boy, I wonder what team will show up this week" conference.
People call me crazy of course, but I can't help but think that traditional basketball powerhouses such as: UCLA and Arizona could be left out of the NCAA Tournament for the second time in three years.
Sure, Arizona had a mulligan year during the 2009-10 season when current Coach Sean Miller brought stability back to the program by taking over the reins for Hall of Fame Coach Lute Olson (which was understandable seeing as how Miller had to implement a new system). He also brought in new recruits and has weeded out the troubled players that had plagued the program during Olson's final days.
Arizona wowed us last season by making a surprise run to the Elite Eight by piling on the shoulders of Derrick Williams (now with the Minnesota Timberwolves). Expectations were once again set high heading into the 2011-12 basketball season in Tucson.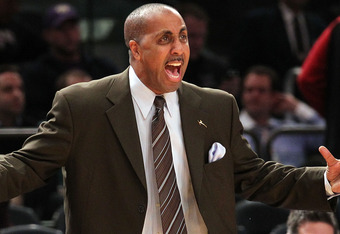 Nick Laham/Getty Images
The way it's looking, Arizona will most likely receive an NIT bid and play the likes of Maryland or some other team that won't deserve to be in the NCAA tournament either. The Wildcats lost to the Washington Huskies Saturday in Tucson on a last-second block—only this time it was the Huskies that won the game on the blocked shot.  
Their guard play has been struggling as of late. The Wildcats lack a true center and don't have a go-to-player to take the last shot in crunch time of basketball games. Junior forward Solomon Hill has been superb, but he needs some help from guys like Nick Johnson, Josiah Turner and Jordin Mayes.
Speaking of those Huskies, they're 14-7 and 7-2 in Pac-12 play. Looks like Lorenzo Romar has lit a fire underneath his squad as of late—but will it last?
Hard to tell what team we're going to see in the final nine games of conference play. We could see the team that almost beat Duke at Madison Square Garden or we could see the team that lost to South Dakota State (What, you didn't know about the real SDSU?) by 19 points on their own home court.
Washington is a scary team—they could be scary good or scary bad. For the Pac-12's sake, let's hope they become scary good so the conference can at least get two-solid teams into the dance. The Huskies play UCLA Thursday in Seattle—it could honestly go either way.
Washington is by far the most talented team in this watered down Pac-12, but clearly hasn't played up to their potential—something Coach Romar has been harping on all season long.
Early on it looked as if the Huskies were headed for a long season with bad losses to the likes of Nevada and South Dakota State at home. But, it looks like the talented Huskies are starting to turn things around with Terrence Ross, Tony Wroten Jr and company.
UCLA is a whole different story, a season that started with such promise from Coach Ben Howland saying earlier this year that: "This will be a deep, talented team".
The Bruins have gone from deep and talented to deep in trouble. Last season they had guards that were capable of playmaking with the likes of current NBA-ers Tyler Honeycutt and Malcolm Lee.
If they had come back to Westwood, this might be a different UCLA team. Throw their departure in with the enigma that was junior forward Reeves Nelson. How bad was it?
Head coach Ben Howland kicked Nelson off of the team and Nelson signed with a professional team in Lithuania. Just five weeks into his professional career, the associated press has reported that the Lithuanian team has sent Nelson back home to our continent.
The sad part is, UCLA has the talent like Washington—and they just can't put it together. From an interior standpoint, UCLA has one of the biggest frontlines in the country with David and Travis Wear (transfers from North Carolina) and Josh Smith (6 11, 305 lbs.), but outside of the Wear twins—they haven't received much production. Smith continues to get in foul trouble and has come into this season out of shape.
All he had to do was lose 25-30 pounds after last season, and he would've easily been one of the most dominant big men in college basketball. At his weight right now (325 lbs, and I'm being generous when I say that), he's still a game changing post player. Any Pac-12 coach will tell you that. But if he trimmed up his weight and worked hard, then he would be in the upper-tier of big men across college basketball.
Senior guard Jerime Anderson has been a bust his whole college career. With his arrival at Westwood, expectations were through the roof. He hasn't lived up to them. In fact, the most he's shown us has been glimpses—if that. Lazeric Jones is a serviceable guard at best, but he's not a starting guard in the Pac-12. Fortunately for Jones, this year he is a starting guard because the conference is so watered down.
Jones is not on the same level as past point guards like Jordan Farmar, Darren Collison and Jrue Holiday. He gives his team a solid effort, but he's still missing a few elements that make him an elite point guard. Tyler lamb is another guard that's serviceable, but he hasn't made a true impact this year for UCLA.  
The bruins are 12-9 and they head up to play the Washington schools this weekend. This could be trouble because Washington State plays hard at home and Washington is on the rise. With that being said, it looks like the Bruins will miss the tournament for the second time in the last three seasons—sad considering the history and tradition that goes with UCLA.
There's no way to say why these three teams: Arizona, Washington and UCLA are struggling right now. They have the tradition, talent, and coaches to be better than they are. Despite these teams' recent struggles, there is still half the league left to play.
It's unfortunate that all three of these teams could potentially miss the NCAA Tournament, but in the recent words of UCLA Head Coach Ben Howland: "It is what it is."