Super Bowl 2012: What NCAA Programs Produced the Most Representatives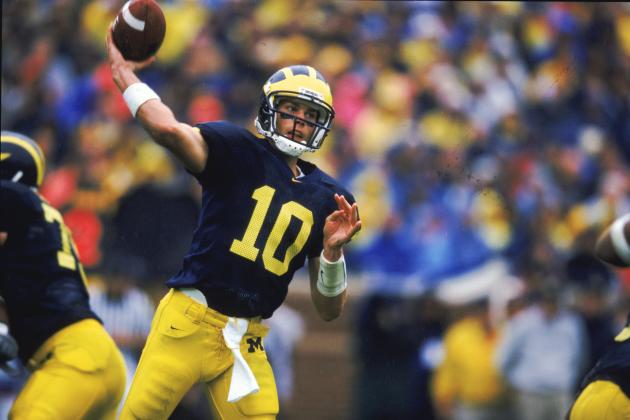 Harry How/Getty Images
Tom Brady, playing for Michigan in 1999
The Super Bowl, the largest single sporting event in the world each year, is the epitome of football success.
Just earning a Super Bowl berth requires impressive talent, strength and stamina from every player on the roster.
But, unlike the other three "major" professional sports in the United States, every player on both rosters has something in common: Each member of both 53-man rosters honed their skills in college.
As we count down the days to Super Bowl XLVI, we're going to take a look at the college-football programs that have provided the most players to the two most successful NFL teams of the current season.
Note: We're only including the 106 players currently listed as "active" on the 53-man rosters of both the New England Patriots and New York Giants.
Begin Slideshow

»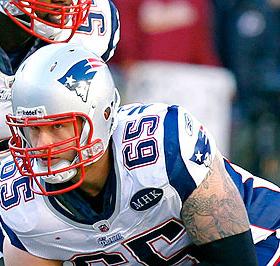 Nick McDonald, from Grand Valley State (Geoff Burke/US Presswire)
The following programs have each provided one player to Super Bowl XLVI, some of which might be surprising when you consider their lack of representation:
Akron, Arizona, Brown (FCS), Cal Poly-San Luis Obispo (FCS), California, Chadron State (Division II), Colorado, Connecticut, Cornell (FCS), East Carolina, Eastern Kentucky (FCS), Florida Tech (FCS), Georgia, Georgia Tech, Grand Valley State (Division II), Hofstra (FCS), Houston, Howard (FCS), Indiana, Iowa, Kent State, Louisville, Marshall, Maryland, Memphis, Mississippi State, Montana State (FCS), Nebraska, North Carolina, North Texas, Northwest Missouri State (Division II), Oregon State, Southeast Missouri State (FCS), Southern Illinois, Southern Methodist, Southern Mississippi, Texas, Texas A&M, Texas Tech, UCLA, Wisconsin and Wyoming.
Also worth noting is the number of FCS programs (nine) and even Division II programs (three) that have produced one representative.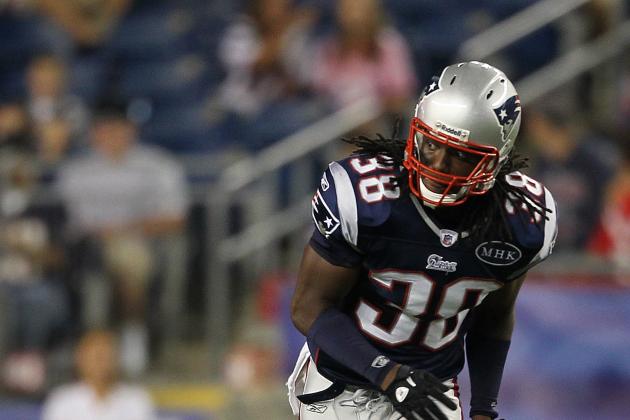 Jim Rogash/Getty Images
Sergio Brown, from Notre Dame
Before we get to the programs with three or more participants in Super Bowl XLVI, we'll also run down the list of programs with two representatives. Those programs include:
Alabama, Illinois, Massachusetts (FCS), Mississippi, Notre Dame, Ohio State, Oregon, Penn State, Pittsburgh, South Florida, Texas Christian and Virginia.
UMass is the 10th FCS program to produce at least one Super Bowl representative this season (and the only one to produce more than one). While the Minutemen are moving to the FBS next season, we're counting them as an FCS program because UMass has yet to play an FBS schedule.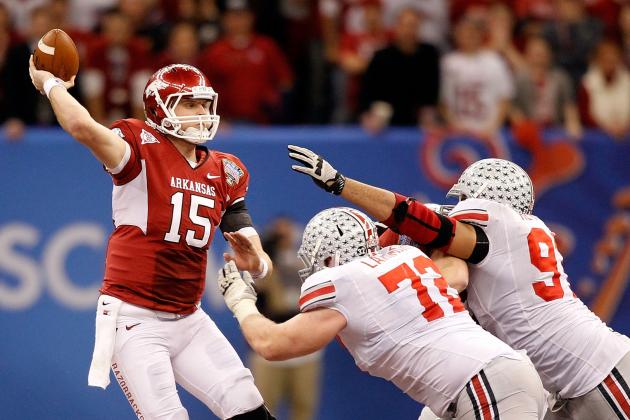 Matthew Stockman/Getty Images

The Razorbacks begin our countdown of college programs with the best representation in Super Bowl XLVI.
The Hogs are sending Ryan Mallett, Mitch Petrus and Tony Ugoh.
It might be worth mentioning that we could probably give Michigan partial credit with Mallett, and his chances of seeing any actual playing time would likely depend on a game-deciding injury to starting Patriots quarterback (also out of Ann Arbor) Tom Brady.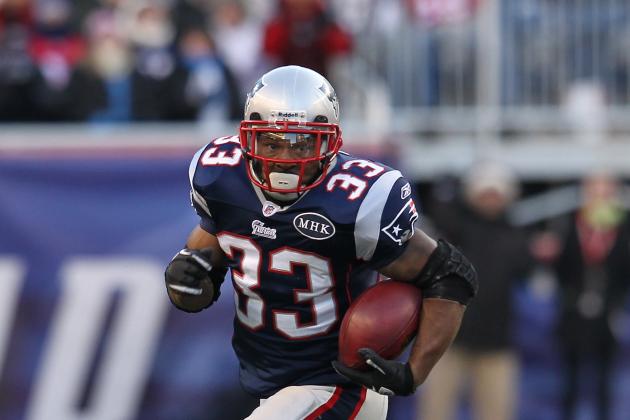 Jim Rogash/Getty Images
Former LSU Tiger, Kevin Faulk
The LSU Tigers had an impressive 2011 season and will be well-represented in the Super Bowl with three former players suiting up.
The Patriots' offensive backfield contains two former Tigers, with 13-year veteran Kevin Faulk showing some of the Super Sunday ropes to rookie back Steven Ridley.
On the other sideline, veteran Corey Webster will be prowling the defensive backfield for the Giants.
Al Bello/Getty Images
Former Miami Hurricane, Vince Wilfork
The Miami Hurricanes certainly had a tumultuous season, but the three former 'Canes don't have to worry about the allegations surrounding the Miami program these days, as they have more pressing matters to address in Indianapolis on Sunday.
Defensive tackle Vince Wilfork will finish his eighth season in the NFL on Sunday when he takes the field for the Patriots, while former teammate Antrel Rolle occupies the safety position for the Giants. Kenny Phillips, also a safety for the Giants, rounds out the list of former 'Canes playing this Sunday.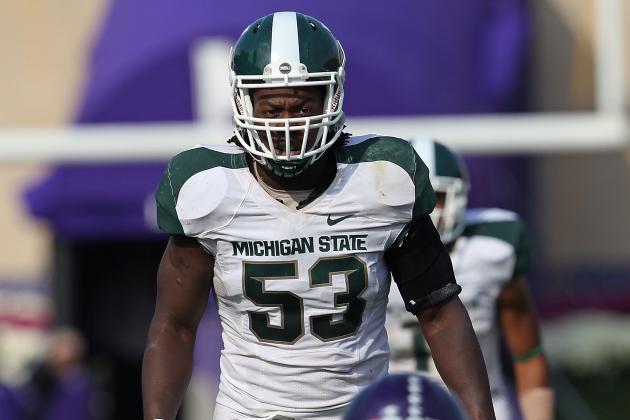 Jonathan Daniel/Getty Images
New York's Greg Jones, as an MSU Spartan
Michigan State has never had trouble producing decent NFL talent over the years. The problem for the Spartans has been attracting enough talent to East Lansing at the same time in order to compete in the Big Ten.
As those days appear to be fading to the past, MSU also finds itself amongst the top teams when referring to Super Bowl participation by past players.
Spartans fans have fond memories of Greg Jones and his exploits as a Spartans linebacker. After helping MSU to a share of the Big Ten title last season, he's now preparing for the Super Bowl as a member of the Giants. Joining him is fellow Spartan Devin Jones, who will be looking to haul in some passes for the Giants.
Joining a Patriots quarterback corps that consists of players that all have a Great Lakes State connection is former MSU gunslinger Brian Hoyer.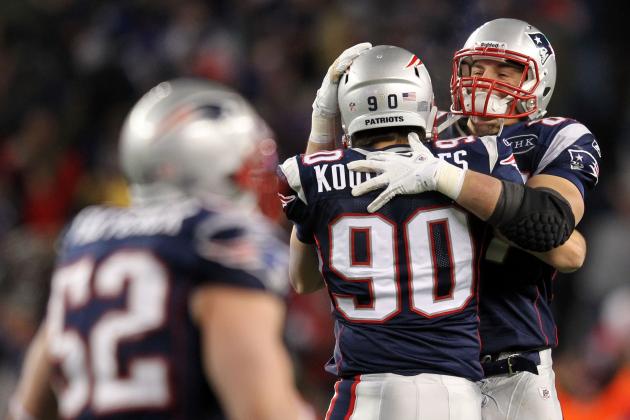 Jim Rogash/Getty Images
Niko Koutouvides (90), a former Boilermaker
We'll stay in the Big Ten for our next team with three former players appearing in Super Bowl XLVI. The Purdue Boilermakers haven't had much success in the college game lately, but former Purdue players are still making noise on Sundays.
All three former Boilers we'll see on Sunday play for New England; linebackers Niko Koutouvides and Rob Ninkovich are joined by offensive tackle Matt Light (who is questionable for Sunday's game due to illness).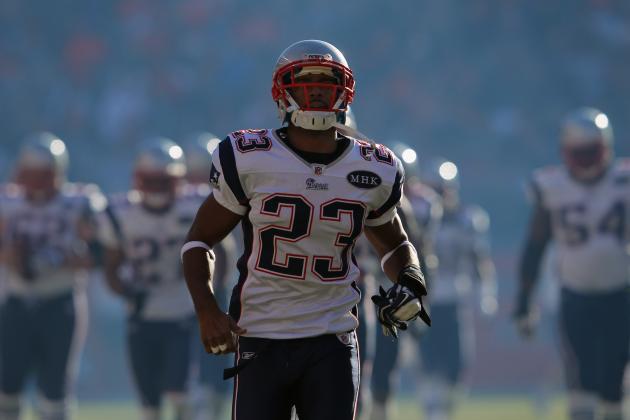 Doug Pensinger/Getty Images
Nate Jones, from Rutgers
Like Purdue, Rutgers has provided all three of their Super Bowl participants to one team.
Safety Nate Jones, corner Devin McCourty and wide receiver Tiquan Underwood will take the field for the Pats on Sunday, and all share a common background with the Scarlet Knights.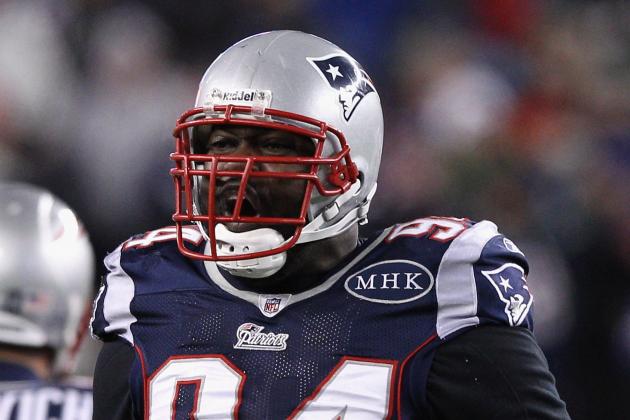 Elsa/Getty Images
Former Tennessee Vol, Shaun Ellis
The Tennessee Volunteers are certainly having their fair share of struggles lately, and successes for the Vols have been few and far between.
But, one thing Tennessee fans can be proud of is the fact that their program has produced more Super Bowl XLVI participants than 108 other FBS programs.
New York safety Deon Grant, a 12-year veteran, will be joined by former teammate and fellow draft-class selection Shaun Ellis, a defensive end for the Patriots.
Linebacker and four-year NFL vet Jerod Mayo will also join Ellis on the New England sideline.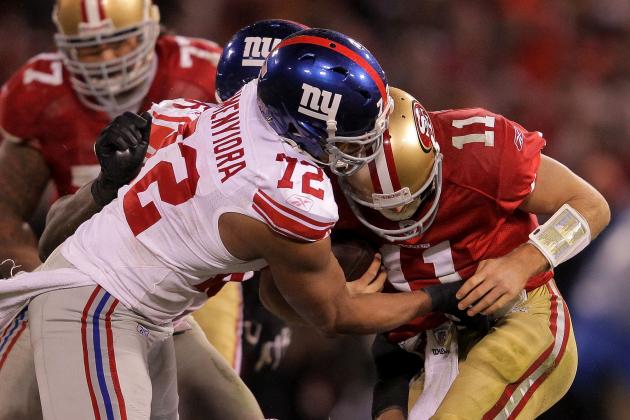 Doug Pensinger/Getty Images
Osi Umenyiora (72) is one of three former Troy Trojans playing on Super Sunday this season.
When you think of programs producing some of the best NFL talent, Troy probably isn't a program that pops to the front of your mind.
But, the Trojans will have three former players suiting up for the New York Giants on Sunday.
Rookie wide receiver Jerrel Jernigan will be joined by veteran kicker Lawrence Tynes and nine-year pro defensive end Osi Umenyiora in Super Bowl XLVI.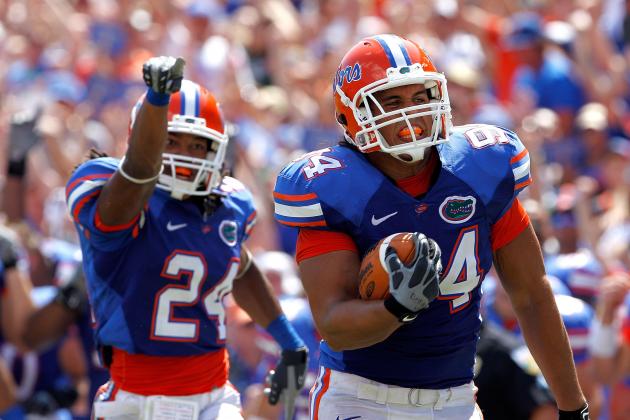 Sam Greenwood/Getty Images
New York's Justin Trattou, from Florida
The Gators send four former—three of them defensive—players to the Super Bowl this year, with rookie Justin Trattou suiting up for the Giants, while second-year player Brandon Spikes and veteran Gerard Warren will be part of the Pats' defense on Sunday.
Clearly, Florida has become a reliable source for NFL teams in search of quality defensive players.
Patriots tight end Aaron Hernandez represents the Gators on the offensive side of the ball.
Doug Pensinger/Getty Images
Bear Pascoe (86) is one of four Fresno State products in Super Bowl XLVI.
The Fresno State Bulldogs can be counted amongst the top teams in the nation when it comes to producing Super Bowl talent.
The Bulldogs outpace 117 other FBS programs when it comes to representation in Super Bowl XLVI, with four former players suiting up this Sunday.
For New York, long-time backup quarterback David Carr will be awaiting any call to action behind Eli Manning, while fellow Fresno State product Bear Pascoe will add his talents to the tight-end position for the Giants.
For New England, two former Fresno State offensive linemen will add all-important heft to the Pats' O-line: guard Logan Mankins and center Ryan Wendell.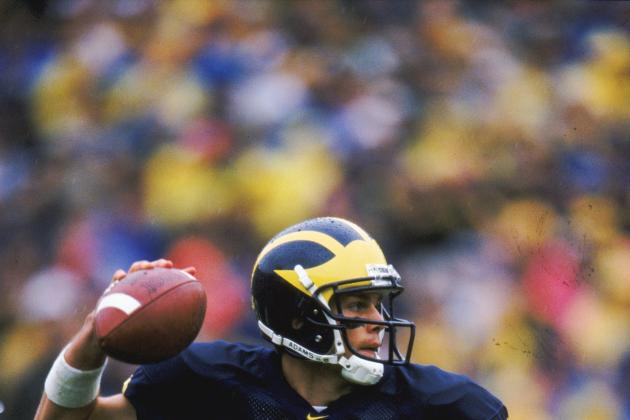 Harry How/Getty Images
New England's all-pro quarterback, Tom Brady, playing for the Michigan Wolverines in 1999.
The resurgence of the Michigan program this season apparently wasn't limited to the college game. The Wolverines will have four former players participating in the Super Bowl this Sunday, and only one team in the entire country can claim more participants.
The Giants will have two former Michigan standouts on offense in solid center David Baas and reliable wide-out Mario Manningham.
For New England, Michigan provides the one player every Patriots fan never wants to see and the one they universally love. The former is punter Zoltan Mesko, while the latter is 12-year veteran and Super Bowl-champion quarterback Tom Brady.
Since his rookie season in 2000, Brady has put together a Hall of Fame career that can easily be considered amongst the top quarterback careers of all time.
As previously mentioned, it's worth noting that Michigan could also receive partial credit.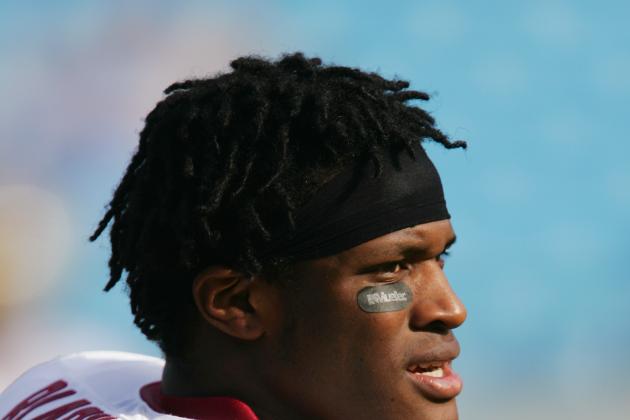 Streeter Lecka/Getty Images
New York's Will Blackmon, from his Boston College days.
We come to our final team on the list and the program that has produced more participants in Super Bowl XLVI than any other college football program in the nation: Boston College.
The Eagles have five former players on the rosters of the two Super Bowl teams this season, including one for New England and four for New York.
Defensive tackle Ron Brace is the lone Boston-to-Boston connection in the game, suiting up for his hometown Patriots after playing for his hometown Eagles. (Brace was born in Springfield, MA and attended high school in Worcester, MA before heading the rest of the way east down I-90 for college and the NFL.)
New York, paradoxically, has four Boston College products in rookie linebacker Mark Herzlich and former teammates Will Blackmon, Mathias Kiwanuka (both from the same draft class) and Chris Snee.
While these four players will be attempting to once again stifle the pro team from the city in which they played their college ball, there's no doubt that Boston reigns supreme as the location producing more Super Bowl talent than any other location—at least for this year.