Tottenham Hotspur: Spurs Return to Form Against Hopeless Wigan
February 1, 2012

Paul Gilham/Getty Images
Tottenham put the heartbreak at the Etihad (and the "we're here, now what?" effort against Watford) well behind them on Tuesday night as they ran out a relatively easy 3-1 triumph over relegation-doomed Wigan Athletic.
Gareth Bale was, predictably, the star as he routinely made the Wigan defenders look like...well, Wigan defenders.  He capped his performance with a superbly taken brace.
The first was a showcase of his velcro-like touch as he chested a typically-incredible lob from Luka Modric and hoofed a head-high volley past the onrushing Ali Al Habsi.  The second was an across-the-goalmouth dart reminiscent of his hat trick at the San Siro.
In between Bale's two goals, Modric smacked a corner-seeking laser past the unfortunate Wigan keeper to put Spurs 3-0 up after just over an hour played.  Throughout the night, Spurs bossed possession and opportunities.  So effortless was the display that they seemed to grow bored with their opposition after halftime.
James McArthur capitalized on Spurs' lack of focus and gave Wigan a glimmer of hope with a deflected effort in the 80th minute.  Ultimately, it was for naught as Wigan looked every bit the role of relegation fodder they've played this season.
For the Latics, defeat was destined from the start as Roberto Martinez decided on the not-so-aggressive 5-4-1 formation to try to stifle stifle Spurs' pacy attack—"try" being the key word.  Perhaps, the Wigan defenders should have resorted to handcuffing themselves to the goalpost to protest the decision that consigned them to a Tottenham onslaught.
Bale and Co. regarded the defensive strategy as little more than an annoyance as they hijacked Martinez' parked bus and drove it straight past Al Habsi three times in an hour.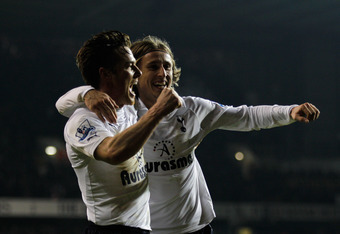 Paul Gilham/Getty Images
Afterwards, Martinez had no shortage of people to blame for the loss.  But surely when your chosen game plan is "try not to lose," you've already accepted defeat.
For Tottenham, though, this was a return to the electric form that culminated in an 11-match unbeaten run.  They put on a clinic of slick passing, excellent team play, patience, and perhaps most importantly, decisive finishing.  Only superb keeping from Al Habsi spared Wigan a repeat of November 22, 2009.
Even injuries could not stifle the London side.  Niko Kranjcar got a much-deserved start in place of the injured Aaron Lennon and shone alongside Modric and Scott Parker.  When Rafael van der Vaart came off with a suspected leg injury, he was replaced by the versatile Jake Livermore.  Then, when Kyle Walker was forced off, Redknapp turned to the excellent Sandro to shore up the defense.
The fact that Manchester City lost to Everton and Chelsea (barely) drew with the impressive Swansea makes this win just that much more valuable.
The Lilywhite performance was not flawless, however, as their lackluster attitude in the second half gave Wigan an undeserved lifeline and tarnished their clean sheet.  I've said it before and I'll say it again: Tottenham needs to focus on the task at hand. 
The better teams in the league (i.e. the other 19) will undoubtedly capitalize on any mistake Tottenham chooses to make.  As Fulham so nearly proved earlier this season, a good (even excellent) first half can be undone in the final 45 minutes.
But I'm sure Redknapp will sort them out before next week's trip to revenge-hungry Liverpool.