15 Reasons to Keep Rooting for the San Diego Padres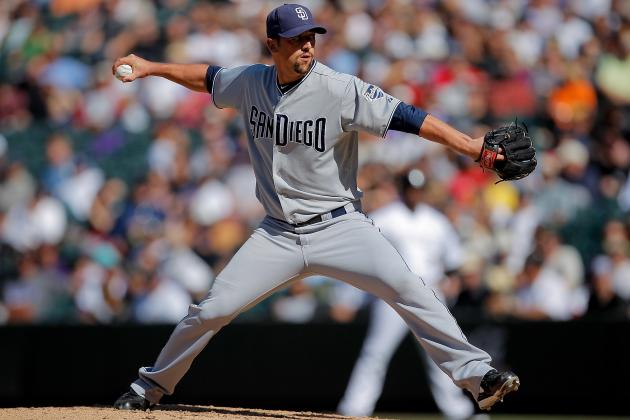 Justin Edmonds/Getty Images
Luke Gregerson
The San Diego Padres may not be the first team that pops into your head when you think about baseball and summer, but with the NFL winding down and MLB spring training about to ramp up, anticipation for that first pitch of the upcoming season is already starting to build.
The two-time NL winning Padres have had a busy off season and there is much to look forward to in 2012.
With the Padres' first Cactus League game scheduled to start on March 5th in Peoria, Arizona against the Seattle Mariners, and the Home Opener set for April 5th against the LA Dodgers, it's a great time to be a Padres fan.
If you had any doubts, here are 15 reasons that should keep you rooting.
Begin Slideshow

»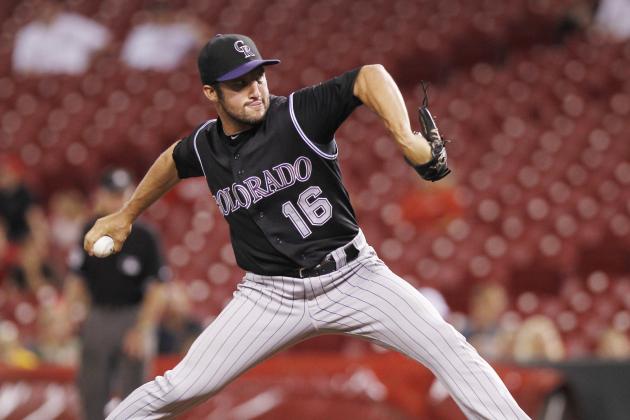 Joe Robbins/Getty Images

The Padres have a great history when it comes to closers. 15 years with Trevor Hoffman (1993 to 2008) entering to "Hells Bells" spoils a fan somewhat but when Hoffman moved on, Heath Bell came in and made the position his own.
Even the sadly departed Rod Beck in 2003, when covering for the injured Hoffman converted 20 saves in 20 chances and posted a 1.78 ERA.
The legacy of outstanding Padres closers looks to continue with Huston Street, now that "Bell's Hell" has been dealt to the newly-renamed Miami Marlins.
Huston Street went 1-4 with a 3.86 ERA last year with the Colorado Rockies but this season should be different. With Hoffman involved behind the scenes and Petco Park being very pitcher friendly, Street's ERA should drop down to the 2.80's easily.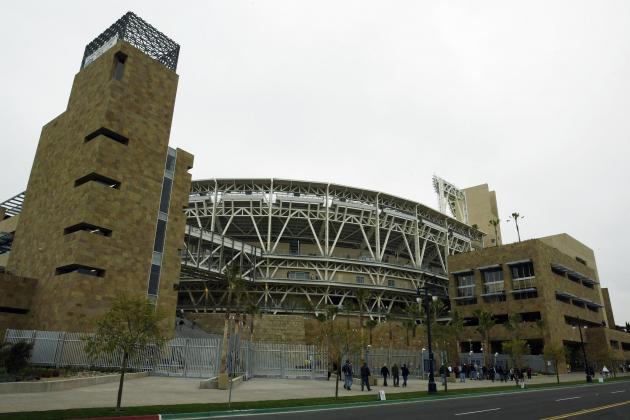 Jeff Gross/Getty Images

The stadium is situated in downtown San Diego, and since it's opening in 2004, the surrounding area has revamped itself to be just as appealing and as handsome as the park.
Surrounded by restaurants, bars, hotels and ample parking, Petco Park is a great venue to watch baseball.
With a capacity of 42,445 dark blue seats and room for more in the Park at the Park, the noise and atmosphere can reach fever pitch on hot summer nights. On the nights that aren't so electric, there are ample shops, bars and restaurants to visit within the park.
Petco Park also has bricks that contain hidden messages written on them.
The Trolley will drop you off right outside on the palm tree lined streets.
As for swag promotional giveaways in the past have included towels, bobble heads and hats.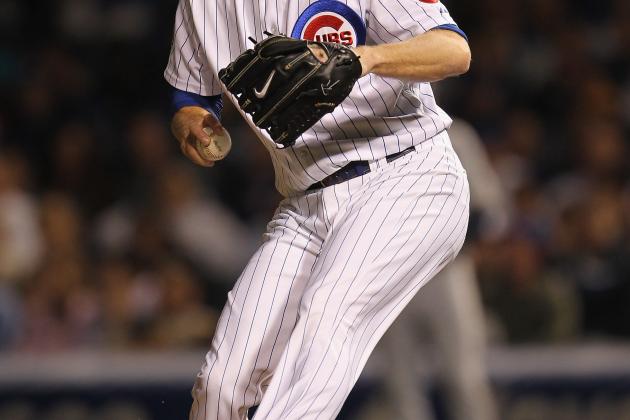 Jonathan Daniel/Getty Images
Andrew Cashner
Every year it seems like the Padres get a boatload of new prospects and every year someone breaks out and lights up the NL West. This season should be no exception.
Corey Brock writes:
Six of their top prospects can be found on MLB.com's Top 100 Prospects list, starting with No. 39 Alonso, who was an important component in the trade that landed the Padres four players from the Reds for pitcher Mat Latos.In addition to Alonso, pitcher Casey Kelly (50), outfielder Rymer Liriano (60), catcher Yasmani Grandal (68), third baseman Jedd Gyorko (71) and second baseman Cory Spangenberg (81) are on the list of the top 100 players.
Yonder Alonso should be one to watch this season, the first baseman from Cuba is batting .299 and could be the big bat Padres fans have been missing since Adrian Gonzalez moved to the Boston Red Sox.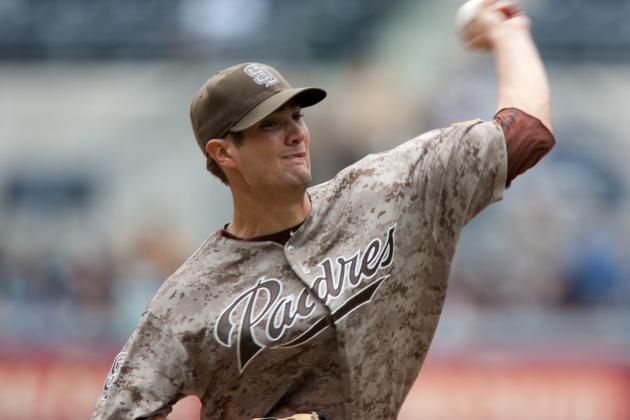 Kent Horner/Getty Images

San Diego is a huge military town with naval and marine bases situated close to Petco Park. There is usually a large military presence at every home game and the flyover on the first day of the season always puts a lump in your throat.
Military Appreciation Day is a great way to remember all that the service men and women do for us and it also gives the Padres the chance to break out the best camo uniforms in the whole of sports.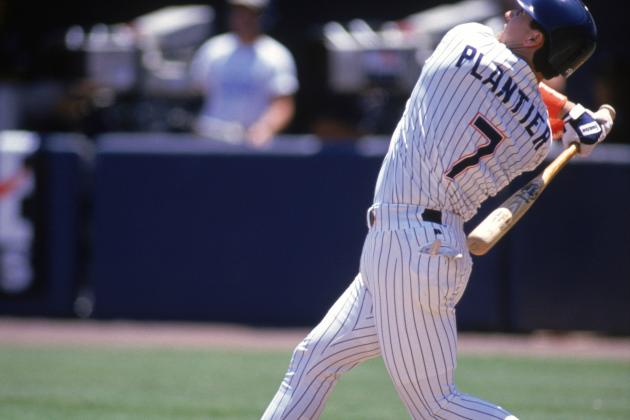 Craig Jones/Getty Images

Phil Plantier is back with the Padres for a third time, but this go around he'll be working as a batting coach rather than as a meaty slugger.
The batting side of the Padres game last season was pretty dismal with 593 runs scored (third worst in the MLB), a team average of .237 (the second worst in the MLB) and a miserable 91 home runs, (the very worst in the MLB).
Things this season should see an improvement with the bats and the Padres can expect to reach triple-digit figures in the HR column well before September 1st.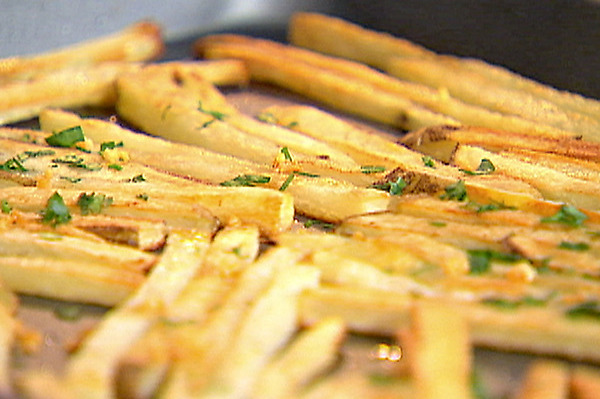 Image taken from www.foodnetwork.com
Whether you choose not to eat meat because of cultural, spiritual, or political reasons, there is no need to worry, as Petco Park has you covered. For whatever reasons, if you're a vegetarian, then head to the concession stands and order a veggie dog.
According to Peta's 2009 Top 10 Most Vegetarian Friendly Ballparks list, Petco Park scores 6th on the list and even beats out such places as Boston, New York and LA.
You can buy veggie burgers, veggie dogs, garlic fries, vegetarian sushi rolls and giant pretzels. Sunflower seeds are also vegetarian if you're after a more traditional ballpark experience, but don't feel like you have to spit them all over the floor.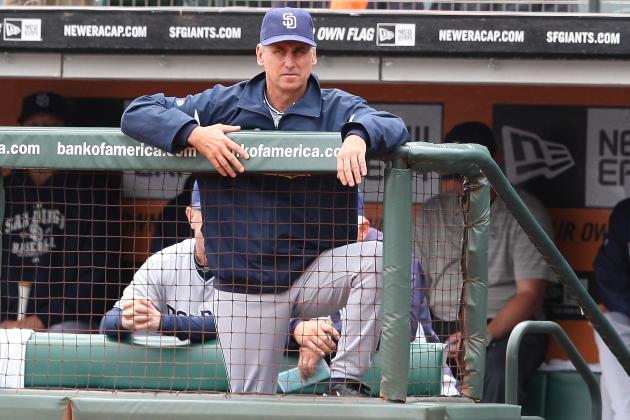 Tony Medina/Getty Images

Bud Black knows pitching. As a 15 season pro and the man who gave up the 500th Home Run to Reggie Jackson, there isn't much Black hasn't seen or done.
Petco Park is a pitchers paradise, and the 2010 NL Manager of the Year, knows how to get the best out of his starters and bullpen.
Mat Latos may have been traded to Cincinnati Reds but the padres will continue to produce stellar pitching with Black in the dugout.
The Padres had the third best ERA in the majors last season at 3.42, only the star packed pitching of the Philadelphia Phillies (3.02) and the San Francisco Giants (3.20) were better.
With Clayton Richard coming back for another season, the Padres can expect another great year of pitching.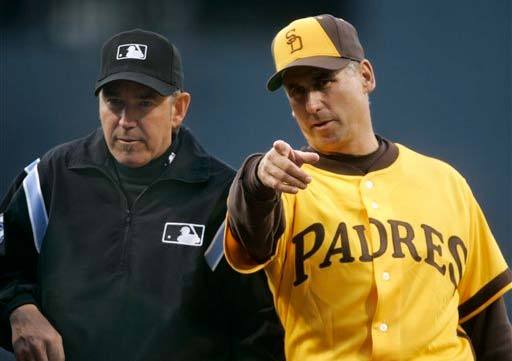 AP Photo/Lenny Ignelzi,
There was a reason the Padres made every Thursday home game during the 2010-2011 season "Retro Uniform Day," the mustard and brown uniforms are the best looking throwback jerseys in the history of baseball.
In my opinion the sand color uniform should go and the Tony Gwynn era uniforms should replace them for good.
The 80's style hat also looks great around town.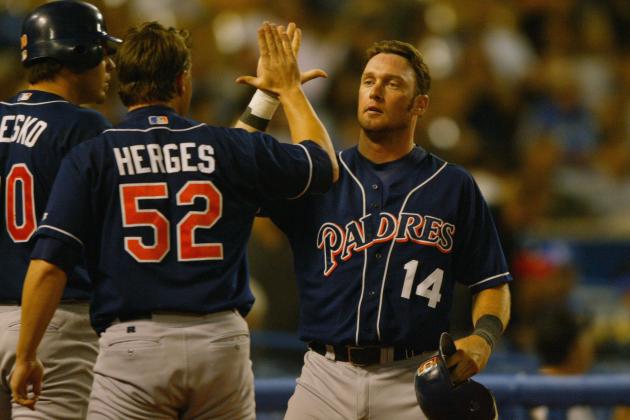 Doug Benc/Getty Images

During the 2004-2005 season I used to wear a dark blue Kotsay No. 14 t-shirt to every Padres home game. It wasn't lucky and Kotsay wasn't my favorite player (he had already left), I just thought it looked cool.
At the start of the 2005-2006 season I added a Bochy No. 15 t-shirt to my rotation and after that it just kind of escalated. By the end of the 2008-2009 my wardrobe pretty much consisted of nothing but Padres t-shirts. I had a problem.
I've since donated all my old Padres t-shirts to Goodwill and have purchased only one brown retro t-shirt to replace them all. I'm worried with Kotsay returning that my Padres t-shirt buying habit might return.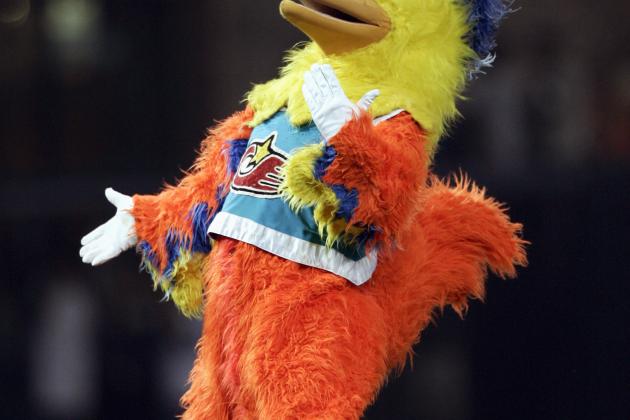 Donald Miralle/Getty Images

The San Diego Chicken is probably the greatest mascot in all of sports history apart from maybe the Capital City Goofball.
This fine feathered friend was named with the likes of Muhammad Ali, Babe Ruth and Jesse Owens as one of The Top 100 Most Powerful People in Sports of the 20th Century.
The Chicken doesn't make too many appearances at the Padres these days and while the follicly challenged Friar is entertaining enough, dancing on top of the dugout, he just doesn't strut his stuff like the giant chicken does.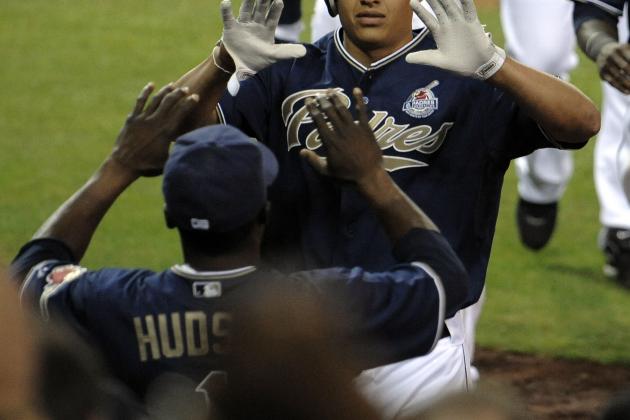 Denis Poroy/Getty Images

Anything can happened with teams from the NL West.
No one expected the Arizona Diamondbacks to win the 2001 World Series in a game seven with a walk-off hit against the pitching of New York Yankees closer Mariano Rivera.
No one expected the San Francisco Giants to win the 2010 World Series when they had trailed to the Padres in the NL West for most of the season.
No one expected them to beat the Philadelphia Phillies in the National League Championship Series and no one really thought they would beat the Texas Rangers in the finals.
No one is expecting much from the NL West this upcoming season either.
The Padres in the World Series would be more than a little unexpected but they haven't been there since 1998 when they were soundly beaten 4-0 by the Yankees and are long overdue a return.
Image taken from www.padresseatingchart.com
When my uncle Bucky last came to town, the thing he was more excited about than anything else was going to a Padres game and sitting in the All-You-Can-Eat seats.
Bucky had planned on eating one hot dog per inning. His family were mostly done by the end of the 3rd, having filled up on popcorn, peanuts, and bottles of soda. A couple of them lasted to the top of the 6th but Bucky was on his own at the start of the 7th.
He managed into the 8th but when the final inning started he couldn't go on. It was over, he had only managed to eat 8 hot dogs, buns and ketchup.
I told him the next morning over breakfast that eight hot dogs was quite a lot and he shouldn't be too hard on himself, but Bucky said, as he tucked into a breakfast burrito, that it was the grand-kids' fault, they had made him stop for ice cream when they had been visiting the zoo earlier that day.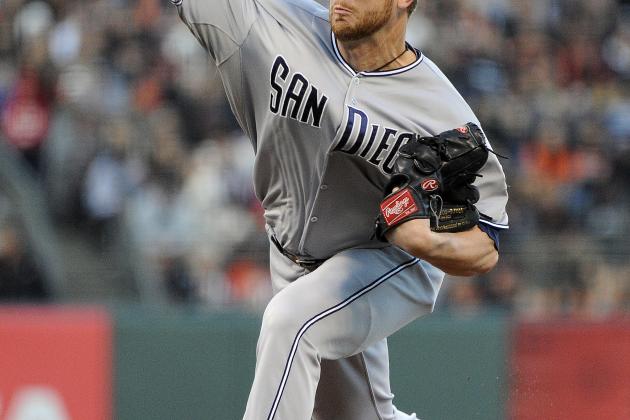 Thearon W. Henderson/Getty Images

The right-handed pitcher will be back for another year after signing a contract on Tuesday, January 31st. Moseley had a 3.30 ERA last season and continues to improve for the Padres. It will be good to have a familiar face working in with some of the many new arrivals.
The Padres line up is surprisingly good seeing how it doesn't contain any super big names. The batting looks promising, the starting pitchers look good and the bullpen looks solid throughout.
By the end of May, this team could have surprised a lot of people, and made a few who have written them off already sit up and take note.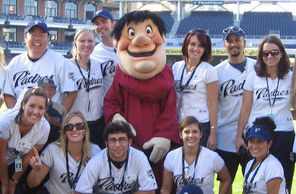 Image from www.eastcountymagazine.org
Way back in 2004, when the Padres were still calling Qualcomm Stadium home, the Pad Squad came out between innings in a Friday night game against the San Francisco Giants. They did their usual waving and then started shooting t-shirts into the crowd.
One of the Pad Squad aimed the t-shirt firing gun contraption right at me and as I was sat in the bleachers I quickly rose up out of my seat to catch it. The t-shirt bounced out of my hands and landed about four rows back into some other dude's lap.
I was devastated.
But not so that lucky fan behind me who scored a free shirt.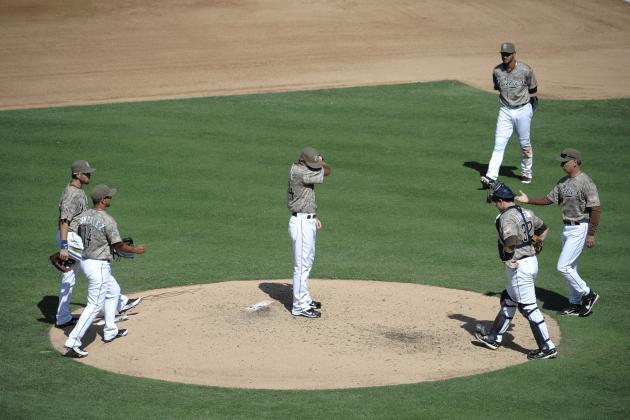 Denis Poroy/Getty Images

The baseball season is long, some would even say a bit too long, but the 162 games gives teams time to settle in and new players time to find a rhythm.
The Padres are going to need time to adjust, and the new arrivals will need to get to know each other, but come August/September, if they can get some momentum going and the bats get hot, then there is no reason why they shouldn't reach the playoffs.
With there being so many intangibles throughout the baseball season, there really is no way of knowing how any one team will fair, or how any one person will perform.
The great unknown is part of what makes baseball America's pastime.
Come opening day, there is every reason to be rooting for the Padres and there is no better cry in April than "Play ball!"