Kansas Basketball: Breaking Down Thomas Robinson's Skill Set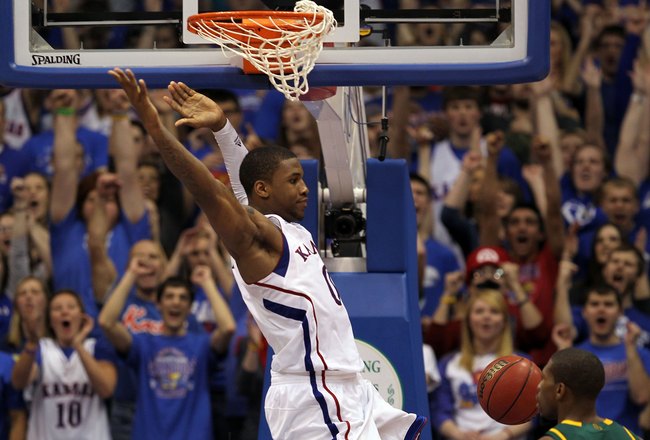 Jamie Squire/Getty Images
To say that Thomas Robinson of the Kansas Jayhawks has stepped up his game this season is an understatement.
He is clocking over double his time from last season (31 minutes per game), bringing down 10 more points (17.5) and averaging a statistical double-double when all of that is combined with his rebounds per game (11.8).
His success has transferred over to the Jayhawks and has helped them claim many victories, including a 27-point showing against then No. 3 Baylor.
As a result of his growth this year, he is among the leaders, and some would say projected winner, for the Player of the Year award.
The following will break down his play and analyze the skill set of this junior.
Passing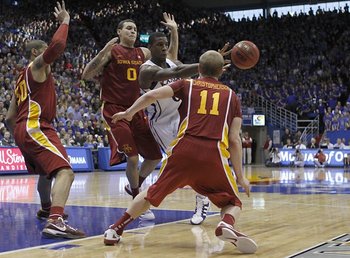 Courtesy of kansan.com
Key Statistic: 1.6 assists per game
Analysis: Thomas Robinson plays the power forward position very well. He has increased his strength and ability to push towards the basket and play in the post.
As such, he does not necessarily find himself in the position to pass the ball very often.
That being said, he is not a selfish player by any means. When he gets the ball in his hands and he is covered under the basket or in the paint, Robinson is not afraid to pass the ball away when he sees an open teammate.
He seems to always be looking at the perimeter for an open man to take the shot when he is not comfortable. He also has the ability to snap the ball out of his hands as soon as he gets it, sometimes before he even touches the ground.
On the other hand, when he is presented with double-coverage, he has a tendency to think too long about his pass, which sometimes draws the traveling call or results in a turnover.
Rebounding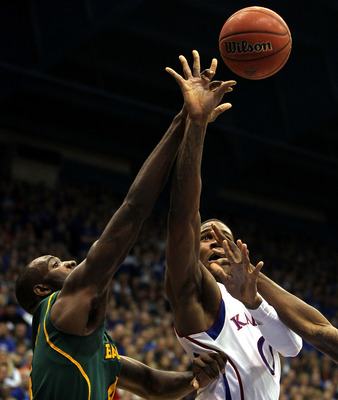 Jamie Squire/Getty Images
Key Statistic: 11.8 rebounds per game
Analysis: Standing at 6'9'' and weighing 237 lbs, Thomas Robinson maximizes his size and skill when it comes to rebounding. It is very hard to challenge him in the paint, and when the ball bounces away from the basket, he is usually the first one there to fight for rebound, pushing others away and boxing out opponents.
He currently sits at No. 2 in the NCAA rebounding ranks, making him one of the best in the game this season.
He has always had the leaping ability and power to bring down the baskets, even last season, when he was averaging only 14.6 minutes per game, he still came away with 6.4 rebounds.
Watch game film of this man, and one will notice how he is among the few players who can juggle a ball away from his opponent and still somehow make the grab or allow someone else to. Against UCLA, Robinson flicked the ball up three times, which eventually allowed his teammate to come away with the rebound.
Defense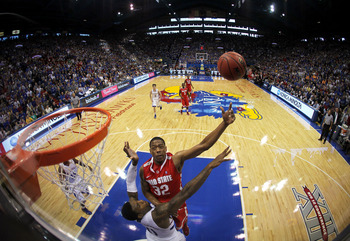 Jamie Squire/Getty Images
Key Statistic: 1.2 blocks per game
Analysis: It is no secret that defense is Thomas Robinson's biggest weakness.
Take a quick look at the stat line above, and one will notice that he is not matching his size and strength up to his contests at the ball. He sometimes shies away from attempting the big blocks for what appears to be a reluctance to draw fouls.
This also carries over to his man defense. He does not seem to stand his ground often enough when it comes to going against other strong forwards.
Overall, however, his defense has seen slight improvement as the year has gone on.
In addition, he has shown some nice steals across his career.
If Robinson can live up to his build, he will become a dual-threat player not only in college, but at the next level as well.
Ball Handling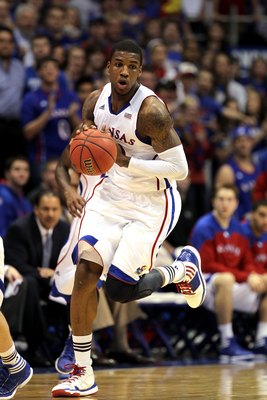 Jamie Squire/Getty Images
Key Statistic: 2.4 turnovers per game
Analysis: This point was already covered a little in the passing section, but the skill still needs further analysis.
Thomas Robinson is good at controlling the ball while he is making his push to the basket with his back. He seems to have complete control of the basketball during this time, rarely turning it over here.
His weakness appears when he begins to drive the lane. He can sometimes over dribble at times and lose the ball because of this sloppy play. He also has a bad habit of slightly moving his feet as he attempts to make or create a shot, pushing the boundary of a travelling call.
This area of his play has certainly grown over his career, and it is just one of those aspects that will get better with time.
Right now, it is not a make-or-break category for Robinson, who usually makes up for his mistakes in the end with his overall offensive output.
Scoring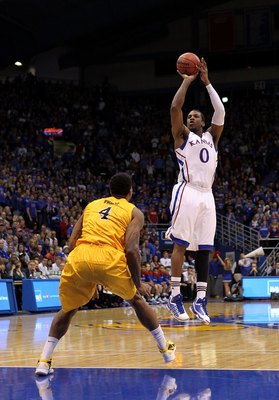 Jamie Squire/Getty Images
Key Statistics: 17.5 points per game
66.9 percent free throw success
Analysis: One would be hard-pressed to find someone ready to disagree that Thomas Robinson is one of the best shooters in the league.
He is not a one-dimensional player when it comes to offense, as one might find from other power forwards. He possesses a good mid-range jump shot, which causes defenders to be unsure of how to play him and leads to a 53.2 percent field goal success rate.
He was criticized last season and earlier this year for his inability to play effectively as a post player. He responded to the critics by refining his movements, increasing his motor and toughness, and has certainly adapted as Kansas' go-to guy.
In the end, if he does not hit you with the floater, then he can push forward as a post player and play under the basket.
He has even been known to hit the occasional three-point shot, posting a 37.5 percent success rate.
On a short side note, he needs to improve his free-throw shooting. For someone averaging almost six foul shots a game, leaving points off the board is not going to help his team in the close games.
Intangibles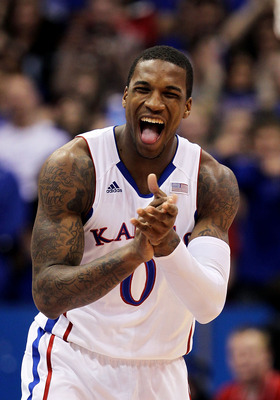 Jamie Squire/Getty Images
Key Fact: Plays with a high basketball IQ
Analysis: Robinson may look imposing on the field, but he does not always play his game from the standpoint of a giant. Instead, he uses his smarts to analyze the entire court and determine the best play possible for his team. He has certainly improved in this facet of his game throughout his career.
His competitiveness and attitude also stand out. Very rarely, if ever, will Robinson play with a blasé attitude. He brings his top game to the court each time he starts and never relinquishes.
It is also clear that he is a determined player in practice as well. He has made significant strides in his game during his career and has a unique level of grit that not many players can claim.
For example, in a 25-day span he lost his grandmother, grandfather and mother. Rather than sitting out the day after his mom's passing, Robinson brought his emotions into his game.
Keep Reading

Kansas Jayhawks Basketball: Like this team?