WWE: Breaking Down Monday Night Raw: Best in a While!
January 31, 2012

The way that I usually judge a movie to see if it was good or not is the "24 hour test." Am I still thinking about what I watched 24 hours later? Well, I tuned into RAW last night excited, after what the Royal Rumble brought to the table.
The promise of John Laurinaitis getting fired was definitely enough to receive my undivided attention for the evening. And last night's Raw still promotes questions even a day later.
Of course, within minutes of the show's start we were subject to Mr. Clown Shoes stammering over the microphone, and another promo that CM Punk was the star of.
Not Punk's best promo, as he stumbled over a few words, but what Punk does, to set himself apart from everyone on the mic,is the the fact, his lines don't seem unbearably rehearsed unlike guys such as Laurinaitis and Kane.
The promo left me excited for the match between Punk and Daniel Bryan and the ensuing decision of John Laurnaitis' future by Triple H. 
Another thing to get excited about was the Elimination Chamber match that we will see in just a few weeks. The R-Truth vs. Miz feud will definitely continue to heat up, Chris Jericho and CM Punk are going to start a rivalry (more on that later).
Kofi Kingston may establish himself, at the very least, as a contender. Something I hope that the WWE does pursue. The Road to WrestleMania was kicked off in a big way last night.
It was good to see Randy Orton back. The rivalry with him and Wade Barrett is great, and it would be even greater if that had title implications, but maybe that is what makes the product overall more watchable. We saw vintage WWE come out in this match, with momentum shifts all the way through, multiple finishing moves and minimal Vickie Guerrero.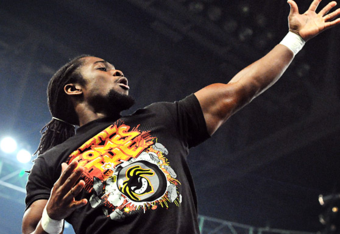 Ultimately, the Viper would end the match through one of the biggest RKO's I have seen. You could see Orton was rested up from his six-week hiatus. This would be a match I would like to see again.
Dolph Ziggler is a a fun heel to watch in my honest opinion, and it's hard to say if these past three failures, in the WWE Championship match, the Royal Rumble loss, and the the Orton match have caused him to lose momentum, but I think the Showoff persona needs to gain even more steam.
The jury is still out on how I feel about the Funkasaurus. I can't decide if he is a complete rip off of Rikishi or not. I am leaning to the side of, yes it is a rip off. But the subject of History is there so we don't repeat mistakes and I would have to say RIkishi was never a mistake, causing me to grin more often than not. I may in fact had an argument with myself right now, and the Funkasaurus wins.
They just need to figure out that ugly dude's wardrobe, because nothing is really working for him. May I suggest a muumuu or a dinosaur onesie that can be found at your local Target. A 6XL may be required though.
This brings us to the middle of the show with the match promoted at the beginning. You can never complain about a Champion vs. Champion match. The match went back and forth. Punk could never quite put Bryan to sleep, and Bryan battled to submit Punk.
But this epic struggle between superstars would be spoiled by Chris Jericho interfering with Bryan outside the ring and breaking the Code on Punk's face.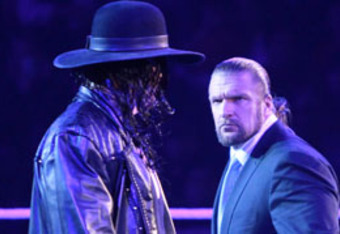 No one before this knew, what to think of Jericho , except the fact he has been super annoying since his return. This solved once and for all that Jericho was a clear heel. Disappointing for sure, but at least it gave us an answer about Y2J, which was much needed.
Fast forward past a fun match with Kofi Kingston and The Miz and the wild commentary of R-Truth, which pitted a victory for Kofi Kingston, proclaiming him as a contender in the upcoming Elimination Chamber, and we get to the even greater promos then the beginning of the show.
We had the Kane and John Cena rivalry shift, which imperative. For the longest time, I have been tired of the complacent Cena that has been present every week. Cena was so much fun last night, making friends with the steel stairs and brutalizing the Big Red Machine. Cena was pumped and so was my 23-year-old nerdy self.
We finally ended with Laurinaitis' performance review or did we!? I could argue that Triple H could be on the short list of people as best ever on the Mic. When he is a heel he was one of the best and when he is face he is, again, one of the best.
He conveys the emotion that is much needed in a wrestler and what the WWE is finally looking for in their superstars again. Something that makes this guy happy.
The banter between the two was great, leaving a bumbling Laurinaitis lost for words (what's new) and an the extending of invitation to the Triple H "kiss my ass" club. All comedy gold. But the Road to WrestleMania began at the Royal Rumble, and what is WrestleMania without the Undertaker?
This led to a 13-minute long staredown and a threat to send Triple H to hell, which prompted a cordial pat on the shoulder from Hunter.
Ultimately, what's not to be loved. Personally, I think it's the best Raw that we have had since August. I may be missing a few admittedly, but nonetheless. I was a big fan of the many bait and switches that were provided in Monday's entertainment.
It even got me excited for Friday Night Smackdown, which I am reluctant to watch at times. The Road to WrestleMania is a long one, but this one has already started the way it should.