Rutgers Football Recruiting: Will Darius Hamilton Be a Scarlet Knight?
January 31, 2012

As top defensive end recruit Darius Hamilton makes his decision tonight, many people are trying to predict where he will wind up. He's narrowed his choices down to two schools, Miami and Rutgers, but there may be a couple hints that lead fans to believe Darius Hamilton will be a Scarlet Knight.
Hamilton attends Don Bosco Prep. in Ramsey New Jersey, and may possibly stay in state with Rutgers.
Reports say he was leaning heavily towards Rutgers when Greg Schiano was the head coach. Schiano has since departed Piscataway to take over the Tampa Bay Buccaneers and Rutgers' athletic director Tim Pernetti named Kyle Flood the new head coach.
Flood, an offensive line coach for Rutgers since 2005, was known for being one of the top recruiters for Greg Schiano.
Recruiting is all about relationships and Flood has been said to be one of the honest recruiters around. No one knows what to expect from Flood for the upcoming season, but adding a 5-star prospect can only help him succeed.
Hamilton has been leaning on Greg Toal, the head coach of Don Bosco, with help for who he should join. When Toal found out about Flood taking the head coaching job, he had nothing but good things to say.
"Obviously, Kyle is a well-respected guy, and he's got a great reputation," said Toal. "I think they made a good decision."
Could that be a hint that Toal was encouraging Hamilton to go to Rutgers?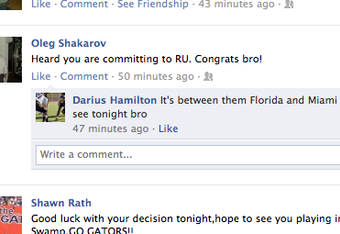 Additionally, Hamilton is great friends with current teammate and Rutgers-commit Leonte Carroo, and even after coach Schiano left, Carroo re-confirmed that he was staying with Rutgers.
Hamilton has many friends at Rutgers and would probably have better chemistry coming right in with the team. He'll be a four-year starter if he goes to Rutgers and won't have to worry about the 33 commits by the Hurricanes.
However, Hamilton won't admit anything on Facebook just yet as you can see from the above pitcure.
Hamilton would be the first 5-star to commit to Rutgers since the advent of the ranking system in 2002. This program is only going up, and it's built to last. Hamilton could make Rutgers Big East Champions.