Philadelphia Flyers: 5 Reasons Ilya Bryzgalov Will Have a Short Stay in Philly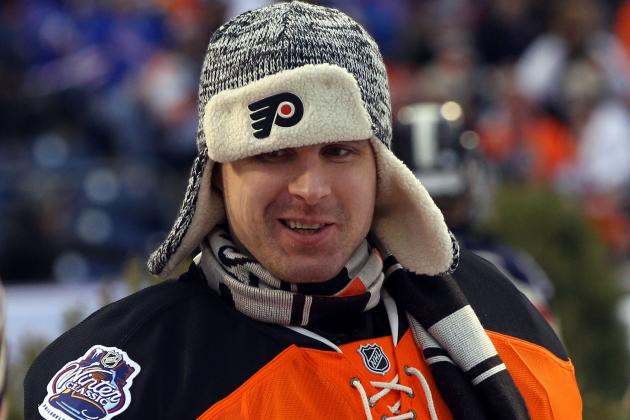 Bruce Bennett/Getty Images

Tonight the Flyers host the Winnipeg Jets in the first game back from the All-Star break and the well rested Ilya Bryzgalov makes the start in net to kick off the drive to the playoffs.
The 10th place Jets have outscored fourth place Philly 15-12 in two games, including their 9-8 comeback win that saw Bryz surrender four goals on 10 shots in a relief appearance. That game was the start of his decline in the eyes of the media and fans, especially when the 31-year-old Russian declared himself "lost in the woods."
By signing his now infamous nine-year, $51 million free-agent contract with the Flyers over the summer, the expectations from all fans, critics, media members, teammates and front-office personnel were that Bryzgalov would be the answer in net, a Stanley Cup-caliber netminder to finally end the Broad Street carousel and steady this otherwise well-put-together hockey team.
But such has not been the case. While the Flyers have been generally strong this year, posting the third most points in the Eastern Conference before the All-Star break, Bryzgalov has been a disappointment, posting an 18-10-4 record, 2.99 GAA and a sub-.900 save percentage and only one shutout.
Given Bryzgalov's struggles and expectations it would then not be surprising if Bryz's first year in Philadelphia was his last.
In that spirit, here are the five reasons I believe Ilya Bryzgalov will not last in the City of Brotherly Love.
Begin Slideshow

»
It seems to me that Ilya's worst enemy is himself.
Philadelphia is a tough town, no doubt.
But Bryz has put an immense amount of pressure on himself.
He has been first to criticize his own game on many well documented occasions. He declared himself the backup for the Winter Classic before the team made its official announcement. He has told the media to "leave me alone," which of course leaves the impression he is blaming the media for his struggles which ultimately puts more heat on himself.
This season has seen its ups and downs for the Flyers' prized free agent.
There have been stretches of brilliance and ones with performances not fitting an NHL player, let alone the No. 1 goalie on a Stanley Cup contending team.
And all along Bryzgalov has kept the spotlight on himself with his outlandish personality and candidness.
If Bryzgalov continues to seek the spotlight and take away from the team both on and off the ice, it will be impossible for him to play with any consistency, because every bad start will be seen as the beginning of a terrible slump, as every fan listening will react to his post-game comments with "Here we go again!"
Such an atmosphere cannot exist on a legitimate Cup contender.
And no goalie needs more masks (three) than shutouts (one), it makes every fan think Bryzgalov is far too concerned with the wrong things.
While it is fair to question the validity of the 23-year-old Russian backups' stats (11-4-1, 2.42, .919), it's hard to argue that Bryzgalov has been a better goaltender than Bobrovsky so far this season.
No matter the opponent or circumstance, Bryzgalov is supposed to be able to steal a game— that's why he makes the big bucks —and he simply has not done that so far this season.
Bob is 23, under contract through next season, and still only a restricted free agent after that.
The Flyers have time to see how he progresses and if he is worth making a blockbuster trade to move Bryzgalov, which would probably entail covering some of the $45.3 million remaining on his contract after this year.
If Bobrovsky continues to improve his game and outperform his overpriced Russian counterpart, it will be another headline offseason for the Philadelphia Flyers.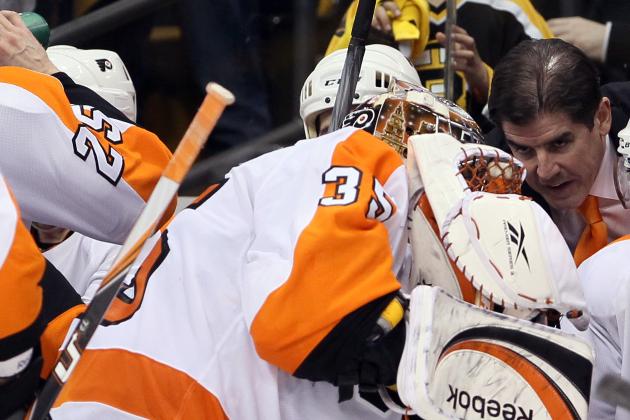 Elsa/Getty Images

Peter Laviolette will play the hot goalie and hook the underperforming one without reserve.
Honestly, I expect Bryzgalov to be the starting goaltender once the playoffs begin.
However, I do not expect him to be in net whenever they end.
In 11 playoff starts with the Phoenix Coyotes, Bryzgalov's statistics are unimpressive with a 3-8 record, .906 save-percentage and a goals against average around four.
Bryzgalov has not been a great playoff performer since becoming a full-time starter.
A continuation of this trend will see him pulled from games in the postseason, the exact problem he was brought to Philly to remedy.
The Flyers will not see it fit to pay a goalie $5.667 million a season for eight more years if he is going to perpetuate the franchise's Achilles' heel.
Because Ilya Bryzgalov's contract is further complicated by a no movement clause, playing time is the only way to force a trade of the former Vezina Trophy finalist. Laviolette controls the playing time and will leave Bryz with two options: play well or sit out until you decide you want to be traded.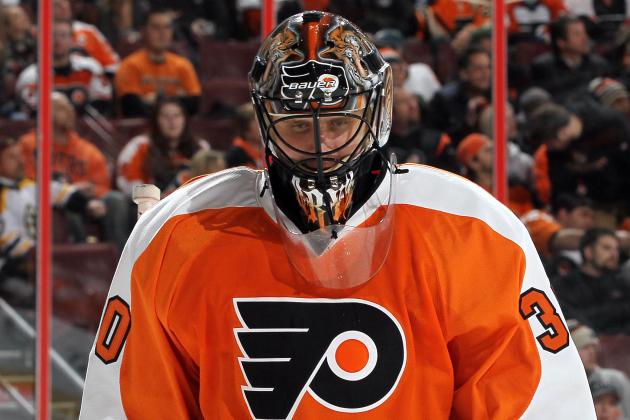 Jim McIsaac/Getty Images

Fans is this city are unforgiving.
Whether Bryzgalov is worthy of all the blame and derision he has received thus far is irrelevant, because the fans in this city are never wrong.
Once Philly turns on a player it is very hard (championship or fail) to win them back, and the city seems to be leaning towards chasing Bryzgalov over the Walt Whitman with torches and pitchforks.
The fans will never let him live down his "lost in the woods," or "humangeous big" universe comments.
Plus any failure on Bryz's part will be drawn back to those early utterances as proof he is not tough enough to play in this city.
Unless Bryzgalov turns his game around 180-degrees, it will only be a matter of time before his relationship with the fans is FUBAR and drastic measures must be taken.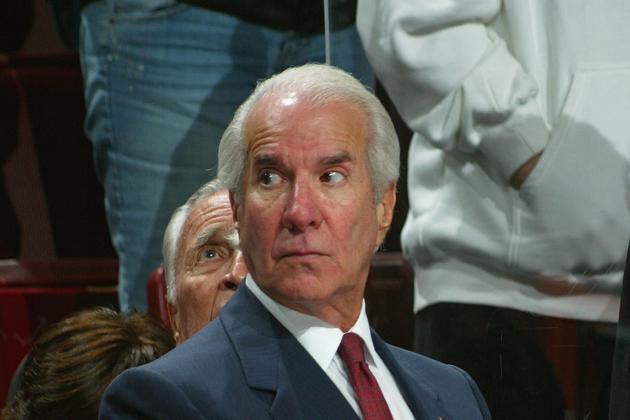 Bruce Bennett/Getty Images

The Flyers are a panic organization.
Every season is about the Stanley Cup and when the front office sees a deterrence from that they take action.
If Ed Snider and Paul Holmgren see the goalie carousel continued in the 2012 postseason as it was the previous year, they will make bold changes as they did with Mike Richards and Jeff Carter.
While a trade would require Bryz waiving his no-movement clause, buying out his deal would remain an option.
An end of season buyout would end up costing the Flyers $27.3 million over the next 16 seasons, but save them an average of about $5 million per year over the next four seasons. It would also considerably lower the contract's overall hit against the salary cap, although extending it.
Bold moves are ahead in the near future, as the front office must decide what to do about the hole on the blue line after better assessing Pronger's overall health and several other potentially divisive contract situations (Matt Carle, Jakub Voracek). But the continued struggles of their prized free-agent goaltender will be an issue for discussion until a resolution makes itself apparent via the outcome of the postseason.
Bryzgalov's performances through the All-Star break have been mostly unacceptable.
Tonight, in front of the Wells Fargo Center rowdies, Bryz will have the chance to begin to reverse his fortunes and demonstrate he is the goalie he was brought to Philly to be, or he will fold up and continue to look slow, lazy and disinterested.
The former could be the key to a parade down Broad.
The latter will ensure his tenure in Philadelphia is much shorter than anybody expected.