Colorado Avalanche Begin the Stretch Run with a Divisional Matchup in Edmonton
January 31, 2012

Doug Pensinger/Getty Images
Many Avalanche players used the All-Star break for a rare mid-season vacation.  T.J. Galiardi and Ryan Wilson were accompanied by former Avs Chris Stewart and Kevin Shattenkirk to Cabo, Mexico, and David Jones and his wife went to Mexico as well.  Shane O'Brien enjoyed his status as a single, 20-something guy up in Aspen and Matt Duchene went up to Vail to do some fishing.  
An 82-game regular season can be a very grueling one and can certainly take its toll on players physically as well as emotionally.  Hopefully this five-day rest will rejuvenate each and every Avalanche player and the team will come ready to play for the stretch run. 
The team reconvened for practice yesterday at 2:00 pm.  As I've mentioned almost ad nauseum by now, the Avs absolutely must improve upon their abysmal 2-9 divisional record.  They will get a chance to do so right out of the gate tonight in Edmonton.  The Oilers got off to a very hot start in October, but have since come crashing back down to earth and currently find themselves as the bottom-feeders in the Northwest Division and in the penultimate spot in the overall NHL standings. 
However, this will not be an easy matchup for Colorado.  Edmonton will be a well-rested group as well, and they will be on their home ice tonight.  Although rookie sensation Ryan Nugent-Hopkins is out of the lineup with a shoulder injury, the Oilers still boast plenty of young talent, much like the Avs.  All-Star Jordan Eberle leads the team with 45 points in 45 games and 2010's first overall pick, Taylor Hall, is a very dangerous scoring threat.  Edmonton also has veteran winger and Avalanche-killer, Ryan Smyth, who has played well against Colorado his entire career, save for the brief time he played for the Avs.  Edmonton's goalies, veteran Nikolai Khabibulin and up-and-coming Devan Dubnyk also both play very well against the Avs.  The Avs' offense will need plenty of quality shots on goal in order to solve whomever is in net for the Oil.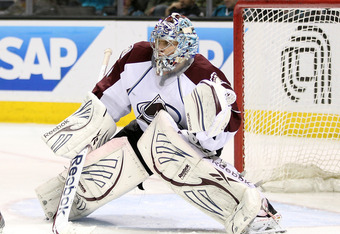 Ezra Shaw/Getty Images
Yesterday, Coach Joe Sacco confirmed that Semyon Varlamov will get the start tonight.  His last appearance came over two full weeks ago in a loss to Phoenix—veteran Jean-Sebastien Giguere has started for the Avs in every game since.  Jiggy, however, is coming off two straight losses against Anaheim and Minnesota. 
Varly has handled riding the pine for the past two weeks very professionally.  I have no doubt he has been working on his game very hard in practice, and hopefully with the help of goaltending coach Kirk McLean he will be able to get back into his groove.  We've seen flashes and when Varly is on a hot streak, he can be just as good an any goalie in the league.  Hopefully he'll run with his shot to get back on the right track against Edmonton tonight.
While he is expected back sooner rather than later, the Avalanche will not have the services of Matt Duchene tonight.  He was injured on December 29th, with the official party line being "out at least a month."  He resumed skating yesterday morning, as he tweeted, "Back to work today, pushing hard to get healthy and get back on the ice."  Getting Duchene back healthy will be a big boost for this Colorado offense, as will the continued health and production of Peter Mueller.  The Avs have gone 6-5-1 minus Duchene.
After the matchup with Edmonton tonight, the Avs will return home for a four-game homestand.  It will be the first time the Avs will have consecutive home games since December.  On Thursday, the Minnesota Wild visit Pepsi Center and on Saturday, the Northwest Division-leading Vancouver Canucks roll into town.  Again, this is exactly why divisional wins will be crucial for the Avs' success.