NHL Trade Rumors: 10 Deals That Could Shake Up League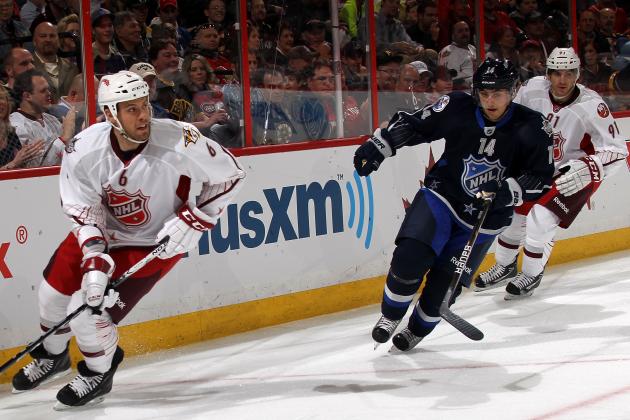 Bruce Bennett/Getty Images

On June 23, 2011, the Philadelphia Flyers' general manager Paul Holmgren traded two big-name players in Jeff Carter and Mike Richards—the team's captain and leading scorer.
The hockey world was baffled to say the least.
Yet those same Philadelphia Flyers sit at fourth place in the Eastern Conference and three points out of first place.
So what does this have to do with anything now?
It goes to show you don't need to fall in love with players. That you can part ways with perceived important pieces for younger players and still compete.
Are the Flyers a better team than they were last year? It's really hard to say, but one thing is sure: they are definitely built to be better in years to come.
As anyone who watches professional sports in general can tell you, it's "monkey see monkey do" out there.
With the trade deadline approaching, teams will be looking at what the Flyers did last year and considering in great depth the idea of moving some key pieces for youth and more salary cap friendly contracts.
Allow me to present 10 potential deals that could shake up the NHL, much the same way June 23 did last year.
Begin Slideshow

»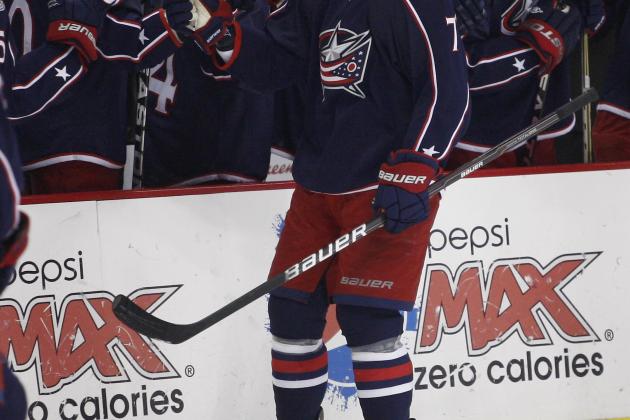 John Grieshop/Getty Images

It's not a big mystery that Jeff Carter is unhappy in Columbus. Nor is it safe to say that Blue Jacket management is happy with him.
Even with a no-trade clause in effect, it's highly likely Carter would be willing to waive it if the Jackets could send him somewhere more appealing.
Will they be able to recoup what they lost in smooth-skating Jakub Voracek or the draft pick that became Sean Couturier? No.
At this point they may be able to recoup at least a second-round pick and a possible roster player from a contending team that feels it could use the wicked wrist shot of Carter.
Some Internet rumors have Carter going to Calgary, but you never know. One thing is certain—in the right situation, Carter is a legitimate 30-40 goal scorer, as he was in Philadelphia.
A player of his ability could definitely supplement a contending team's offense. That is where a Jeff Carter trade would shake things up.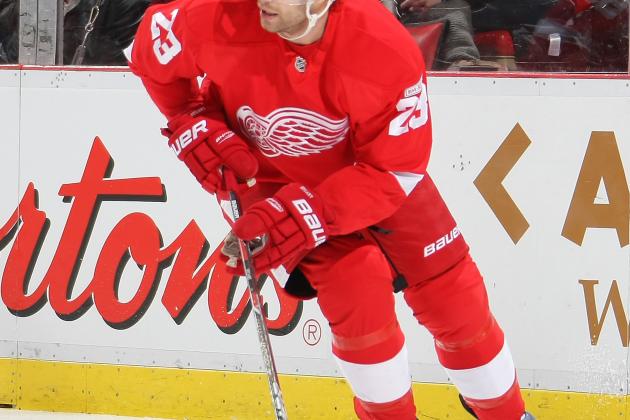 Dave Sandford/Getty Images

This one looks to happen via free agency anyway, but Detroit might persuade Stuart to make a pit stop on the East Coast to, say, the Philadelphia Flyers, who need a defenseman.
The Flyers aren't known to be quiet in the trade scene, and with a plethora of youth on their team, Detroit might try making something happen in exchange for a rental defenseman.
Even if he doesn't go east, indications are he wants to head west. If that's the case, the Red Wings might be able to shake some value out of a team like the Los Angeles Kings.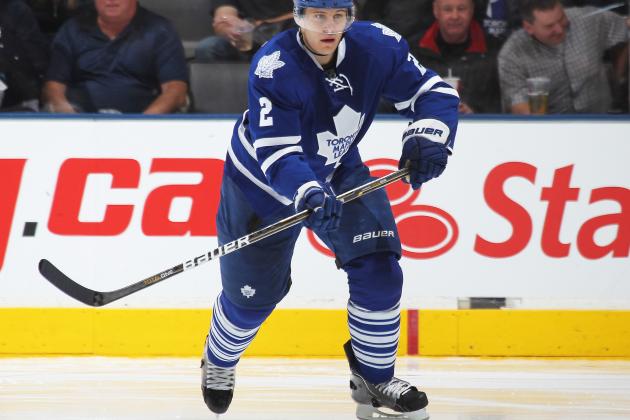 Claus Andersen/Getty Images

Luke Schenn and brother Brayden have been the target of trade rumors all season. The latest has Luke Schenn heading to Philadelphia to be reunited with Brayden.
The Maple Leafs have no shortage of defensemen, but they seemingly have a need for scoring forwards and maybe even a goalie.
Luke Schenn, although young and still a bit inexperienced, shows signs of being a good old-fashioned, stay-at-home type defenseman who can lay the wood out.
If Brian Burke's trigger finger gets itchy, Luke Schenn could be on his way out. Wherever he does end up will be happy to have him.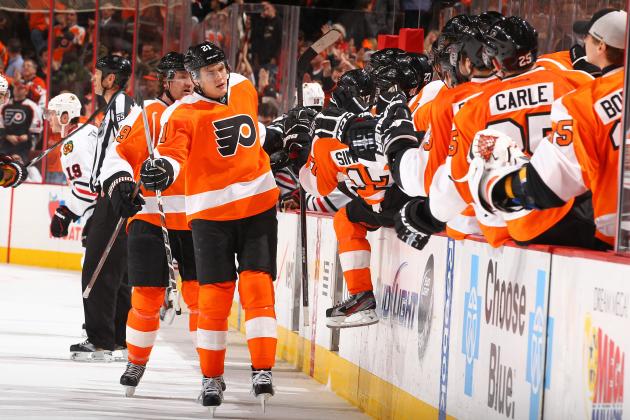 Al Bello/Getty Images

James van Riemsdyk is a former second-pick overall. His potential has surely shined as he posted seven goals in 11 playoff games last season against top-notch goalies Ryan Miller and Tim Thomas.
However, this year Van Riemsdyk has been hampered by injuries, and his team is in desperate need to fill the void left by Chris Pronger.
A team willing to pony up the defenseman the Flyers need, while being patient with JVR's growing pains, will be handsomely rewarded with an impact forward with plenty of years left.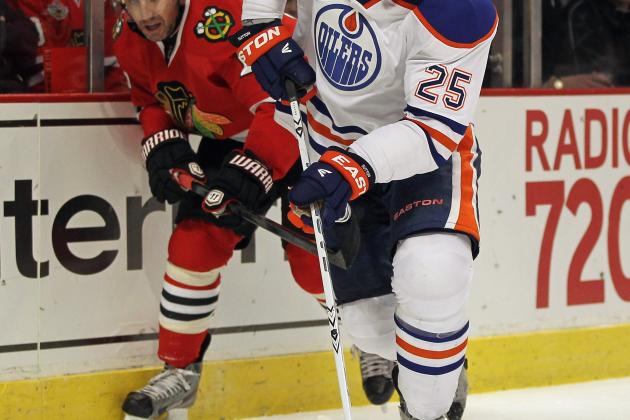 Jonathan Daniel/Getty Images

Even at 36 years old, Andy Sutton has plenty of gas in the tank and would be a valuable addition to an NHL contender.
With Beauchemin and Gleason now off the table, Sutton moves up on the trade chart for physically, punishing defensemen that teams in need of such players will be looking for.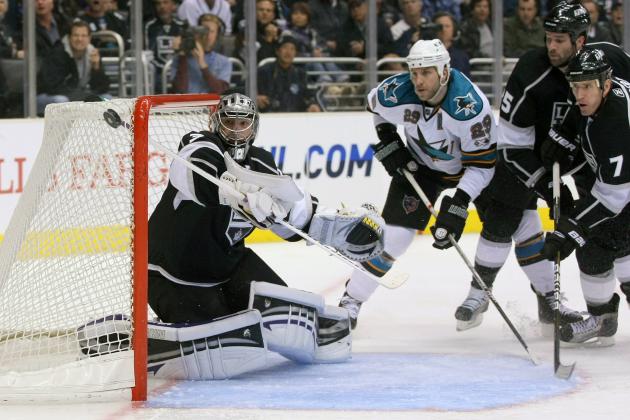 Victor Decolongon/Getty Images

The Sharks have tried to squash this rumor, but when general managers like Brian Burke are in Ottawa looking at talent like Clowe, speculation runs rampant.
It's not completely out of the question, either, considering that Clowe's contract does not have a no-trade clause.
Burke has already tipped his hand, and if San Jose has anything on their radar in Toronto, perhaps they can cash in.
One thing is for certain—a big forward like Clowe playing with Phil Kessel would greatly improve Toronto's attack.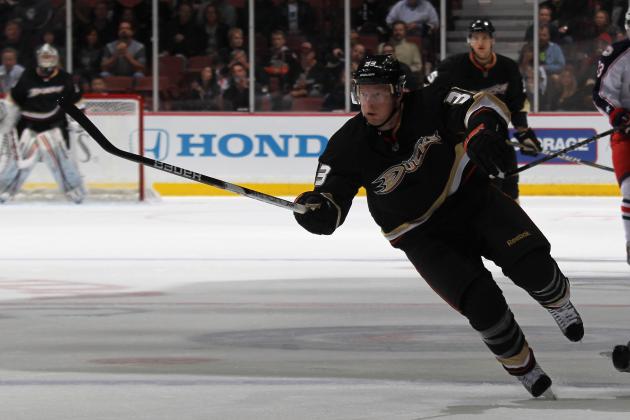 Bruce Bennett/Getty Images

Jason Blake is in the last year of his contract.
Despite being 38 years old, Blake is still an effective forward in the NHL.
Apparently, he has garnered interest since his return to the lineup.
If the reports are true, then this aging forward could help the Ducks rebuild. Seeded 13th in the Western conference, the Ducks have slim-to-none chances of making the playoffs.
Blake is going to be a free agent and his best days could be behind him.
This could be the trade the Ducks need to regain contender status going forward.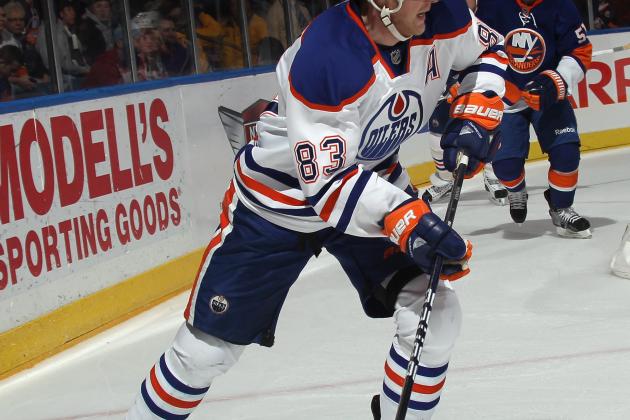 Bruce Bennett/Getty Images

A player with 20-goal ability, under 30 years old, without a no-trade clause, in the last year of his contract on a team in possible rebuild mode—can there be any doubt he's in the conversation to be traded?
Hemsky is definitely a skilled player. Coming into the final year of his contract, he definitely fits the profile of a player to be traded.
Edmonton needs to seriously consider moving Hemsky to the highest bidder, and there will be bidders if they are serious about rebuilding.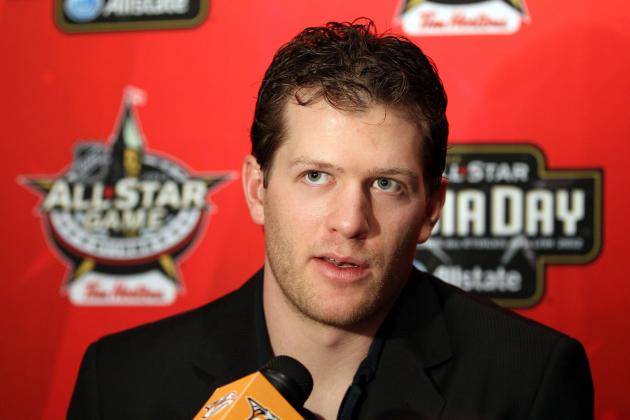 Christian Petersen/Getty Images

Two great defensemen's careers are nearly over—Chris Pronger and Niklas Lidstrom.
Their heirs apparent both play for the same team—the Nashville Predators.
Shea Weber and Ryan Suter each play a particular style akin to either Pronger or Lidstrom.
Ryan Suter has yielded serve to his general manager with recent comments over the weekend.
As we all know, Suter and teammate Weber are in the final years of their contracts, two big pieces that could yield a king's ransom each.
If you remember the example I laid out earlier on how Paul Holmgren traded two franchise players, then perhaps David Poile will be served paying attention.
It's hard to fathom a team having such highly valued players entering final years of contracts on the same team again.
Nashville would be behooved to learn from prior example.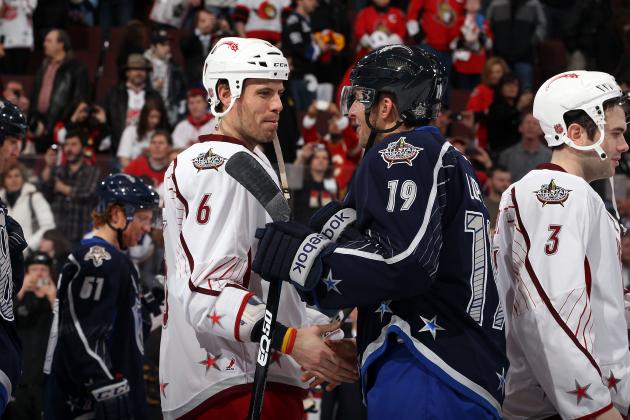 Christian Petersen/Getty Images

Make no mistake—Shea Weber is the ideal defenseman.
He totally cancels out puck carriers, has a monster shot and dominates his crease. Oh, and his puck moving is nothing to scoff at either.
If Nashville traded Shea Weber or Ryan Suter or both, they wouldn't be short on defensemen. Furthermore, whatever they receive in return should definitely ease the withdrawal.
Not only did the Philadelphia Flyers reshape their franchise with two big trades, but this has happened before in pro football, too.
Remember the Herschel Walker trade?
It set the Dallas Cowboys up for three Super Bowls!
The same could happen here for the Nashville Predators.
They already have a top-notch goalie in Pekka Rinne. That's a third of your battle in building a team.
Let's face it—Shea Weber and Ryan Suter didn't just fall out of the sky, yet the Predators haven't gone deep in the playoffs with both these guys.
That's no knock on either player, just the Predators stand poised to make the biggest splash in NHL trade history.
Thanks for reading!
Feel free to leave any questions, comments or complaints below!
Follow me on Twitter @jriding4evr!