San Francisco Giants: Possible Extension Candidates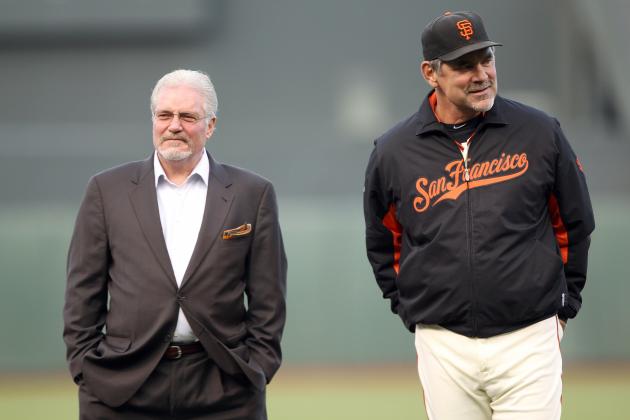 Ezra Shaw/Getty Images
It's decision (clobbering) making time
Somewhere in the catacombs beneath AT&T Park, Brain Sabean is hard at work. Pulling names out of a hat, shaking magic eight balls, placing manila envelops to his head like Carnac the Magnificent, all in the name of recapturing the magic of 2010 and still building for the future.
The final spots of a 25-man roster are often filled with veterans and role players, players who might have a few more dying quails and ground balls with eyes left in the tank who are willing to sign for the minimum. While these players are important ingredients to any successful ball club, the real heart of any team is locked up and secured years before.
The Giants are entering a treacherous and murky phase. The young talent that served them so well in the World Series run of 2010 is due for a raise. A BIG raise. The Giants' success in the near future will be determined by signing the correct players to extensions and making some tough decisions on which players to let walk away.
Begin Slideshow

»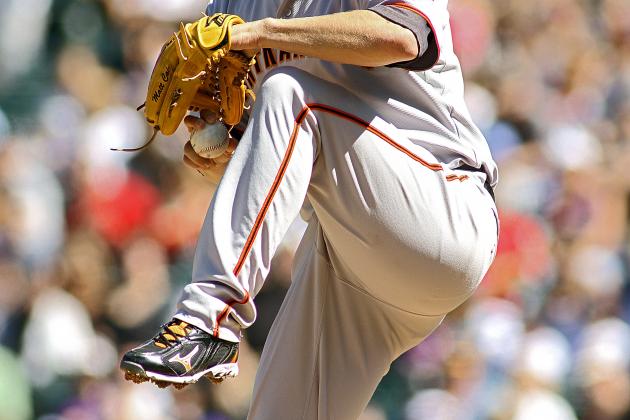 Marc Piscotty/Getty Images
Matt Cain, 27 years old
The Giants need to sign Matt Cain to an extension yesterday. The longer it goes the more expensive it is going to eventually be. And if Cain is allowed to hit the open market the price tag is likely to be painful for the Giants to match.
All that said, let's put something to rest right now. There has been (and rightfully so) an ongoing debate over who the Giants would keep if they could only keep only one: Lincecum or Cain.
Age: Wash. Lincecum is only four months older than Cain, so citing Cain being the younger of the two is not really a valid argument.
Innings Pitched: Cain has pitched roughly 300 more innings than Lincecum. In other words, not enough to significantly alter a career arc.
Success: And here is where the comparison gets blown out of the water. Matt Cain is a quality pitcher, deserving of a large contract. Tim Lincecum is a two-time Cy Young award winner, deserving of the largest contract. Comparison done. Decision made.
More on this whole Lincecum vs. Cain thing later in the week
Prediction: six years/$108 million signed during Spring Training 2012.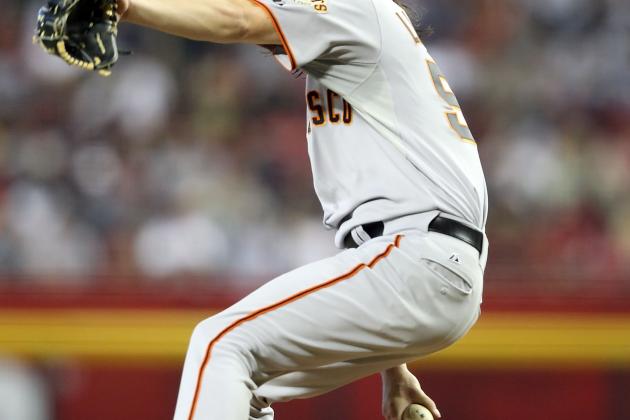 Christian Petersen/Getty Images
Tim Lincecum, 27 years old
The two-year $40.5M contract the Giants and Tim Lincecum signed this year is a perfect deal for both sides. It pays Lincecum an average salary of $20 million per year, rightfully ranking him among the top paid pitchers in the game. It also gives the Giants some breathing room and valuable preparation time for what is expected to be a mega deal for Lincecum heading into the 2014 season, Lincecum's free-agent year.
Two more stellar years from Lincecum should likely net him the largest contract ever for a Giants free-agent pitcher.
CC Sabathia currently holds the top deal for pitchers in all of baseball at eight years $182 million.
The Giants will not have Yankee-level monopoly money to spend, but odds are they will set a new franchise record when signing Lincecum. If only to erase Barry Zito's name from the books.
Prediction: six years/$130 million signed shortly after Lincecum wins the Cy Young during the 2013 offseason.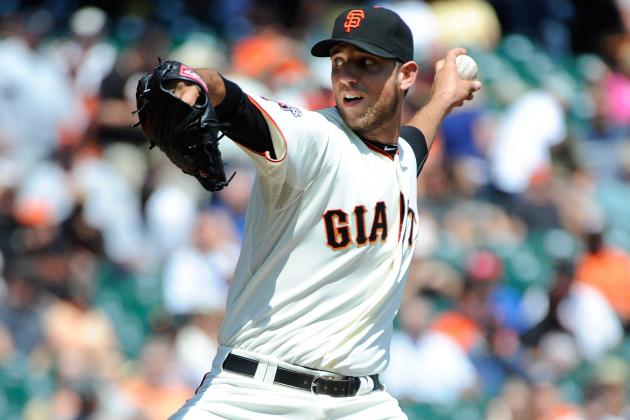 Thearon W. Henderson/Getty Images
Madison Bumgarner, 22 years old
Madison Bumgarner is young and nasty. While that sounds like an all-female rap group, it is exactly what you want out of a 22-year-old starter.
Having already proved his toughness during the 2010 playoffs, Bumgarner continued to shine during the 2011 season. Bumganer's win/loss total did not reflect his stellar year, but that is something Giants fans have grown accustom to.
In fact, Bumgarner's 13-13 record last year creates a fine comparison with a young Matt Cain. Cain's numbers belied the type of quality pitcher he really was/is. The Giants recognized this and gave Cain a four-year $9 million dollar extension, effectively buying out Cain's arbitration years. Bumgarner becomes arbitration eligible in 2014.
Look for a deal very similar to this with Bumgarner's name on the dotted line.
Prediction: four years/$15 million signed in 2013 offseason.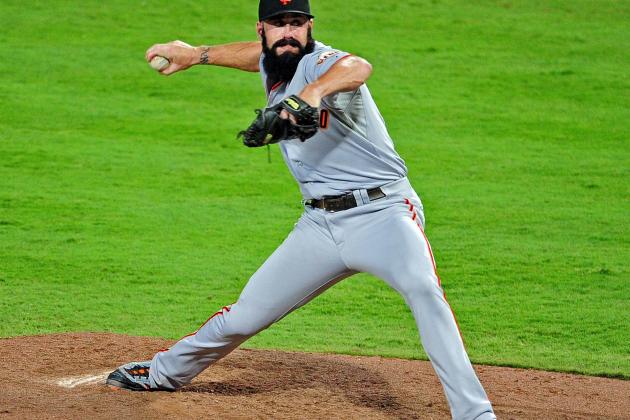 Scott Cunningham/Getty Images
Brian Wilson, 29 years old
Love him though I do, the show must end sometime. For Brian Wilson and the Giants that will likely be at the end of this season. If not sooner should the Giants fall out of contention.
Wilson's escalating salary no longer balances with that of the front-line starters. And in the end, seven innings must trump one inning. No matter how hairy and theatrical that inning might be.
Prediction: The Massachusetts native is a Red Sox in 2013 at three years/$33 million.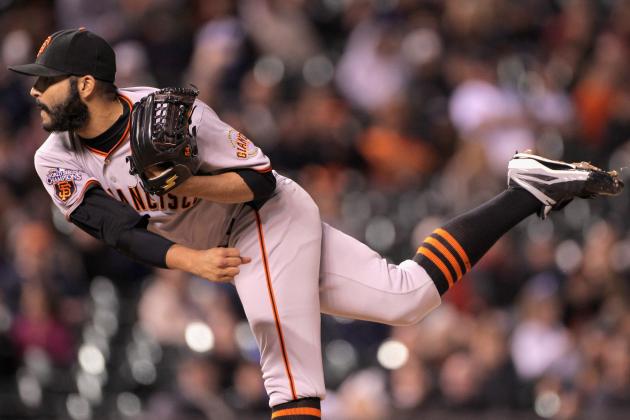 Doug Pensinger/Getty Images
Sergio Romo, 28 years old
The shelf life of a middle reliever is typically short. It is extremely rare to see a team lock up a reliever for more than two to three years at a time, big-time closer being the exception to this rule.
Someone (an agent probably) has taken the phrase "The last three outs are the hardest to get" and ran all the way to the bank with it. Closers are now routinely being paid third or fourth starter money to get three outs.
Sergio Romo has been the Giants' most reliable middle reliever for two years now. The likelihood of Brian Wilson departing only enhances the need to lock Romo up.
Prediction: four years/$18 million signed next offseason.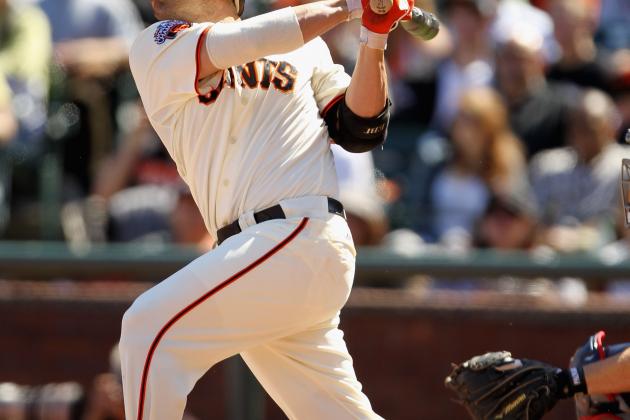 Ezra Shaw/Getty Images
Freddy Sanchez, 34 years old
This might come as a surprise to some. Especially to those that know my disdain towards the Giants' constant push to hire the elderly.
Seriously, there is a lady who works at the garlic fry stand who might be 97.

Bringing back Freddy Sanchez in 2013 does make a whole lot of sense though.
Everyone is well aware of the Giants lust for "clubhouse guys." Team players, gritty veterans who are committed to tutoring younger players. Sanchez fits that bill perfectly.
Sanchez will never be able to play a full season again, what with being made of glass and all. The Giants will bring in an old guy. So why not have that old guy be someone already familiar with the team?
Prediction: two years/$8 million signed during 2012 offseason. This coming after being rebuffed by Alex Cora.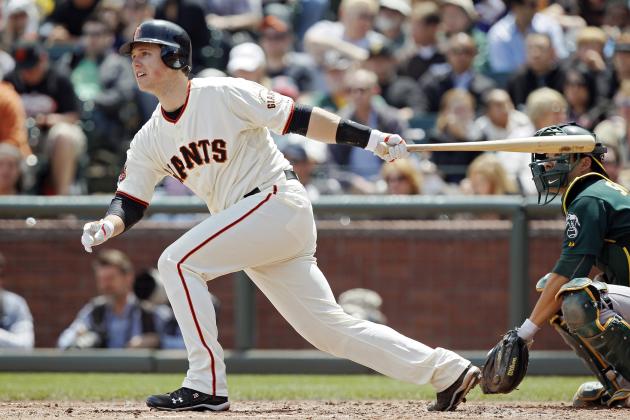 Brian Bahr/Getty Images
Buster Posey, 24 years old
Oh yeah, that guy.
Buster Posey's contract future is difficult to predict. The injury that derailed his and the Giants' 2011 season could have lasting effects on him. Or he could kick open the door to 2012 and pick up right where he left off in 2010.
Either way the Giants will likely avoid the arbitration process and lock up Posey until his free-agent year of 2017.
Prediction: three years/$18 million signed during 2012 offseason.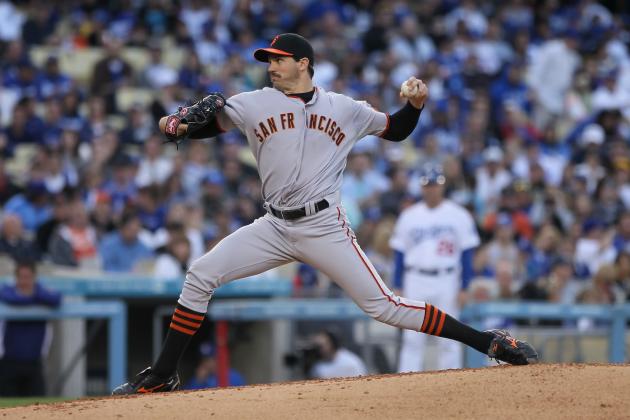 Jeff Gross/Getty Images
Barry Zito, 126 years old
...Pooped yourself a little didn't you...
Here is some Barry Zito contract info to keep you awake at night
2012: $19M
2013: $20M
OK great, we have already accepted that Zito is making Reese Witherspoon money. But after 2013 he is gone and we never have to see him again. Right? Our citywide nightmare is over. Isn't it...?
2014: $18 million club option. The option vests with 200 IP in 2013 or 400 IP in 2012-13 or 600 IP in 2011-13
He couldn't...He wouldn't dare...
Before last year's uber-train wreck of a season, Zito had an average of 210 IP since his first full season in 2001.
You can think of this one of two ways.
1) OH SWEET MOTHER OF GOD! NO! NO! SOMEONE TAKE HIM OUT BEFORE HE EATS UP WORTHLESS INNINGS AGAINST THE ASTROS OF THE WORLD! QUICK WHO KNOWS VOODOO! (shakes voodoo doll at Zito's general direction) HE LIKES VOODOO? HE THINKS IT'S A HENDRICKS SONG?!? NOOOOOOOOOO!
or
2) Release him after this year. Avoid any chance Zito does the unthinkable and simply pull the plug after this year.
Prediction: The Giants don't read Zito's contract or this post and somewhere around mid-September 2013, Zito gets a mysterious injury.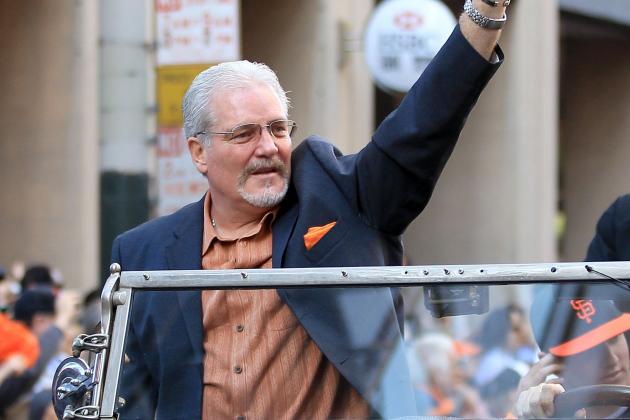 Ezra Shaw/Getty Images
Brian Sabean, The Grey
Brian Sabean is now tied to Tim Lincecum and Matt Cain. Like Peter Magowan and Barry Zito and to canvas the Bay Area sports scene, Mike Nolan and Alex Smith.
If Sabean is unable to secure both pitchers his tenure (the longest tenured GM in baseball) could come to an end.
Prediction: With management worried about Sabean's ability to secure both Cain and Lincecum and develop an offense, they head in another direction. Hello Kim Ng, welcome to the Bay Area.
Sabean then ventures into the Alaskan wilderness where he leads wolf hunting expeditions. Each trip inevitably ends when Sabean gives the job of camp cook to the oldest wolf. The oldest wolf then eats everyone.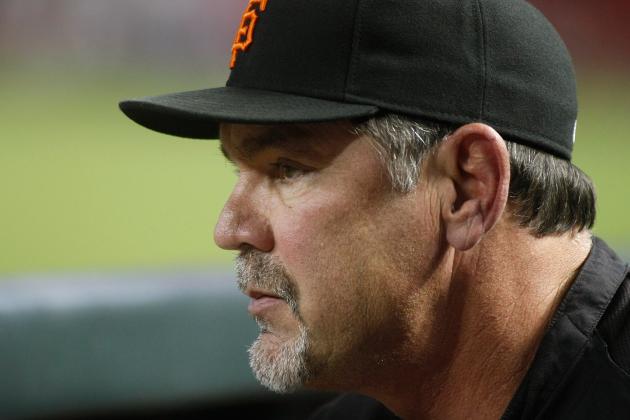 Ralph Freso/Getty Images
Bruce Bochy, 9 3/4
The first skipper to lead the Giants to a World Series title in San Francisco history should get more respect. But as Terry Francona just learned, those titles fade about as fast as a high school letterman jacket.
Bochy spent years making something out of nothing with a downtrodden Padres organization. He was initially hired because of his presence in the clubhouse and his unique ability for coaching veteran ball players. Something the Giants have had in abundance... for years.
Would a new GM take the Giants in a different direction?
Prediction: If the general manager Brian Sabean goes, the manager Bruce Bochy goes as well. That is pretty standard logic amongst baseball relationships.