NHL Trade Rumors: Jeff Carter and Huge Names Who Should Be Dealt
January 31, 2012

Richard Wolowicz/Getty Images
As the NHL trade deadline approaches, the magnitude of the rumors and the rate in which they hit the public starts to increase exponentially by the day.
Some huge names are perennial rumor mill residents, but certain big names only come up when the clock is starting to wind down.
All of the following studs will be on the market this season and may be landing in a new home before the deadline actually hits.
Jeff Carter
Since Jeff Carter arrived in Columbus from Philadelphia, the streaky center has been disappointing Blue Jacket faithful. All 27 of them.
With just 17 points in 30 games, Carter has spent more time injured this season than actually contributing to his team. I bet Columbus is regretting trading their first round pick that became Flyers rookie phenomenon Sean Couturier.
The Blue Jackets need to admit their fault and do their best to move Carter to a team on the cusp of the playoffs that would be willing to give Columbus the pieces they needed. Toronto was the hot rumor last month, but Carter will be sought by many teams.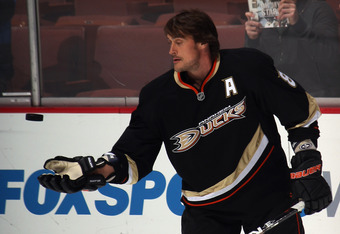 Bruce Bennett/Getty Images
While the Anaheim Ducks have done everything in their power to stop the Teemu Selanne trade talks, even Selanne himself won't rule out being dealt at the trade deadline.
There will be plenty of suitors for the Finnish star, but only one place that Selanne would want to go; Back to the good ol' Winnipeg Jets.
Selanne started his Hall of Fame worthy career in Winnipeg and there would be no better place for it to come to an end. With the Jets just five points out of playoff contention, being buyers at the deadline is not out of the question.
Eric Staal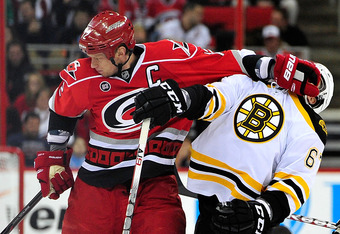 Grant Halverson/Getty Images
While most NHL insiders have called Eric Staal one of the few untouchables the Hurricanes have had over the years, there is a whole new age in Carolina. Eric Staal may be on his way out.
The talk around the league was that the Toronto Maple Leafs had a vested interest in Staal and were looking to get him in between Phil Kessel and Joffrey Lupul on the team's top line.
Now would be the time for the Maple Leafs to swoop in and pull this move off, because Staal has never played worse in his career. With only 36 points this season, if Toronto can offer a package good enough for Carolina to bite, the Hurricanes may just be disappointed in Staal enough to let him go.
Check back for more on the National Hockey League as it comes, and check out Bleacher Report's NHL Page to get your fill of all things hockey.