Chicago Blackhawks Farm Report: Carter Hutton, Not Alexander Salak, Sparks Hogs
February 2, 2012

Justin K. Aller/Getty Images
The Chicago Blackhawks' affiliate in the American Hockey League, the Rockford Ice Hogs, possess the league's hottest goaltender over the last month. This goalie has anchored a surge up the standings as the formally dormant Ice Hogs get themselves back in the discussion for the playoffs.
This goalie is not Alexander Salak, who is pulling down 600,000 to polish his game in the AHL. It isn't Alec Richards, although he has been better of late.
The Ice Hogs have been pulled up by 26-year-old Carter Hutton, who celebrated the presentation of his AHL player of the week honor by nabbing 27 saves in Rockford's 3-1 victory over Milwaukee.
Hutton had a January that is more than deserving of the league's monthly honor. Here's how his starts last month shaped up:
Hutton went 7-1-0-1 for January, including four in a row. In just one of those games did he give up more than two goals.
Hutton posted a 1.86 goals-against average to go with a .934 save percentage in those games.
Hutton's 2-0 win over Texas was Rockford's first shutout of the season.
Hutton started nine of Rockford's 13 games, as the Ice Hogs went 9-3-0-1 in that span.
Not bad for a guy who figured to be toiling under an AHL contract in Toledo this season.
Alexander Salak, the goalie who seemed to be in line to back up Corey Crawford in Chicago this season, has not enjoyed a stellar campaign. After pouting in a big way upon being sent to Rockford, Salak took a while to get in a groove. Just as his game was coming on, he injured an ankle on December 2nd.
Salak is nearing a clean bill of health as nearly two months have gone by. The Ice Hogs seem content to bring him along slowly. After all, they are winning games, and Hutton has established himself as a fan favorite.
Hutton is the only goalie in Rockford to have a winning record at 10-5-2-1. His goals-against is at a solid 2.60 per game with a .913 save percentage. Richards, despite the worst numbers of the three players (3.55, .893), has picked it up over his last few starts.
Salak was 3-6 with a 3.06 goals-against average and a .893 save percentage in 12 games. Could he see his star falling to the ECHL in order to get some steady work? It's hard to think that the Blackhawks would allow a player they have invested in to go that route.
On the other hand, Hutton may just have saved Rockford's playoff chances.
Pirri, Connelly Factor in All-Star Game
Monday night, current and recently departed Ice Hogs made their presence felt in the AHL All-Star Game, an 8-7 shootout win for the Western Conference.
Brandon Pirri, Rockford's leading scorer, had an assist on Tyson Barrie's second-period goal.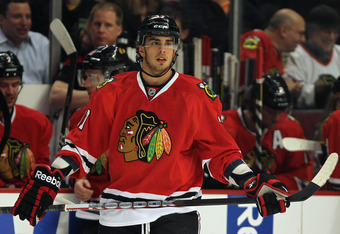 Jonathan Daniel/Getty Images
Defenseman Brian Connelly, swapped Friday for Brendan Morrison, represented the Abbotsford Heat, for whom he has yet to play a game. He found Kevin Connauton across the ice with the puck as the West tallied the tying goal with just over four minutes to go in regulation.
Improved Defense Making the Difference
Hutton's performance has been spectacular in recent weeks, but the blue line is also doing it's part in Rockford's surge. Despite losing their minutes leader in Connelly before Friday's game in Charlotte, the Ice Hogs continued to play well in their own zone.
Dylan Olsen and Joe Lavin had the game-winners on Friday and Saturday, respectively. Connelly's offense will have to be picked up by several guys, but defensively the current group, led by Olsen, Lavin, Shawn Lalonde, Ryan Stanton and AHL-signees Brian Fahey and Ben Youds, should be able to keep it up.
The Ice Hogs, who once languished in the basement of the Western Conference, are still last in the Midwest Division with 45 points. However, they have climbed to 11th overall and are just three points from the last playoff spot.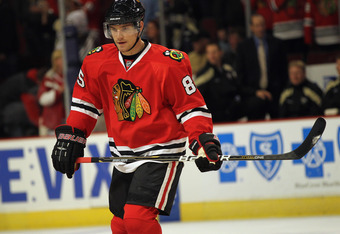 Jonathan Daniel/Getty Images
Olesz Big Contributor in Rockford
Rostislav Olesz, Rockford's $3.4-million man, is a popular man in town. No word if he's picking up checks for his Ice Hogs teammates, but he's providing support on the ice.
Olesz is currently on a six-game points streak, with three goals and five assists in that span. For January, he had four goals and nine assists to help Rockford climb out of the cellar.
Not Giving Up
Rockford trailed after two periods five times in January. They won four of those games and took the other into a shootout. They had not won a game this season when trailing going into the third.
The Ice Hogs went 6-1 in one-goal decisions for the month. Five different players (Pirri, Ben Smith, Olesz, Byron Froese and Olsen) notched game-winners in that span.
With Pirri, Smith and Jimmy Hayes all fresh from experience in Chicago, Rockford is gaining confidence and playing their best hockey of the season. The Ice Hogs open up a four-game home stand February 8th, including two consecutive nights hosting the Chicago Wolves on the 10th and 11th.
Hop in the car and head west on I-90 for some familiar faces honing their games at the BMO Harris Bank Center.