15 Most Savage Mascot Fights in Sports History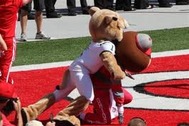 While mascots bring some comic relief and family fun to sporting events, they are also meaningful and beloved symbols of our teams.
They represent the spirit and prowess of our players, our universities, our towns--even of our selves.
So when tiger and bear grapple, it may begin as clownish antics, yet all too often it escalates.
As the handfuls of faux fur are torn up and strewn about, reputations, egos and prides are at stake.
Click on to see 15 of the most ferocious furry fracases in mascotdom.
Begin Slideshow

»
Mascot of: Indianapolis Colts
Mascots may be furry and huggable, but never, NEVER try to upstage them.
Mascots of: Chicago Bulls
Benny is one bad-ass bovine.
On top of the attempted filicide in this video, he has had numerous run-ins with the law including:
Striking an officer at Taste of Chicago and
Good for you Lil' Benny, taking out your bullish dad with a shot to those soon-to-be Rocky Mountain oysters.
Mascots of: Southern Miss Golden Eagles and University of Alabama Crimson Tide
If this wasn't rehearsed, these guys need to audition for the WWE, stat.
If this was rehearsed, these guys need to audition for the WWE, stat.
Over five minutes of pretty decent wrestling here.
Mascots of: The University of Oregon Ducks and the University of Houston Cougars
Readers, this was not staged.
The dude in the cougar costume ruffled the feathers of duck boy when he mocked his signature move.
Duck boy was suspended for a game.
Thanks to YouTube, this video is reaching cult status.
Some day I foresee people--in duck and cougar outfits--meeting up at midnight showings, duking it out in front of the screen, then breaking into synchronized dancing to "Let's Do The Time Warp Again".
Mascot of: University of Florida, Gainsville
RIP Steve Irwin. Always appreciate a guy that can make fun of himself that way.
Mascot of: Milwaukee Bucks
That's Rufus, the Charlotte Bobcats' mascot that launches the neutering shot.
Apparently Bango did some serious knee damage after becoming a two-point buck.
Mascots of: IUPUI Jaguars and Oral Roberts Golden Eagles
Another one that has become an internet classic.
This one was not staged either.
The Eagle was suspended for the rest of the season.
Mascots of: Some high schools in the Twilight Zone?
So many genius moments here:
a) after tiger slams panther, he steps back and does an in-your-face taunt
b) tiger's swagger quickly fades when he realizes he may have just killed a kid and will end up in juvie.
c) despite a possible homicide, player #54, a pair of cheerleaders, dozens of fans, and the crime preventing SPIDERMAN just hang back and opt not to get involved
Mascot of: University of Nevada Wolf Pack
No, the almost 10 foot drop down into the dugout was not part of the act.
After the tumble, David Kert (inhabitant of the Wolfie costume) lay on the concrete while players ignore him.
Utterly baffling.
It's like all those times when cheerleaders are mowed down on the sidelines and left like roadkill.
Players, come on! Give the over-sized woodland creatures and the ladies in mini skirts some more respect.
Mascot of: Calgary Flames
Did anyone doubt this would happen?
Mascots of: University of Alabama Crimson Tide and University of Florida, Gainsville
Big Al must have been in a state of high-musth.
Perhaps the highlight of this clip is how frantically Albert pops his head back on. Two theories as to why:
1) he didn't want to ruin the illusion of two savage animals fighting
2) he was an in-the-closet mascot and didn't want to be outed
Mascots of: District high schools in Crazy Town USA.
Um, yeah. So there's this video.
Mascots of: Stanford University and University of California
TIMMMMMMBER!
Mascot of: Cincinnati Bearcats
Cincy must have OD'd on 'catnip' before the game.
First he incited snowball attacks and then pushed a security guard, which lead to the arrest.
Bad kitty!
Mascots of: Ohio University and Ohio State University
This incident from fall 2010 resulted in a LIFETIME BAN for the dude in the Bobcat outfit. That's right, never again will he don the sacred whisker, fur and claws.
Mascot of: Anaheim Mighty Ducks
News flash to Ducks marketing directors...mascots are made of the following:
1) foam - flammable? Check.
2) faux fur/feathers - flammable? Check.
3) cloth - flammable? Check.
4) plastic - flammable? Check + releases toxic fumes
5) human inhabitant - flammable? Check.