New York Knicks: What Is a Great Deal Without a Great Point Guard?
January 31, 2012

The inconsistency the Knicks' point guards have brought to the table is beyond any fan's belief. The stars don't get the ball without having to play one-on-one isolation against another defender.
The Knicks made two crucial signings to get rid of two top point guards. Everyone continues to debate that the Carmelo Anthony deal was good for the Knicks, and that the signing of Tyson Chandler was better then keeping Chauncey Billups.
But looking back, was it really worth it?
Back track to the beginning of last year when Amar'e Stoudemire joined the New York Knicks in an attempt to bring the Knicks back. They were back and Amar'e was going strong with his team and the other quality players on the Knicks. The chemistry was flowing and Stoudemire was playing his best anyone had ever seen—even better then when he was with Nash.
At that time, he had Raymond Felton dishing out the assists with Wilson Chandler and Danilo Gallinari maturing into solid players. In addition, Landry Fields was playing like the gem of his 2010 draft class.
The Knicks were doing everything right until the Carmelo Anthony deal.
Now, I'm not going to sit here and say that bringing Carmelo Anthony to New York was a bad move, because he has won the Knicks many close games and is really a solid superstar. Losing Felton hurt Amar'e.
Moreover, Carmelo hurt Amar'e.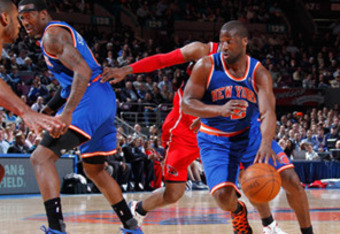 Pick and rolls are no where to be found with the Knicks, and that was Stoudemire's game. If if the pick and roll suddenly didn't work, Felton would be able to find Stoudemire for a jump shot every time. It's safe to say their chemistry was fantastic.
But having Chauncey Billups wasn't the end of the world for the Knicks when the deal actually took place. However, Billups is probably more of a shoot-first player, like the rest of the Knicks guards that are healthy right now.
He was a veteran point guard that knew how to get the ball in his star's hands if he needed to, but wasn't near as good as Felton actually was in his half-season with the Knicks.
However, when the Knicks decided that they wanted Tyson Chandler to join the Knicks, they waived Billups. The Knicks decided to rely on Toney Douglas, who it has turned out was not ready to walk into Billups' shoe.
The Knicks were left with a Big Three of two dominant forwards and a massive big man to go along with it. But they had no solid guards that have a pass-first instinct.
And when you have no legitimate point guard to get the ball in the hands of your stars, those stars will not matter. Anthony and Stoudemire are just as good offensively as Kris Humphries when the Knicks don't give their stars the ball without isolation.
In the end, these deals didn't work out in the Knicks favor (for now); instead, it has worked out for the Nuggets and Clippers, as both of those teams are over .500 and most definitely will make the playoffs.
It is quite obvious that James Dolan, owner of the Knicks, pushed for these acquisitions and not Mike D'Antoni, the coach.
The signing of Baron Davis was smart, but when is he going to come back?
Baron Davis can definitely help the Knicks, but the Knicks knew better then to sign Mike Bibby for the time that Davis was going to be out. There were other veteran pass first guards available over Mike Bibby, who has been beyond ineffective. Earl Watson would have been the better choice there.
Even I was fooled that the Knicks were a legitimate contender at the start of the season. I think all teams finally realize how important it is to have a pass-first point guard on their team.
Reports are saying the Knicks are looking to bring in Kenyon Martin after his stint in China. Another power forward? If it means trade, then trade for a point guard that can actually make the Big Three successful and turn this season around. We need a point guard Knicks!!
So, what is a great deal without a great point guard?